Measuring your children's height is a fun way for them to keep track of how they're growing – plus, it teaches them all about measurements as well as adds a cute reminder of how small your little babies once were!
If you're planning to keep your child's growth as memorabilia, there's permanent and portable growth charts to roll up and store away for when they're old enough to laugh at how short they were, or there's felt rulers for ultimate flexibility if siblings are racing each other to get tallest!
---
Top 5 Growth Charts For Kids
---
Kid's Felt Ruler Growth Chart
Ideal for: Competitive siblings!

Are you at that stage where every morning your child wakes up an inch taller? This height chart is ideal for you! Available in both pretty pink and baby blue, this height chart comes with three felt arrows. Share with siblings to see who's the tallest, or who's growing quickest!
Plus the chart is ultra-changeable – no need to commit to marking up the display with pen with the arrows, and if it does happen to get dirty, simply clean with a damp cloth!
Why is this great for your kid's room?
Easy-to-hang funky felt ruler chart
Big number measurements so kids can count up their own heights
Three multi-coloured felt arrows
---
Personalised Alphabet Growth Chart
Ideal for: A bespoke touch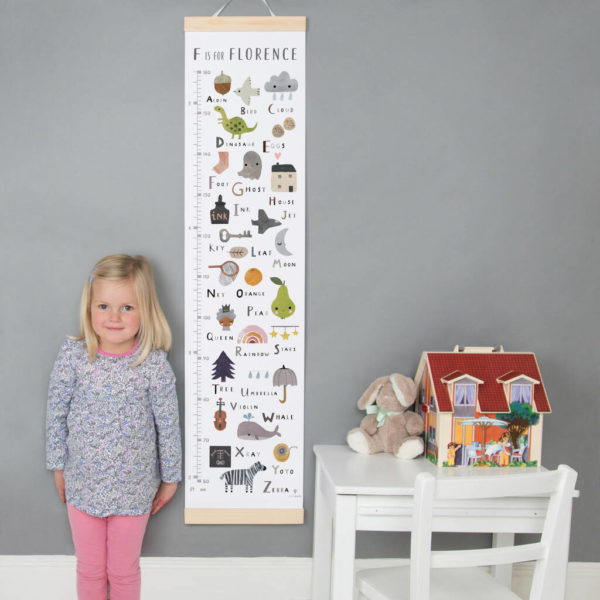 This ultra-fun height chart is the perfect personal touch to your child's bedroom! Featuring a bespoke naming format, the display offers twenty-six pretty art designs, one for each letter of the alphabet! Plus a growth chart that goes from 2' to 5' 6" – ideal for growing boys and girls!
This height chart is evenly weighted with wooden bars and printed on tear-proof canvas for a high-quality finish that will look superb in your learning child's room.
Why should you get this for your kid's room?
Personalised format that works for only children and siblings. Choose R is for Rowan, L is for Leo and Lucy, or C is for Callum & J is for Jade.
A height chart in both metric and imperial measurements – teach your child both!
Convenient ribbon at the top of the chart, so there's no need for blu-tack or tape.
---
Personalised Solar System Growth Chart
Ideal for: An out-of-this-world gift!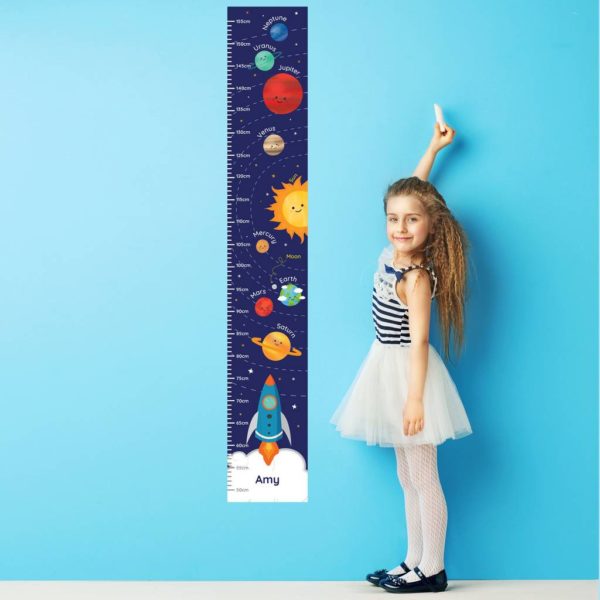 Watch your child's height blast off with this colourful and interesting solar system height chart! Made from smart vinyl, this height chart features cute pictures of each planet in their order of orbiting around the sun. And of course, a large height ruler with centimetre measurements!
Your child will adore the milestones of growing to reach each planet! As a plus, this chart can be personalised with your child's name, too!
Why are these perfect for your kid's room?
Height chart ranging from 50cm to 155cm
Educational diagram of the solar system
Personalisation of up to 12 characters
---
Decowall Little Monkeys Tree & Animals Growth Chart
Ideal for: A fun easy-removal addition to your child's wall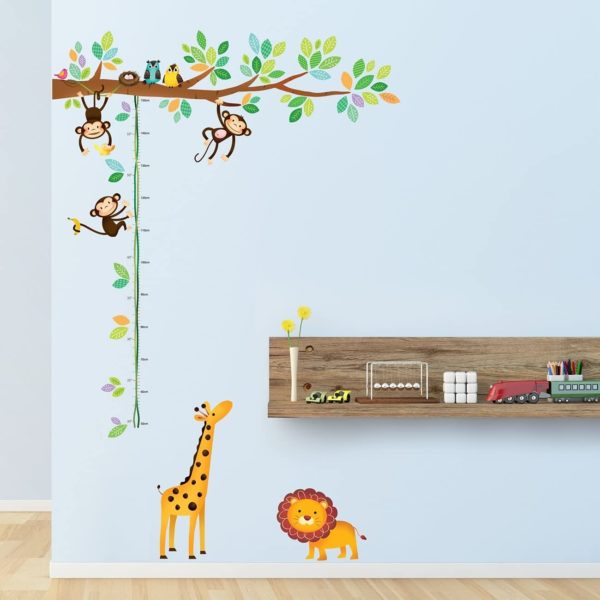 Kids will adore this innovative height growth chart! This peel-and-stick ruler comes with colourful, lively animals to accompany your tree-branch ruler, all made by the talented Decowall illustrators!
The ruler is easy-removal, perfect for repositioning without harming your walls, and measures in both feet/inches and centimetres. Teach your child to check their height in both!
Why will your kid love this in their room?
Four sheets of bright and fun stickers to liven up your child's room.
Measures between 50 and 150 centimetres.
DIY installation with no nails or hooks!
---
Portable Roll-Up Height Chart
Ideal for: A unique memento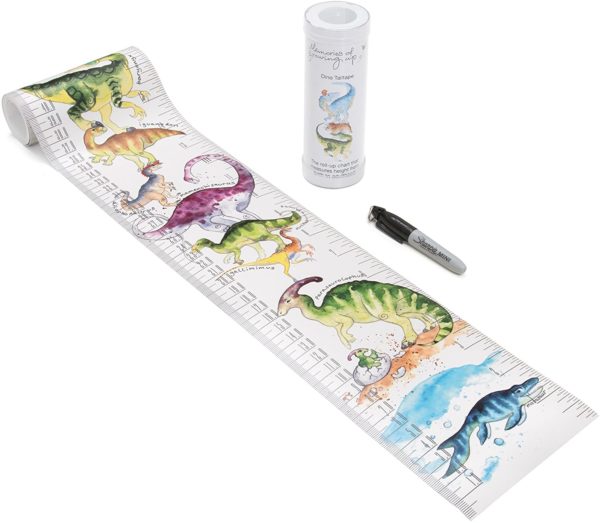 This dinosaur-themed height chart is ultra-portable and suitable to use throughout your child's life! The ruler starts from zero and end at two metres, so you could use right from toddling age or even pop your scan measurements on there!
As a bonus, the chart is decorated with thirty colourful dinosaurs, each labelled with their Latin name. Mark your child's growth as they reach each dinosaur!
Why is this great for your kid's room?
Storage tube for easy transportation
Free Sharpie mini marker
A fabulous memento to hand down through generations.
---
Conclusion
Measuring your child's height with them is a fun way to mark and celebrate their growth. With these fun height charts, you can suit the design to how much space you have in your room, how many siblings are fighting to be the tallest, and even if you think you'll move house soon and bring your height chart with you.
References and other links
Can't wait until your height chart arrives? Here's how to make a DIY one to tide you over.
Got a question about height charts?
Thanks for reading. Please ask in the comments if you have any questions or things we can help with.