Name signs are an easy way to make a child's space feel like their own. No matter your child's age or the room's décor, a name plaque can easily find a home.
Instill a sense of belonging and comfort for your child by acknowledging that their bedroom or play area is theirs. Let them find their own independence and confidence within their own four walls.
Take a tour through our top 6 name signs
---
#1 – Rainbow Plaque
Ideal for any décor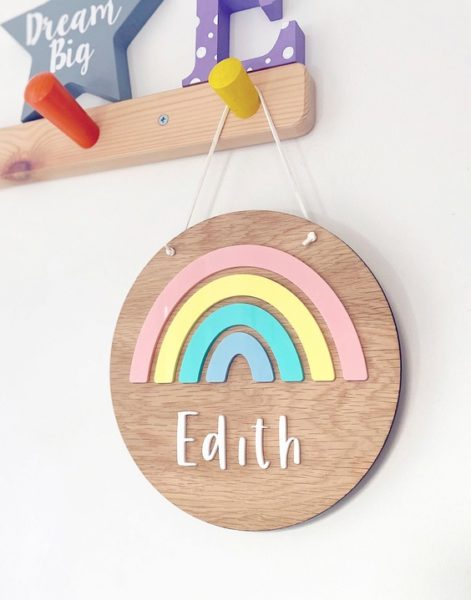 This beautiful yet simple rainbow name plaque will look excellent in a room with any décor. Whether it's the only pop of colour in a neutral room or part of a more colourful decoration, this plaque will hit the spot.
The lightweight nature of this plaque allows it to be hung from anywhere in the room, from hooks on shelving units to bed frames. Choose between a pastel and bold rainbow to fit the aesthetic of your child's space.
Why this plaque makes the cut?
• Lightweight
• Choice of colours
• Fits with any décor
---
#2 – Neon Name Sign
Ideal as a statement piece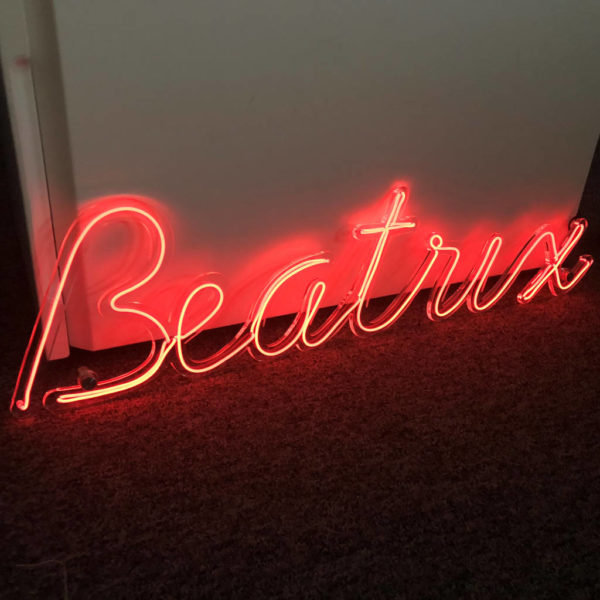 Looking for something bold and bright to stand out in your child's room? If so, this name sign is the perfect choice for you. Mounted on acrylic this name sign has a professional feel and can be easily put up on the wall.
Add something extra special to your child's bedroom or playroom for when the sun's gone down, as these name signs look incredible under low light. Plus, you can choose your child's favourite from five different colours.
Why this name sign stands out?
• Choice of five colours
• Backed onto acrylic
• Looks brilliant under soft lighting
---
#3 – Gamer Name Sign
Ideal for gaming fanatics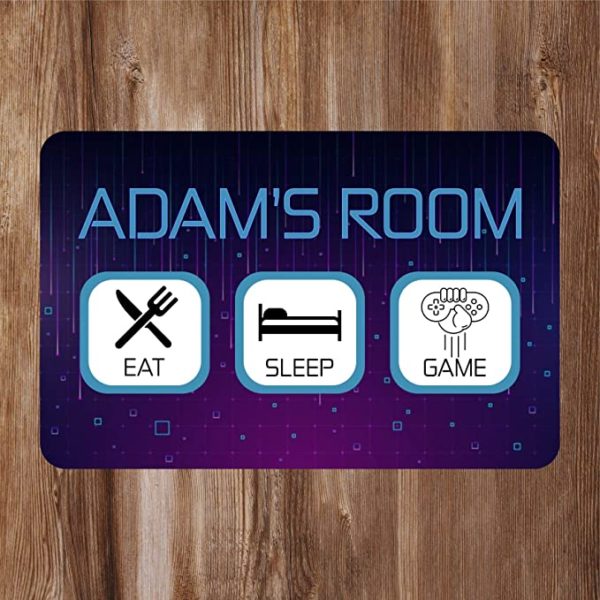 Any young gamer is sure to love this bright and retro door sign. Help your child make their bedroom or playroom into a gaming den by adding this sign to the door. Made from high quality acrylic this sign is sure to stand the test of time.
Use the provided attachment tape to install this sign on any door or furniture unit and go one step further to transforming your child's space into a gaming paradise. And, at 20cm by 13cm this sign will look at home in any size room.
What's so cool about this name sign?
• High-quality acrylic
• Attachment tape provided
• Funky retro feel
---
#4 – Dried Flower Name Sign
Ideal for budding botanists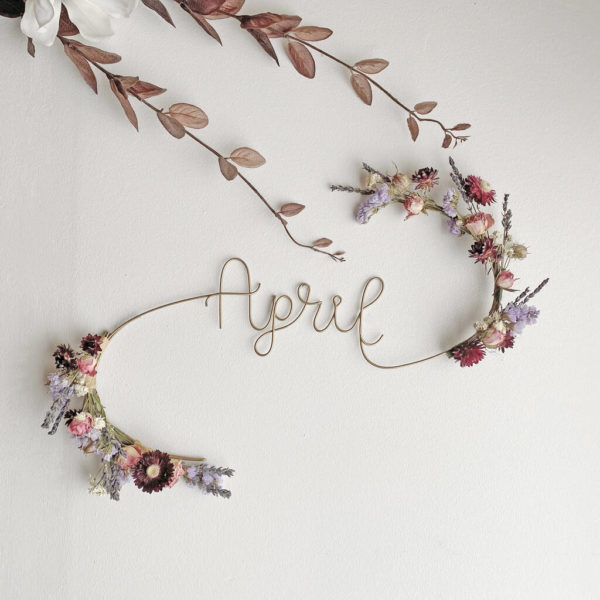 Whether your child loves flowers or has an organic and nature-themed room, this incredible hand-bent wire and dried flower name sign will add a touch of delicacy to space. Designed with easy installation in mind, this sign can be mounted on just two nails, hidden by the beautiful flowers.
Chose from a range of wire colours to ensure the name sign fits with the décor. The flowers included in the sign are statice, lavender, rose, gyp and more.
What about this sign is brilliant?
• Hand bent name design
• Real dried flowers
• Choice of wire colour
---
#5 – Unicorn Name Sign
Ideal for fairy tale fans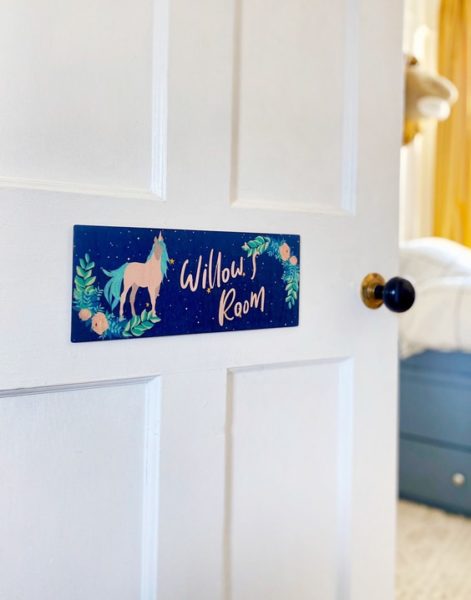 Add a touch of magic to your child's space with this whimsical unicorn name sign. Printed onto sustainable wood with long lasting ink, there is no reason this name sign can't grow with your child, thanks to it's durable materials.
Encourage your child's imaginative creation through fairy tales and mythical creatures. Help their space feel enchanted by installing this lovely name sign.
Why this name sign is the real deal?
• Made with sustainable wood
• Durable materials
• Charming design
---
#6 – Metallic Horoscope SSign
Ideal for a personal touch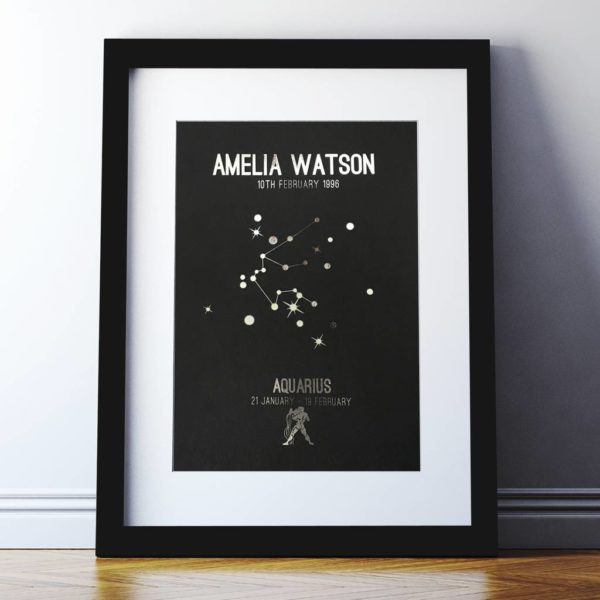 Bring the night sky in with this incredible metallic horoscope sign. Add not just your child's name but date of birth and star sign. The sleek design will fit well with chic décor or as a statement piece in a more neutral themed room.
The metallic finish is sure to add some sparkle to your child's space. This name sign is ideal for siblings as the different star sign and constellation would make their respective spaces feel even more personal.
Why this name sign is written in the stars?
• Metallic finish
• Add birthdate and star sign
• Option for framing
• Choice of paper colours
---
Conclusions
The main consideration when looking for a name sign is whether it will be used as a statement piece, or your child would prefer it to blend in with the current theme of the room. Although statement name signs can look incredible, they may not complement the changing themes of the room as your child grows and changes.
Name signs are a great way to instil ownership and confidence within your child's space. Let them know that their space is theirs and allow them to feel more at home within that space.
References and other links
Check out this cool DIY video on How to make bedroom door name signs for kids.
Got a question about kid's name signs?
Thanks for reading. Please ask in the comments if you have any questions or things we can help with.