These hanging planets for children's rooms are out of this world! Your child will have the coolest room in the galaxy with their very own solar system hanging from their ceiling.
Pick an already-assembled mobile ready for you to hang up, or choose an activity box where you can put together and learn about the planets together!
---
Hanging Planets for Children's Rooms
---
GeoSafari Glow-in-the-Dark Planets & Stars Set

Ideal for: Big displays!
These fantastic glow-in-the-dark hanging planets are a fun and educational addition to any child's room. Featuring nine planets and string to hang them from, plus plenty of glowing stars, foster your child's curiosity about the universe with their very own solar system spinning around their head.
Your child can choose to hang your planets from the ceiling, or use the paint-friendly wall putty to create an out-of-this-world wall display!
Why is this great for your kid's room?
Nine neon planets and dozens of pretty stars
Exciting glowing stickers to add to your wall!
Two different ways of displaying your personal solar system
---
LED Neon Planet Decorative Wall Light
Ideal for: A pretty space light!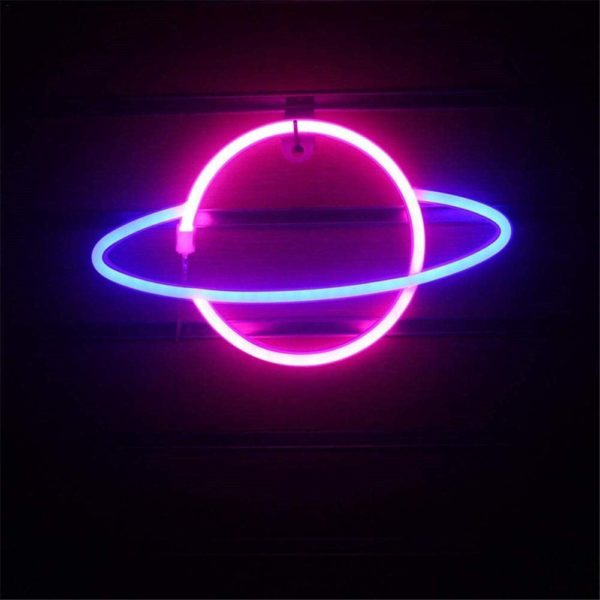 Add a little solar chic to an older child's room with this stylish neon planet light. Choose between five different colour schemes for your mini-model of Saturn – whichever fits your child's colour scheme!
And there's no need for parents to worry about this planet getting too hot. Your hanging wall lamp is made of flexible LED lights with acrylic backplanes, so there's zero risk of overheating, glass damage, or any leakage of nasty materials.
Why should you get this for your kid's room?
Available in blue, pink, blue/pink, white/blue, or white/pink.
Powered by three AA batteries, or simply use the mains supply by plugging into the USB interface.
Creates a fantastic atmosphere for your explorer's room.
---
Personalised Space Rocket Mobile
Ideal for: An out-of-this-world bespoke touch!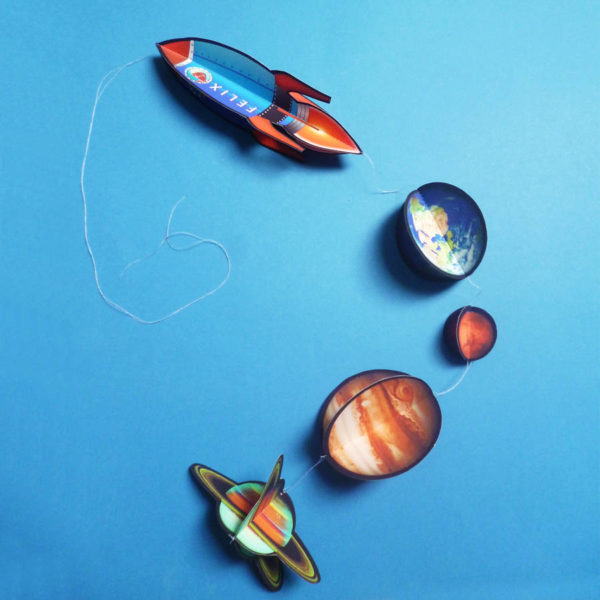 Personalise your little astronaut's hanging planets with their very own name and face! Open out your vertical mobile to achieve a stunning 3D effect of a rocket whizzing by the planets of the solar system.
And make sure your child looks closely at the rocket – with this exclusive personalisation, they'll be able to spot their own face waving from the rocket's window! An ideal decoration for babies or space-mad primary school kids!
Why are these perfect for your kid's room?
Four spinning 3D planets on your mobile plus a supersonic rocket
Rocket personalised with your child's name and face!
Connected with a looped cotton thread for easy hanging
---
Jack-in-the-Box Space Explorer 7-in-1 Craft Kit
Ideal for: Getting hands-on!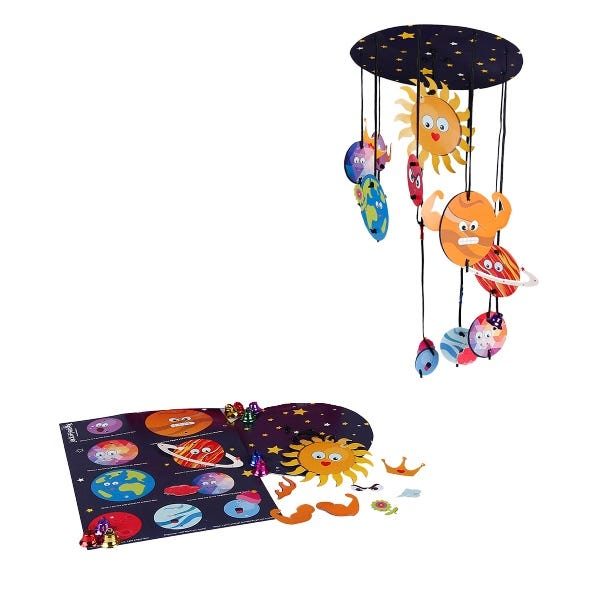 Why not help the kids make their own hanging planets? This fantastic space-themed craft set has seven exciting activities kids can shoot through. From making their own starry night kaleidoscope to building and fuelling a mini rocket, this kit will keep them entertained for hours!
And, of course, there's all the materials included to learn about the planets as they make a colourful solar system mobile – complete with googly eyes, of course!
Why will your kid love unpacking this?
Seven space-themed craft activities for children to complete.
Easy-to-follow instructions and fun facts about the planets and constellations
Suitable for kids over 3 years to complete with parents or explore on their own!
---
Learning Resources Inflatable Solar System Set
Ideal for: An eye-catching display!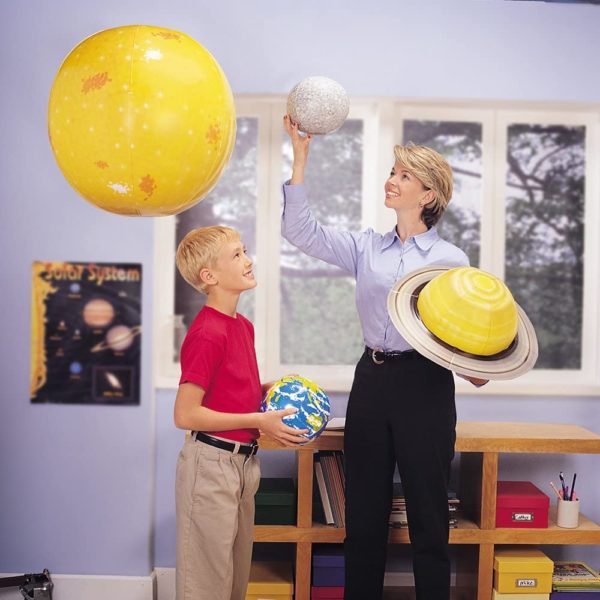 These specialist giant hanging planets are perfect for any child who wants a perspective on how huge our solar system really is. And as a plus, anyone who enters your child's room will be blown away by their fantastic solar system display!
Have fun blowing up each of these proportional planets, then using the convenient hooks to hang them around their room for a truly tremendous sight!
Why is this great for your kid's room?
Nine planets, plus the sun and the moon, decorated and proportioned accurately
A fun activity guide to learn and have fun with your planets!
Easy deflation, plus a repair kit and pump to make care of your planets as easy as it can be!
---
Conclusion
Hanging planets are an eye-catching and educational centrepiece for any child's room. Whether you've got tons of space for a big display or just want a special little solar system mobile to hang over a nursery cot, we've collected a supersonic variety of different hanging planets so there's one that's perfect for you.
References and other links
Want to get kids curious about the universe? Here's a video to show just how big it is.
Got a question about hanging planets?
Thanks for reading. Please ask in the comments if you have any questions or things we can help with.