Radios don't have to be a grown-up toy with these fun kid-friendly radios! Each of these best radios for kids has full FM connection, as well as a host of other fun features to keep them entertained.
Integrate the newest technology into your child's new radio, whether it's a Bluetooth speaker, fun Alexa feature, or even waterproofing to use in the shower! Give your child full control over the music they want to listen to – and make sure you show them where the volume down button is!
---
Our 5 Best Radios for Kids
---
Penguin Shower Radio And Bluetooth Speaker
Ideal for: Singing in the shower

Rock out with this funky waterproof radio that can stick to the wall in your shower! Kids will adore the novelty of a penguin that plays their favourite music while they're having a bath or shower.
And this radio is ideal for all ages – use it to play nursery rhymes through the Bluetooth speakers while your toddler is splashing in the bath, or older kids can hook up their Spotify to blast their morning playlist in the shower.
(And nobody will know if Mum or Dad uses the kids' new penguin friend to have a little shower dance to Radio 2 in the morning!)
Why is this great for your kid's room?
Penguin speaker which connects to both radio and Bluetooth
An alarm system in case of any bathroom slips – or if you run out of loo roll!
2 hours of continuous play charge
---
Steepletone Jukebox-Style Radio
Ideal for: Retro chic!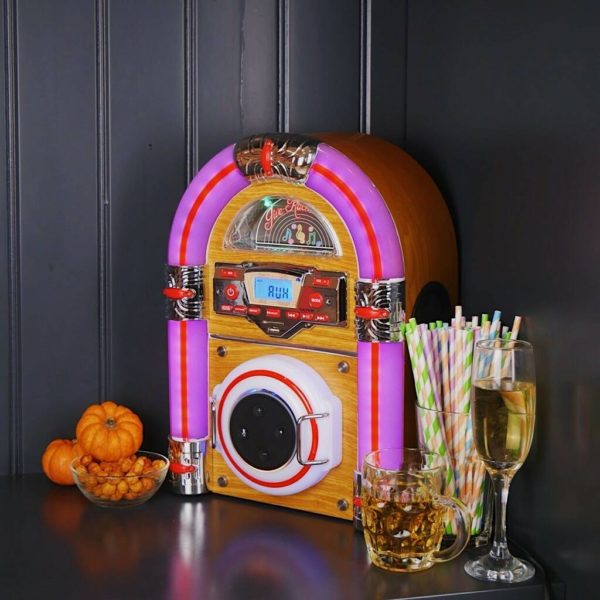 Want to add a little 1950s chic to your child's bedroom? Look no further than this stylish jukebox radio! Don't be fooled by the retro vibes – this radio has everything you need for 21st Century living, with an Amazon Alexa function, FM radio, MP3 and AUX sockets, as well as Bluetooth playback.
The kids might only have seen jukeboxes in Grease, but they'll have fun blending the old and the new with their own music blasting out of its speakers! Plus, built into the jukebox is a fantastic LED light show that pulses to the beat of the music, with tube lighting that switches between seven neon colours.
Why should you get this for your kid's room?
Retro jukebox radio with powerful built-in speakers.
Includes multiple methods of playing music – MP3, AUX, Bluetooth, Amazon Alexa, CD player, and FM radio.
Modern neon lights around the edges of your radio.
---
Dimmable Light With Radio
Ideal for: Multi-purpose use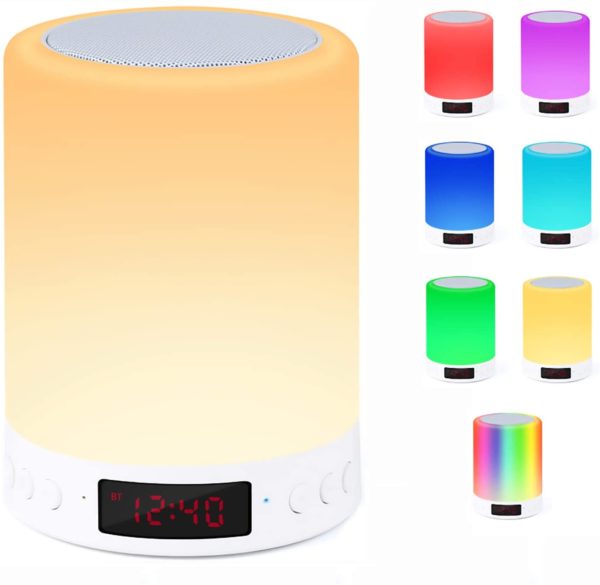 This ingenious radio is a two-in-one for your child's bedroom – it's both an FM Radio and a soothing nightlight. Cycle through seven different colours and three different levels of brightness, ideal for quiet reading, soothing music, or settling your child down for bed.
Older kids can control the light colours themselves with the touch control system. There's an in-built Bluetooth option, too, so you can play a soft night-time playlist, or alternatively use the USB or AUX ports provided.
Why is this radio perfect for your kid's room?
Ambient mood light for your child's room, easily controlled by touch.
A multi-use radio that functions on FM Mode, connects to Bluetooth, and can even set an alarm for your child in the morning.
Eight hours of battery life, or two hours when using the light and music settings simultaneously.
---
Oakcastle Portable Bluetooth Radio
Ideal for: Family trips out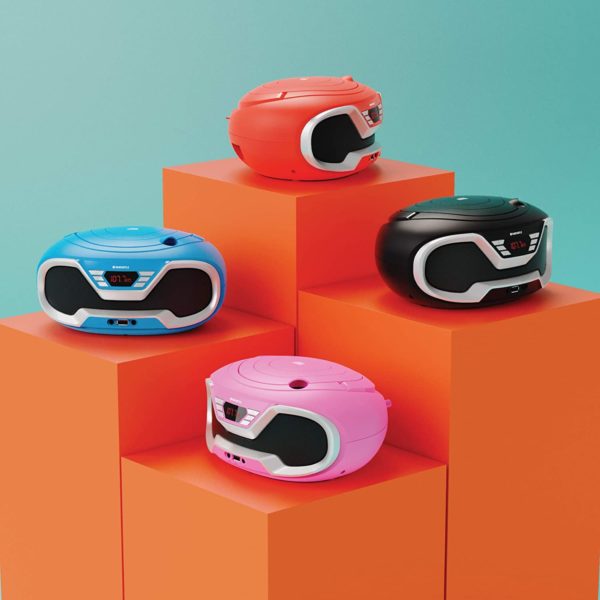 This portable multi-use radio is ideal for kids who want to take control of their own music. Kids will love the freedom of carrying four music options with them at once. Connect their phones to the Bluetooth or the AUX, flick on the FM radio mode to catch a podcast or the latest Radio 1 new music drop, or don't worry about internet connection or signal and just slot in a CD into the in-built slot.
Kids will love this radio for family holidays – and adults can use it when kids still want to listen to music as they're getting ready for bed but it's too late for their phones in the room.
Why will your kid love this?
Available in four matte colours, suitable for both girls and boys.
Connects to music through Bluetooth, FM Radio, AUX or CD.
Completely portable with between 15-35 hours of battery life.
---
Walkie-Talkie Radios
Ideal for: Wild excitement!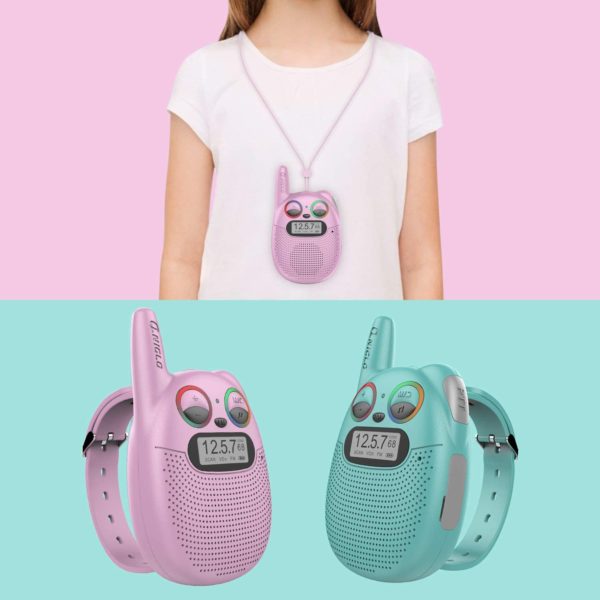 Help your children become super-spies with these FM Radio walkie-talkies. Kids will adore these multi-functional toys, with a long-range walkie talkie option available for camping trips and garden explorations alike. Or use the FM Radio setting and play your favourite music direct from your wrist!
These rechargeable walkie-talkies are designed with a charming Kitty appearance, and the batteries support 24 hours of talking or five days of standby before charging is required. Plenty of time for exploration!
Why is this great for your kid's room?
Fun animal-themed walkie talkies with a built-in radio and LED lights.
Wearable on the wrist, with a watch band and lanyard so there's no need to worry about them getting lost.
Versatile toy for both exciting adventures in the wilderness and quiet afternoons listening to the radio.
---
Conclusion
The reasons to get your child a radio are too good to ignore. Not only is a radio with FM and Bluetooth connection a good way to let them play music without getting distracted by a phone, but there's plenty of other customisation options too, so you can pick a radio that completely fits your family needs.
References and other links
Kids want to know more about radios? Show them this great video on the radio's inventor.
Got a question about kids' radios?
Thanks for reading. Please ask in the comments if you have any questions or things we can help with.