Animal prints are an easy way to add an adorable finish to your child's room. Choose their favourite animal as a statement piece for their wall and make their room their own.
Whether they want their sleep guardian to be a little bunny, a wiggly worm, or a gigantic yet oh-so-sweet dinosaur, there's the art print for you!
---
Cute Animal Prints for Children's Rooms
---
Little Bunny Art Print
Ideal for: A pretty-in-pink bedroom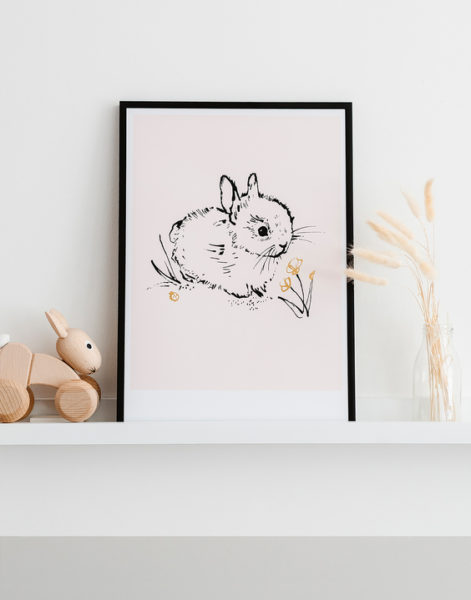 This gorgeous little bunny art print is ideal for your little bouncer's room. Highlighted with stylish satin gold foil detail, this adorable design is printed on high-quality matte A3 paper to ensure the integrity of the design.
Frame the picture over your child's bed, or hang it on the wall opposite so they'll always be able to look at it the second they wake up.
Why is this great for your kid's room?
Matching wallpaper design available
Comes in either grey or pink
Proudly made in the UK
Textbook cuteness for your child's room!
---
ABC Animals Nursery Print
Ideal for: Learning about animals!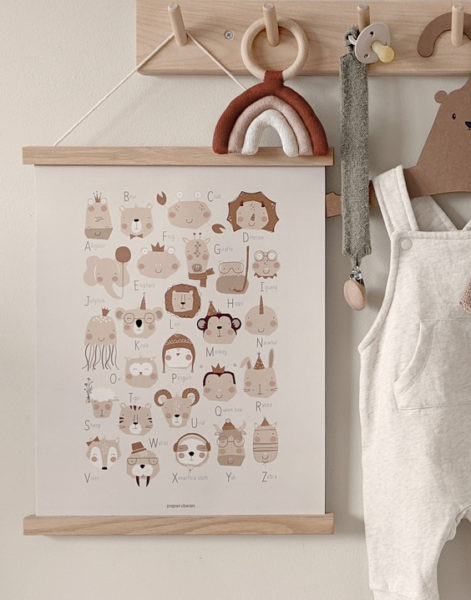 Do you want your child's bedroom brimming with art that's educational and adorable? This ABC animals print is perfect to hang on their wall! Marvel at 26 beautiful drawings of animals, one for each letter of the alphabet!
You and your child can pinpoint and sound out the names written below each animal, teaching them about phonics and the animal kingdom all in one go. Where else will you find a print packed with so many cute and stylishly-drawn animals all on one page?
Why should you get this for your kid's room?
Create endless reading and story games with the animals.
Made using vegan-friendly inks and recycled paper.
Delivered in a smart biodegradable clear bag.
---
Mini Beasts Art Print
Ideal for: Green-fingered wanderers!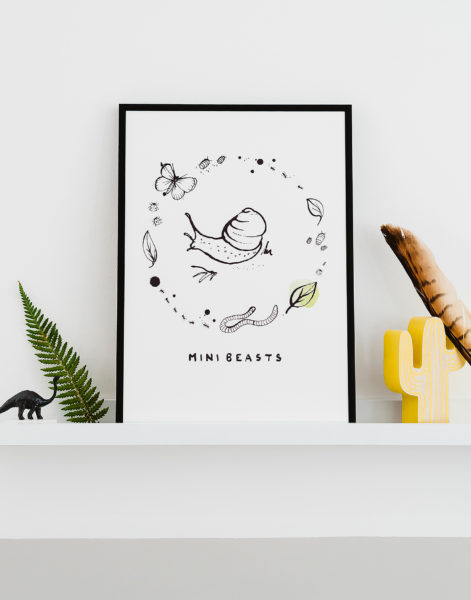 Embellish your little explorer's bedroom with this arty Mini Beasts art print! Printed on textured Tintoretto Gesso A3 paper, you and your child can learn facts about each of the creepy-crawlies captured in this drawing.
Why not make a game of it? Spend a day trying to spot a snail, a worm, a butterfly and a few beetles in the countryside, then return to your child's cosy bedroom and match their real-life memories to the drawings in your art print.
Why are these perfect for your kid's room?
Proudly produced in the UK.
Arrives unframed for the opportunity to use a frame that matches your child's bedroom.
Printed on high-quality 250gsm paper.
Brings a dose of unique cuteness!
---
Animal Landmarks World Map
Ideal for: Learning more about our animal planet!
This stunning world map will be an endless source of fascination to your child. Themed with the world's animals, you and your child will enjoy exploring which animals live in which continents. Which tree-climbing marsupial might you spot in Australia? Which bamboo-eating bear frequents the hills of China?
You might even be able to tick off the animals you've both seen, whether it's in person, in a zoo, or captured in a film. Or introduce your child to the wonders of nature programmes then see if they can spot which animals on their map they've just seen on their screen.
Why will your kid love this in their room?
Adorable animal sticker prints with fantastic bright colours.
Reposition the world map stickers easily on any smooth, clean and dry surface without damaging your wall. Excellent for rental property!
Give your child's bedroom a fresh look with this learning tool.
---
Personalised Dinosaur Family
Ideal for: Rawr-some personalisation!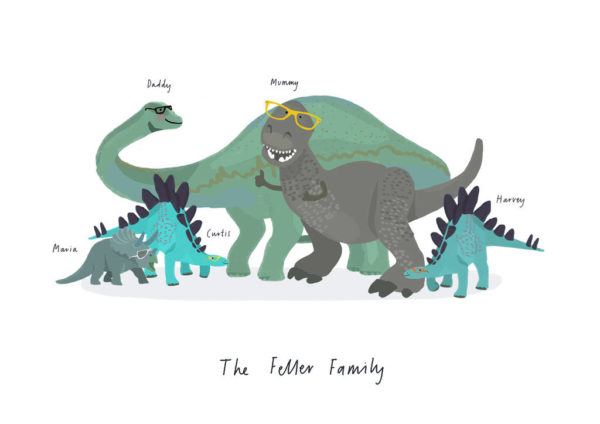 This fantastic art print adds a touch of stunning personalisation and humour to your child's room. Ideal for kids who've just discovered the wonders of dinosaurs, create a dinosaur family of your own.
Customise your dinosaurs to your family demographics, whether you want a mum and two boys, a mum and dad and three girls, a dad and a daughter, or two mums and twin boys. And this print is available in two sizes, so it's perfect for all rooms and wall spaces!
Why is this great for your kid's room?
Created by illustrator Hanna Melin MA, Royal College of Art.
Family names written below each dinosaur.
Features a variety of dinosaurs – brontosaurus, t-rex and stegosaurus!
---
Conclusion
Every child adores animals – you just have to find out which are their favourite! We've put together a zooful of adorable animal prints to display in your child's room, whether you're looking for the cute and conventional fluffy bunnies or a pretty rendering of some wild bugs and dinosaurs!
References and other links
Not sure which animal you'd want an art print of? Here's some adorable inspiration.
Got a question about cute animal art?
Thanks for reading. Please ask in the comments if you have any questions or things we can help with.