Sometimes we don't think about the lighting in our children's rooms as much as we might the wallpaper or posters. How much customisation do you need with a simple overhead bulb, after all? But adding a unique pop of light to your child's room is an easy way to make it their own.
Whether it's a soothing nightlight or a cute reading lamp, including different forms of light in a bedroom is a sure-fire way to make your child more welcomed and comforted in their own space.  We've been checking out the best lights for children's rooms.
---
Top 5 Lights for Children's Rooms
---
Wild & Wolf Light-Up "12 Globe
Ideal for: A fabulous centrepiece

This pretty room light is educational and enthralling for any young explorer! Whether you want a touch of mood lighting for your child's room or to brush up on your geography knowledge together, this light-up globe will be a spectacular feature for them.
The globe features a USB cable to power the light through both a USB port or mains socket, so you'll have ultimate control over where you place the light. Help kids to understand their place in the world from their own bedroom, or simply offer them a gentle golden light when they're snuggly down for bed.
Why is this great for your kid's room?
A stunning and informative globe in pearl-pink.
A USB cable for full flexibility over where to place your light.
Illuminated with an energy-efficient LED bulb.
---
Sparkle LED Ombre Jar
Ideal for: Fairytale vibes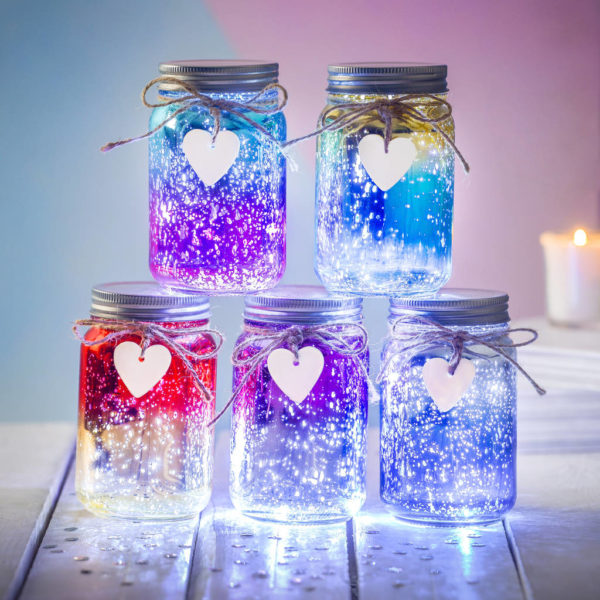 Send your kids away with the fairies into sleep with this unique LED light jar. Children will adore the fairytale vibe of these mood lights, coming in pretty mix-and match colours. Every time they wake up, they'll feel like they've caught a handful of fireflies!
The jars are painted with ombre colours and speckled with see-through circles, sending the LED lights contained inside into a mesmerising swirl. Ideal for any child discovering the wonders of Disney, add a dose of magic to your child's night-time routine.
Why should you get this for your kid's room?
A convenient twist-top jar lid wrapped with rustic twine.
Battery-powered LED string lights tucked inside the jar.
A rainbow delight of assorted colours for the paint ombre style.
---
House Of Disaster Sea Creature String Lights
Ideal for: Quirky mood lighting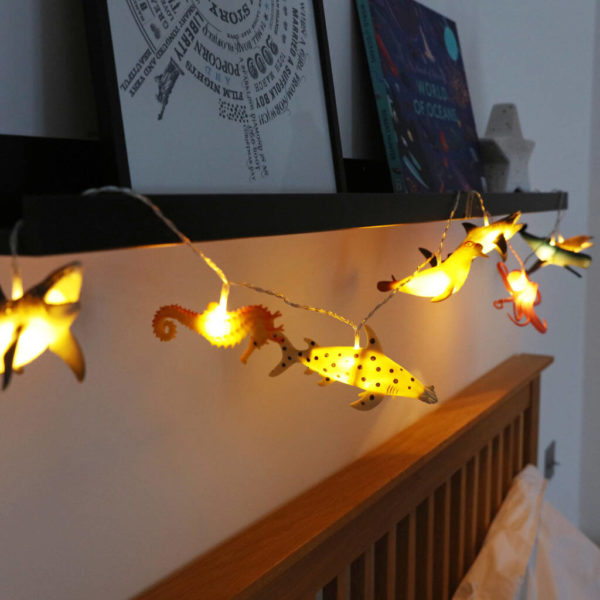 Bring the deep sea into your child's bedroom with these colourful string lights! Featuring eight fun sea creatures lit with LEDs, you can string these from the ceiling, a bookshelf, or even around your child's bedframe – the ocean is your oyster! A convenient on/off switch allows older children to be responsible over their own lights.
Why not learn a fact about one animal a day, or exercise your child's imagination and make up a story about the about the adventures of the seahorse, squid, walrus and sharks watching over them at night?
Why are these perfect for your kid's room?
Add a unique pop of colour to your child's room.
Energy-efficient LED lights inside each animal.
On-off switch for easy control.
---
Jeteven Cinematic Lightbox With 210 Letters & Emojis
Ideal for: Kids with something to say!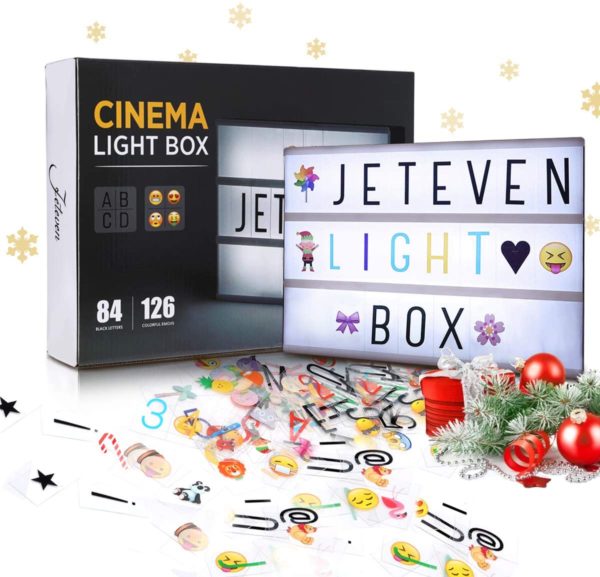 This super-stylish lightbox is a pop of vintage personalisation that kids of all ages will love! Make your child's bedroom feel like a film set with customisable letters and the newest emojis to write a message on their new room light. Use the box as a convenient low light for reading or watching a film.
Parents of younger kids can set the letters on the lightbox to form a sweet message for their child – or switch them to something funny and see how long it takes them to notice! And older children and teenagers will adore the constant personalisation the lightbox gives them, even if their interests change from one week to the next.
Why will your kid love this in their room?
210 letters and emojis to write messages with
Choice of powering with batteries or a micro-USB
Mount holes to hang your box on a wall!
---
Baby Star Projector Night Light
Ideal for: Soothing bedtime routines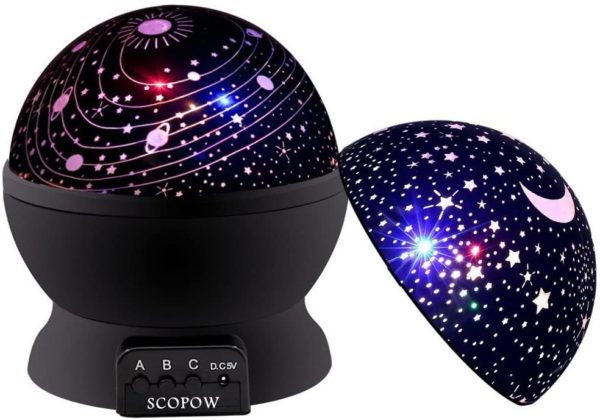 Project a galaxy onto your child's ceiling! This gorgeous planetary night-light projects soft planets, stars and solar system patterns in a gentle swirling rotation across flat surfaces.
Customise the display with three different modes, including a warm light specifically to be used as a soothing night-light. Or use the multi-coloured setting and point out the different orbits and planetary shapes with your children!
There's three different skins for the light, so your child will always have something new to gaze up at while they're settling down for bed.
Why is this great for your kid's room?
Multi-coloured rotating night lamp perfect to place on a bedside table.
Three covers and three light modes for optimal customisation.
Choice between battery-power and a USB port.
---
Conclusion
There's an incredible variety of lights across the internet that will bring brightness and fun to your child's room. Our selection picks out some lights that have that extra-special touch, whether they can be personalised to your child's interest or the design of the light is just too pretty to pass up.
References and other links
Still need help?  Check out this cool video on light sources for kids.
Got a question about kids lights?
Thanks for reading. Please ask in the comments if you have any questions or things we can help with.