Have you been looking for that extra something to complete a child's room? Maybe something fun and playful that also engages your kids but adds a personalised touch to their space? Well, alphabet décor is the way to go.  We've been checking out the best decorative letters for kids rooms.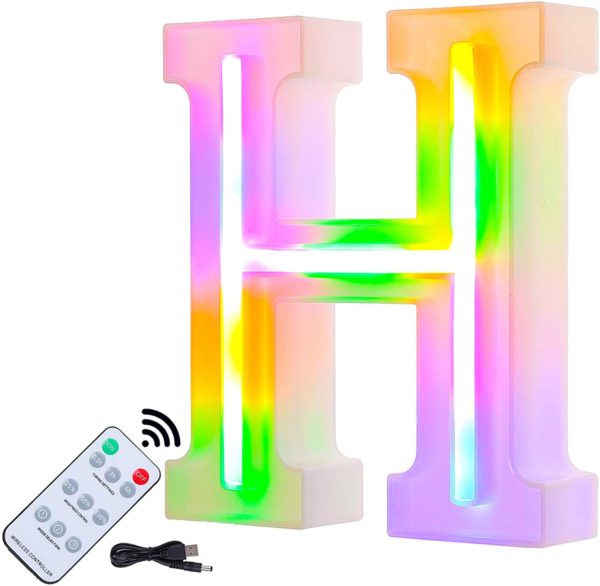 Whether it's your kid's initials or a memorable word across the room, alphabet décor amps up the degree of customisation you can achieve with a few simple pieces. Today we'll be looking at the best decorative letters that your kids will love!
Best Decorative Letters for Kids Rooms
Ideal for: Lighting Décor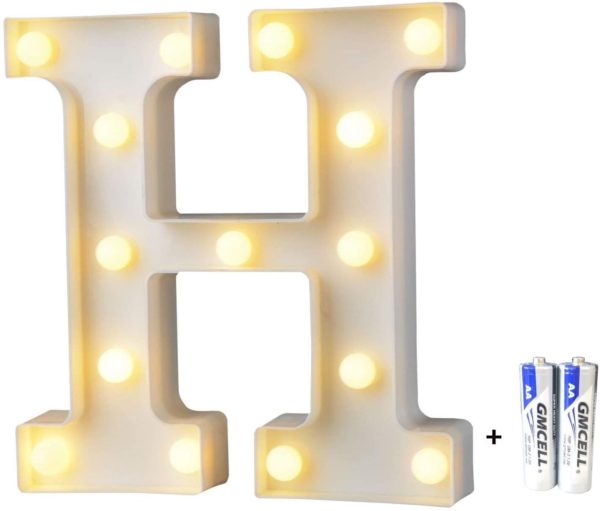 Bemece LED alphabets take the Hollywood lights and turn them into a cute décor piece that's perfect for a kid's room. You can easily combine the letters to spell out significant words or simply showcase your child's initials with a light up piece.
The best part is that they can be used as standing décor as well as wall décor, so a wall hanging commitment isn't necessary. The possibilities of mixing and matching up these 22.5 cm high letters are endless, and you can easily switch them out for seasonal festivities throughout the year.
Why should you get this for your kid's room?
Light up decoration
Easily manageable size
It can be mounted or used on its own
Adds an interactive light up element
Ideal for: Subtle décor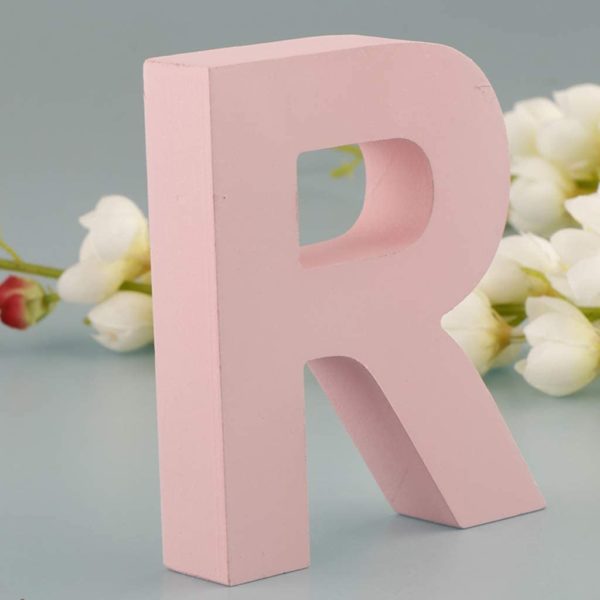 The F Fityle wooden letters are a nursery essential. With the pretty pastel color pallets and sturdy built, these wooden alphabets can easily add a subtle touch of personalisation and maintain an overall minimalist look for the room. You can mount them over the child's room door to mark their territory without excessive bulky decor.
From alphabets to symbols and digits, the variations are endless for these wooden letters, and you can have all the fun you want and make it a safe spot for your kids to chill in.
Why should you get this for your kid's room?
Subtle color schemes
Easy to mount and use
Simple but elegant design
Ideal for: A snazzy room look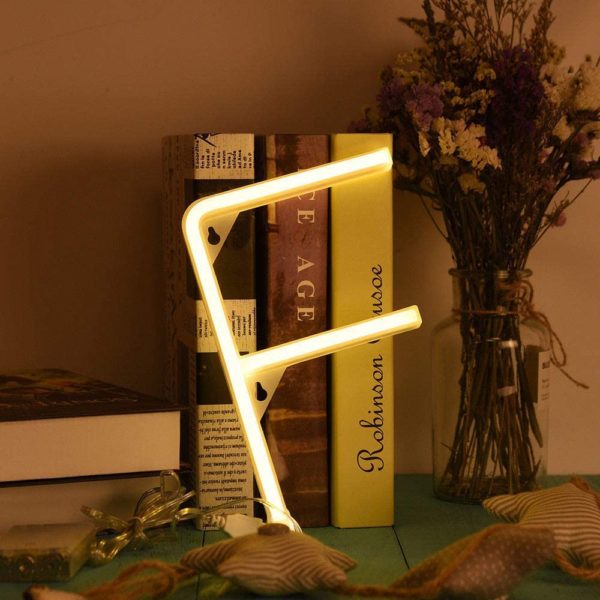 ENUOLI brings the light up letter game with its sleek and fun shaped letters molded across the LED. You can choose from a plethora of combinations and design a neon sign of your own just through these LED alphabets. With 3AA batteries and USB support for the power supply, ththese letter lights' battery life
Whether you want to light up the walls with these alphabets are add simple décor to your child's desk, the possibilities with this interactive letter décor are endless. You don't even have to worry about its environmentally friendly aspect as all letters are made primarily with a neon tube and do not involve hazardous metals like mercury.
Why should you get this for your kid's room?
Environmental friendly with non-hazardous material
3AA battery supply with USB power supply
Hanging hole included
Perfect for any occasion
Ideal for: Rustic Room Décor and Nurseries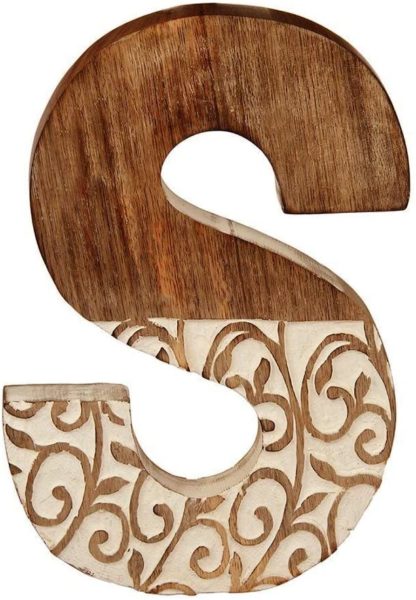 The Aheli wooden decorative letters are perfect for any type of DIY project, and we all know how much kids love that! Made with premium quality mango wood, these letters have an excellent finish, so you can even use them as they are.
Whether you've DIY-ed your letter or plan to hang them up as they are, these eye-catching letters will be perfect for a rustic or shabby chic kid's room theme. You can even involve your kids in the decorative aspect and ask them to customise these letters. We think these wooden letters would really suit a nursery.
Why should you get this for your kid's room?
30.5 cm in height
Premium mango wood
A vintage shabby chic look
Easily customisable
Ideal for: Artsy Room Décor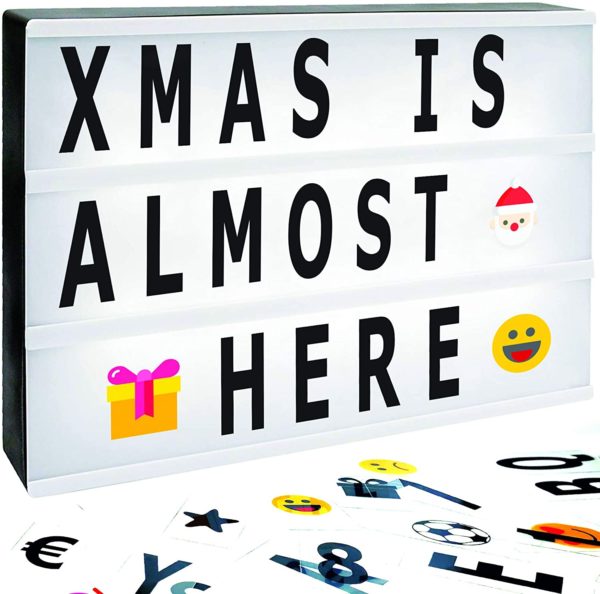 The cinematic light boxes certainly bring in a unique and fresh twist on the letter décor. You can easily set across the word you're looking for and change them as you go. The extra bright light in the background paired with the unique, ever-changing combos is precisely the kind of décor you need.
Not only is it an aesthetic piece of décor, but it also engages your kid's participation by giving them the freedom to customize the letters however they want. You don't even have to worry about losing the unused characters; you can easily store them at the back of the light box itself!
The cinematic light box is the perfect décor for kid's room, and your kid will love to have that personalized feature for them to change as they please. There is no need to worry about batteries as the power saving mode spans up to 8 hours and USB-powered input is also included.
Why should you get this for your kid's room?
Customisable light box
Interactive and engaging
Integrated storage compartment
Power saving option and USB power supply
Versatile and unique
Mounted or Freestanding options
Ideal for: Character Room Décor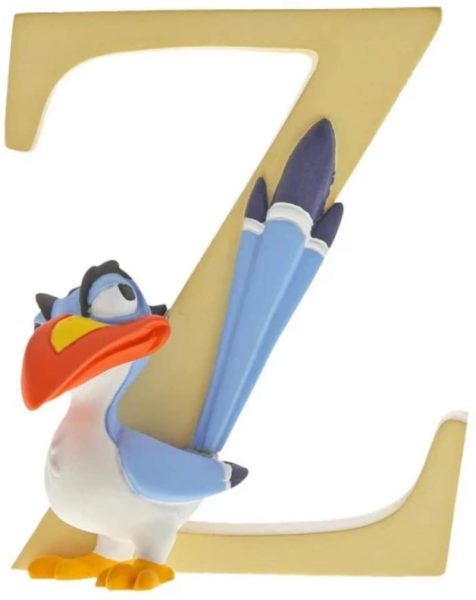 Is your kid obsessed with Disney shows? These enchanted figurine letters are the way to go for them. Each letter is molded with the figurine of a Disney character which makes the letter an element of décor as well as something your kid will deeply cherish.
This will make the room tie in together to be your child's safe haven and a place that is filled with characters they love. The Disney characters' magical charm and the letter décor will come together to bring the whole room to life.
Why should you get this for your kid's room?
Enchanting Disney Franchise
Personalised and Unique
Ties in perfectly with your child's interests
A memorable element
Conclusion
Letter décor is the latest way to spice up your kid's rooms with that personalized touch. Our selected collection features all sorts of aesthetics that you may be opting for when designing the kid's room, and we hope that our selection of the best decorative alphabets helped you pick out the right ones for your home.