Is your child an aspiring astronaut or budding rocket scientist? Are they fascinated by the universe and space travel? If so, they're sure to love these items perfect for making a space themed bedroom fit for any little explorer.
Buckle up for our tour through the top 7 products ideal for kitting out the ultimate space themed bedroom no matter the age of your child.
#1 Navy Blue and Silver Star Black Out Curtain
Ideal for: Summer Nights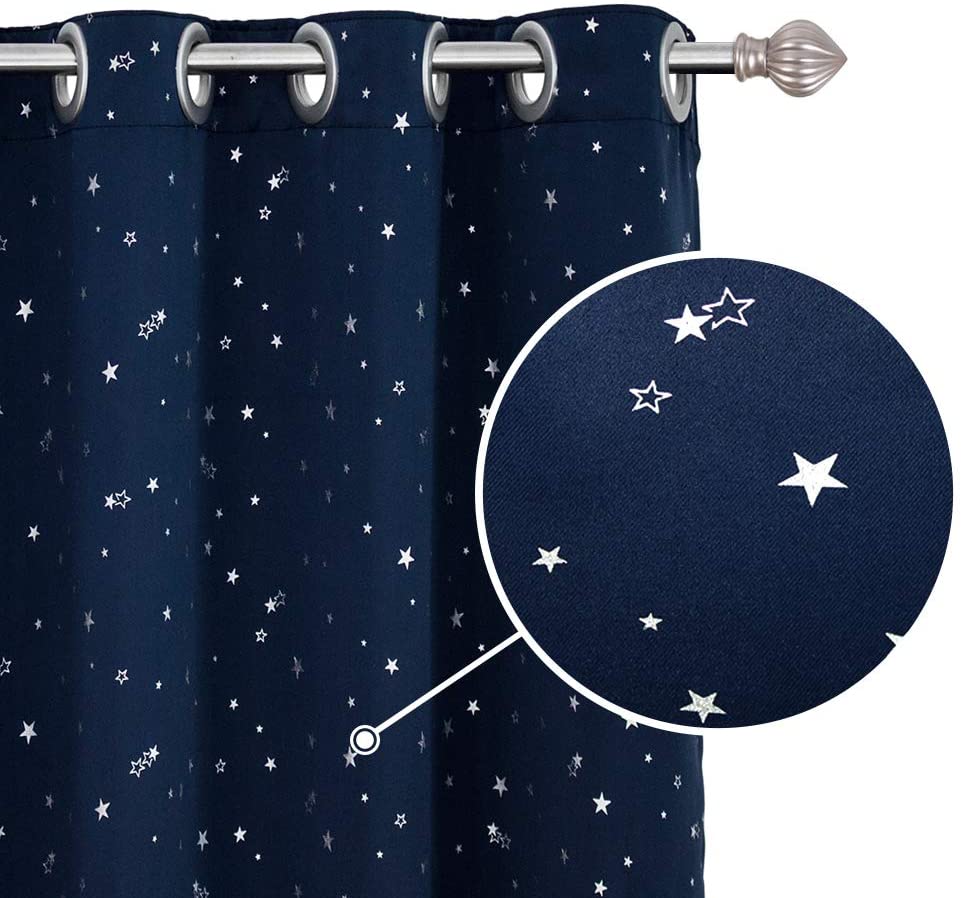 This interstellar black out curtain is a superb addition to any kids bedroom, helping them sleep through until the morning during the summer months. More sleeping, means more dreaming, and therefore more amazing space adventures through the night. These dreams can be carried on to the daytime by bringing the night sky inside thanks to the beautiful pattern, sure to be a hit with your little star.
The thick quality of the fabric not only looks good but keeps the chill away during the colder months. With the twinkle of the silver stars your child will love to have the curtains closed, leading to a comfy and cosy room environment.
Why this curtain is so great?
• Functional while still looking great
• Easily machine washable
• Compatible with most curtain rails
• Fits with many colour schemes
Head over to Amazon to buy yours >>
#2 Dream Voyager Rocket Duvet Set
Ideal for: A budding astronaut

With this duvet set your child will feel like their living the dream, snuggling up to bed as an astronaut. Make bed time exciting and equip them for their night time space travel, with their very own space ship.
Made of high quality cotton and machine washable, this duvet set will likely outgrow them thanks to its durability. The light colours of the set will look fabulous in a room of any size and the super soft fabric will only enhance the feeling of excitement your child will have as they leap into their new rocket.
What makes this duvet set so stellar?
• High quality cotton
• Brilliant detail in the photographic printing
• Super soft fabric
Jet off to Cuckooland to grab one >>
#3 Personalised Space Height Chart
Ideal for: Younger children star obsessed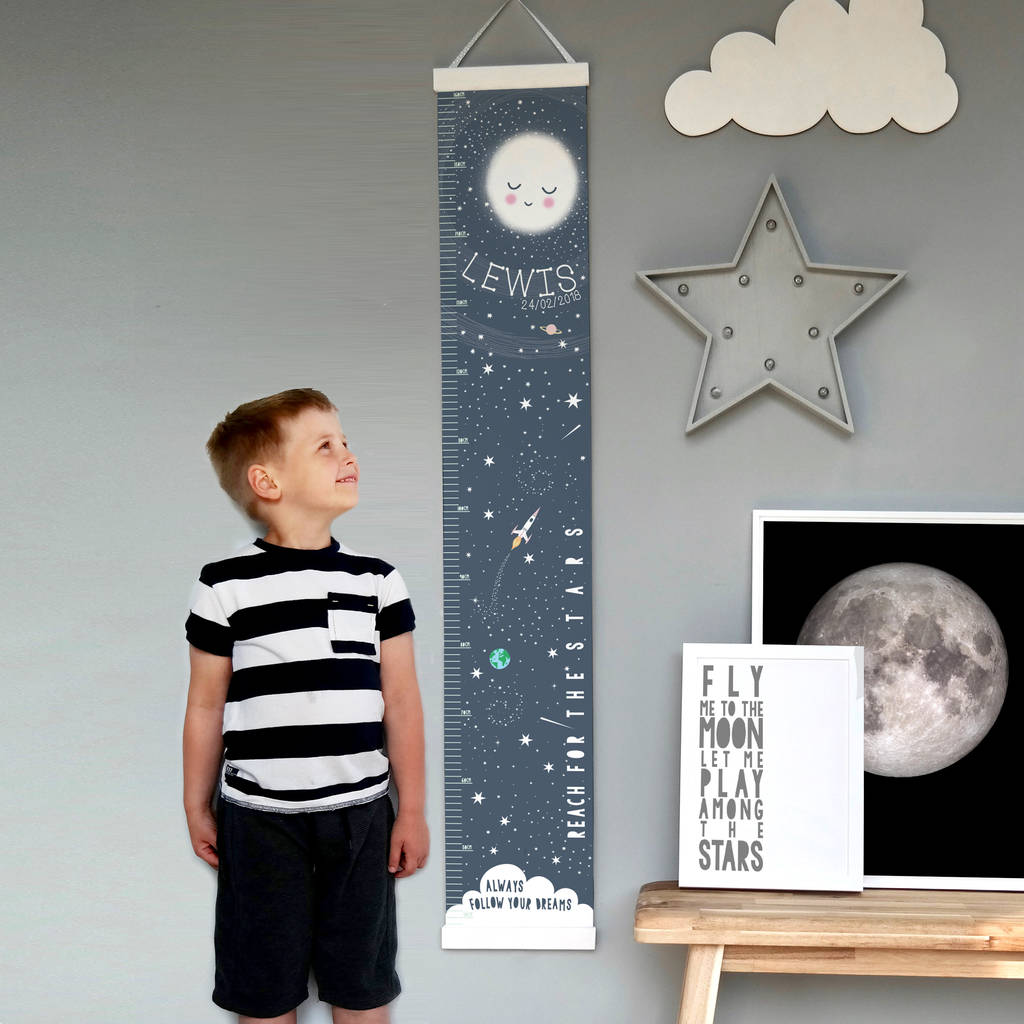 This reach for the stars height chart would make a lovely addition to a room for younger children. Add their name and a personalised message for an extra touch. A choice of colours ensures that this height chart will complement your child's room and the tear proof canvas ensures it will stand the test of time.
A height chart makes a touching memento for the future and adds an extra element to the mundane measuring process. Not to mention, it's ideal for parents who don't want pencil marks on the wall!
Why should this make it to the bedroom wall?
• Excellent quality durable canvas
• Four colours to choose from
• Personalised
• No more messy door frames
Reach over to Not on the High Street for yours >>
#4 Moon ceiling light
Ideal for: Moongazers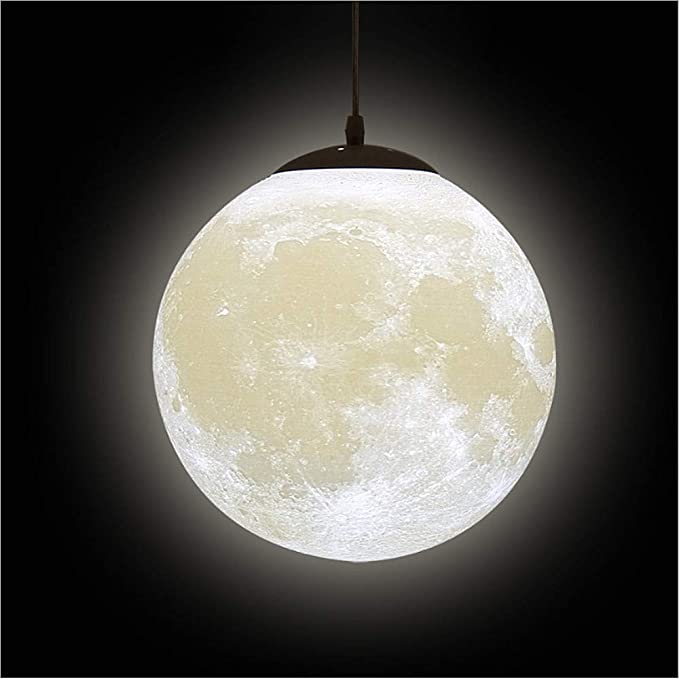 We all have some fascination with the moon, no matter our age. Bring the wander inside with this hanging moon ceiling light. This addition to your kid's room is sure to make bedtime more fun, as once the light is turned on an accurate map of the moon's craters and mountains appear. The moon ceiling light is a brilliant finishing touch for any space themed bedroom.
The moon light fitting is durable thanks to its 3D printed design. It is also made out of biodegradable and renewable materials helping to protect the beauty of our plant while bringing the mystery of the moon into your child's room.
What makes this light great
• Accurate mapping of the moon's mountains and craters
• Durable
• Made from renewable and biodegradable materials
Take a giant leap to amazon to buy it >>
#5 Space Race poster
Ideal for: the young engineers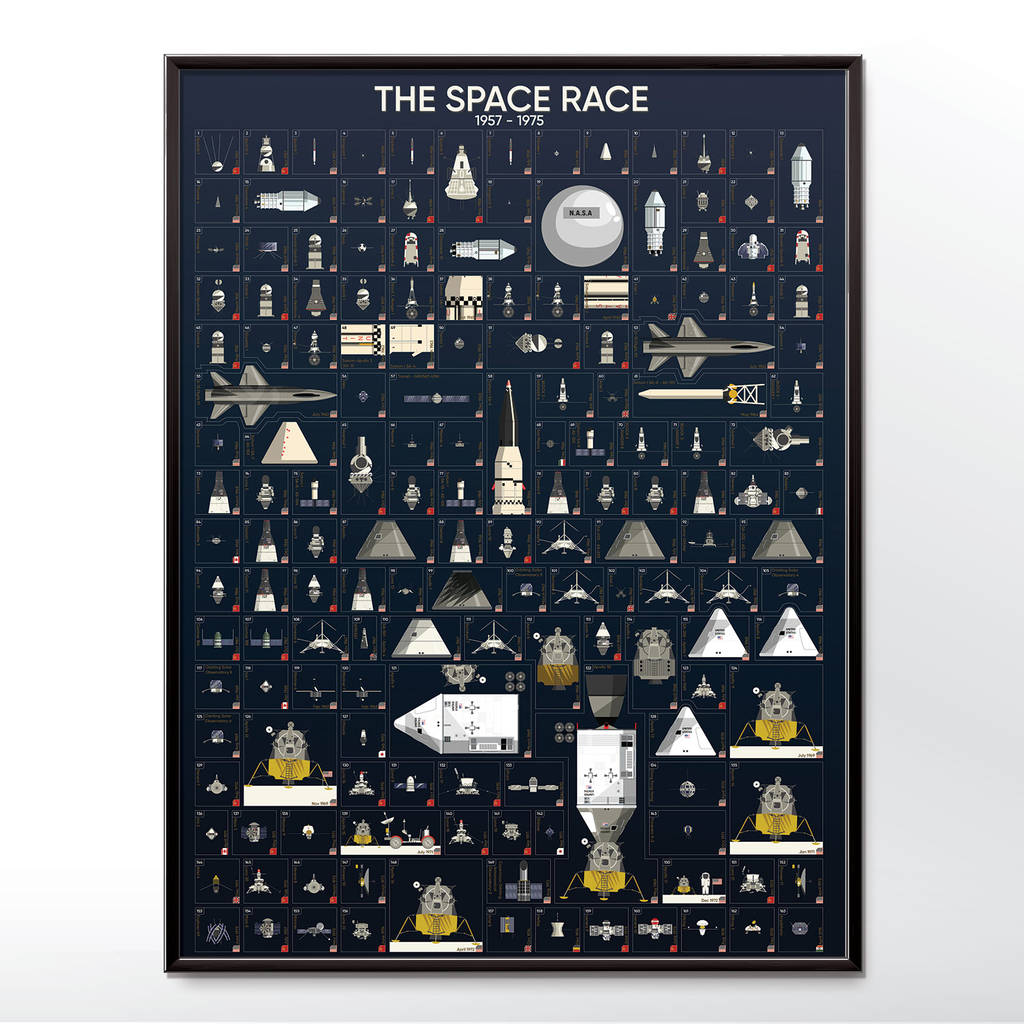 Space travel can often feel like it belongs in the movies. However, with this space race poster your child can learn about the engineering that made putting a man on the moon possible. This wall art is aimed at older children and will make a great introduction to space missions for any aspiring rocket scientist.
Printed on quality paper this poster will look amazing framed in a bedroom with any existing décor. It's availability in three sizes allows it to sit perfectly on a wall of any size. Inspire your child's interest in space with this attractive and educational poster.
What should this make the cut?
• Printed on high quality paper with a matt finish
• Educational and stylish
• Comes in three sizes
Stocked by Not on the High Street >>
#6 Universe projector lamp
Ideal for: those with their heads in the sky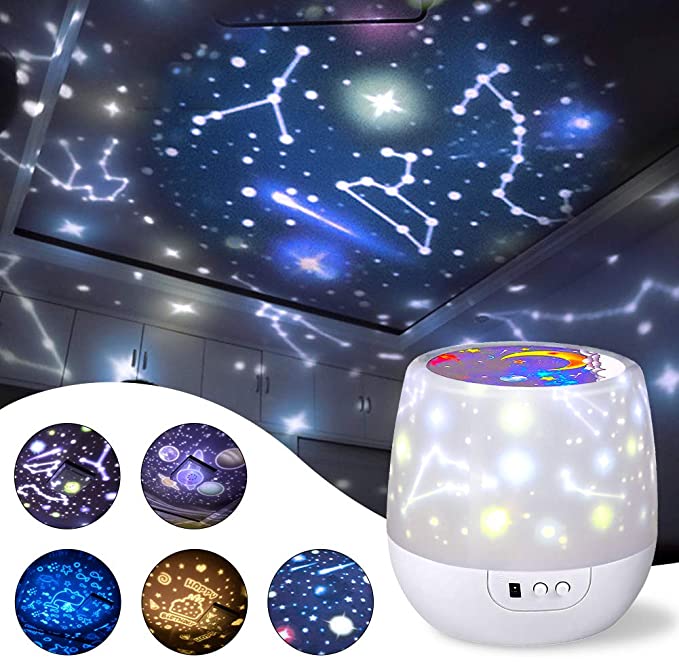 Bring the universe into your child's bedroom with this universe projector lamp. With 3 different space themed filters it is sure to be a hit again and again. With this lamp look at the planets and constellations from the comfort of their bed and with 360 degree rotation there is no need to get up and turn around! There is even the option to alter the brightness level to use the lamp as a nightlight.
Powered by 3 AAA batteries or USB chargeable this lamp is very portable, ideal for any room in the house. In the daytime this lamp can be converted into a desk light before becoming a source of wander and excitement in the evening. Any child space enthusiast is sure to love this lamp.
Top features of the star projector:
• 3 different space themed filters
• Portable
• Converts to a desk lamp
Head to amazon to grab yours >>
#7 Fabric wall stickers
Ideal for: the finishing touch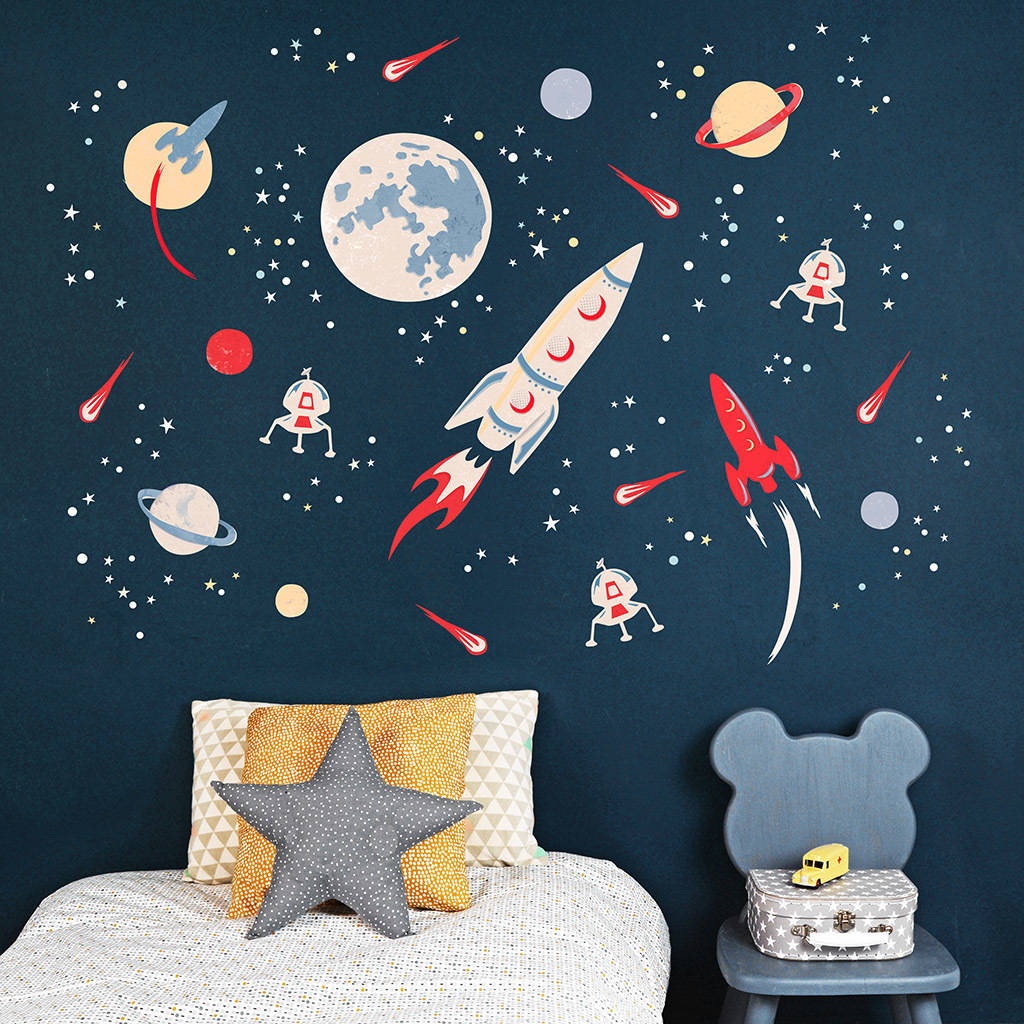 Wall stickers are the icing on the cake when it comes to themed bedrooms. Even with minimal changes to the rest of the room, these fabric stickers will make it feel like a space themed paradise. Younger children are guaranteed to be inspired by the sleek and fun cartoon designs. These stickers are sure to make a setting for saving teddy from an alien invasion on mars.
Parents will also love these stickers as they are a breeze to apply and can be wiped clean with ease. Options in a range of sizes and for dark and light walls will ensure that they look incredible no matter the room. These stickers are perfect for making any feature wall come alive.
Why should I buy these stickers?
• Range of sizes and colours
• Easy to apply and clean
• Eco friendly
Blast off to Not on the High street for yours
Conclusions
There are a huge range of items that can make a brilliant space themed bedroom. Whether you decide to go all out or just add a few key space themed bedroom there is sure to be something in this list that fits the bill.
The main things to consider when looking for themed decorations are the age of your child and the space available in the child's bedroom. These 7 products are sure to help create the magical feel of a themed bedroom no matter the size of the room or the current décor, allowing for an easy yet effective process for parents.