Let's find the best kids Christmas duvet covers out there!
Choosing a new duvet cover can be a fun idea for kids at Christmas.  From Christmas trees and Santa Claus to more subtle woodland scenes there are some amazing quilt covers around.  Children will love the excitement of getting cosy in their new look bed this Christmas Eve!
Best Duvet Covers for Kids this Christmas?
Let's get started and look at some of the best kids bedding sets available for this Christmas.
#1 – Christmas Dogs Duvet Set
Ideal for: Children who love dogs!
This super cute Christmas duvet set is just what you need to complete the Christmas look in your kid's room this season. This duvet set will help create a cozy feel for those winter nights. This versatile design is made up of dogs in Christmas hats covering the entire face of the duvet, it also comes with matching pillowcases.
Our Top Pick: This charming double duvet set is perfect for kids (or adults who love dogs) at Christmas (Amazon)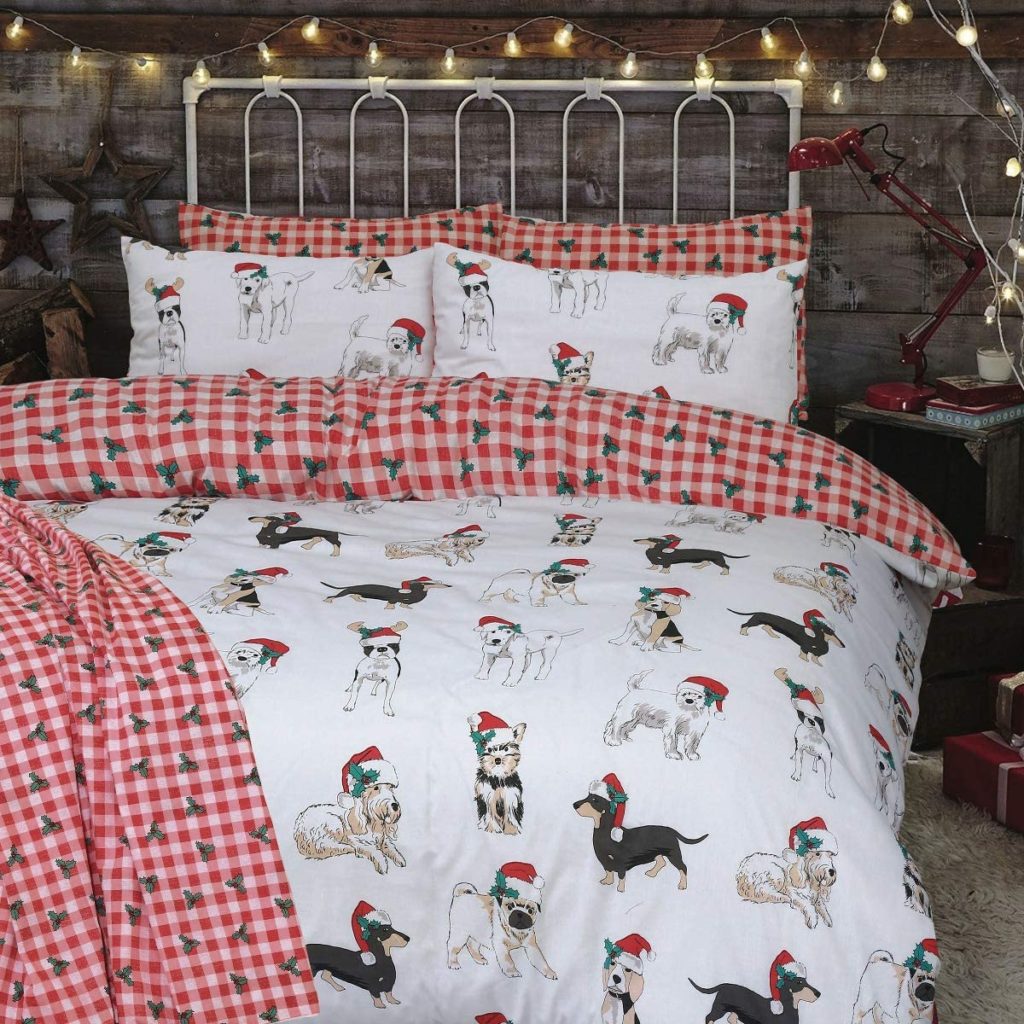 What makes this duvet cover so special?
Cute dog design
Cosy feel
Reversable
Environmentally Friendly
---
#2 – Northern Lights Bedding
Ideal for: Starry Eyed Kids!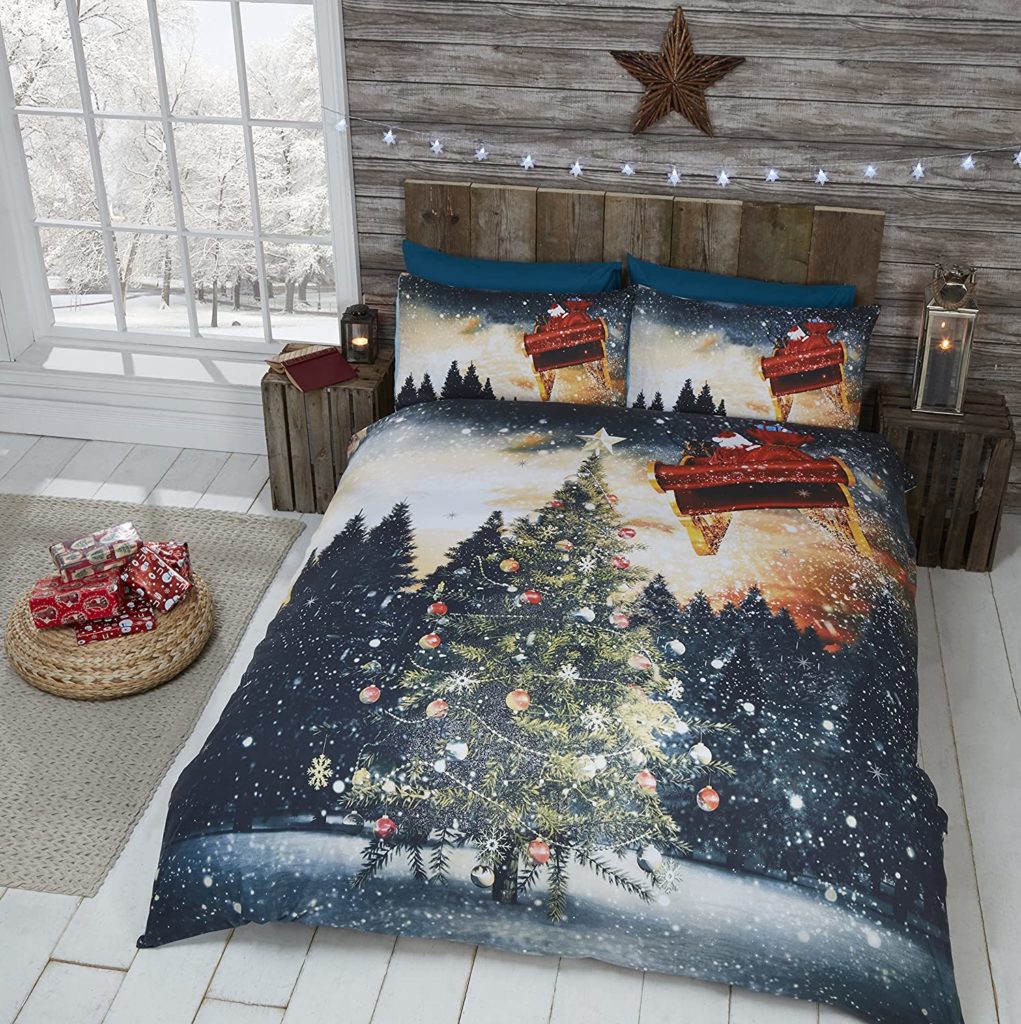 With this duvet set by Rapport, you can embrace the Christmas trend and still keep it stylish. After all, who doesn't like the Northern Lights? We love the starry theme of this duvet cover.  Stars usually sit right on top of the tree and will give added decorative features to your kids room.
Why you'll love this Christmas duvet cover
Super stylish
Will match star themed bedrooms
Strong Christmas theme and available in King Size for adults too
Machine washable, can be tumble dried
---
#3 – Father Christmas Bedding Set
Ideal for: Anyone looking for an obvious Christmas look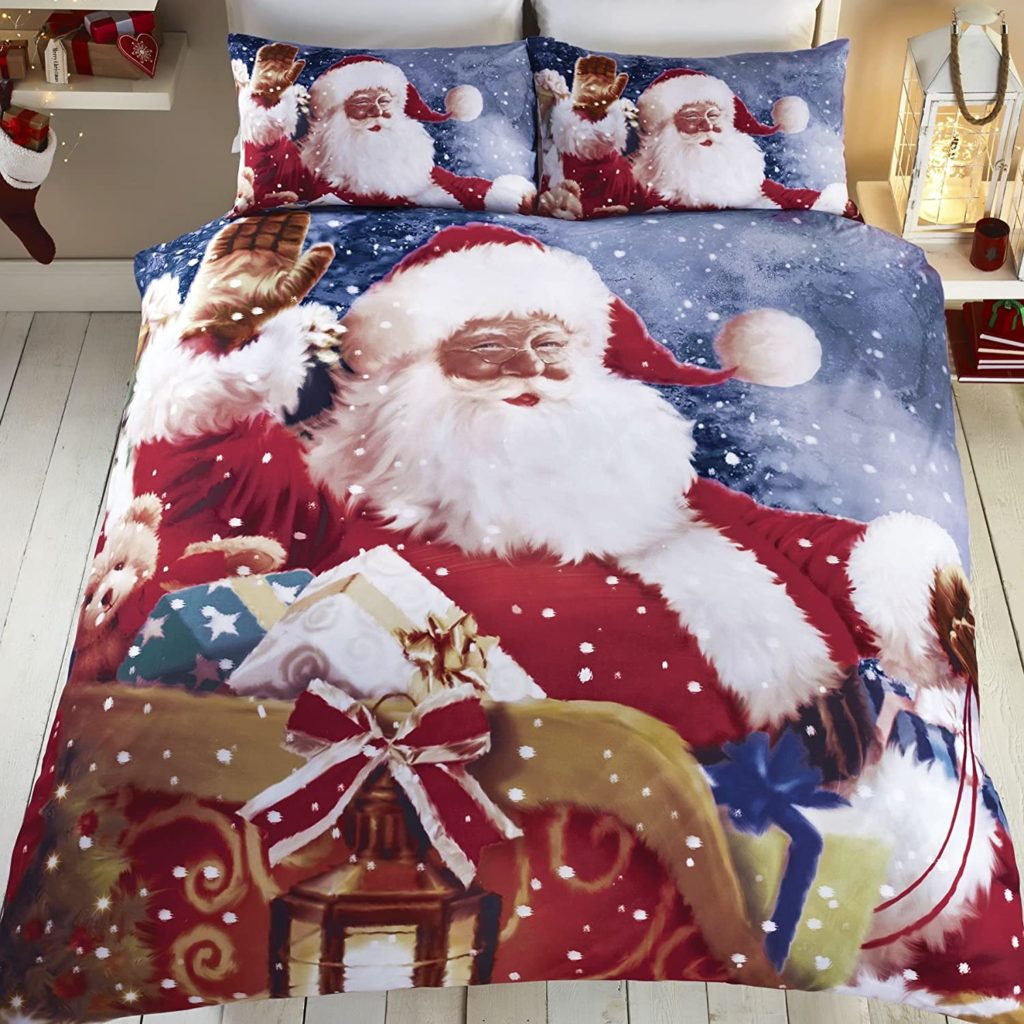 Just make it obvious why don't you! You certainly won't leave your kids guessing with this Santa bedding from Tony's Textiles. This stylish design with Santa on his sleigh will have your children squealing in excitement every time they climb into bed.
Why they'll love it
Santa Claus Theme
Heightens the Christmas excitement
Available in Single, Double and King Size
---
#4 – The Woodland Chic
Ideal for: Super Stylish Bedrooms at Christmas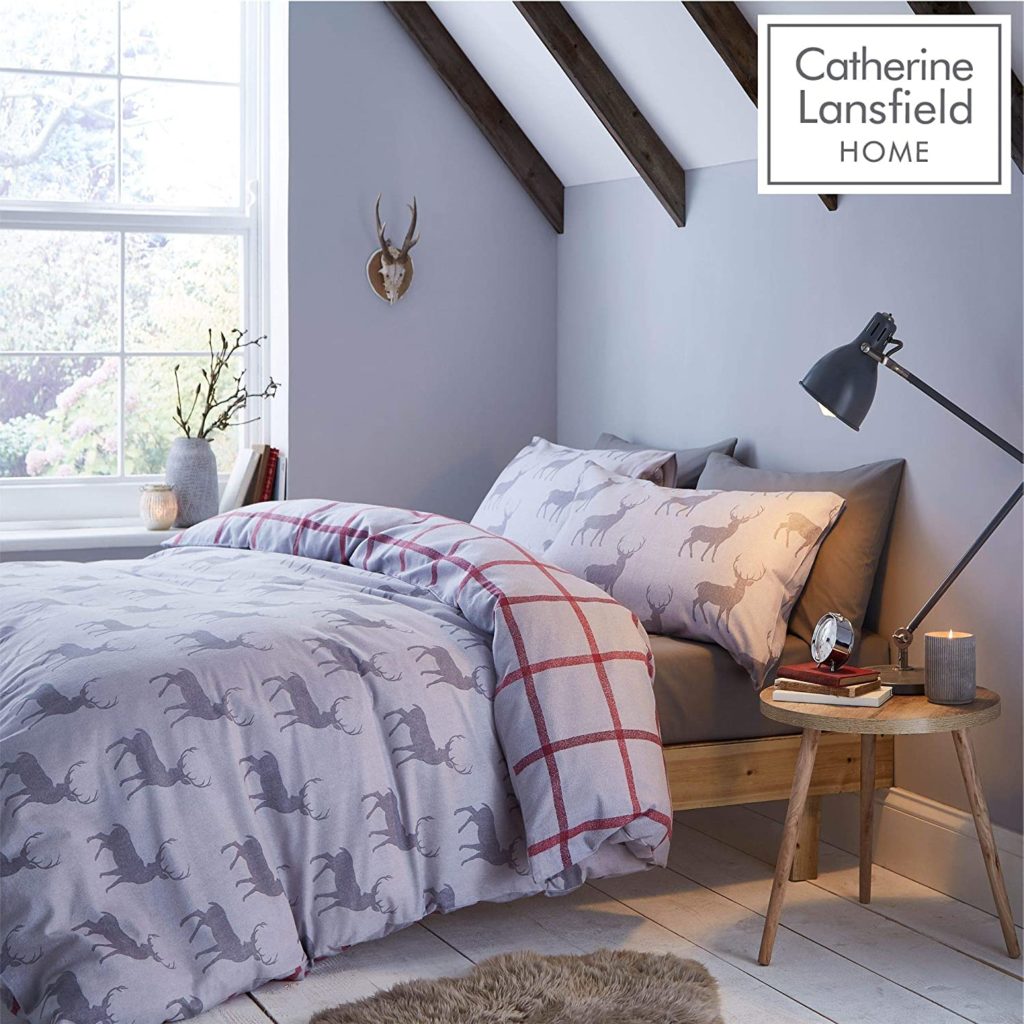 This look by Catherine Lansfield is a bit more subtle, it's Christmasy but its not over the top like some of the other duvets. Your kids will enjoy their imagination for this one. It's the type of design where your little ones can pretend they are riding through woodlands with Santa Claus with his reindeer. Let their imaginations run wild.
Why this bedding set is awesome…
Brushed Cotton
Stag Theme
Easycare Fabric
Single, Double and King Size Bedding Available in this design
---
#5 – Falling Snowflakes
Ideal for: Matching up with blue bedrooms!
This modern snowy looking blue and white bedding set is the perfect addition to you'rs kids room this Christmas.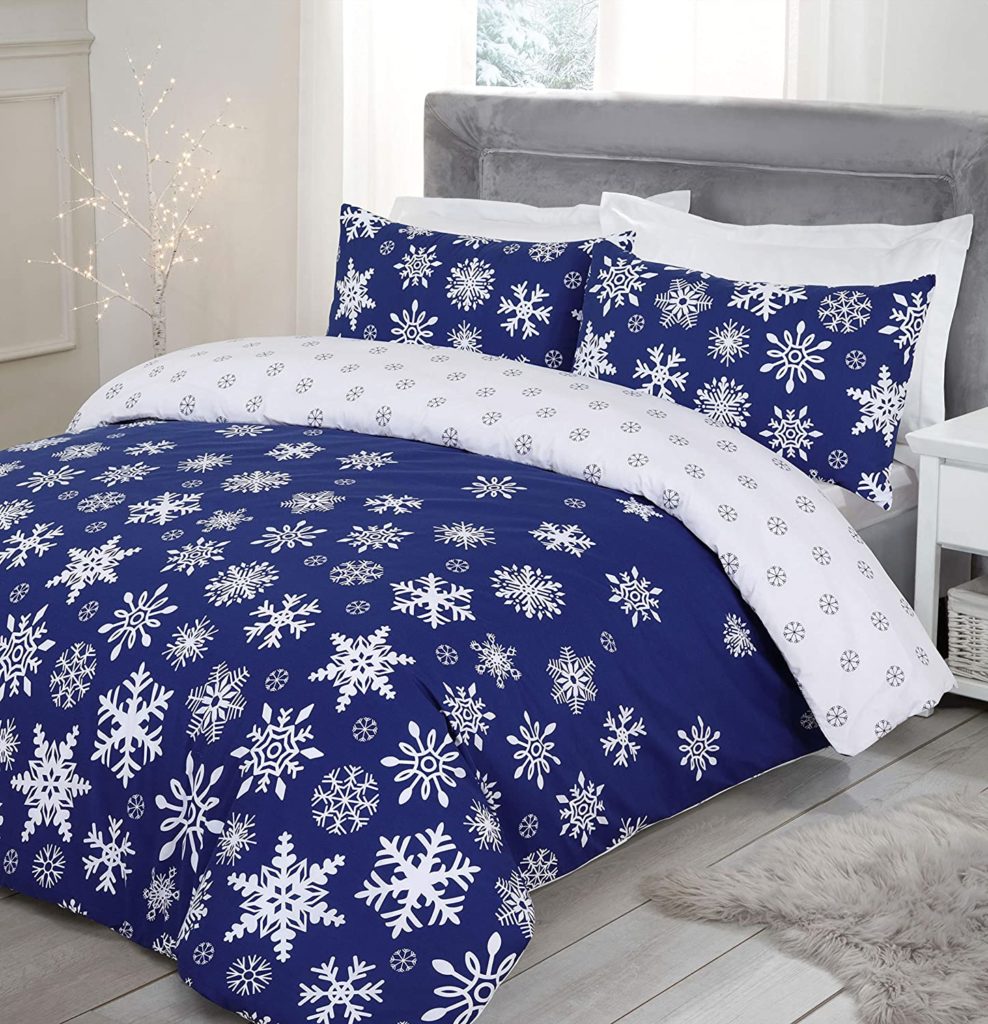 You can't escape the feeling of the festive season with this snowflake duvet set. The duvet cover provides a sophisticated and stylish Christmas vibe print that your children will absolutely love.
Why children will love it
Eco Friendly
Breathable Material
Modern and fresh design
Simple yet stylish blue and white colour scheme
---
#6 – Do you wanna build a Snowman?
Ideal for: Kids who love building snowmen!
Snowman Themed Duvet Cover SetWho doesn't love a snowman at Christmas?  This luxury double duvet set with matching pillow case makes the perfect choice for the festive season.  The cheery looking snowmen will add some festive fun to any kids room.
Why this Pieridae snowman duvet set is awesome…
Gorgeous colour
Luxury duvet set
Matching pillow cases
Can be tumble dried
#7 – Bright and Bold Christmas Party
Ideal for: Going all out with the Christmas theme
If you are really looking to go all out at Christmas, then this one is for you. Showcasing a group of animals in Christmas hats having a party, there is no denying that this duvet set is here to remind you that Christmas is definitely on its way.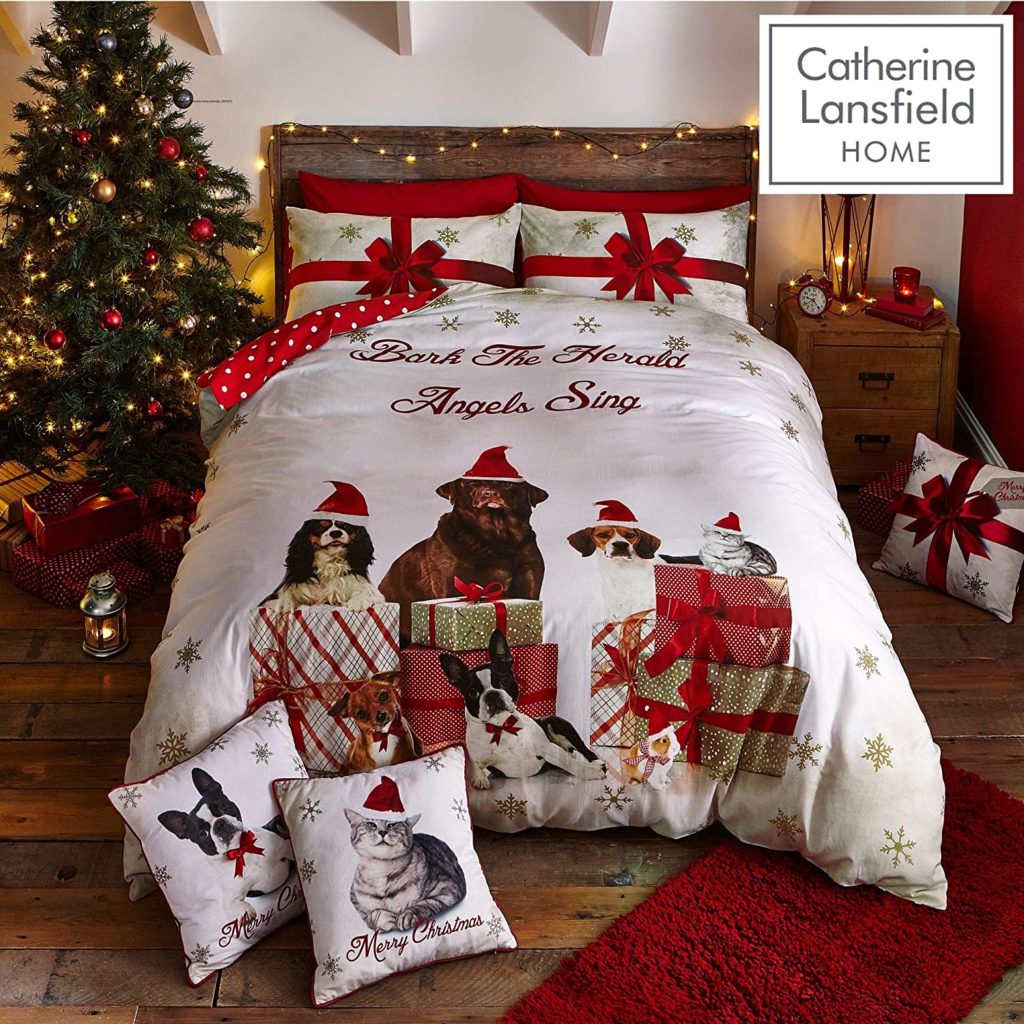 Why this Catherine Lansfield duvet set will get kids excited
Features cute dogs and cats
Christmassy colours
Comfortable fabric so kids can cosy up in style
Contains a funny joke – Bark the Herald Angels Sing
Final thoughts
Now that you know how to choose the best duvet cover, and you have a great selection from which to make your choice; its time to hit the stores and start stocking up for the Christmas season, because before you know it, Santa will be knocking at your door!
How to Choose the Right Duvet Cover
So what are my options when considering a new kids duvet this Christmas?
Deciding on the right duvet cover for your children is not an easy decision to make. Your first step is to understand the options that are available to you and the features that set duvet covers apart. Duvet covers are washed separately and more often than the duvet. As you are probably aware, duvets can be expensive and difficult to clean due to their construction.
A duvet cover serves as protection, but they are also used to add to the design and the decor of a bedroom. There are several factors you will need to consider when determining what duvet cover to choose, these include construction, material, size, and appearance.
Construction
Duvet covers come with close features such as zippers or buttons; some are made with additional decorative embellishments such as ribbons, embroidery, flocking, ruching, and pleats.
Materials
The more high quality duvet covers are made from fabrics such as poly-fiber which are very fine synthetic fibers. If your children suffer from night sweats, this is the perfect bedding because the small fibers do not absorb moisture; instead, it causes it to evaporate. To make the duvet cover even softer, these fibers often have a brushed finish. Poly-fiber is also very sturdy in terms of durability and it is more resistant to fading and stains than cotton. They are typically hypoallergenic because they are made from inorganic materials which help reduce allergy attacks.
Size
Size is very important when it comes to a duvet cover, like a pair of shoes or clothing items; if the cover is too small or too big, it won't fit. The cover should comfortably fit around the duvet so that there is no space available for it to move around. Duvet covers are typically available in a few standard sizes (Single, Double and King), but the thickness is usually different. The sizes available are as follows:
2ft6 UK Small single 75cm x 190cm / 2'6″ x 6'3
3ft UK Single 90cm x 190cm / 3′ x 6'3″
4ft UK Small double 120cm x 190cm / 4′ x 6'3″
4ft6 UK Double 135cm x 190cm / 4'6 x 6'3″
5ft UK King size 150cm x 200cm / 5′ x 6'6″
6ft UK Superking size 180cm x 200cm / 6′ x 6'6″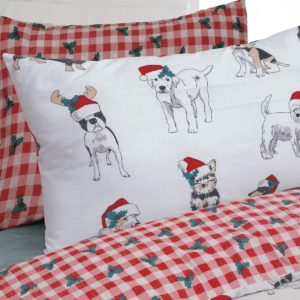 How big should your Christmas duvet cover be?
The duvet cover should be a little bigger than the duvet. Duvet covers are generally sold as a three-piece set, and that includes the duvet cover and two pillow cases.
Appearance
The bed is often the first thing visible when someone walks into a room; that is because it is typically the largest piece of furniture. Therefore, it is essential that it looks good and fits the overall decor of the room or it will do more harm than good.
The good news is that there are plenty of textures and colors available, so you will have a wide variety to choose from. So, since the theme is Christmas, just make sure that the main colors are suitable for the look of your child's room.
References and other links
Goodhousekeeping have some fun Christmas craft ideas for kids to make matching Christmas decorations for their bedrooms.
Check out these mess free Christmas activities for kids to do in their bedrooms – they won't need to mess up their lovely new duvet sets with these ones!
Got a question about Christmas duvet covers?
Thanks for reading this guide. Please ask in the comments if you have any questions or things we can help on.