Looking for best kids bedding set?
Do you have kids who always want to stay up past their bedtime? If this is a problem for you, then perhaps you should consider investing in some bedding sets that will make bedtime more interesting for your kids.
There's a great selection of cool and unique bedding sets available to buy for kids. No matter what your children are interested in, you're sure to find something that will appeal to them. From sports to space, princesses to pirates, world maps to wonderful creatures – there's a whole host of awesome kids bedding sets.
In this article we're going to take a look at 7 of the most unique kids bedding sets which are available to buy in the UK. Let's take a look – we're sure you'll be pleasantly surprised with the variety and ingenuity of the designs on offer!
Lets dive into our Best Bedding Sets for Kids
#1 – Dinosaur Duvet Bedding Set by Snurk
Ideal for: Children who love dinosaurs!
We all know that most kids are absolutely obsessed with dinosaurs at some point. If your kids are currently going through their dinosaur phase, then they'll love this bed set by Snurk.
Dino loving kids will get to fall asleep in the jaws of a tyrannosaurus Rex! But they'll be comfy too of course – this single duvet and pillow set is 100 per cent high quality soft cotton.
You'll have to warn visitors because the print on this unique bed cover is very realistic.
This is perfect if you want to turn your kids room into a prehistoric adventure space for them. Any child who loves dinosaurs will be sure to love going to sleep in this fantastic duvet set.
Our Top Pick: This awesome dinosaur bedding set is perfect for kids  (Cuckooland)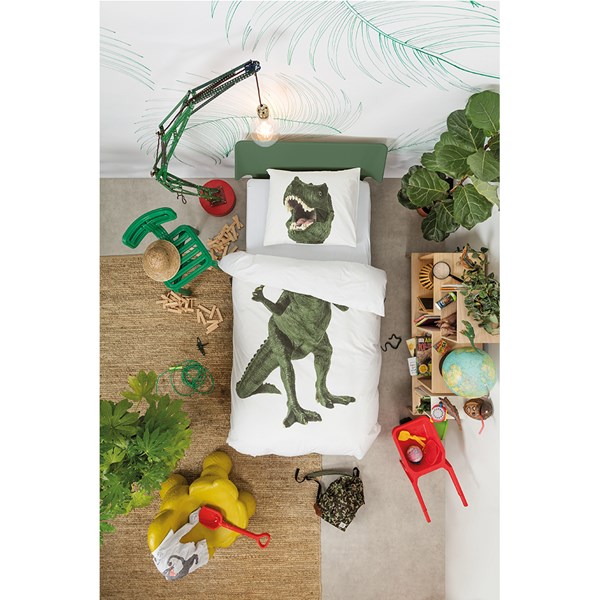 What makes this duvet cover so unique?
Roaring dinosaur design
Matching pillowcase which is the head of the dinosaur
Will look great in a jungle themed bedroom
What is not awesome about dinosaurs?
---
#2 – Children's Dream Voyager Rocket Duvet Set
Ideal for: Space loving kids
If your kids love all things space then they'll absolutely love going to sleep aboard their very own rocketship!
You'll have no problems getting the kids to bed if they know they're going to get to blast off into outer space every night.
The great thing about this set is that it will fit perfectly into any bedroom, no matter what the design. This is because the set has a neutral design. The beautiful and realistic photo print of the rocket is laid against a simple white background. You won't have to repaint your child's room to fit the theme .
Equally this spaceship bedding would fit perfectly into any room that already uses a space theme.
Why you'll love this Space themed cover
Perfect match for space themed bedrooms
Exciting rocket design
Cool colours
Ideal for little astronauts
---
#3 – Orca Reversible Duvet Set
Ideal for: Kids who love sea creatures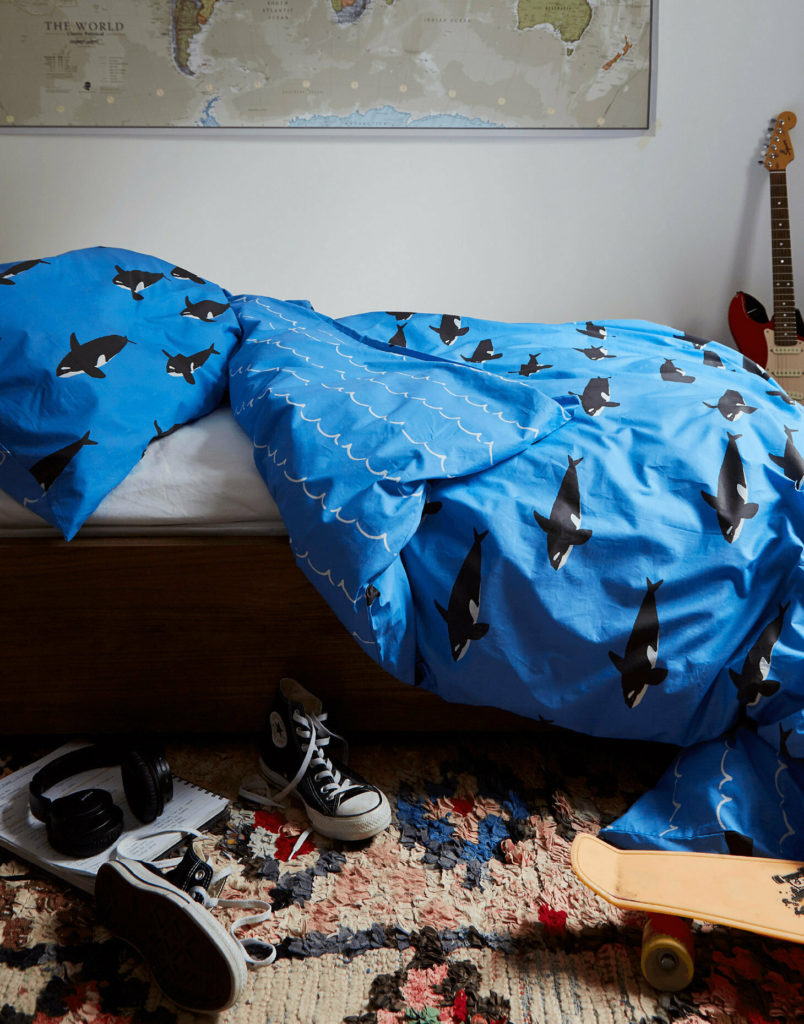 This beautiful reversible duvet set features the apex predator of the sea – the orca. Any child who is interested in marine life will appreciate having this set to go to bed in.
One side features a lovely orca pattern, while on the other side there's a wave pattern. Depending on your child's mood they can reverse the duvet cover as they see fit.
This duvet set comes in a variety of sizes – single, double, king and superking. It's available from Joules. The duvet set is on the expensive side as it is made from luxury 200 thread count and is 100 percent cotton. This will ensure that your kids get a great night sleep.
Why they'll love it
Awesome Orca Theme
100% Cotton
Blue colour scheme will suit many bedrooms
---
#4 – Sleeping Panda Set
Ideal for: Super Stylish Bedrooms at Christmas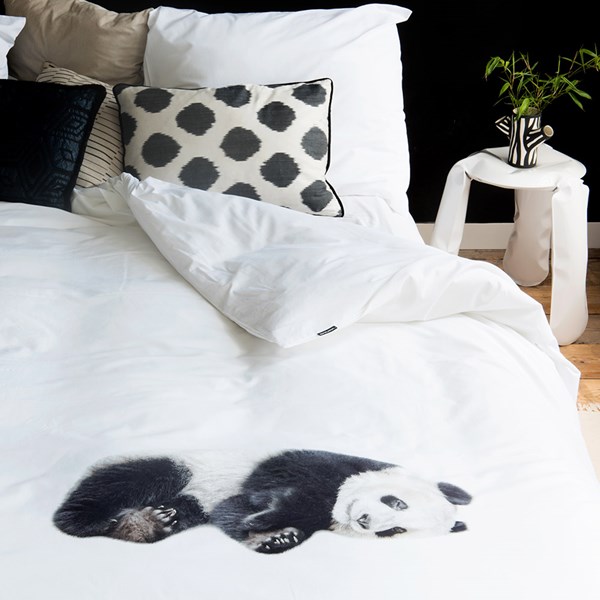 If you're looking for bedding that's a bit more minimal then check out this panda themed duvet set by Snurk.
Kids will love sleeping with a realistic and very cute baby panda resting at the foot of their bed.
If you're a minimalist parent, then this bedding set will match your style while at the same time not compromising your kids' fun.
The crisp white sheets will be easy to keep clean as they're machine washable at 40 degrees and also safe to run through the tumble dryer.
Why this bedding set is awesome…
Gorgeous realistic panda design
Stylish black and white colour scheme
Soft Fabric
Adults might love this one too!
---
#5 – Princess Duvet Bedding Set in Pink, Yellow and Blue
Ideal for: Little Princesses!
Most little girls love reading bedtime stories about princesses. They'll also get to play dress up at bedtime in their very own princess themed duvet set!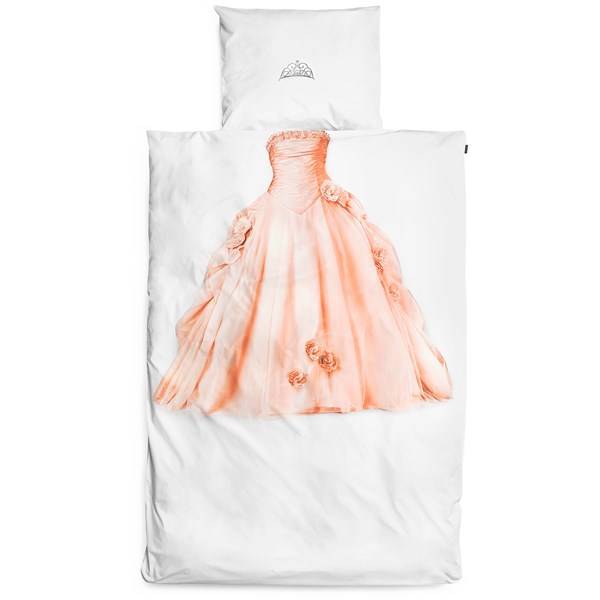 Reading Snow White, Beauty and the Beast or the Princess and the Pea will be even more exciting and magical as your little one will get to listen while relaxing in their very own beautiful princess dress.
This design comes in three different colours – yellow, pink and blue.
Again this set is super comfy to fall asleep in as it's made from 100 percent soft cotton. .
Why children will love it
Pretend to be a princess every night
Gorgeous soft cotton material
Modern design
Simple yet stylish colour scheme in a choice of 3 colours
---
#6 – World Map Duvet Set
Ideal for: Kids who love colouring in!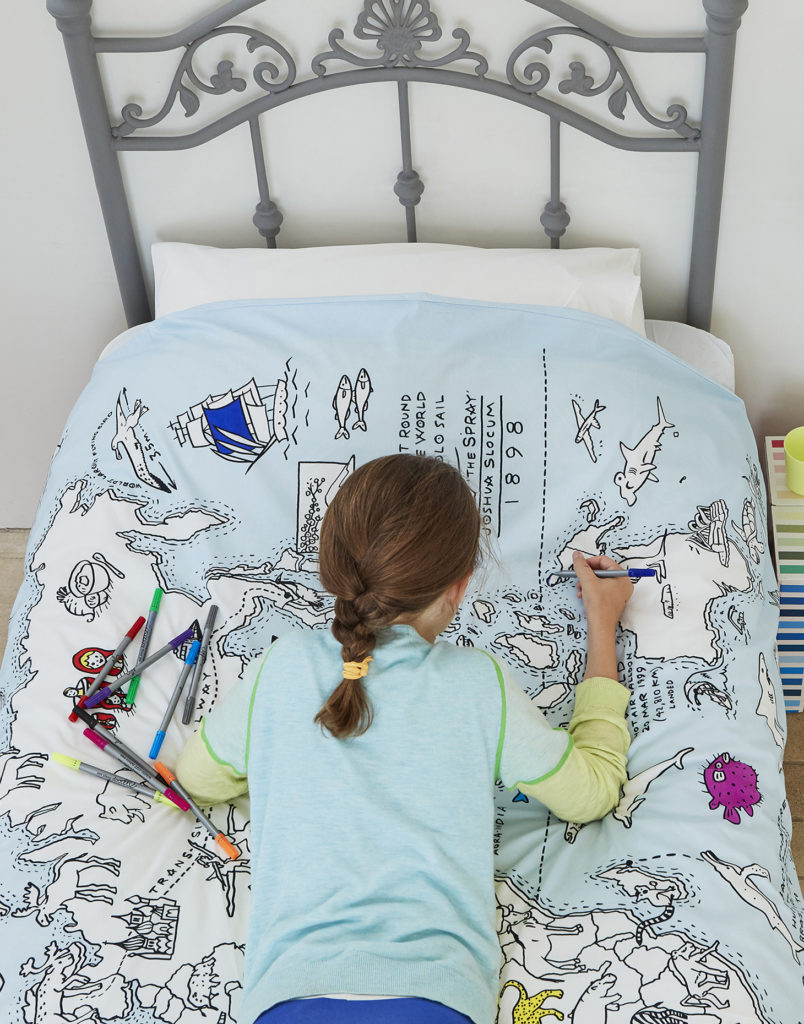 This is a bedding set that your kids are going to have an absolute blast with! The World Map Duvet set by Joules allows kids to colour in a map of the world on their duvet.
This is a great idea if you want to keep kids who wake up super early occupied for a couple of hours, while you get a bit of extra shut eye.
The duvet not only features all the countries and continents of the world, but it also teaches kids about native animals and traditions unique to different countries. They'll have hours of fun in their bedrooms colouring in and learning all about the countries of the world.
This awesome map duvet set comes with a packet of 10 wash out coloured pens. When the kids have finished colouring in all the countries of the world, you can simply pop the bedding set in the washing machine. All the colours will wash out and the kids can start all over again.
What a fantastic idea which allows kids an opportunity to learn about geography in a unique and interesting way.
The World Map duvet from Joules comes in a twin set and is 100 percent cotton. This means it's very comfortable to sleep in and if you can pop the spare duvet on while you've got the other one in the washing machine.
Why this World Map duvet cover is so unique…
Colour it in yourself!
100% cotton
Matching pillow cases
Colours wash out and child can colour all over again!
#7 – Football Duvet Bedding Set
Ideal for: Little Football Fans
Do you have kids that are major football fans? Then this might be the perfect duvet set for them!
This cool set features a graphic of a soccer player heading a football. Your child can drift off to sleep pretending they're their favourite football player.
The set comes in red and green, so it would be perfect for fans of many of the top football teams, including Man United, Arsenal and Liverpool.
Your little football fan will have a great night sleep in this 100 percent cotton duvet set.
This set is also machine washable at 40 degrees, so it can be washed easily with other items.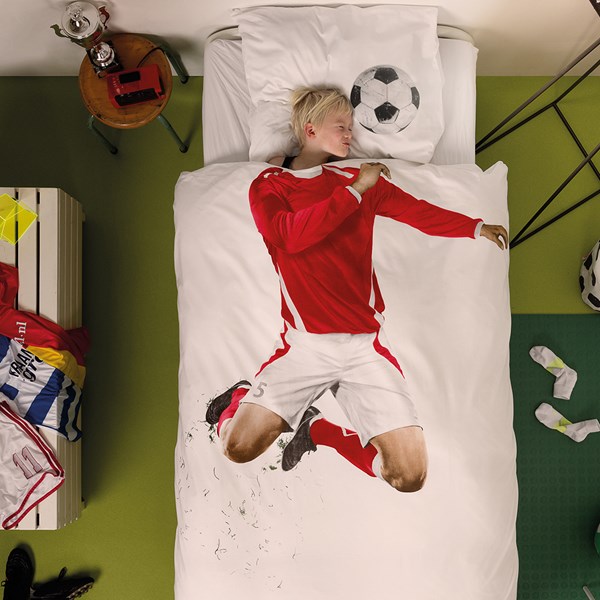 Why this Football themed duvet set will get football fans excited
Be your favourite footballer – in your dreams!
Great addition to a football themed room
Stands out from the crowd
100% cotton
Final thoughts on choosing best kids bedding sets that stand out from the crowd…
As you can see, there's a wonderful selection of unique bedding sets available for kids. We know that children can be interested in such a wide variety of topics, including dinosaurs, space, princesses, sea-life and football, so it's important to find something that appeals to their interests. A unique bedding set is sure to make bedtime much more enticing.
We hope you found some design inspiration for your childrens' bedroom in our list of 7 of the best, most awesome and unique bedding sets.
References and other links
Check out these key principles of bedroom design to make the most of space in any bedroom.
Check out our pick of the best kids Christmas duvet covers if you're looking to add a festive touch to kids bedrooms this year!
Got a question about kids bedding sets?
Thanks for reading. Please ask in the comments if you have any questions or things we can help with.