Wall shelves don't have to be plain and boring in your child's room. Help them to keep the space feeling fresh and vibrant, while staying practical.

Whether you want to carry a theme through the room, or just brighten up the walls with some attractive and clever storage, there is something you and your child will love in this list.
Take a look at our top 6 Wall Shelves for the most stylish kids rooms…
#1 – Animal cut-outs
Ideal for young biologists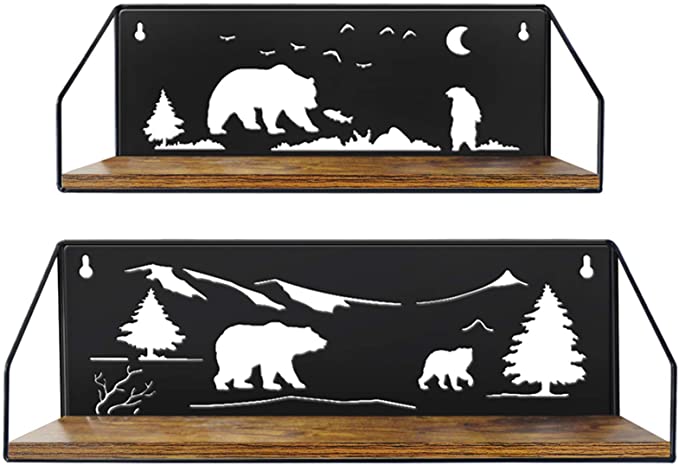 If your child is an animal enthusiast they are sure to love these shelves. The striking cut out design of bears in the mountains will add a lovely finish to the decoration in any child's bedroom. Perfect for ornaments or books, these shelves will get plenty of use.
Parent's will love these too as there is no assembly required. The wooden base and coated brackets are strong and hardwearing meaning these floating shelves will stand the test of time.
Why do these shelves stand out?
• Cute and striking design
• Hard wearing
• No assembly required
Find this wall shelf at Amazon UK
#2 – Personalised oak bookshelf
Ideal for nurseries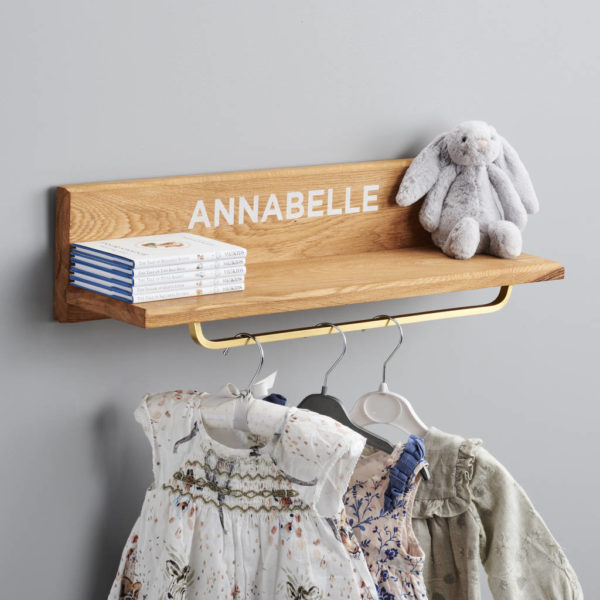 This beautiful oak shelf will look incredible in any nursery or bedroom. The addition of a gold rail underneath the shelf is a brilliant place for hanging up tomorrow's clothes while the shelf is sure to be filled with teddies and those favourite bedtime stories.
The shelf can be personalised to make it extra special. This is especially useful for siblings as each can have their own shelf to hold their prized possessions.
Why this shelf makes the cut
• Oak wood shelf
• Can be personalised
• Gold rail underneath
#3 – Wooden globe shelves
Ideal for budding explorers

Looking for a bright and vibrant shelving unit that your child will love? These globe shelves are guaranteed to be a success. This is the perfect place for your child to display their keepsakes and holiday treasures.
Made from birch and painted by hand, these shelves no only look amazing but are strong and sturdy too. Carry an explorer or natural theme through your child bedroom with the help of these incredible shelves.
Why your little adventurer will love it
• Bright and vibrant
• 3 shelves
• Perfect for an explorer themed room
Explore Not on the high street for yours
#4 – Cloud wall shelves
Ideal for dreamers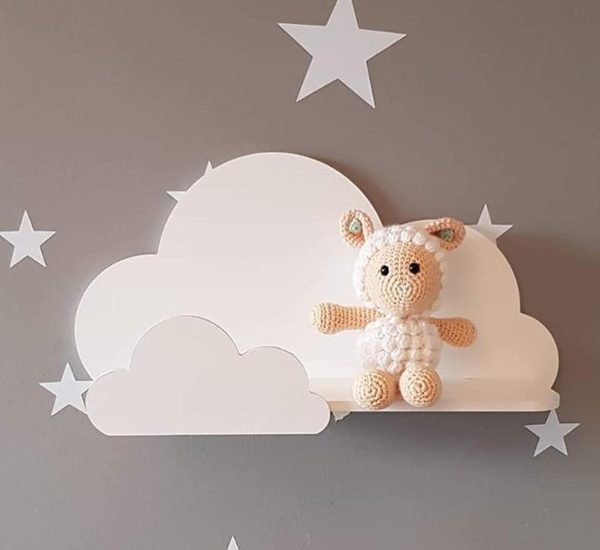 Create an excellent sleeping environment thanks to these peaceful floating cloud shelves. Whether they hold teddies, ornaments, toys or are simply for decoration they will add a sense of calm to your child's room.
These shelves are easily assembled and installed. Chose to have the smaller cloud on either the left or right for that perfect wall design.
Why are these shelves a dream
• Easy to assemble
• Beautiful and simple design
• Calming effect
Don't sleep on these – get yours here
#5 – Tree bookcase
Ideal for bookworms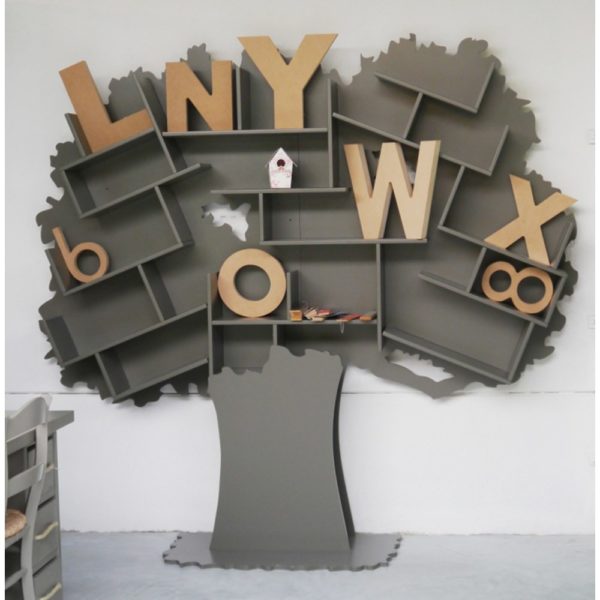 This tree bookcase is sure to make a statement in any room. Enjoy the many angles these shelves create and store more than just books in the branches. With a choice of 26 colours there will be one that will complement the existing décor perfectly.
These shelves allow book and toy storage to become artwork that will change and develop as your child grows. Whether you already have a natural theme in the room, or just want to add a statement, this bookcase will fit the bill.
Top features:
• Choice of 26 colours
• Brilliant design
• Makes storage artistic
#6 – Lego brick shelves
Ideal for little builders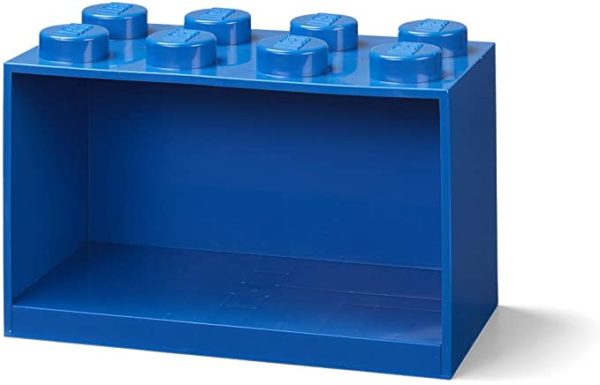 These stackable Lego shelves come in a range of shapes and sizes allowing you and your child to work together to create their ideal shelving design. Whether you only want a little extra storage or want to make a larger storage area, these shelves can accommodate.
Create a theme through the room and add a few of these shelves onto night stands or tables. The ideal size for trinkets, toys or ornaments these shelves will be ideal for the job.
Why these shelves are great:
• Stackable
• Range of colours and sizes
• Can also be used as a table ornament
Start your design ideas here at Amazon UK
Conclusions
The main things to consider when looking for wall shelves are design and function. If your child loves to read then a multi-shelf unit could be more suitable. Alternatively, smaller floating shelves could be a better, decorative, option for a nursery.
Wall shelves can be an excellent way to encourage creativity in your child while deciding what goes where. The flexibility for what can be stored on shelves is endless making them a valuable installation into any child's room.