Thinking about a height chart for your child's Room?
Are you looking for the best way to measure and record your child's height? Look no further!  We have carefully selected the six best height charts for your child's room which can make your child giggle with joy and add a more personalised touch to their room. Great for creating memories and a keepsake too.
There are a variety of things to consider to ensure that you get the height chart best suited to your personal needs.
Best Height Chart for Children's Rooms – Top 6 2023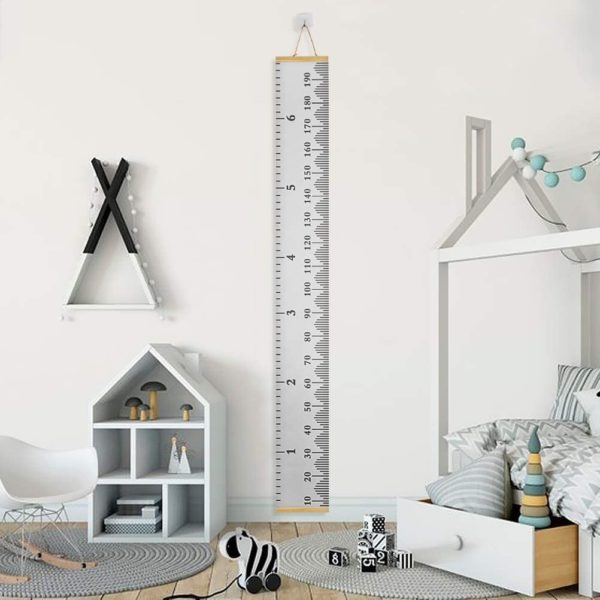 While some charts are colorful and vibrant, others have neutral colors that allow you to make your own markings. There are also options to customise a height chart for your child by adding a child's name or choose patterns and colours.
Are you ready to explore height charts for kids? Let's go!
#1 – Outivity Height Growth Chart Wall Hanging
Ideal for: Easy Installation and Removal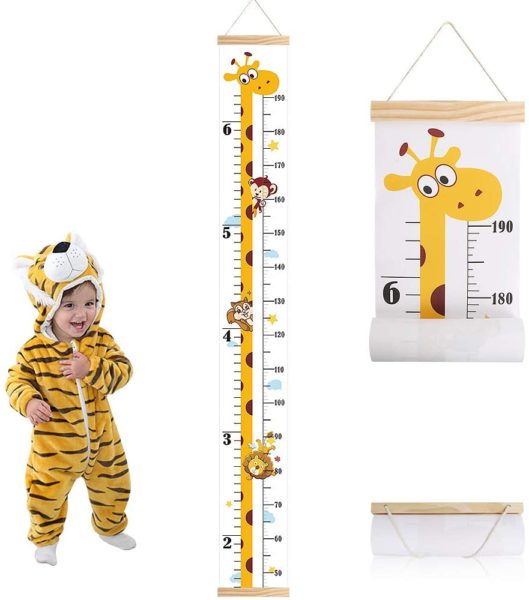 If you're looking for something that is not just easy on the eyes but also easy to install and remove, it is a good idea to invest in the Outivity Height Chart for children. The height chart is a great way to accurately keep track of your child's height from the time of his or her birth. Its colorful, non-threatening appearance is just the thing needed to enliven a nursery or a bedroom.
The height chart is made up of a canvas cloth supported by a piece of wood as it is in the form of a wall hanging. Its design makes it a stylish addition to a child's room. It is also interesting to note that the form of a wall hanging makes it easy to roll up and transport or put in storage whenever need be.
What makes this chart a top pick?
Convenient to hang and remove at will
Adds a pop of color to the room
Large dimensions of the chart
Accurate measurement featuring two scales: centimetres and inches
---
#2 – Beinou Wall Ruler for Kids
Ideal for: Long-term use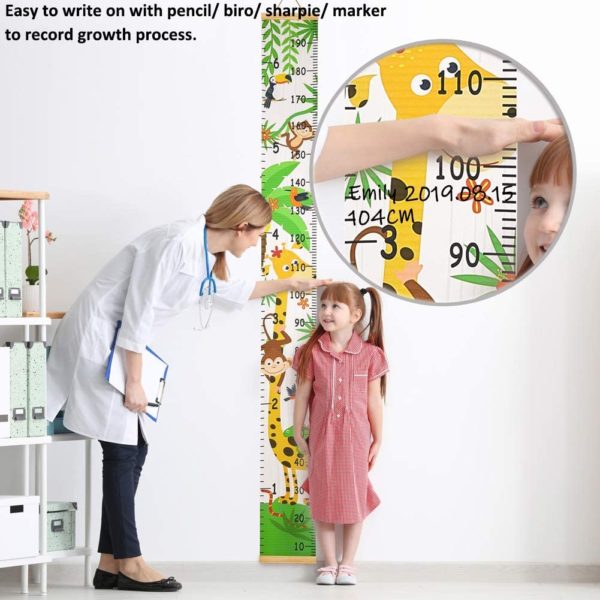 This wall ruler is an effective way to measure your child's height as it is made to withstand the test of time. Thus it is able to measure your child's height over a long time span.
The Beinou Wall ruler is made specifically to last for long periods of time as it is made using a premium waterproof canvas reputed to be durable. Moreover, it is supported by firm wooden frame, which is hung on the wall using a strong hemp rope.
It has an over-the-ground design which gives it an added protection from potential sources of damage.
What makes this measuring tool a good choice?
Made of durable material to last longer
Multiple print options to suit all people
Strong rope for hanging on wall
Great colours to suit different kids room decor
---
#3 – Basumee Growth Canvas and Wood Chart
Ideal for: both boys and girls
Whether it's for a child's bedroom nursery, or even a school, the Basumee Growth Wooden Chart is a great way to keep tabs on a child's growth and development. Made of a polyester canvas fabric, this growth chart is easy to clean with a damp cloth.
Moreover, it has a vibrant appearance with colors that would attract both boys and girls alike.
The growth chart is able to measure heights up to 198cm, and has numbers clearly written in a large font, making it extremely child-friendly.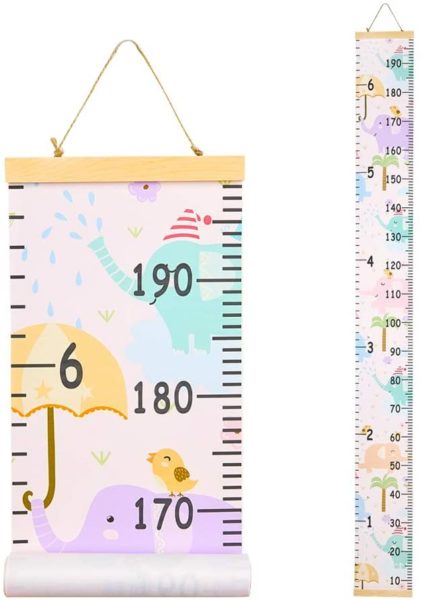 Why this height chart is a good option
Rough fabric that is easy to clean
Colors and print are loved by boys and girls (unisex design)
Large numbering that is decipherable by children
---
#4 – ECHG Baby Growth Chart
Ideal for: making marks using a pen or a marker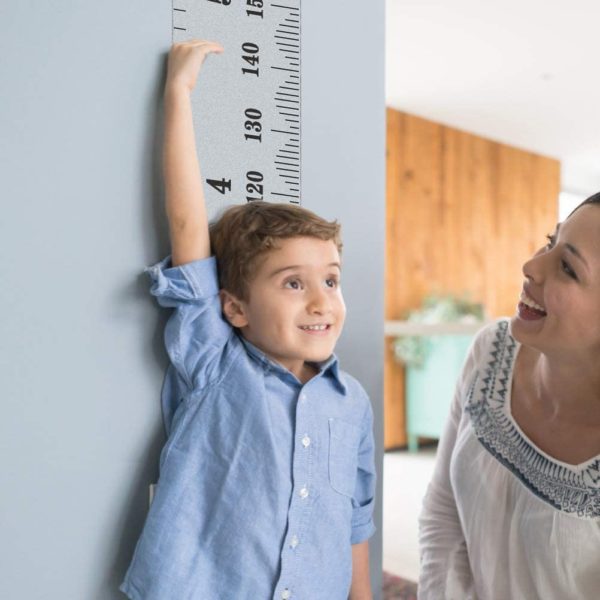 If you are looking for a growth chart to make distinctly your own, it is a good idea to get the ECHG Baby Growth chart. This particular growth chart has a neutral gray color which makes it suitable for any colored room.
The color is not simply calming but also allows users to make marks upon it using any pen or a fine-tipped marker.
Unlike many height charts, the ECHG height chart comes with a hook to hang on the wall. The material used to make the chart is also safe and non-toxic for children.
Why you should go with this fabulous ruler height chart
Made of waterproof material that can be marked easily using a pen or a marker
Neutral, calming colour
Comes with a hook for hanging on the wall
---
#5 – Paper Themes Personalised Children's Height Chart
Ideal for: those looking for customised height charts and kids who love unicorns!

The Paper Themes Personalized height chart is an excellent choice for all those who want to give their children a memorable wall hanging that can help them keep track of their height. These charts are designed to suit all kinds of bedrooms and nurseries, and allow people the greatest control over what they hang in their children's bedrooms.
There is an option for people to choose the colors, and design of the height chart, while also giving them the option of getting their child's name printed on the canvas itself. The hanging is made of a high-quality vinyl sheet which allows markings to be made using a marker. We love this unicorn design for anyone looking for a unicorn height chart to suit a unicorn themed bedroom.
Why will your kids love this?
They can see their name printed on the wall hanging
Durable material quality
Allows scribbles of names and dates on the surface
You can get one with Unicorns on it!
---
#6 – FOVERN1 Handing Ruler Wall Decor
Ideal for: Giving as a gift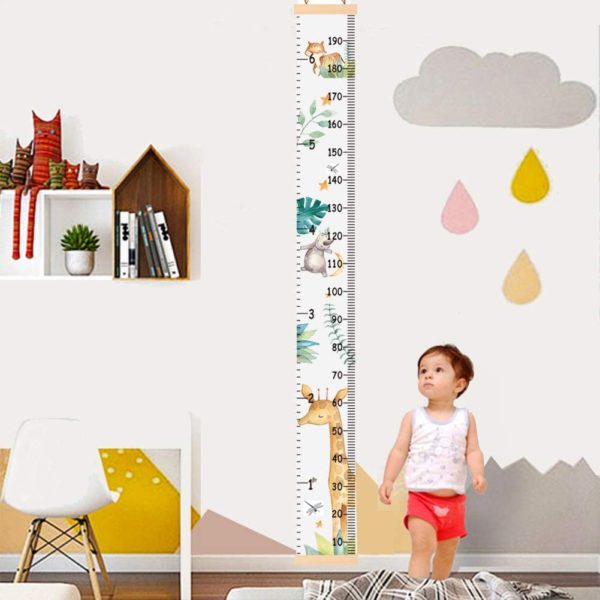 Whether it's given as a birthday gift, or one for Christmas, this height chart is an excellent way to make some lucky child's day. This wall ruler is made up of a fade-proof, durable fabric that is hung on the walls using a strong hemp rope.
The polished wood frame at the top and bottom makes it look really smart, and its colors and design make it suit different kids room styles.
Best Bits…
Colorful design and superb quality
Fade-proof canvas material
Perfect to decorate any kind of room
In conclusion…
…you can see how there is a wide array of height charts available for not just tracking your child's height, but also giving their room a bit of their fun personality. Hope this guide helps you find the best chart for your little one.  Happy searching!
References and other links
Your little one might like this song about getting taller and measuring their height!
Got a question about kids height charts?
Thanks for reading. Please ask in the comments if you have any questions or things we can help with.