Thinking about a decal to transform your child's bedroom or playroom?
Just a splash of colour on a wall such as a rainbow decal can completely transform a plain kids room into a super stylish one.  We've been looking for the 6 best decals on the market that will make your little one smile. Whatever they are into we have the perfect decal to match their interests or personality.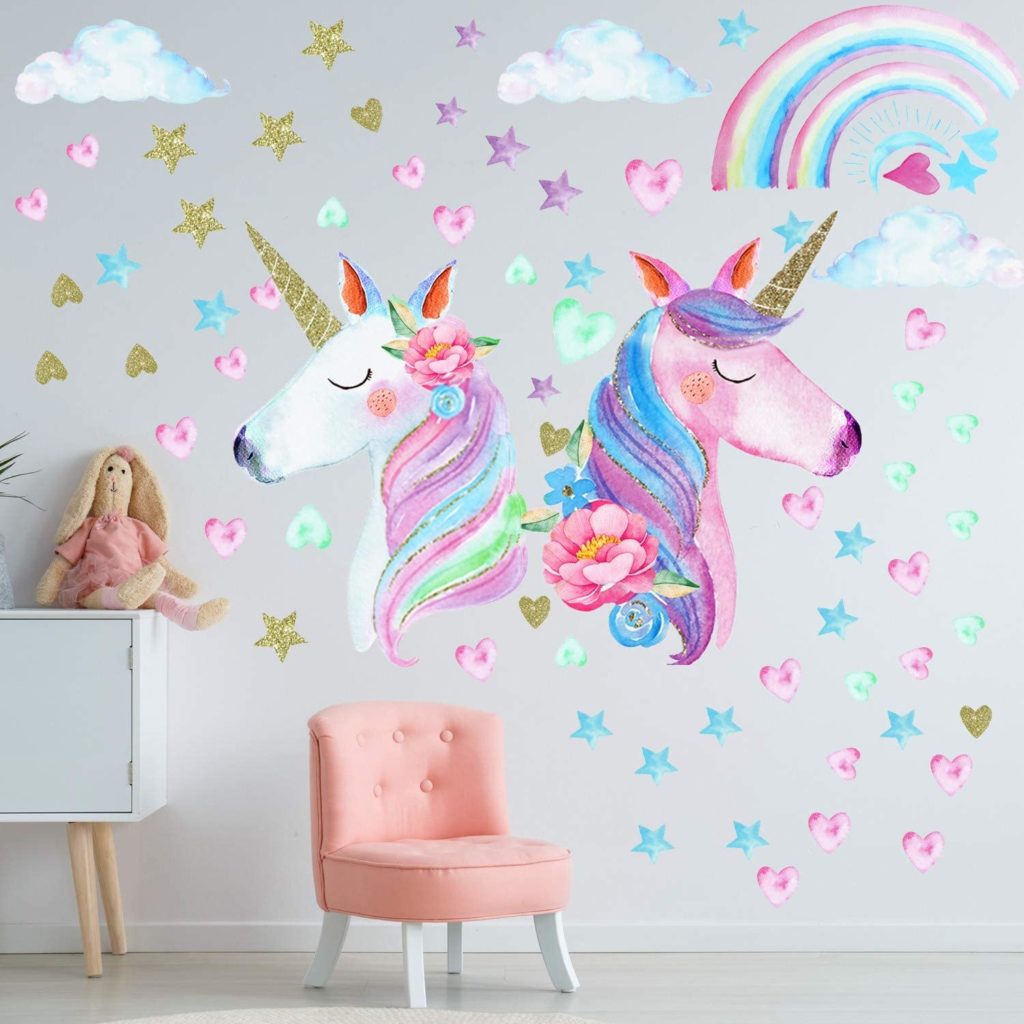 One of the best things about wall decals has to be their versatility.  You know how children can change their minds at the drop of a hat or be into something one week then something completely different the next?  Well decals can change with them, an easy way to change the theme of a room without having to decorate every wall.
The wall decorations we have chosen can be removed and replaced easily so check our our pick of the best below!
Top 7 Decals for Kids Rooms 2023
#1 – Ultimate Gamer Decal
Ideal for: Little Gamers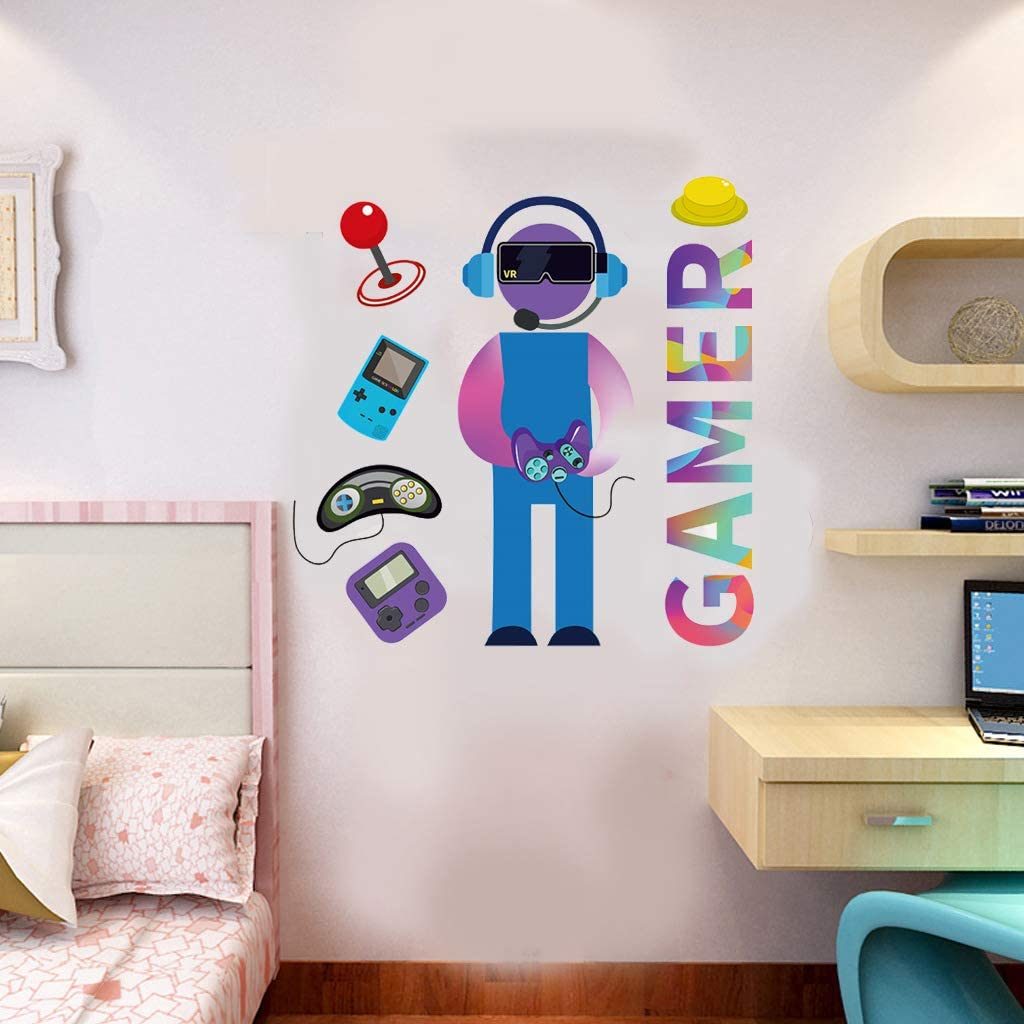 A brilliant addition to any child's bedroom, this wall decoration will really make an impact on a plain wall.
It's high quality and waterproof so will be strong against splashes on the wall, think fizzy drinks, ice cream, smoothies or anything else your little gamer likes.
Finished size Approx 19.2 × 19.2 inches.
What makes this decal a top pick?
Fantastic quality
Durable PVC material
Removable, reusable and repositionable!
Packaged in foam cotton to avoid creases in transit
---
#2 – Dream Big Little One
Ideal for: Nurseries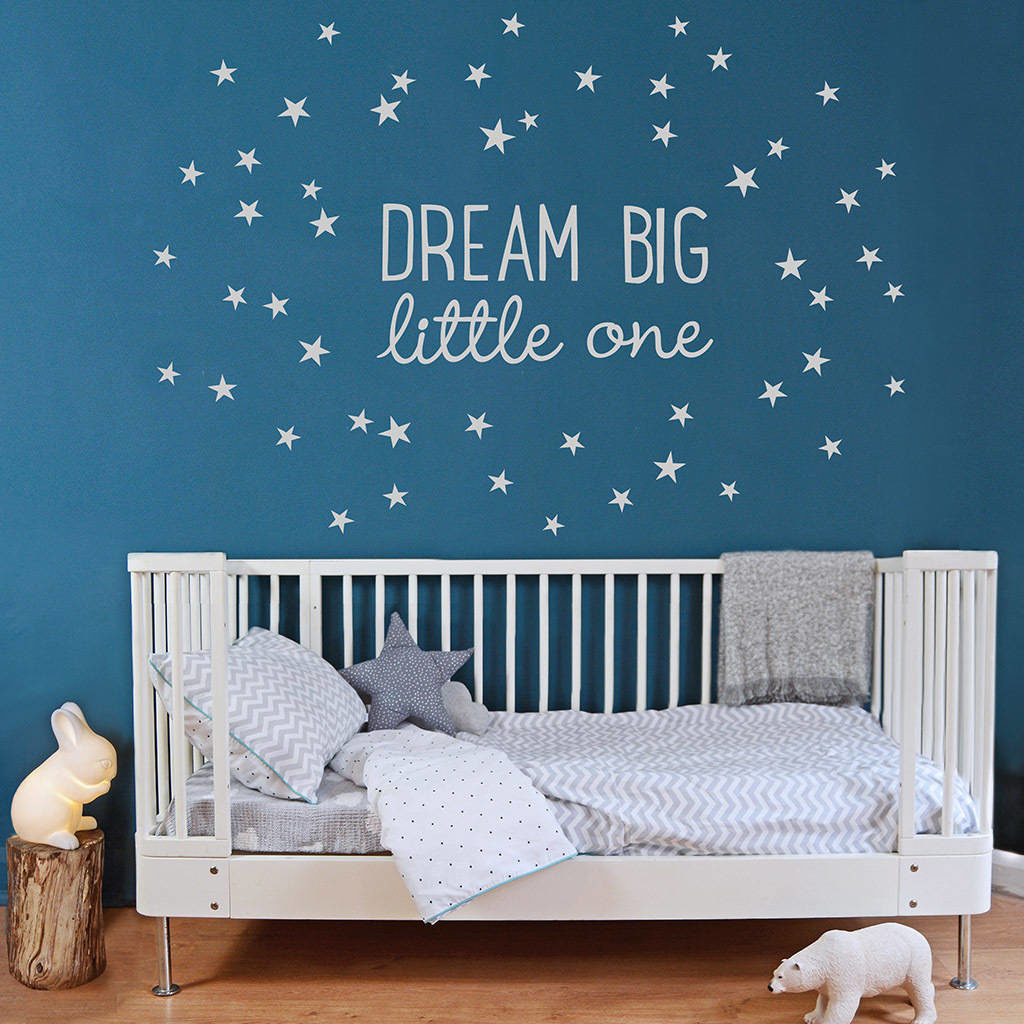 Amazing quote on on this stunning wall sticker by KOKO KIDS which will inspire your little cherub to dream big as they grow.
The set contains the words plus 50 little stars and is available in 2 sizes and 7 fabulous colours including midnight blue, dusky pink and grey.
It's so easy to apply the stickers to the all – simply peel and stick.  Anf the great thing is they are made of fabric adhesive so they can be removed, repositioned and reapplied over and over.  as well as looking top quality.
Why will your child love this one?
Free from vinyl, PVC, BPA and phthalates
Inspirational Quote
Remove and reposition at any time
Perfect for nurseries and toddlers rooms
---
#3 – Unicorns and Rainbow Wall Decal Stickers
Ideal for: Little Girls Rooms
As one review states – these gorgeous decals transform a plain white room into a unicorn-rainbow heaven!
These stunning and dreamy designs will really set your little girl's room apart from the rest.  Creates a sweet and magical atmosphere to play and sleep in.
Pack includes three sheets, two unicorns and a sheet with a rainbow, clouds, hearts and stars.  Rainbow decals for children's rooms have become really popular in recent years.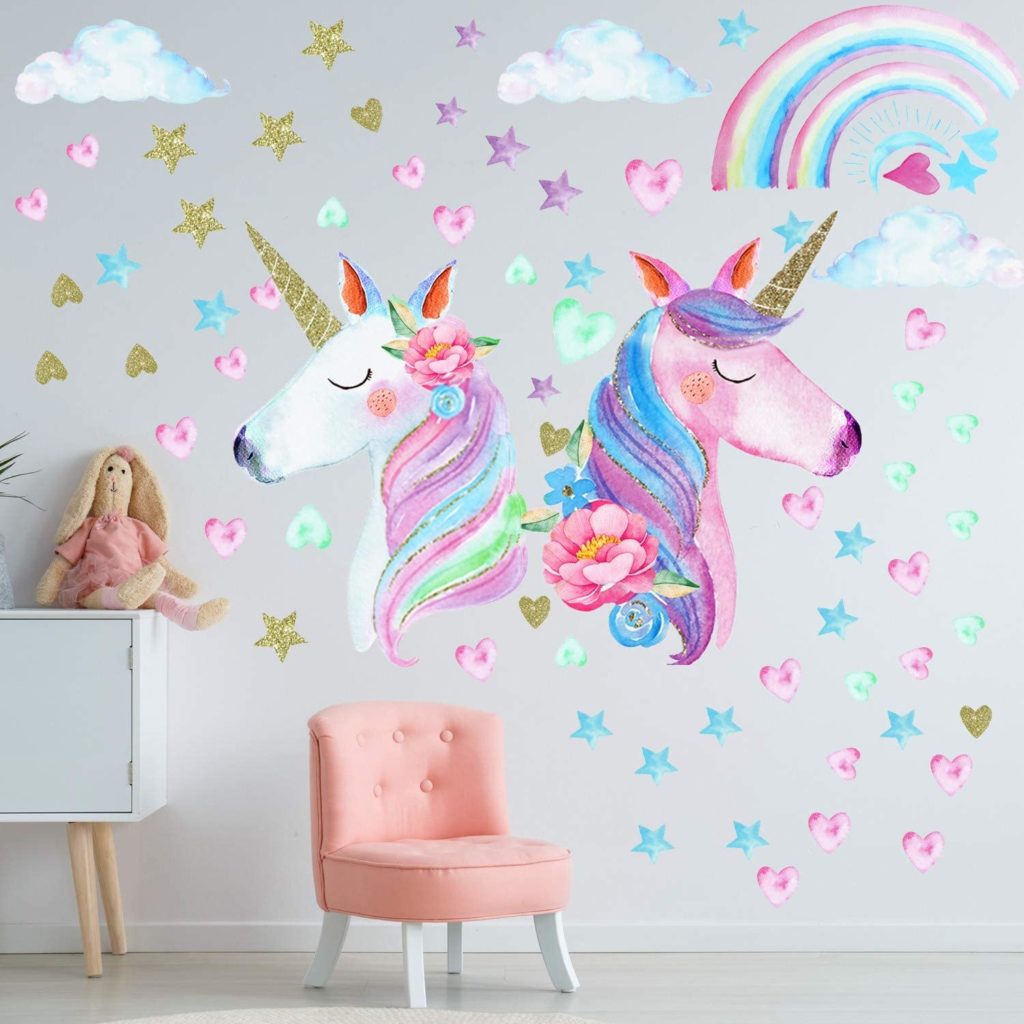 Why the unicorn decal is magical
Easy to use and remove
Makes a wonderful gift for a little girl's birthday
Quality PVC Material
Peel and stick design
---
#4 –
YSHIHE Shark Wall Stickers Decal
Ideal for: Shark loving kids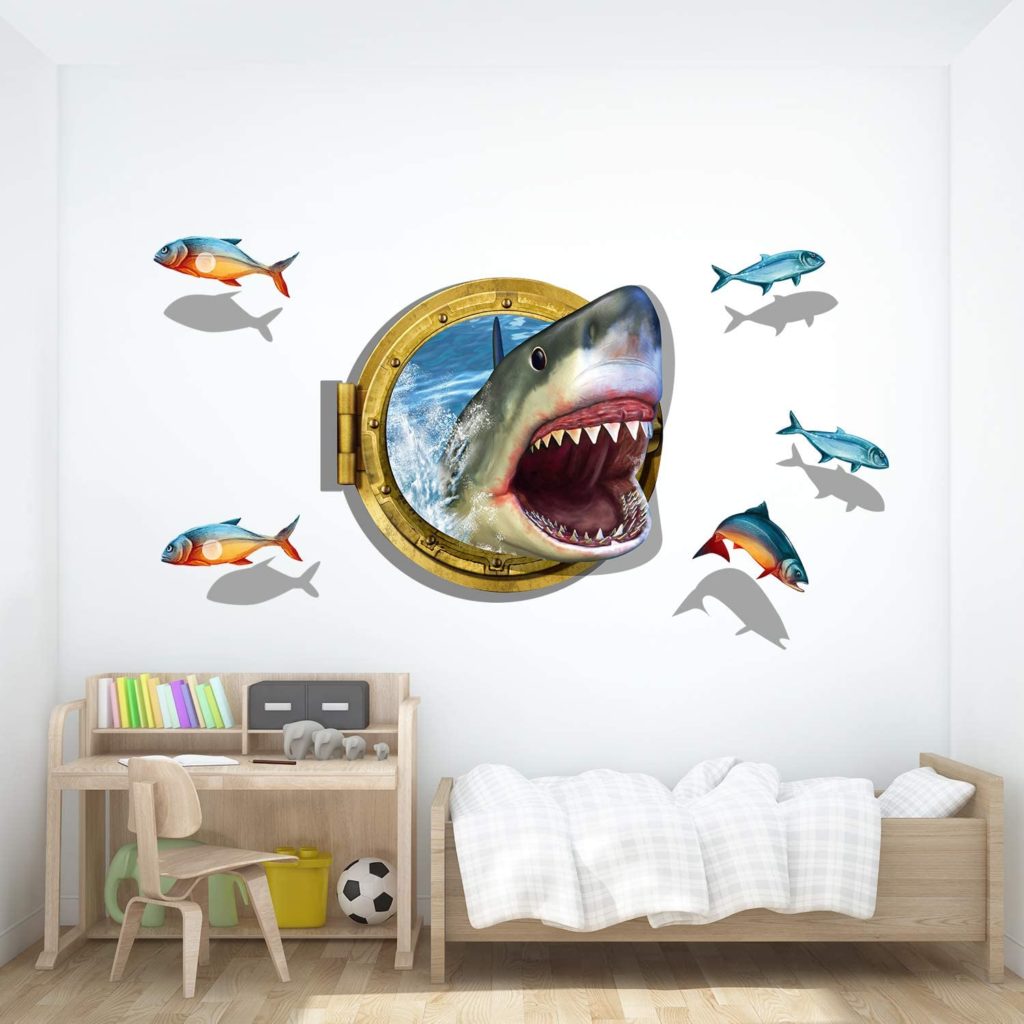 This unusual shark design wall sticker would make a great gift for boys and girls with an interest in sharks.  The design makes it look like the shark is coming through a port hole into the bedroom.  The ultimate boys decor idea.
Made from child-safe materials it is also waterproof so perfect for children's bedrooms
Easy to stick and remove so if you change your mind about the location it's no problem! Leaves behind no damage to walls.   This shark decal can can be used on any smooth, flat and dust-free surface.
Why you should go with the Shark decal
Made of environmentally friendly vinyl
Waterproof, mildew-proof and durable
High-definition pictures make it more real and three-dimensional
Great size at 60cm x 90cm
---
#5 – Banksy Balloon Girl Vinyl Wall Decal
Ideal for: Adding a Touch of Class
For a modern and contemporary twist then look no further than this stunning wall decoration.  It would look just as good in a living room or hallway as it would in a child's bedroom or playroom.
Available in 3 different sizes and a variety of colours you can match it your own decor.
Sure to delight anyone who sees it, this top quality matte removable vinyl will look as though it has actually been painted on to the wall.  The matte finish reduces any glare or shine.
Best Bits…
High quality matte removable vinyl
You can also select the direction you wish the wall sticker to be
Pre-applied application tape makes it easy to transfer to wall in one go
Supplied with comprehensive instructions and an application squeegee
---
#6 – Chalkboard Mountain Wall Stickers
Ideal for: Little Doodlers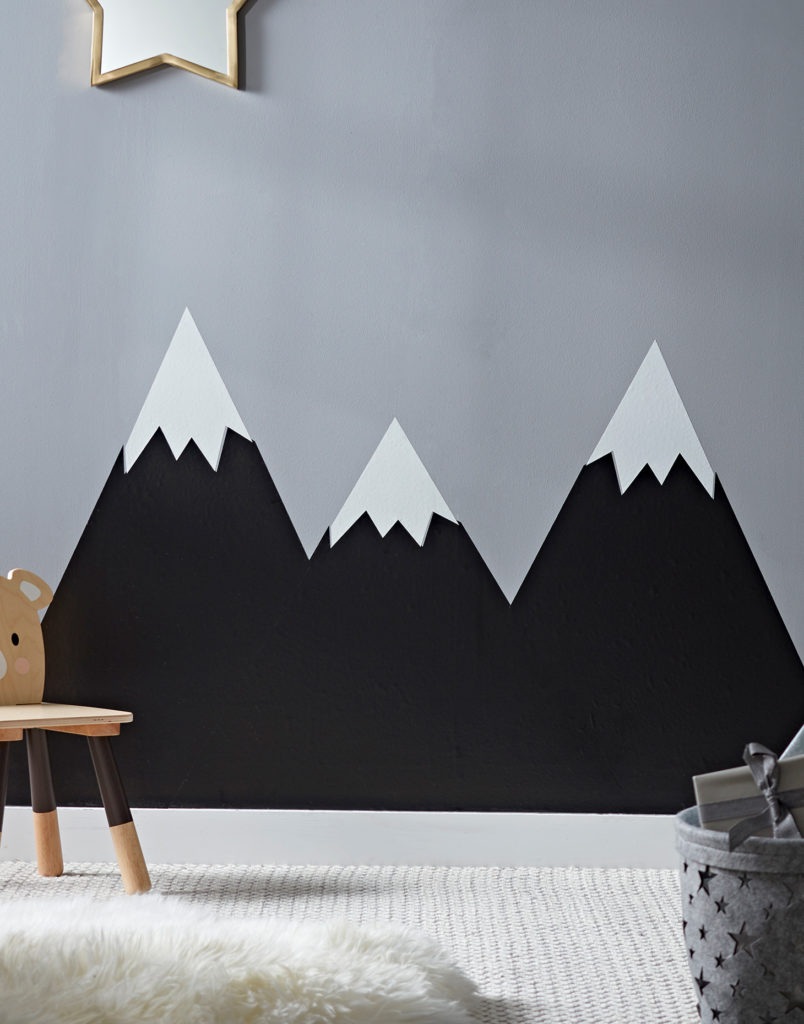 Designed by Cox & Cox these fantastic mountain chalkboard decals are the perfect addition to your little explorer's room.  These chalk wall decorations would also look brilliant in a playroom or kitchen.
Each set features three snow-capped peaks that can be written and drawn on with chalk, perfect for inspiring creativity and practicing mark-making with your little ones. Got a new idea? Simply erase with a wet cloth, leave to dry and then start again!
Why these wall stickers are so cool…
A delicate polyester fabric surface structure offers a rich and beautiful colour tone
Chalk your ideas on your stickers and erase with a wet cloth.
As soon as surface is dry you can write again!
Large size H 83 x W 150cm
In conclusion…
… it's clear that there a huge selection of decals around to choose from, including rainbow decals, unicorns and sharks among other things!  Choose plain walls to add the wall decorations to for ultimate impact.  Most of the decals can be removed without any damage and you can reuse and reposition them as required.
The materials of decals these days are top quality from PVC to vinyl making them waterproof and long lasting. A fantastic addition to any kids bedroom and can be updated as their interests change when they grow.  No need to redecorate a whole room all you need is a change of decal!
Have fun choosing your next wall decoration!
References and other links
Still need help?  Check out this video on how to apply wall stickers to your child's bedroom wall.
Got a question about kids wall decals?
Thanks for reading. Please ask in the comments if you have any questions or things we can help with.