Thinking about a bookcase as a stylish storage option and to tidy up that room?
A bookcase is no longer just a practical piece of furniture.  As well as creating storage bookcases can really make a statement in a room.  Some of the most stylish we have seen include really chic bookcases shaped like a tree!  We absolutely love them.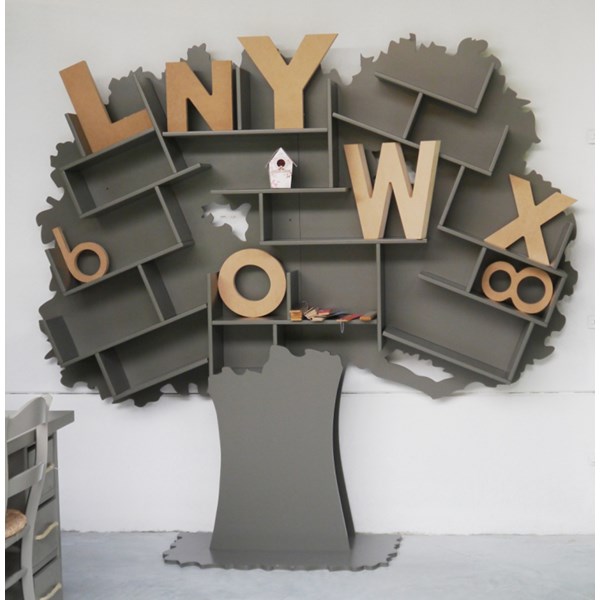 And if you don't have the budget for the top of the range options we have some fantastic book case bargains to showcase too.
Read on for our pick of the best bookcases around for kids rooms.
Top 7 Bookcases for Kids Rooms 2023
#1 -Mathy by Bols Childrens Tree Bookcase in Sam Design
Ideal for: Nature Lovers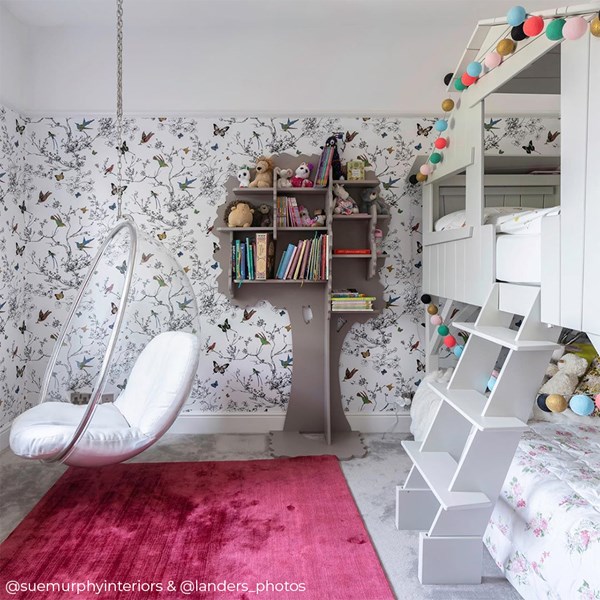 Stunning tree bookcase that comes in a wide range of colours to compliment any interior colour scheme.
These high quality storage solutions are made to order in Belgium so please allow time for this item to be made and shipped to the UK.
Finished size Approx 19.2 × 19.2 inches.
What makes this tree bookcase a top pick?
Available in 26 brilliant colours of your choice
A touch of fun and practicality at the same time
Made from 18mm thick MDF with lacquered finish
Handmade
---
#2 –
Fantasy Fields Sunny Safari Wooden Bookcase
Ideal for: Nurseries and Toddler bedrooms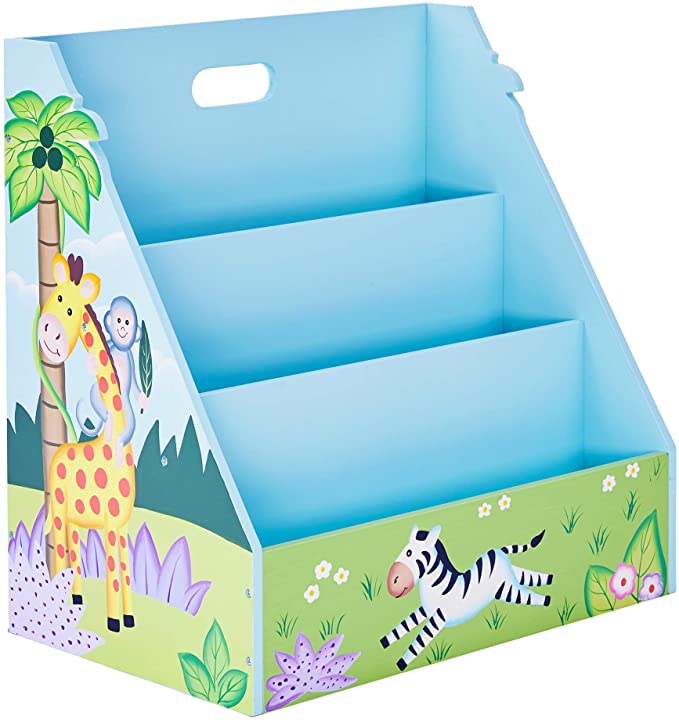 Gorgeous blue bookcase by Teamson, perfect for picking up those story books and magazines off the floor and keeping everything tidy.
The safari colour scheme would look great in a bedroom or a playroom or even in the corner of a living room to keep things in order.  It's really colourful which keeps things interesting for children and as well as this sky blue design there is also a pink version which is just as cute.
Magazine racks look effortless in a kids room and the 3 different height compartments are perfect for storing books of different sizes.  It also makes it easy to see and choose a book.
Why will your child love this one?
The bookshelf is trapezoidal, with three different height compartments
Freestanding
Perfect size for toddlers aged 1-3: 47 x 29.5 x 47.6 centimetres
Wipe clean making them perfect for kids rooms and playrooms
---
#3 – Fun Pink Bookcase with Storage Boxes
Ideal for: Little Girls Rooms
Get two storage solutions in one with this dreamy book shelf unit with two storage boxes at the bottom!
Make tidying up fun with this gorgeous book case with bunny rabbits and animal print storage boxes.  Pink adds a cute girly touch to any bedroom.
Pack includes three sheets, two unicorns and a sheet with a rainbow, clouds, hearts and stars.  Rainbow decals for children's rooms have become really popular in recent years.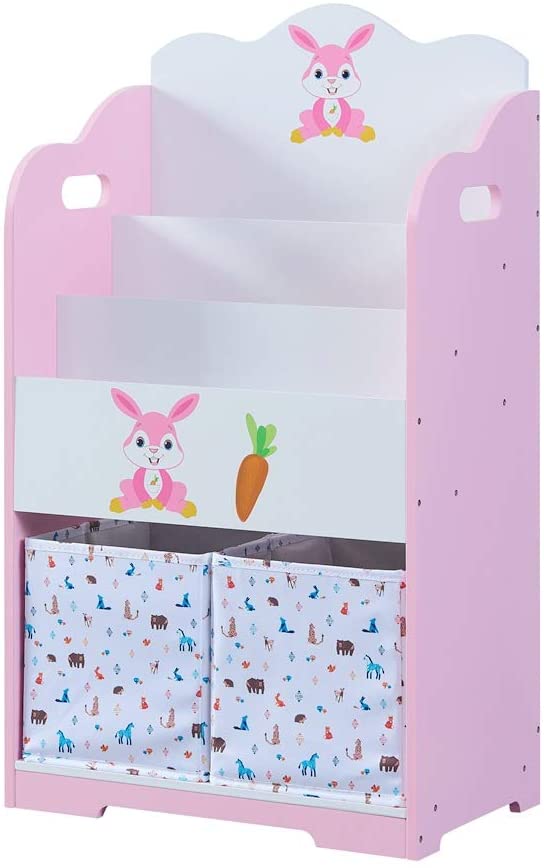 Why the storage box bookcase is the one for you
Sturdy Construction
Keeps room orderly in a fun way
Open bookshelf structure means books can be displayed easily.
Choice of colours available
---
#4 -Little Chatsworth Bookcase
Ideal for: Super stylish kids rooms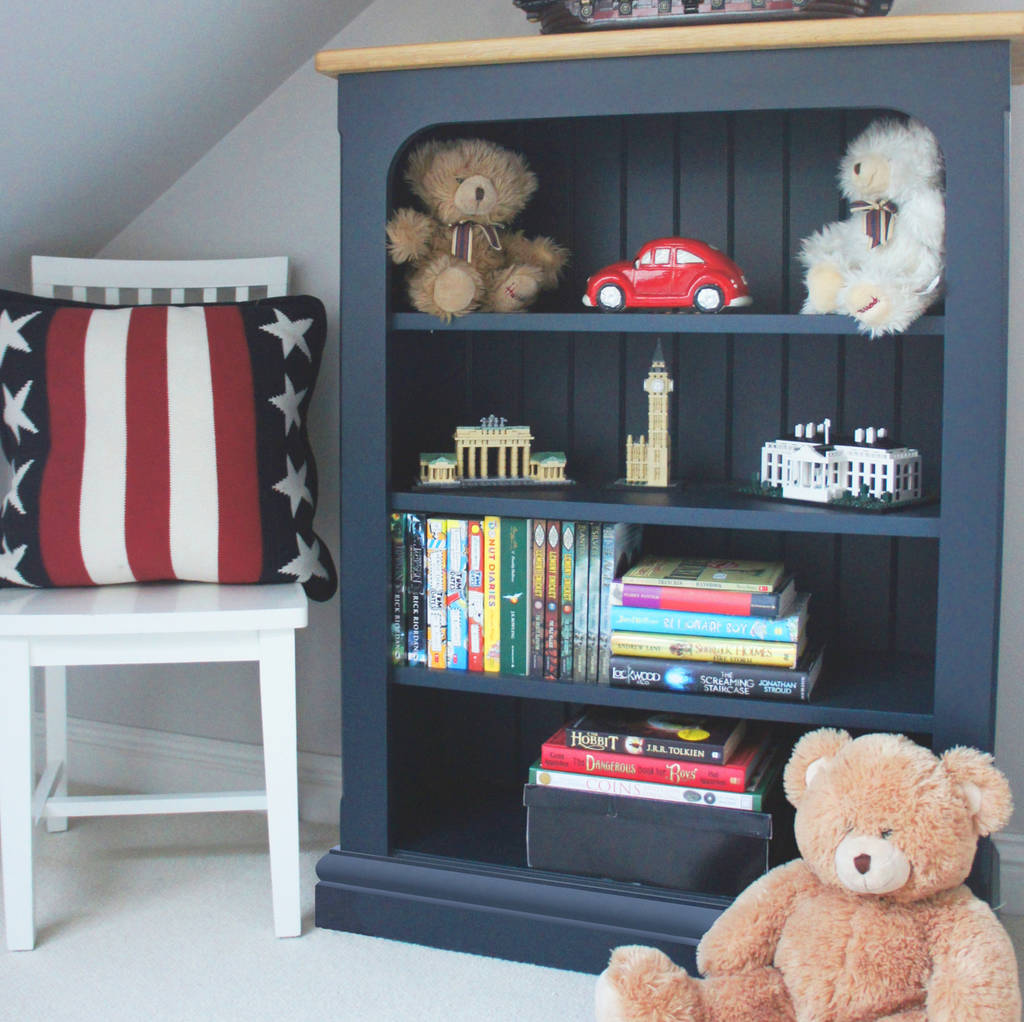 For a luxury book case look no further than the Little Chatsworth Bookcase which comes in a choice of modern colour options. This gorgeous book shelf will not only help clear messy rooms but will add a touch of elegance and class.
It's also a shelving unit that will grow with your child and look just as good in an older child's room than in a toddler bedroom.  A great place to store their favourite stories, films and even school books in the future.
The company have chamfered the sides on the front of the bookcase to avoid children banging into sharp corners.
Why you should go with the Chatsworth
Classic and elegant
Choice of contemporary colours such as Lime White, Pavilion Grey and Hague Blue
Great size H113cm x D35cm x W85cm
Also available in a slim version
---
#5 – Louane Kids Small Tree Bookcase
Ideal for: Making a Statement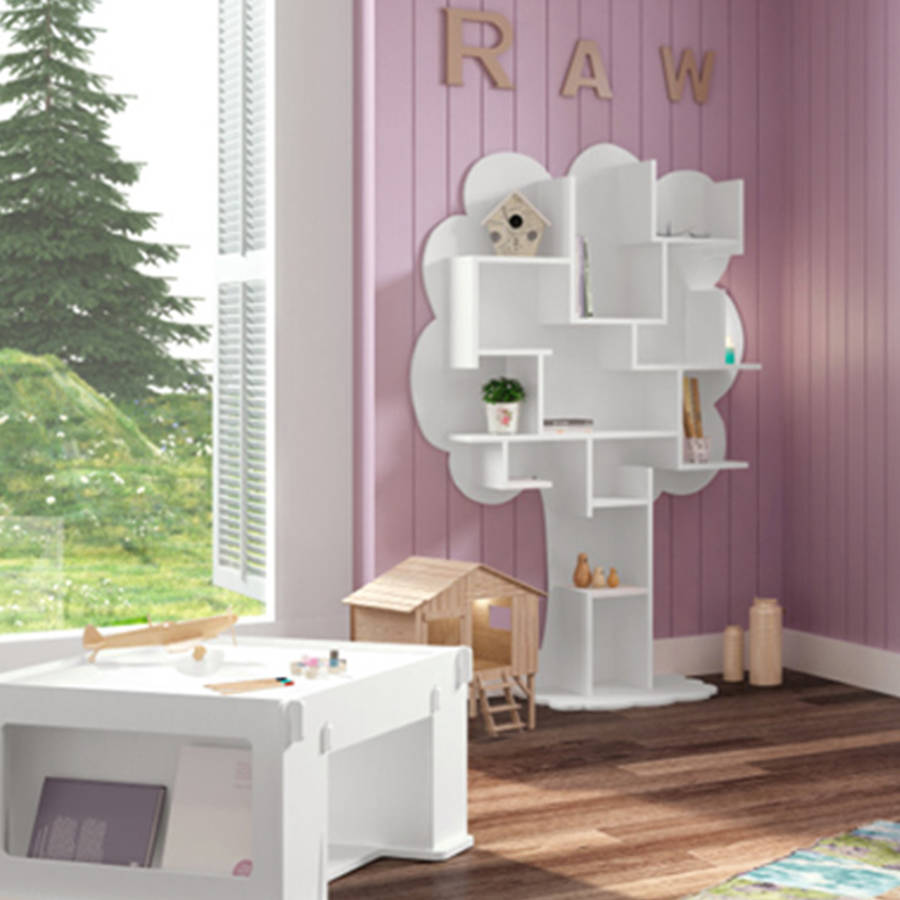 Bring the outdoor indoors with the Loane Small Kids Bookcase.   Perfect for books, toys and treasures.
Available in 26 different colours you can make it fit your child's bedroom theme and why not add a few nature themed wall stickers around such as birds to create the look.
Made from 18mm thick MDF with lacquered finish this is a great quality piece of furniture.  It's unique appearance is sure to delight your little one and they will be the envy of all of their friends.
Best Bits…
Perfect size for kids rooms (l) 122cm x (w) 55cm x (h) 182cm
Unique design in vast colour choice
Bring the outdoors indoors
Stylish lacquered finish
---
#6 – 4
Tier Kids Storage Wooden Sling Bookshelf
Ideal for: Colourful rooms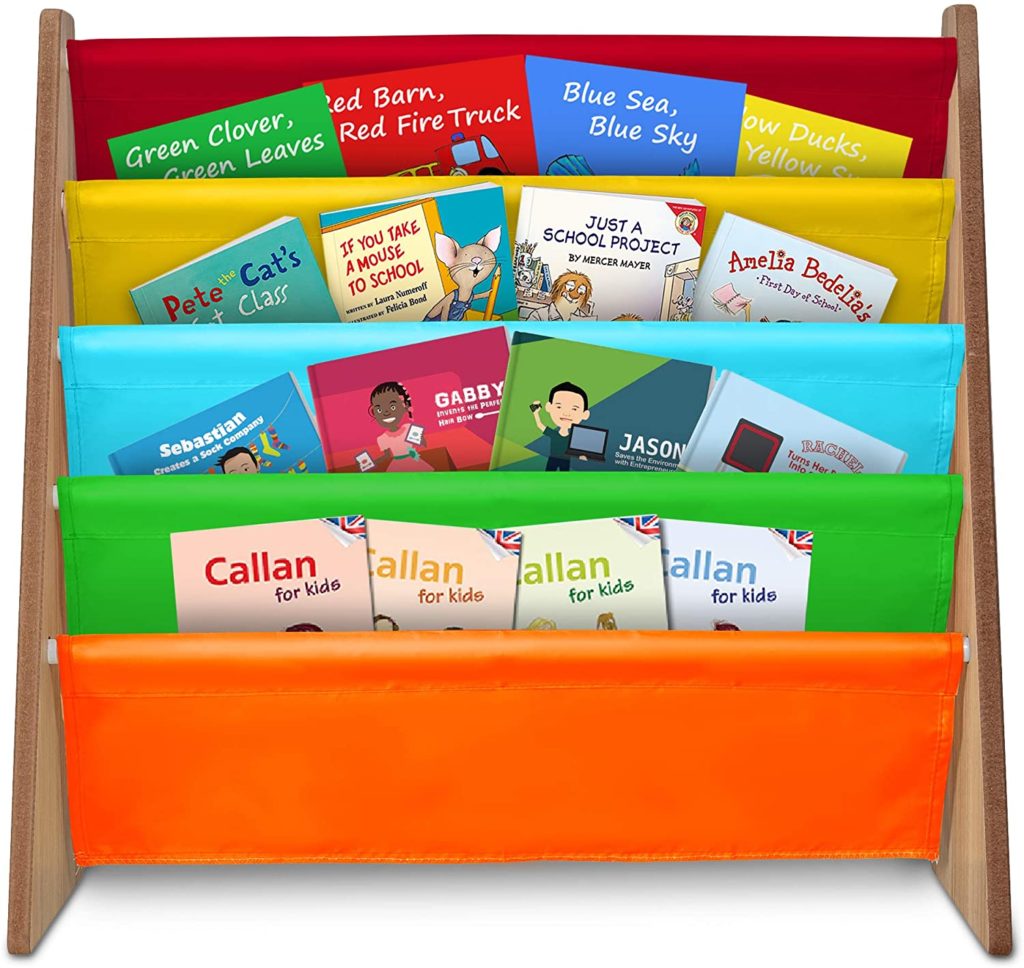 kids love colour and this gorgeous sling style bookcase is sure to appeal and draw their interest.
With 4 tiers there is plenty of room for storing a range of books and comics, and it's easy to display them so they can get to their favourites easily.  Make light work if tidying any room or nursery.
Why this kids bookcase is so cool…
Bright colours – also available in plainer styles
Easy to assemble
Fabric pockets perfect for little kids
Coloured design attracts kids and makes them interested in reading
In conclusion…
…with an enormous choice of children's bookcases around it can be difficult to choose.  Look at things like whether they are flat packed or ready assembled, free standing or not.  Do you want colourful or classic? Depending on your needs this could narrow your options.
You will also find that prices vary a lot so if it's just something cheap and cheerful you need to see you through the toddler years then you don't have to spend too much!  But if you get a quality bookshelf like the Chatsworth this will stand you in good stead for years to come to store all of their books and treasures.
Enjoy choosing your bookcase and your new tidier more organised room!
References and other links
Short on space?  Check out this awesome idea of building a bookshelf into a door!
Got a question about kids bookcases?
Thanks for reading. Please ask in the comments if you have any questions or things we can help with.