Storage doesn't have to be boring and ugly. Why not find something that compliments the décor in your child's room and will help bring imagination to life. Or, go the step further and install storage with a second use, ideal for maximizing space in the bedroom or playroom. These storage benches will do just that.
Whether your child is mad about transport or has a more neutral-themed bedroom, there is a storage bench to inspire you in our top 6.
---
#1 – Locker Storage Bench
Ideal for any décor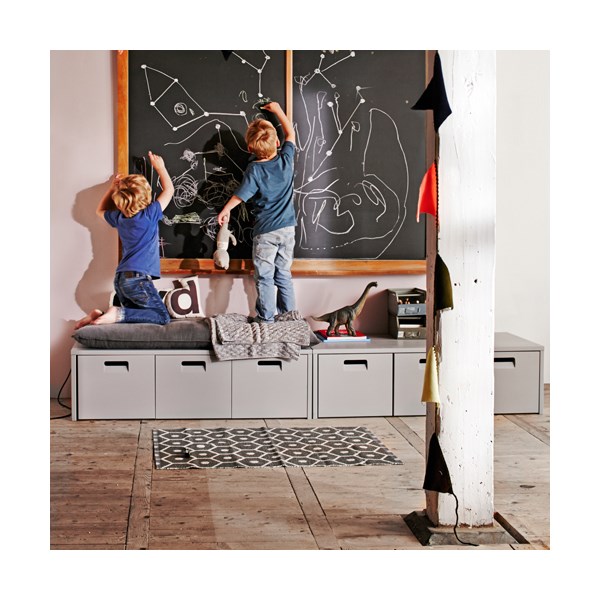 This beautifully crafted storage bench is perfect for hiding the clutter that playtime brings. The three pull-out drawers keep toys easily accessible, yet tidy and out of site. Having three separate drawers allows your child to organise their space, making it feel their own.
This storage bench can be used as a stool to reach posters and whiteboards, or as a comfortable seat for story time. The neutral colour looks at home in any décor and will stand the test of time, as you're child grows and their preferences change.
What makes this bench stand out?
• Fits any décor
• 3 pull-out drawers
• Stool or seat options
---
#2 – Princess Storage Bench
Ideal for fairy-tale princesses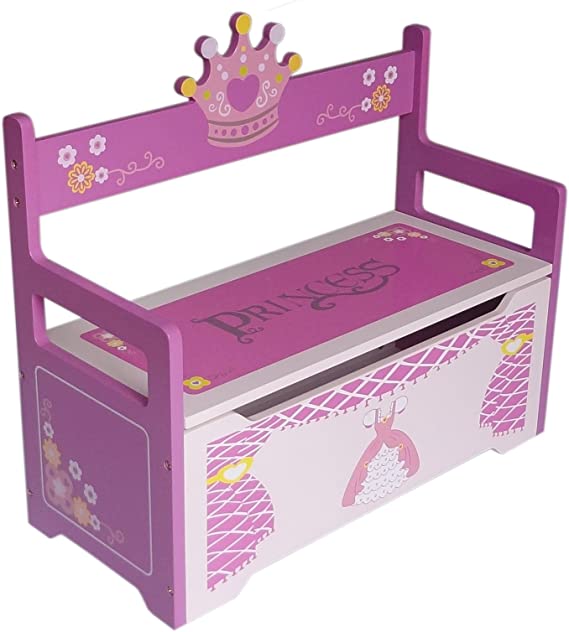 Make your child's fairy-tale dreams come to life with this incredible princess storage bench. Clear away all of the day's toys back under the bench before sitting to watch a film or eat a snack.
The wooden structure is durable and the safety latch on the lid will ensure there are no pinched fingers during playtime. This bench is low to the ground making it an excellent height for young royalty.
Why this bench is fit for kings and queens?
• Durable wooden frame
• Safety latch
• Low to the ground
---
#3 – Personalised Toy Box and Bench
Ideal for younger children and siblings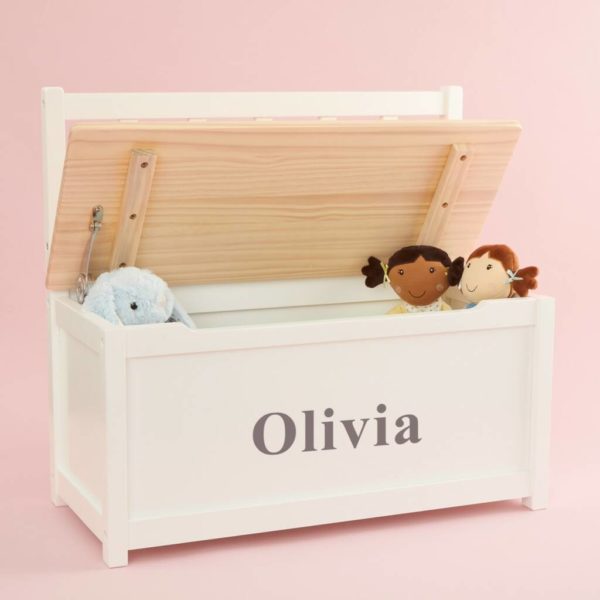 Make your child's playroom or bedroom their own with this brilliant personalised storage bench. This bench could be well utilised in a shared playroom, giving each child their own space to sit and store their precious belongings.
Add some cushions and fairy lights to really make this storage bench a comfy and cosy place for your child to relax after playtime. The stylish white finish will compliment any décor.
Why choose this for the playroom?
• Personalised
• Separate storage for each child
• Fits any décor
---
#4 – Bamboo Storage Bench
Ideal for themed rooms
This bamboo storage bench would look at home in a room with a range of themes. Whether your child's room is a prehistoric paradise, or a desert island oasis the bamboo material will fit right in. Or, if you're looking for something a little more natural to fit an organic décor, look no further.
Whether you store toys, book, shoes or bedding in this bench it will be a firm favourite place to read and relax during the day or before bed. The soft closing latch will prevent any loud noises or trapped fingers making it perfect for younger children.
Why this bench makes the cut?
• Fits a range of themes
• Soft closing latch
• Brings nature inside
---
#5 – Convertible Storage Bench
Ideal for little engineers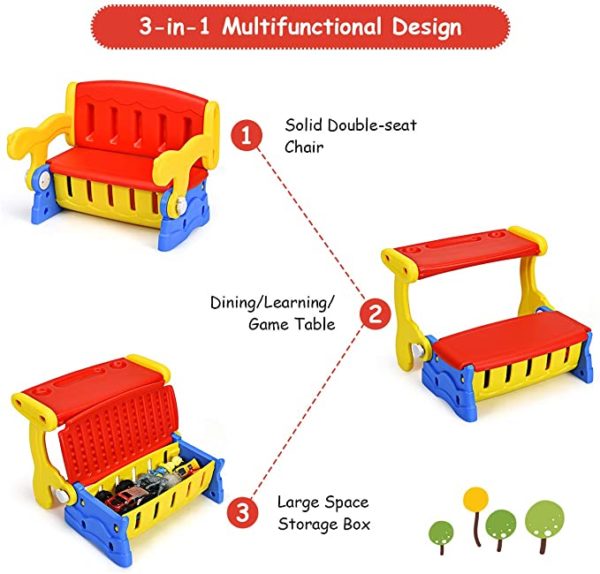 This multi-function storage bench will be a staple piece of furniture in any bedroom or playroom. Use it just as a bench, a dining table or play desk, a storage box, or all three. The ergonomic design will allow your child to play in comfort the whole day long.
This benches bright colours are brilliant for instilling a cheery mood into any room. Your child can learn to convert the bench between its three positions, inspiring innovation.
Why your child will love it?
• Can be used as a dining table or desk
• Ergonomic design
• Bright colours
---
#6 – Bus Storage Bench
Ideal for transport fanatics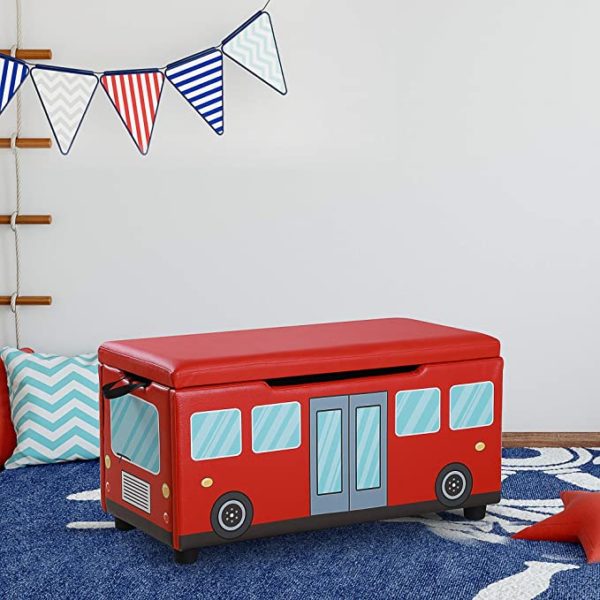 Not only does this bench look great, it has some excellent qualities making it an amazing addition to any bedroom or playroom. The large capacity gives plenty of space for all of your child's toys and teddies. Made from PVC material this storage bench is fully waterproof and washable keeping it looking good no matter what is thrown its way.
This storage bench can fold away perfect for bringing it away on holiday or on a play date. Make a holiday house a home with the familiarity of this brilliant bus storage bench.
Why is this bench so great?
• Washable
• Folds away
• Fun design
---
Conclusions
Storage doesn't have to stifle the fun and imagination in your child's space. There are so many options when it comes to style, function, size and design there is no need to compromise.
When purchasing a storage bench it's important to consider the capacity needed as well as the use it will get. If your child loves to read, a more durable bench may be a better idea. If the storage bench is a stylish solution to clutter then something that fits the décor could be more suitable.
References and other links
Check out these organizing ideas for your kid's room.
Got a question about the best storage bench for your children's rooms?
Thanks for reading. Please ask in the comments if you have any questions or things we can help with.