Bring some calm and order back to your living space
One of the great mysteries we found when we made a dedicated playroom for the children was how many toys still managed to spill out into the 'grown-ups' part of the house. In this guide we'll be looking at the best ways to store toys in your living room.
We'll look at elegant solutions that will not only keep the clutter out of your but also make it look good too.
How did my living room get so messy?
Another big surprise we got when we moved house and upgraded our living room size a bit was that the extra bit of floor space didn't really help with the toys being left everywhere.
Whether you want to go for a minimalist haven of clutter free bliss, or are just sick of stepping on Lego when you enter the living room, here's some of the best ways we've found to bring some order back to the living room.
Have a tidy up time
I often marvel at nurseries and play groups and wonder how on earth they manage to keep things so neat and tidy – with all those kids running around and dropping toys everywhere. Well, they've got two tricks up their sleeves:
1) They get the children to do the toy storage for them!
The first secret to keeping your living room tidy for the grown ups is to get your children involved in the process of putting the toys back in the cupboards, the books on the shelves and all those little action figures back in some kind of unit or bucket.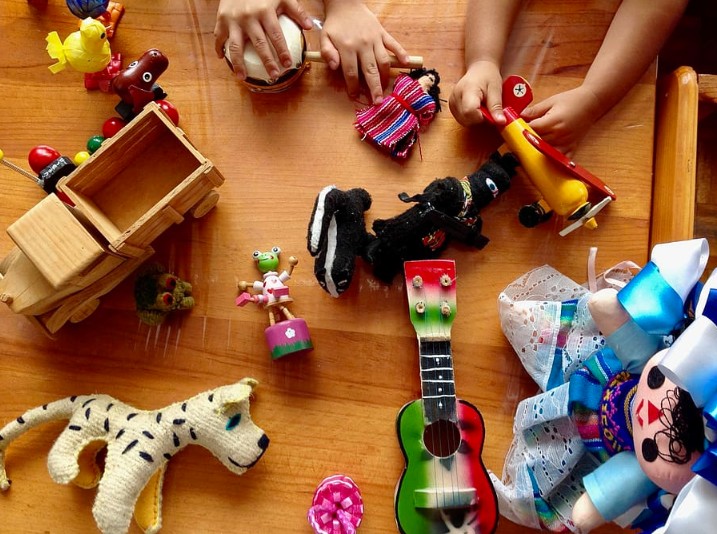 2) They set a tidy up time
The nursery my children went to had a brilliant song they all sang when it was time to put the toys back in their place. While you probably don't want to go full Mary Poppins in your own home, establishing a time when the toys go back and getting children to help will not only keep your living room more tidy, but it will teach the kids some valuable life skills.
---
Matryoshka Wall Boxes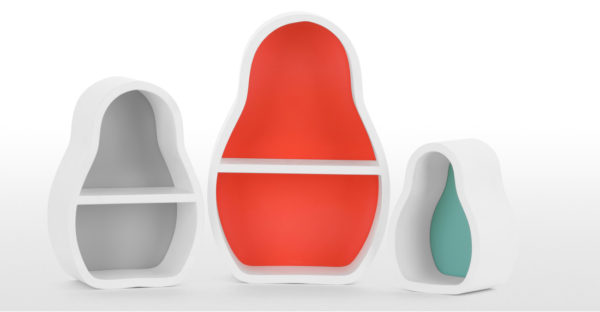 Looking about as unlike-a-set-of-shelves as you can get, this innovative new storage unit is styled like a set of Russian dolls and is a perfect example of how you can have toy storage space for your living area that looks elegant while keeping the room free from clutter.
Designed by supermodel and parent Natalia Vodianova, these shelves encourage kids to put their toys away. The set of three  units that can be wall mounted and the round edges and open design protect chilren from harm.
---
VW Camper Van Toy Storage Chest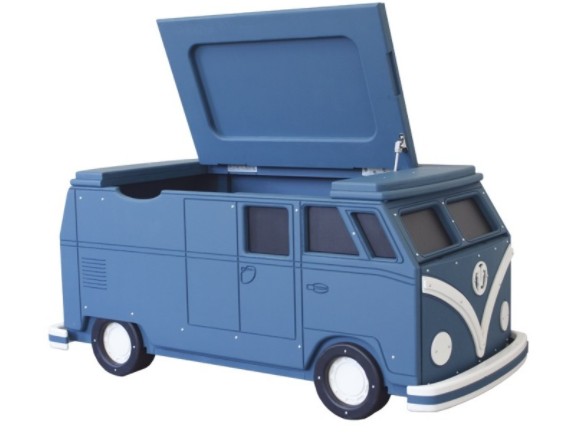 A time-honored unit to help help reclaim your living room is the good old wooden toy chest. Who says children's toy storage needs to be dull? This toy storage will be the envy of any child. It's a high quality wooden box that's styled just like a VW camper van and is packed with charming details.
This organizer has oodles of space and is another good way to encourage children to put their games and figures away after at the end of a play session. It also doubles as a handy seat.
Little mites will probably want to play with this rather than store stuff in it, but it will definitely look the part in any front room or games room. The VW toy cabinet is had made in the UK and is even available in a selection of colours.
---
What about all those little toys that clutter the living room
While you can stuff little figures, Kinder Egg toys and the other million toys children love to leave lying around your front room, it's not exactly practical and it doesn't give your child a place they can store their own things, or find them easily. As well as a place to stash bigger toys and games, you can make life a lot easier getting some discreet places to keep the deluge of smaller items too.
Amazon has loads of good storage bins, buckets and smaller shelves which are ideal for this job. And they're not all as garish as you'd expect. In fact a lot of the toy units you can get there are attractive and won't make your living room look like another play room.
Rainbow Kids Fabric Storage Bins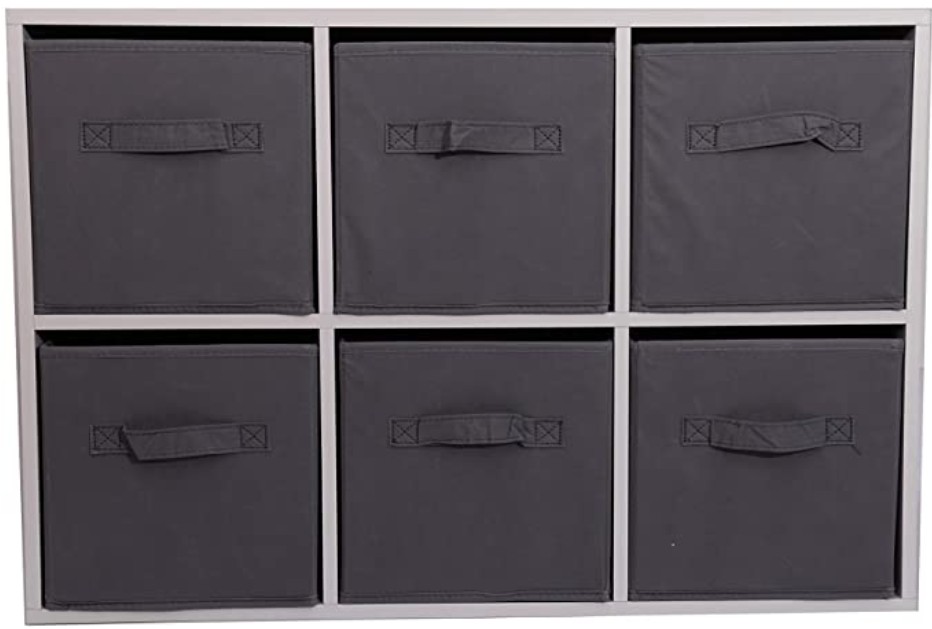 Not sure why this toy storage unit has Rainbow in it's name because there's not a primary colour in sight. It comes with 6 cavernous fabric toy boxes that will swallow up all the toys that are left around the living room.
The handles are good too because they're easy for children to pull out and put back in. Units like this are one of the best ways to de-clutter your living space and they're also one of the cheaper options.
---
Skyline Double Shelves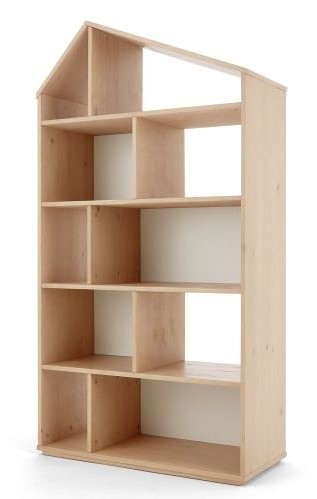 If you're finding your living room is being completely swamped with a deluge of Batman figures, teddy's and dolls you might need some more heavy duty storage.
Ideal for the front room, these attractive shelves can store a whole mix of things, from books to much-loved bears and robots, this unit is made from modern looking pine and white.
The fun 'house' style design breaks up the horizontals and verticals while giving your oodles of space to bring some order back to the chaos. There's a mix of open spaces and it's built to last. And, unlike shelves, this children's toy unit can be moved around when needed.
---
Scandi Wall Shelf
Discreet, attractive living room toy storage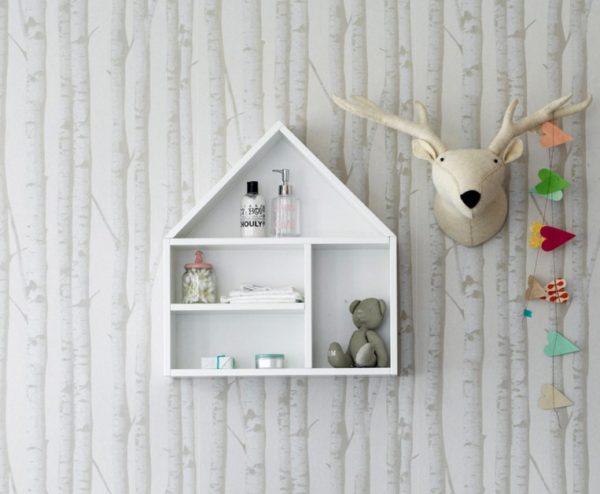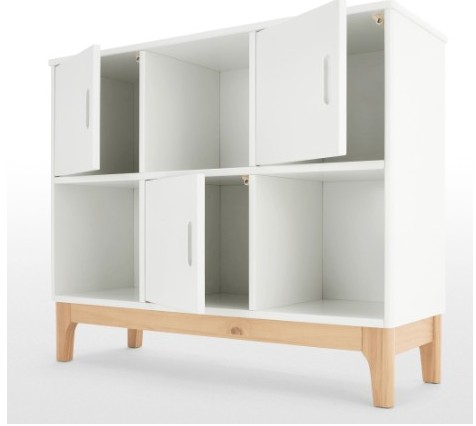 If you have children who just won't pick up, then this might just get them to do just that. The Scandi Wall Shelf is a lovely modern-looking bit of children's toy storage that's as much fun for kids as grown ups.
It's got a super-cute house design and compartments that are prefect for showing off their favorite toys. It's available in 3 different colours annd is made from MDF, with a tough lacquer finish.
A perfect addition to any boy or girls rooom.
---
Linus Shelves
If you're new to parenting, there's going to be a lot of stuff invading your home in the coming years. I've no idea where all these toys come from. They just sort of accumulate.
In the fight against waves of lego, trinkets and other floor-clutter is this fab Linus Shelving unit.
Offering a mix of open display style compartments and some regular cupboard ones, there's plenty of space to stuff, or show off all those toys. With beautiful curved edges and high quality materials used throughout, this is one of the best-looking children's toy storage units we've seen.
There's some other awesome matching Linus Range units to, so check those out if you're interested. This toy storage will look incredible in the living room and is packed with lots of places to store those toys.
---
Louane Kids Small Tree Bookcase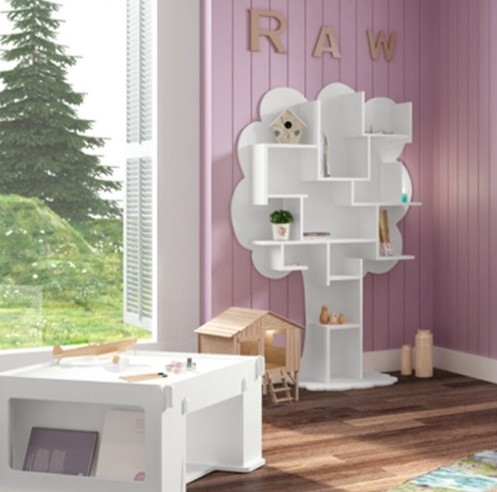 Every now and then there's a bit of furniture that makes you go 'wow!' This tree-shaped book case (made my Math By Bols) definitely fits that category. Aside from having an amazing design, there's also countless shelves and compartments to store all those toys in.
It's available in pretty much any colour you can think of, and you can put it anywhere you like, on a wall or even in the centre of the playroom. And if anyone asks, it's hand-made to order in Belgium. We absolutely love this kids storage unit and if you're looking for something out of the ordinary, it's a great choice.