One of the best things you can invest in for your child's room or nursery is a decent toy chest. This is somewhere they can keep their most treasured books, games and trinkets! In this guide, we've got some some awesome kids toy box ideas that will brighten up any play room.
Floppy rabbits, chunky cars just waiting for the unsuspecting parent to step on. Yep, having somewhere to store all those things is really important. And there's some unique and diverse toy furniture out there. Lets take a look at some of the best ones we've found in 2022.
#1 Wooden Pink Child's Toy Box – Cuckooland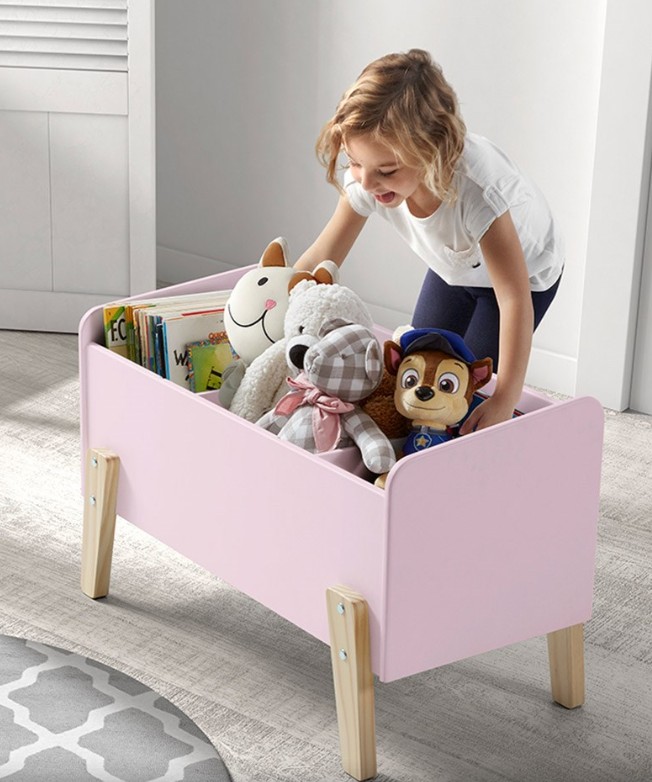 The first children's toy box I wanted to show off is this simple but very stylish offering from Cuckooland. It offers something a little different from the usual chest style box in that it's raised up on legs.
(A chance to keep some extra stuff underneath perhaps?) It's ideal for a lucky little girl's playroom but it's also available in a more neutral white that will go in either a boy's room and will go with any colour scheme.
This toy storage unit is made from solid pine and MDF. They're made to order and are packed with the kind of quality Cuckooland are known for. A lovely box with plenty of room for dolls, teddies and books.
---
#2 Florida Collection Large Child'sToy Box in Grey (Kiddies Kingdom)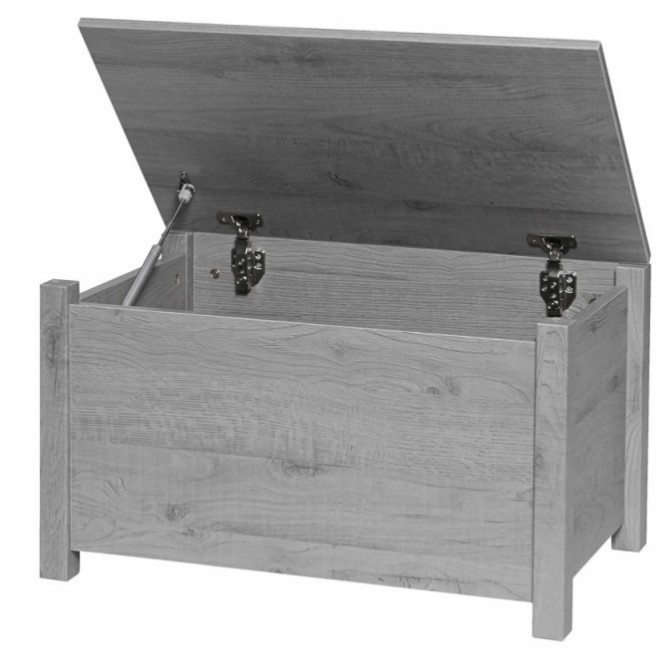 We're big fans of Kiddies Kingdom here on Ultimate Kids Room. They've got some fab stuff that will look great in any lucky child's room. We especially love the toy boxes they've got on their website. I'll be writing about some of them in a minute and there's some more storage ideas from their website later, including some very brightly coloured units.
But if you're going for more of a modern, neutral themed room with lots of grey and cool slick furniture, then you might want a wooden chest like this one from their Florida collection. With extra tough hinges and soft opening and closing, this storage chest oozes quality and has plenty of storage space inside to pack with all those toys.
---
#3 Natural Wood Toy Box – Samuel Johnston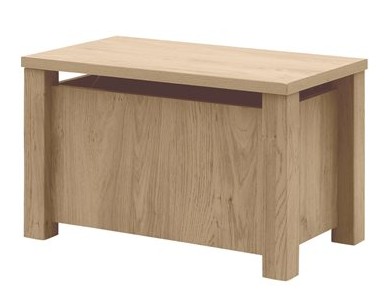 If you're looking for some ideas for a nursery, or bedroom that would suit an oak theme, then take a look at this gorgeous natural oak box from Baby Style (available at Samuel Johnston).
With a natural grain finish and solid chunky legs, this toy box is built to last. It's also available in a darker ash colour if you like the style but want something with a bit of a grey look to it.
This toy storage has a large, flat wooden lid which can double up as a chair. There's no chip board in sight here – just solid oak wood throughout. Sheer quality and design of this children's toy chest make it a top addition to any nursery.
---
#4 Churchfield Girl's Toy Storage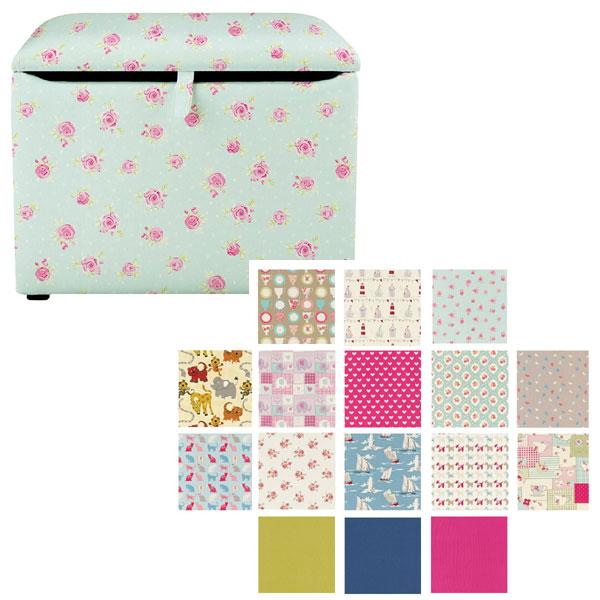 A box that's BURSTING with colour is this fab unit from Churchfield. It combines plenty of storage space with an eye-catching design that will be a centerpiece of any nursery or child's room.
Choose your fabric covering at checkout (there's quite the selection to choose from). Sailboats to jungle animals. They all look bright and bold. And the toy box itself has a cut-away section at the top that prevents little fingers getting jammed. Again, this is a made-to-order product so leave a bit of time for them to build your perfect toy chest.
---
#5 Teamson Sunny Safari Box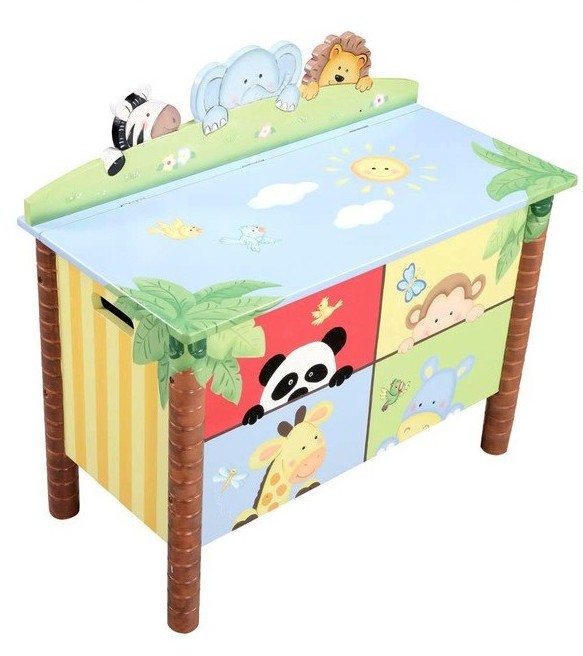 This has to be one of the best children's toy storage inventions I've seen! I love the cheeky charm and fun that's bursting from this lovely toy box. With a safari theme and some bold, bright colours, the Teamson Safari toy box offers a raised toy storage with cleverly designed 'tree' legs and a brill safari animal theme.
There's also handy cut out handles at the sides to help busy grown ups move the box to the right spot when tidying up. This box should go with any colour palette as it's got a bit of everything on it, and it's going to give a lot of pleasure to any little one as they grow and learn. A brill jungle styled unit.
---
#6 Liberty House Kids Safari Large Toy Storage (Amazon)
Here's another box idea that's popping with charm and style. The children's story book style design of this toy chest sets it aside from the others and it's also a really good price. Bright, modern style illustrations cover the front, sides and upper panels of this unit and its also fine to use as a seat.
Offering loads of storage, it's a good choice for a nursery or play room. It comes in flat pack form but assembly is a quick, easy process.
£59.99 at Amazon
Price last checked: 1st Jul 2022 – 05:20
---
#7 East Coast Alaska Sleigh 2 Piece
I have to admit I'm slightly jealous of this toy box. If you've got the room for it and you don't mind paying a bit extra, this might just be the ideal toy storage for your little one's room. This large, luxury toy box from Fun Furniture is made to order and comes in a range of colours.
A very unique toy storage they'll love playing with
It's constructed so well you'd be forgiven for not recognizing it as an actual toy chest. Children will love playing on this plywood digger box as much as grown ups will love the huge storage space that it packs. A simply one-of-a-kind toy box that will really make a boy's room look incredible.
---
#8 Teamson Fire Engine Trunk Box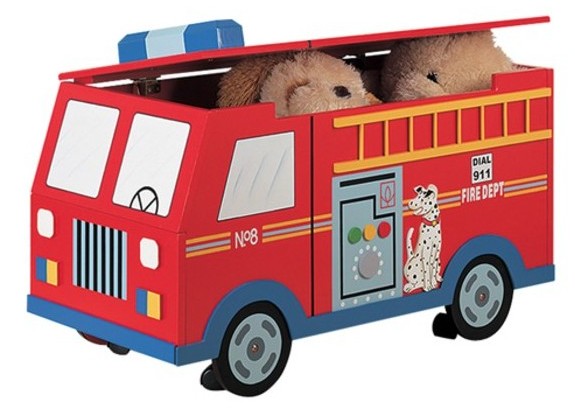 US Based Teamson have some awesome products for kids rooms and this fire engine themed toy storage box (available through Kiddies Kingdom) is one of their best ideas. It's not only hand-made, but also hand painted for that personal touch. And the bright, fire engine theme will look brilliant in any room. Under the lid, there's the all-important finger-protecting cut away.
And another thing I really like about this is that it's got wheels (obviously – it's a fire engine!) No, it's really got little coasters under the wheels to help you move it around without scratching the floors. Lots of storage and a great fire-truck themed design.
---
#9 Teamson Personalized Toy Box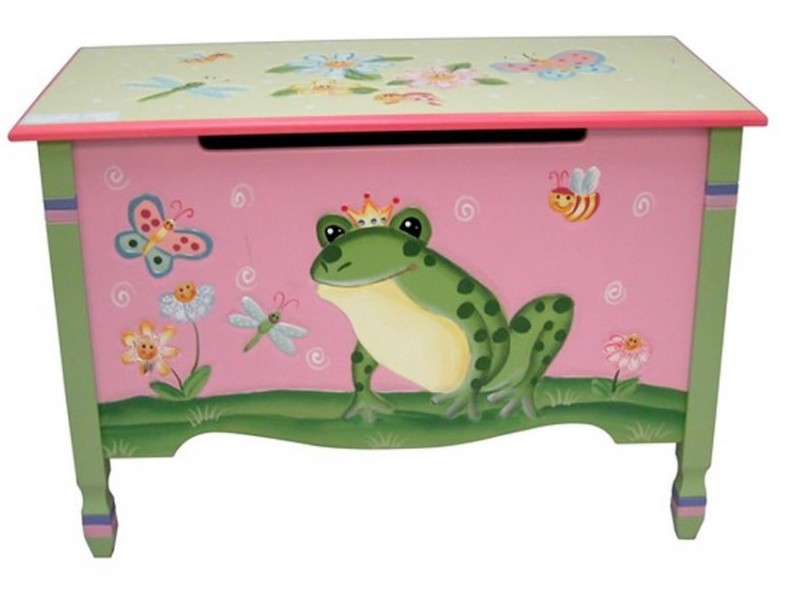 Hopping straight out of a fairy tale comes the next storage chest in this toy box ideas guide. Another box from Teamson, this time with a princess and the frog themed design. Despite being hand-painted, it's actually a lot cheaper than you might think, at around the £150 mark, including free delivery.
Your box will look slightly different to anyone else's and will have been lovingly painted by Teamson. And there's no self assembly here – it arrives in all it's pre-built froggy glory. It's raised up and has curved front panel with the fingers-friendly cutaway at the top.
---
#10 Fantasy Fields Girl's Seat Toy Box
You might think you have to pay an arm and a leg to get a GOOD quality hand-painted girl's toy box, but here's something pretty cool. This gorgeous garden themed toy storage is available on Amazon. Each panel is painted with a charming garden scene that your little girl will enjoy exploring.
Painted in bright bold child friendly paint, there's ample storage here and the seat design is something more toy boxes should do. Once it's packed with toys, it's an extra bit of seating so it's good for anyone looking to save on a bit of space. This is a great kids toy box and one that will really stand out.
£97.24 at Amazon
Price last checked: 1st Jul 2022 – 05:14
I hope you find something really good in among those children toy box ideas. What toy box did you get for your nursery? As always, please let me know in the comments if you find a fab toy chest that's not listed here!