Let's make sleep a little more fun! Introducing the teepee cabin beds, a bed built for not only a peaceful sleep but also built to be the perfect addition to any room. Make sure your little ones always feel like they are going on an adventure with a bed that matches. Getting your child to go to bed has never been so easy, and can you blame them?
These beds will not only make happy campers, but they are also spacious and many have built-in storage making them both fun and handy! Bedtime is no longer a mundane routine, it is now time to send your little one off on their next dreamy adventures! Saying that, I think it is time to take we take a look at the Top 5 Teepee Cabin Beds.
#1- Best Stylish Teepee Bed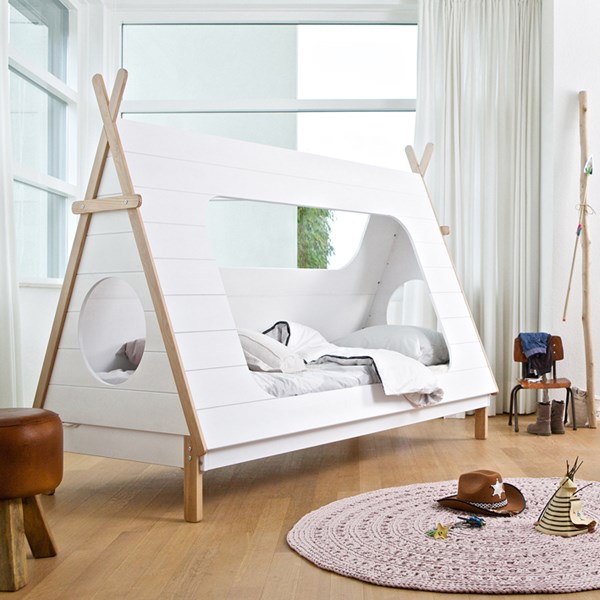 This Kids Teepee Cabin Bed by Wood is every kids dream, and is sure to make their dreams more fun. The wooden tent bed is made from solid pine, has a sturdy top and two lookout holes at each end. You enter through the open and spacious front and even the back has a skylight opening.
The design is beautiful and has a very authentic "wild west" feel to it. The solid color and build of the structure allows the bed to fit in perfectly with any room. It is available in both white and concrete grey. There is also the option to add a trundle drawer under the bed as it is slightly elevated. This teepee cabin bed would be a lovely addition to your little ones room, no matter what the theme you are going for is!
#2- Best Luxury Teepee Bed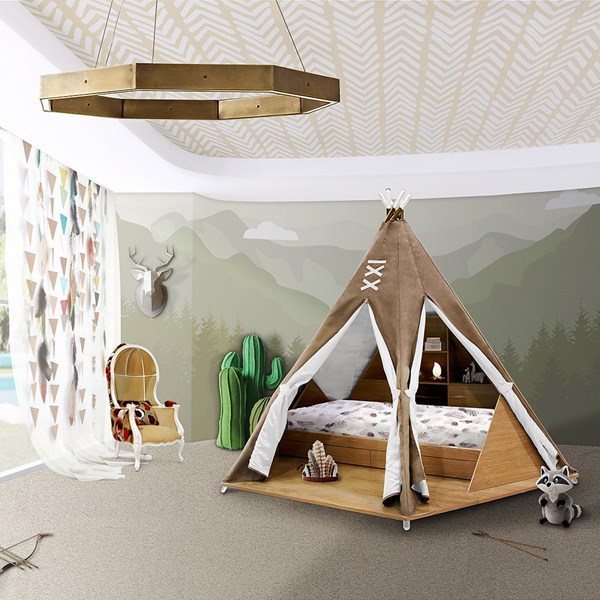 If you are looking to go all out to fulfill your child's Western filled dreams, this Luxury Children's Teepee Tent Bed with storage is the bed for you. While certainly not a budget-piece, this extraordinary bed has quality unparalleled.  This work of art is made from oak veneer and includes other materials such as aluminum, brass, acrylic and synthetic leathers.
The workmanship of this native-like bed will have your child never wanting to leave their room. The wooden bed has a strong brown canopy that can be pulled to the sides to open up or be zipped closed. There is also built-in shelving and a spacious under the bed toy storage to keep everything more organized. If you are dreaming of a luxury teepee bed, look no further.
#3 – Most Dreamy Teepee Bed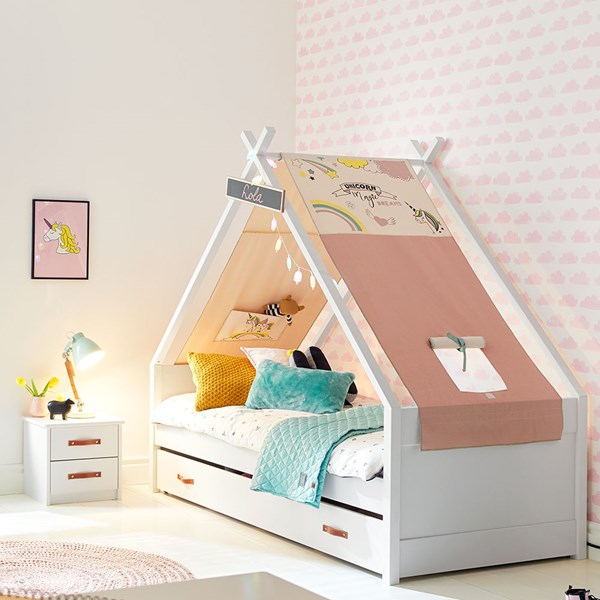 Give any room a mystical feel with the gorgeous Unicorn Tipi Bed. This bed is made out of solid pine and is completely open on both sides, making it feel very airy. It is complete with a fun pink canopy with unicorns on it that features a roll-up window and pocket.
The window and pocket allow your child to determine how much light they want in their little tent and add on to the real camping feel! The bed itself is a simple but strong white color, making it mesh with any room design. You can even add on an additional storage drawer beneath the elevated bed. This fun teepee bed will let your little one fly off into blissful dreams.
#4 – Most Versatile Teepee Bed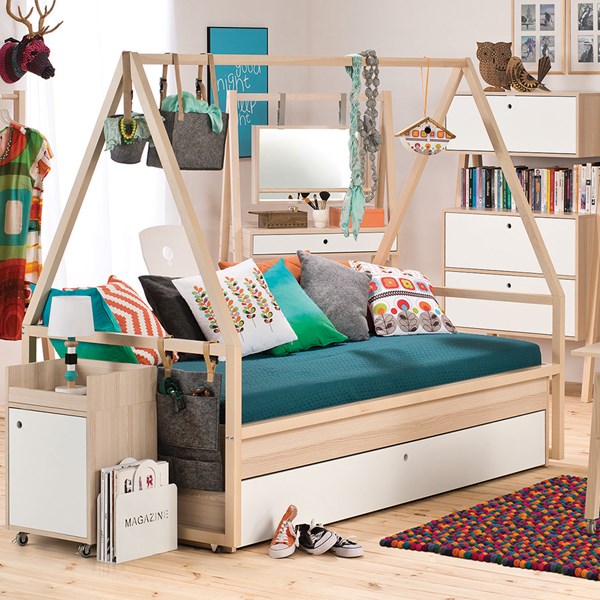 Introducing the Vox Spot Kids Tipi Bed, a kids dream that comes with both a movable frame and a trundle drawer. This camping inspired bed has a fantastic A-frame design that would not only look perfect anywhere but is also easily customizable. The bed is made of laminated wood and solid pine. The Tipi bed frame is on lockable wheels so you can place it over your child's bed or use it separately as a teepee den.
The best part? You can do both! The teepee den can be the perfect daytime activity and place for your child to plan their next expedition, and at night it can be moved back over to the bed to guard them under the stars! The drawer underneath can be used for a trundle or just for storage space. This multi-functional furniture piece is certainly a steal and an awesome price for how much it has to offer.
#5- Cheapest Teepee Bed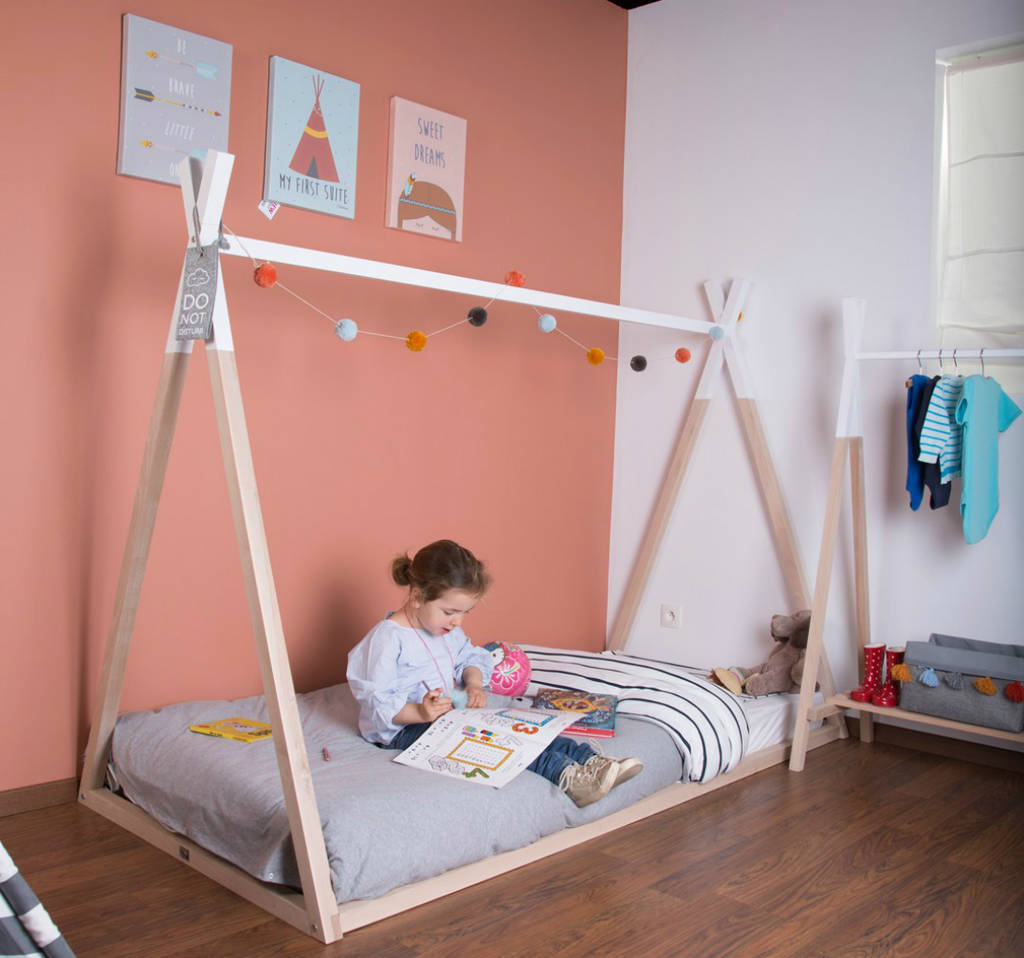 This Children's Tipi Wooden Bed Frame by Grattify is the perfect beautiful yet simple addition to your little adventurer's room. It is made of ash wood and is very customisable. It lays directly on the ground which not only makes sleeping fun but it also helps promote the authentic feel of camping and spending your night in a tent under the stars!
The basic wooden frame can be decorated with lights or a canopy to really give the room and bed its own feel. For the price this bed is, it feels like an obvious choice for children who are just starting their nomad adventures and want to see what life is like as a real camper. Let the adventure begin little dreamers!
Having a bed like one of these five really does make bedtime more than just a boring routine. When children love their bed, bedtime becomes special and something to look forward to. Plus, sleep fuels us for the day so it seems ultra-important to make sure what we sleep on is providing us with the best sleep we can get. A good and comfortable bed plus one that helps us go off into our dreams excited for what is to come is all we can ask for for our little ones.
Whether you choose a more extravagant teepee bed, one built for more storage space, one easier to customize, or one with more space, your child is sure to be filled with joy when you bring it home. Now, you don't have to leave your house to fulfill your wishes of going on adventures and fun-filled nights camping. Happy dreaming!
We love this one…
You might have seen this gorgeous luxury kids teepee bed featured on the BBC DIY:SOS program. Perfect for an adventure themed room, or just for a cool modern room, that needs a special and unique bed.
The teepee comes in a modern, solid pine and painted white MDF construction. The exposed pine gives it an authentic look and feel. As it's raised up, you can get a trundle draw in here, or just store toys that are tripping you up.
The tee pee part of the design has plenty of cutaways to make it open while giving kids a great place to hide and play. You'll need a standard 90 x 200cm mattress (available in a bundle from Cuckoo Land.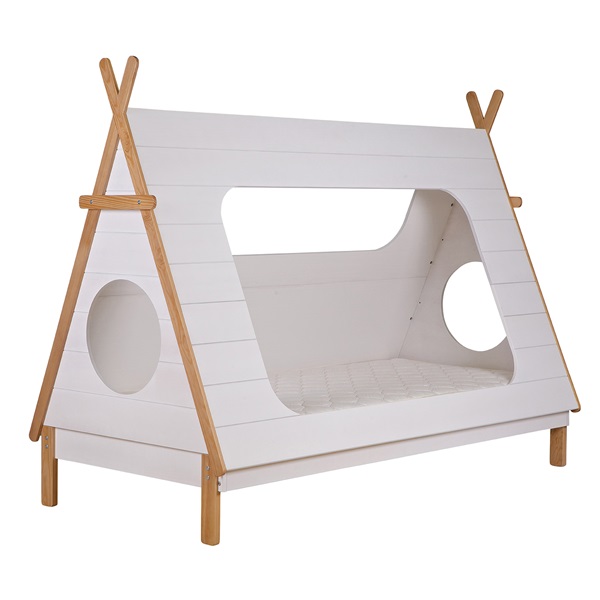 5 reasons to get your child a teepee cabin bed
They're loads of fun – Teepee beds offer a safe place for your little girl, or boy to play out all kinds of games.
They look modern and stylish – Out of all of the beds we've featured here, the Teepee beds are definitely up there among my favorites. They look sleek and fit in with a well designed room.
There's plenty of storage under the bed – You can never have too many places to store toys that stray. You can even invest in a pull-out trundle if you'd prefer.
It's easy to change the bedding – unlike mid or high sleepers, you won't have to climb any great heights to change the bedding, although you might need to watch your head.
They're super-sturdy – The A shape is one of the strongest forms found in construction. Once assembled, your tee pee bed will stand the test of time.