Having a gorgeous little girl of my own I know how important it is to get the PERFECT princess bed for her. Here's a quick run down of some of the best beds fit for a sleepy royal little head currently out there.
First, a WARNING: this guide contains copious amounts of PINK!
#1 Lifetime Princess Four Poster Bed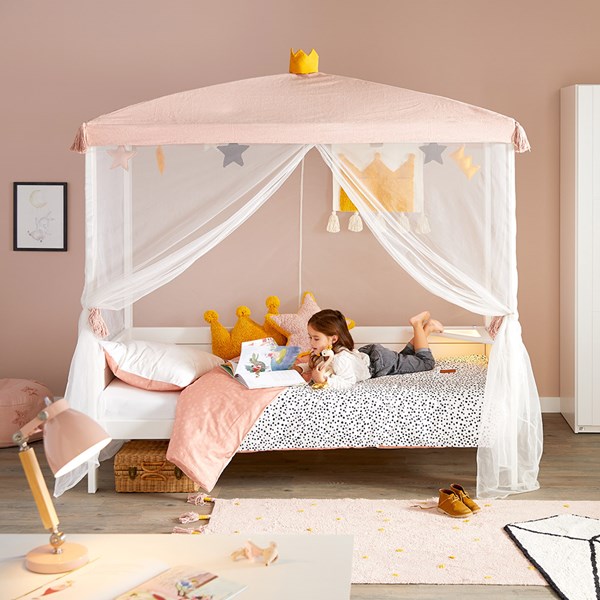 Cuckooland have some amazing Princess beds. One of the most beautiful being this 4-poster princess bed. Offering a proper place for a busy princess to get some well-needed rest at the end of the day, she'll be the envy of all her friends with this real, working four post girls bed!
As with all of Cuckooland's products, this bed is made from the finest quality materials and will last a long time. There's two dreamy colours to pick from and you can also get your little one's name added on a proper engraved name plate.
---
#2 Disney Princess Carriage Kids Toddler Bed
Suitable for smaller princesses, this Disney princess themed bed makes the transition from a cot to a bed as easy as pie thanks to it's fantastic movie inspired design. Comes with lots of frilly curtains and a fab little 'seat' at the front of the coach. This will be one to keep your little girl busy for hours to come. Like any good bed, it encourages imaginative play. There's also handy storage to the front to help keep the clutter down. Bright bold and full of Disney charm!
£199.99 at Amazon
Price last checked: Sunday 19th September 2021 – 09:03 am
---
#3 Kiddi Style Superior Royal Princess Bed
More gorgeous royal carriage style here with a really nice carriage bed . This princess bed id made from wood and has some great design details on the wheels as well as princess style crows on the front. It's super easy to clean and brings a touch of elegance to any little princesses bedroom!
Little princesses will love playing in this princess car style bed
---
#4 Disney Frozen Kids Princess Toddler Bed
Who'd have thought 'that movie' would have taken off and found it's way into so many different products! There's a lot of cool princess beds out there but this beautiful Frozen bed is one of the best I've found. It's packed with loads of storage under the bed (with draws on both sides) and has a super bright Frozen princess design throughout the bed. It's an ideal 'first proper bed' for any princess and has safety panels on either side to prevent any unwanted bumps in the night. It features both Anna and Elsa at the foot of the bed and more sparkly magic crystals than you can shake a stick at. A fab princess bed any lucky sleepy princess will love climbing into!
---
#5 KidKraft Dolls House Bed
Every now and then a design for a special princess bed comes along that just look so amazing. I fell in love with this bed from KidKraft when I saw it. It's a beautiful wooden bed with a built in dolls house at the head of the bed. Good luck getting them out of this bed (or maybe off to sleep) when they see that there's little rooms up in the head board. Complete with cute little pink shuttered windows for your little princess to play with. (The shutters can actually be opened and closed). This bed has a really fresh modern look to it and some really nice detail work on the roof section and the garden elements painted on the sides. Any lucky princess will just love sleeping and playing in this bed,
Good luck getting them out of this bed…
---
#6 Princess Cabin Bed Mid-sleeper With Built-in Slide!
I featured this absolutely brill bed in my Girls Beds with Slides guide and just had to feature it here too. This princess bed is packed with charming extras and things to keep little ones busy, along with some great artwork and plenty of storage underneath. Most impressive of all …. the sturdy slide that carries well rested princesses onward into their new day. (Yeah, like they're only going to use the slide once a day!) Thankfully this bed is super-sturdy and built to last thanks to it's solid pine construction.
There's also a really nifty little princess den underneath which mams and dads will love stuffing with teddy bears and everything else kids leave lying around their rooms.  Any little girl will adore playing in this super-pink princess bed!
This princess bed is packed with charming extras and things to keep little ones busy
So there we have it, the 5 best princess beds money can buy online. If you've found and adorable girls beds then please get in touch and I'll take a look at them too.