One thing we parents can never have enough of is sleep. Well actually sleep and STORAGE! As children get older, the amount of toys they accumulate is just staggering. While I guess all that extra plastic does brighten the place up, there has to be somewhere for it all to go.
One of the best ideas when your little man is ready for a new bed is to choose one with some sneaky, clever storage built in. For the same foot print of a normal bed, you could have 3 extra roomy deep drawers to store toys, clothes and anything else you're sick of tripping over. And this guide is all about finding some fab boys beds with storage to spare. Let's start looking…
#1 Windermere Solid Pine Mid Sleeper
A tried and tested method to drastically increase places to store kids stuff is to opt for a bed that's ever so slightly raised up, which allows for some crafty storage underneath. And the best part is that kids absolutely LOVE these raised up beds too. This boys bed with storage is a solid pine affair and has a huge 3 drawers under the bed.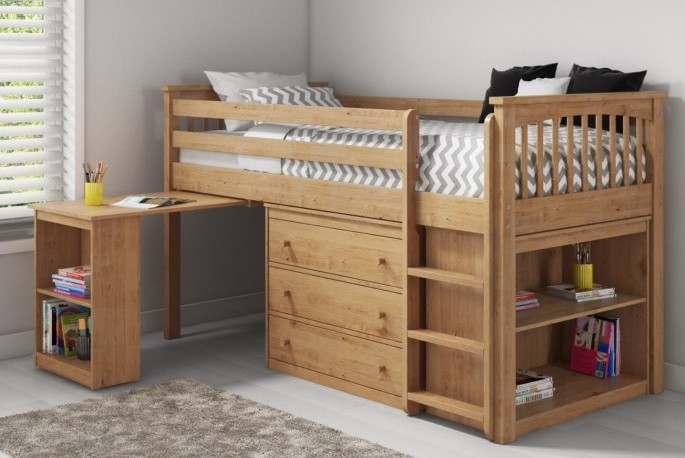 At the foot of the bed there's two deep shelves, shown here all minimally adorned. In reality they can be crammed with toys and other boyhood treasures. And there's even a pull-out desk. About the time children need their own bed, they'll likely also take an interest in doing their own 'work', like drawing and making things. This desk saves space by sliding back in if you need the space.
---
#2 Seconique Felix Low Sleeper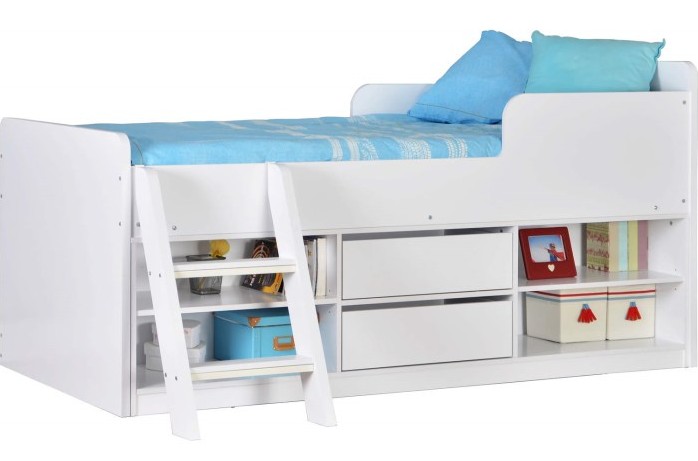 This low sleeper bed is packed with charm, not to mention safety features. the safety borders at the side make sure no-one is going to go bump in the night, and this is an ideal first bed for your little boy.
Children will also like the little ladder that makes hopping into bed even more fun.
This sleeper earns it's place in our guide on the best boys beds with storage thanks to it's generous double drawers in the center, and 4 shelves under the bed. Children will also like the little ladder that makes hopping into bed even more fun. It has a bright, modern look to it and is a great way to squeeze more storage space out of your little boy's bedroom.
---
#3 Play, Learn & Sleep Bed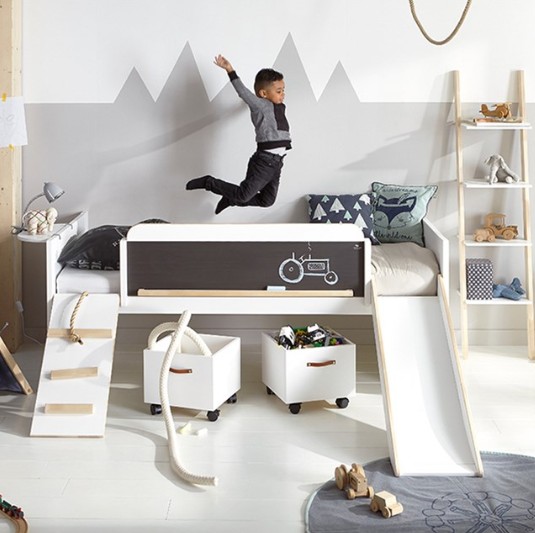 Here's a brilliant boys bed that has loads of cool features (and even more storage space) that both parents and lucky children will appreciate. The deal is a good one – your little boy gets his very own bed, complete with a slide. At one end there's a unique climbing ramp, with it's own rope and a low sleeper bed with nice high safety friendly sides. The only way they're coming out of this one is down that awesome slide!
For the parents, there's a vast, voluminous cavern underneath the bed. Rather than have drawers or shelves, the designers of this limited edition bed have left it up to you. You can choose your own storage boxes, or simply use the space to store toys. This is actually a really fast and practical solution to finding a boys bed with storage. And even big toys will be swallowed up but all that space.
---
#4 Master Beds Boys Captain Bed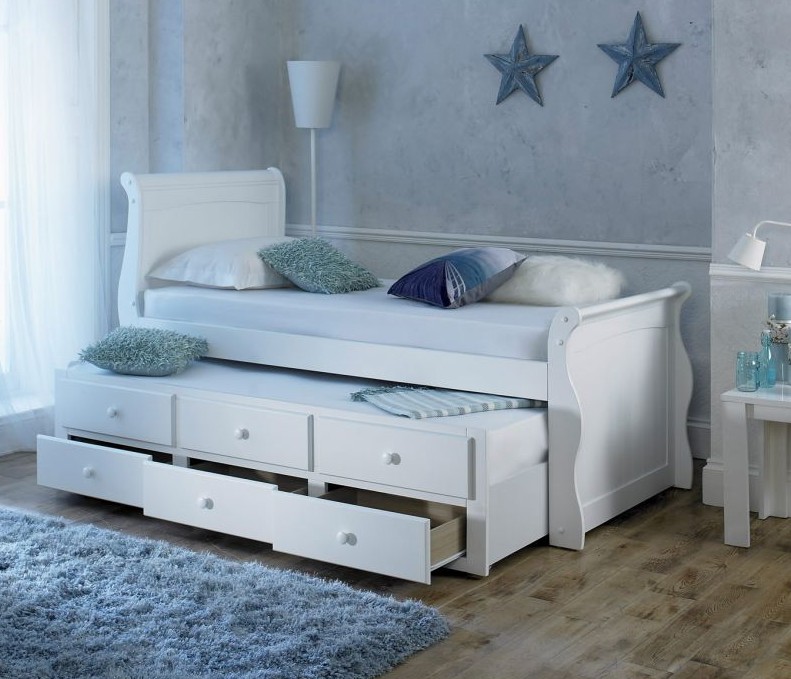 OK, this is the boys bed that probably wins the storage wars. I mean this thing has a James Bond'esque amount of slide out compartments.
…this boys bed really goes to town on the storage front
Offering a solid 3 foot bed with a curvy, modern scroll design on the head and footboards, in painted white wood, this boys bed really goes to town on the storage front. There's 6 really good-sized slide-out drawers offering tons of storage space for toys and bedding. It also has a trundle guest bed that will come in handy for future sleepovers (or just as an extra thing to keep them busy). My two love playing on our pullout sofa bed for some reason.
---
#5 3ft Single Captain Cabin Storage Bed
I really love the simple design of this bed which somehow manages to pack 3 massive drawers underneath it. There's no sharp corners here either and it comes in cheaper than you might think, considering it's made from Pine. This fresh white bed will look really good in any boy's room and there's a load of room for bedding or toys.
---
#6 – HappyBeds Modern Boy's Cabin Bed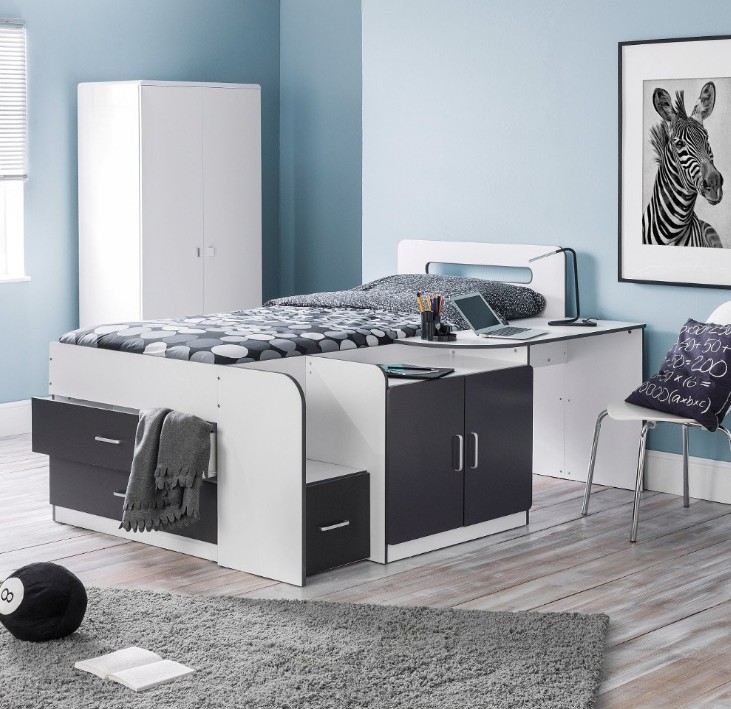 The final product in the boys beds with storage comes from HappyBeds and it's a cabin bed that really makes the most of the space and has some brilliant reviews on Amazon. You're getting a modern 3 foot bed with sturdy construction. And it's packed with handy storage. Charcoal coloured doors and drawers hide away yous and nick-nacks, leaving the rest of the room decidedly more ordered.
Someone has really thought hard about squeezing the most storage out of every inch of space
This boys bed has two large drawers at the foot of the bed which slide smoothly out. As well as a large cupboard to the side. Even the cute little step up to the bed cleverly conceals another storage space. And there's even a built in desk. Someone has really thought hard about squeezing the most storage out of every inch of space here and this is a really good bed for anyone seeking less clutter and more storage.
Have YOU found a fantastic boys bed with loads of storage? Got any tips on how you save space and keep things organized? Puh-lease share your experience in the comments below.