Happy Nappers are the latest craze this Christmas and for good reason.  For one thing they are SUPER CUTE, I mean check out that unicorn! The other great thing about them is that they are so versatile and not just another toy.
You can play with them and sleep in them, take them to the grandparents, watch movies in them in the living room and take them to sleepovers.
They turn from a play pillow to a full sleeping bag with zip so they can snuggle up and nap inside of it.  When they are done napping they turn back into a play pillow!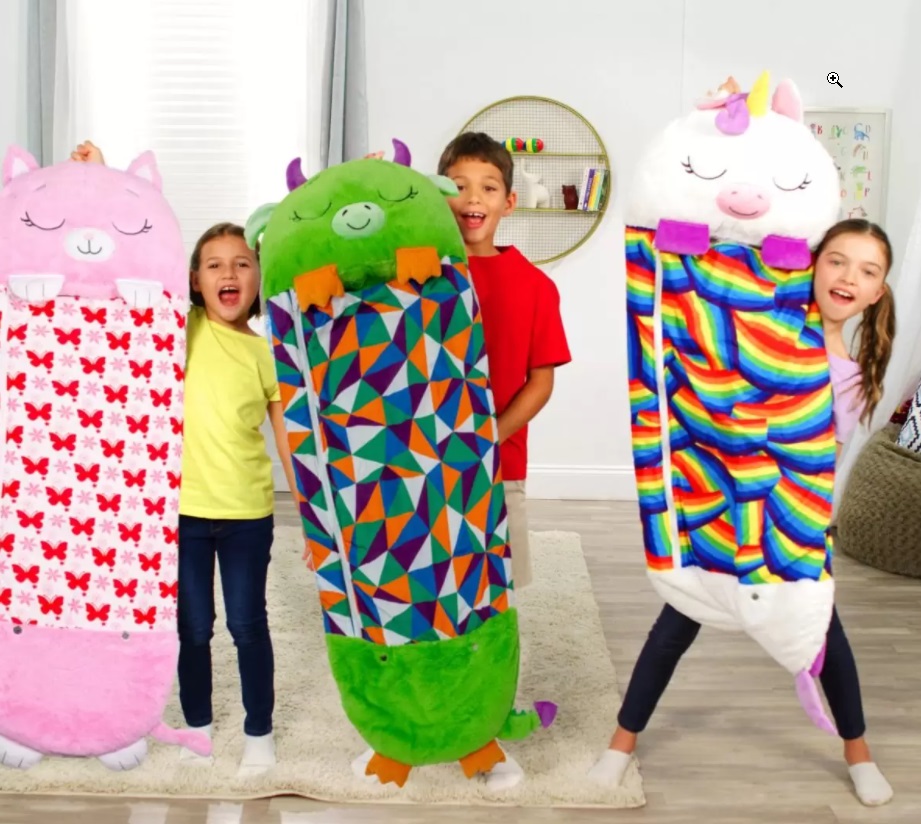 The choice of colours and animal styles is also quite impressive from my favourite the coloured Unicorn to the Pink Kitty, Grey Shark and Green Dragon.  You can get the Unicorn in pink too!
---
#1 – Happy Nappers at Wowcher
Great Savings for Christmas on all sizes of Happy Nappers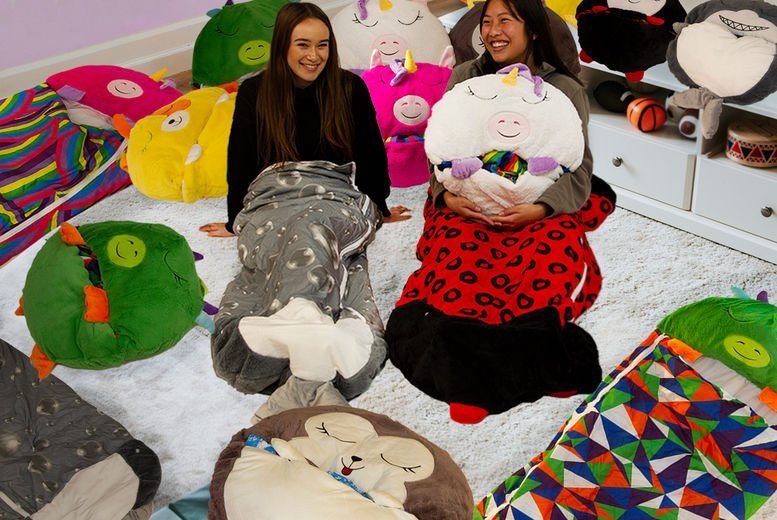 These popular fluffy friends come in small, medium and large sizes and as you can see from this image the large is perfect for big kids and even adults!  We would recommend getting the large size where possible as you're little ones won't grow out of them so quickly and can use them for years to come!
What makes these Happy Nappers Great?
Sleeping bag: Get a kids' cuddly plush blanket sleeping bag.
Compact: The comfortable blanket easily transforms into a sleeping bag with a built-in pillow! The design features zips and handles, making the blanket great for taking camping or to sleepovers, or for simply getting cosy at home!
Sizes: Choose from a small, medium or large.
Designs: Choose from a white unicorn, green dragon, pink cat, rose red unicorn, grey shark, yellow dog, grey cat or red ladybird design.
Material: Made from 100% polyester.
3 Sizes and 8 Designs
Current Pricing at time of writing (subject to change at any time): £12.99 instead of £49.99 for a small blanket sleeping bag, £20.99 for a medium blanket or £24.99 for a large blanket from Benzbag – save up to 74%
---
#2 – Living Social
Amazing New Designs including Christmas Specials!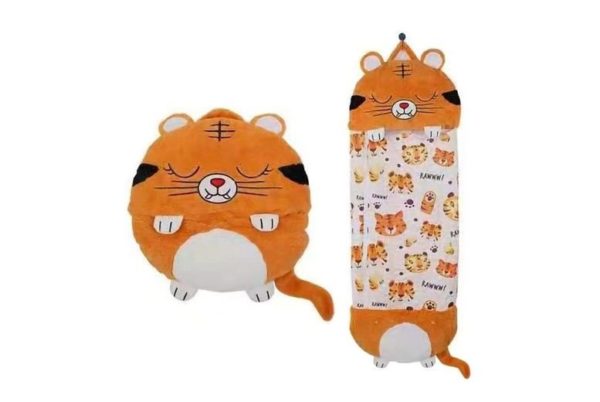 Living Social have these sleeping bags at some fantastic prices including the original designs but also an Eagle and a dog, not to mention some Christmassy options!  There are a whopping 10 styles in total with the new styles from just £19.99 at the time of writing.
Why get your Happy Napper from Argos
Product: Get this Cuddly Animal Plush Sleeping Bag today!
Perfect: For snuggling up in to read, watch a move, play games and much more!
Ideal: For sleepovers and taking with you on travels.
Design Options: Eagle, elk, dog, shark, green dinosaur, panda, tiger, whale, pink rabbit or white unicorn.
Suitable: For children over 3 years of age.
Material: 100% polyester.
Size: About 135*50cm.
---
#3 – Amazon
Red Ladybird and More Happy Napper Options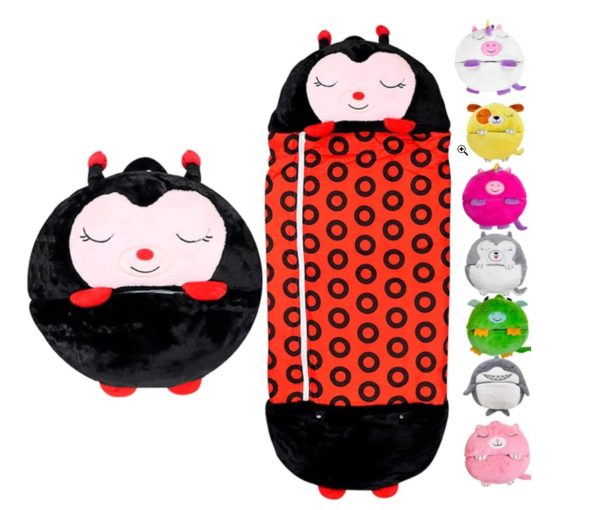 At the time of writing you can still get delivery by Christmas!  With sizes L, XL and XXL to choose from and some fantastic deals you can't go wrong getting your happy napper here.
Why get your Happy Napper from Amazon
• Great Customer Service
• Fast Delivery
• Easy Returns (just in case!) and great customer reviews
---
#4 – Argos
White and Multi-Coloured Happy Napper Unicorn Design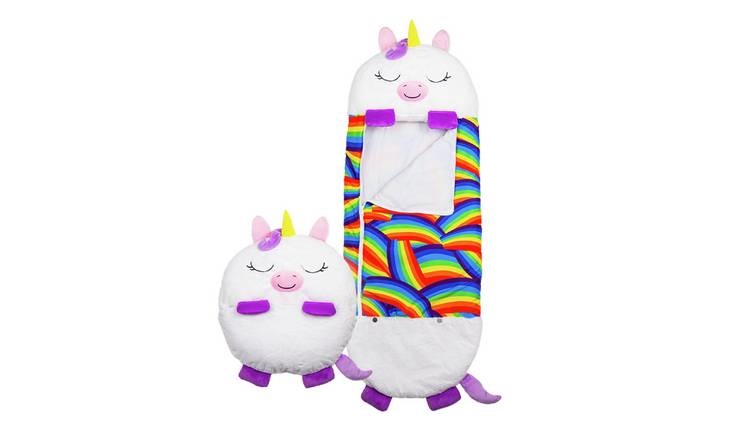 Argos describe Happy Nappers as "the fun, fuzzy friend that's not just the perfect play pillow, it pulls open and turns into a comfy sleeping bag surprise".
Some excellent reviews from happy customers on Argos
"I bought these for my daughters over a month ago and they haven't put them down since they absolutely love them".
"I brought this for my daughter who absolutely loves it. It is easy to fold up into a pillow too. Great quality item".
Why get your Happy Napper from Argos
• Easy to unroll
• Warm and Comfy
• Fun friend for playtime and good customer reviews
---
#5 – High Street TV
The original supplier of Happy Nappers
High Street TV offers the full range of these brilliant happy nappers with fast delivery and good prices.  As the official supplier this is the company who brought happy nappers to the market.
Choose from Medium and Large Sizes, they recommend size Large for kids aged 7 plus.  You can pay extra for next day delivery when there is sufficient stock.  This delivery option is £7.99 at the time of writing.  Medium Happy Nappers start from £29.99.
Why your child will love it?
• The perfect play pillow that opens to a fun sleeping bag surprise!
• Zip up and snuggle up
Official Supplier – buy with confidence.
Conclusions
It seems that kids of all ages are asking for happy nappers this Christmas!  Luckily there are a range of places where you can buy them and many good offers with savings on the original prices!
Our top tip would be to buy the biggest one you can afford if you're shopping for kids over aged 5 then you'll get more use out of them.  If you've got little ones aged around 2-4 then the medium ones should work well.
Happy napping!
References and other links
Check out these organizing ideas for your kid's room.
Got a question about Happy Nappers?
Thanks for reading. Please ask in the comments if you have any questions or things we can help with.