Bedside tables are a must for any child's room as a practical way to keep track of all the things they might need before bed. Whether it's a water bottle or a bedside lamp, a reading book or any safely-packaged night-time medication, we know you'd prefer it all in one place rather than cluttering up your child's room.
That's why we've collected the best bedside tables for kids' rooms – no matter the space or configuration of their bed, there's a bedside table for everyone.
---
Best Bedside Tables for Kids
---
Floating Bedside Drawer
Ideal for: Maximising space!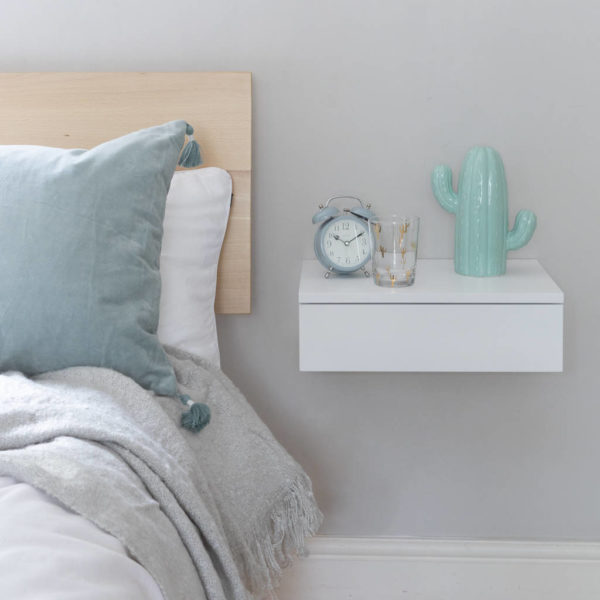 This useful floating drawer is ideal for a bedroom with limited size. Maximise your child's floor space with a clever floating bedside table, easily big enough to fit their reading book, a glass of water, and a bedside lamp.
Plus, there's a generous drawer to tuck away any of the messy little things they might need when getting ready for bed! This drawer will add a little grown-up chic to an older child's room, and it's perfectly easy to install too, with easy wall mounting instructions.
Why is this great for your kid's room?
Easy instructions for mounting provided
Ideal to maximise every spot of space in your child's room
Comes in both matte white and oak-top varieties
---
Pair of Butterfly Bedside Chests
Ideal for: Unique couture!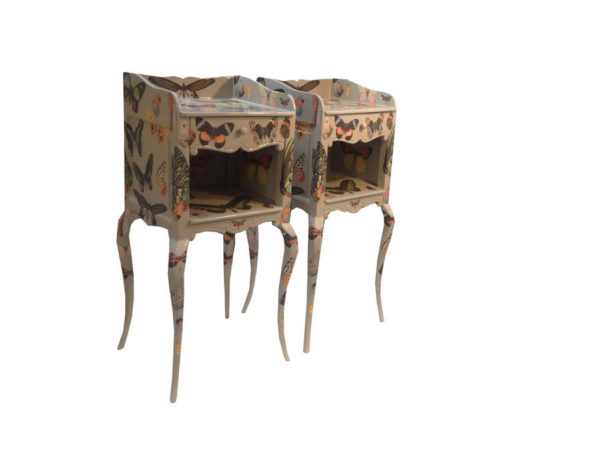 These absolutely stunning bedside tables will add a dreamy finish to your child's room. Marvel at the unique French style of these twin bedside tables, ideal if you want two of your children to have the same pretty feature in their room. Delicate and elegant, each piece is covered in Cavallini butterflies! This is the perfect way to make your child's rooms stand out with a feature that's both practical and gorgeous.
Why should you get this for your kid's room?
Glossed with environmentally friendly high-shine lacquer, durable for everyday use.
Enchanting attention to detail with the crafting of each piece
Guaranteed to add character to your child's room
---
Small Adjustable Bed Box
Ideal for: Rooms with bunk beds!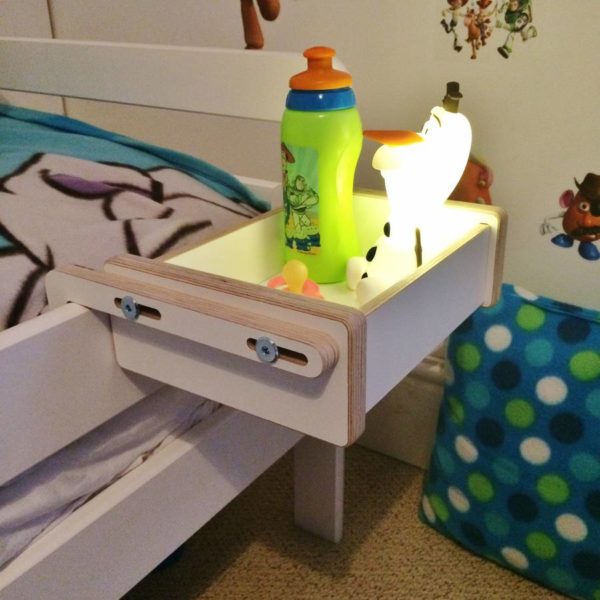 Think it's impossible to have a bedside table with your children's bunk beds? Think again! This crafty bunk bed box is a DIY bunk bed bedside table! Whether you've got two beds or a raised bed with a desk underneath, this adjustable box hooks onto your wooden bedframe.
Simply tighten the screws and it's ready for your child to use for their water bottle, reading book, or whatever other trinkets they might need to help them to sleep!
Why are these perfect for your kid's room?
Easy-to-adjust screws
Convenient for raised beds and bunkbeds
A depth of 8cm in the box
---
Amori Bedside Table
Ideal for: Minimalist chic!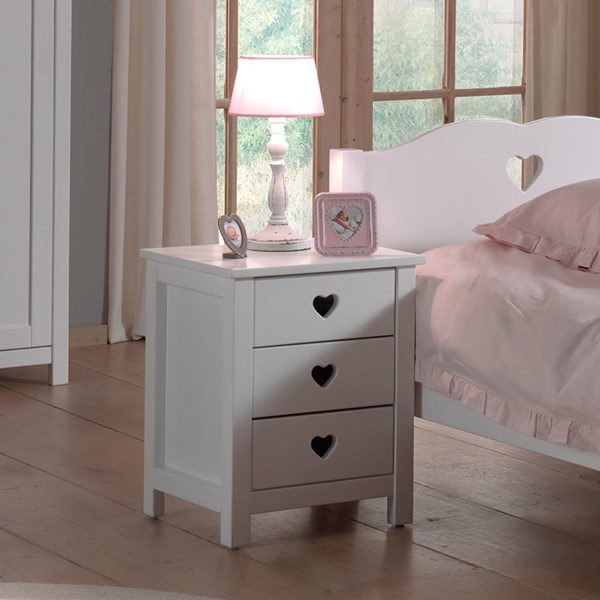 This simple yet gorgeous bedside table is a beautiful addition to your little princess' bedroom. Your bedside table will contain deep drawers ideal for tucking away your child's daytime activities plus ample tabletop space for a bedside lamp.
Parents get the best of both worlds, with this table being both pretty and practical, and kids will especially love the heart detail in the drawers!
Why will your kid love this in their room?
Sleek white lacquer finish
Made of MDF and sturdy pine
Each drawer features a soft close function – no slamming to worry about!
---
Mathy Bedside Table
Ideal for: A sturdy statement piece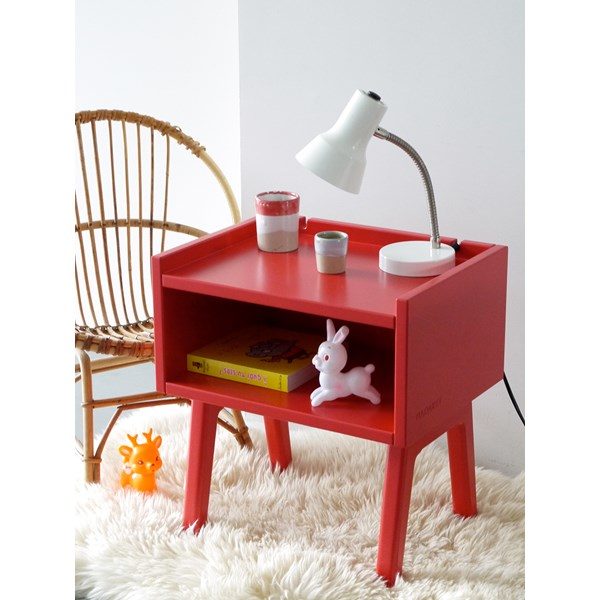 This quirky bedside table is a sturdy and stylish choice for your child's bedroom. You can choose from 27 lovely colours for this bedside table – so there's plenty of opportunity to match it to the colour scheme of your child's room!
There's no need to bother about digging through dark drawers when your child is looking for something, either, because your bedside table features an open drawer so you can spot everything you've stashed away in there.
Why is this great for your kid's room?
Ample storage space for all your bedtime needs
Detailed assembly instructions included
Each product made to order in Belgium
---
Conclusion
Sure, bedside tables are a practical necessity for any room – but if you're putting one in your children's room, you want it to have a good pinch of character with it, don't you? We picked five bedside tables that are leagues above the standard boxy white models, packing a punch of personality whatever style you choose to fill your kids' rooms with.
References and other links
Looking for more fun personalisation ideas for your child's room? Here's some inspiration that won't break the bank.
Got a question about bedside tables?
Thanks for reading. Please ask in the comments if you have any questions or things we can help with.