It's weird. At first you think there's loads of time. 9 months is plenty to get what you need done. It's amazing how fast that time zips away though. Getting the baby's room ready in time is always tricky and there's silly amounts of little odds and ends that need buying. The main bit of course is the cot, changing table and possibly wardrobe. And they are not cheap! Everyone's on a budget and looking to save money. So with that in mind I though it might be a good idea to look over some nursery sets for under £500 and see what's on the market in this price range. Let's dive in and check out the very best baby room sets in this range.
#1 Obaby Lily 3 Piece Nursery Set
It's great to find a set that has all three pieces and the Obaby brand is one of the better makes out there. This set has a nice solid cot, which adjusts to three heights, a changing table and a wardrobe with loads of storage. It's available in the gray shown in this picture and you can also get the same set in white. Although, at the time of writing it's just over the £500 mark. So that's why I've included the gorgeous grey one instead.
If you like this set, be sure to check out our guide on Grey Nursery Furniture Sets
I really like the changing unit on this one. It's got a nice open design that makes it easy to grab stuff off the shelves. One of ours had these weird shelves that you were forever straining to get into, while managing kicking legs and everything else. Corners are rounded on all the pieces of furniture, as you'd expect.
There's a 5 year guarantee with this too, although from experience there's not exactly a lot that can go wrong with nursery furniture. But it's good to have I guess. As with most of the nursery sets for under £500 we're looking at here, the cot has 3 mattress heights and the front bit can eventually be taken off, when you're ready for toddler bed time.
£499.98 at Amazon
Price last checked: Sunday 19th September 2021 – 09:10 am
---
#2 East Coast Kensington Sleigh Cot Bed
If you don't need the wardrobe part and want a solid 2 piece set for your new baby's room, then this sleigh cot bed from Easy Coast (another good brand) comes in at around £40 under the target five hundred quid mark. Additionally you also get a good quality Moses basket, which is one less thing to sort out.
…you also get a good quality Moses basket, which is one less thing to sort out
Featuring a popular sleigh design, everything is round and smooth here. There's also a nice big slide-out drawer under the cot, which is really useful for storing blankets and other bedding. I think we had to buy that separately, which was a pain. The changing unit has two deep storage shelves and a deep drawer at the bottom too. While they'll quickly be filled with nappies, all storage is much appreciated.
---
#3 Obaby Grace 3 Piece Pine Set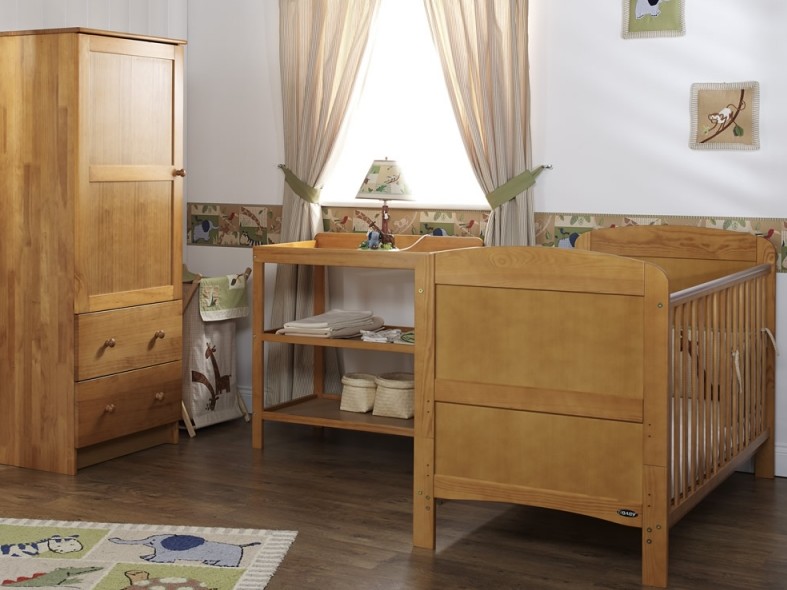 Here's a gorgeous bit of pine loveliness from the good folks at Obaby / Kiddies Kingdom. Nice to see one of the Obaby range at our target price range, and even better that it's a 3 piece. This nursery set is styled in beautiful solid pine wood that can take a hammering from toys, getting moved around and anything else that will happen in it's lifetime. A nice simple modern design here that should fit any nursery and the Obaby brand is one of the better ones for nursery sets.
Nice to see one of the Obaby range at our target price range.
The wardrobe has a good amount of storage thanks to it's double rail and two really deep drawers you can fill with baby's clothes. This wardrobe can stick around for years and isn't just for babies. There's plenty of room for when they start school but that's a loooong way off. This is a great baby room set and it's pretty cheap for a pine 3 piece.
---
#4 East Coast 2 piece baby set for under £300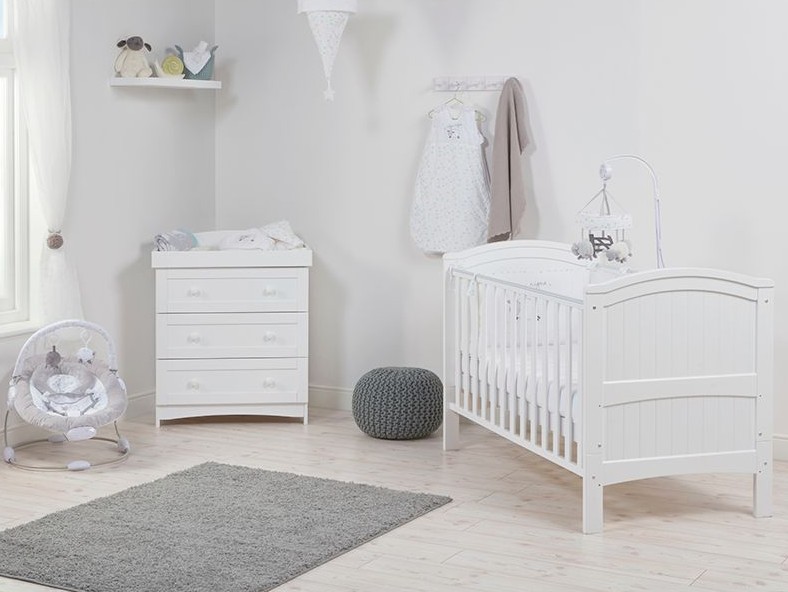 If you're just after a cheap two piece then here's a steal I found earlier. Hopefully it won't be sold out by the time this goes out! It's 2 piece nursery set for just under the £300 mark (at the time of writing!) and features a solid changing unit with 3 roomy drawers, along with a stylish white baby cot.
White nursery sets go with pretty much any room theme. We went with white for my daughter's room and it looked brilliant with the other bits of furniture we had in there. Adjusting the cot between the three stages is quick and easy and this is another good make (East Coast).
White nursery sets go with pretty much any room theme
I really like the toddler bed that the cot cot can be turned into (below) and it just makes the most gorgeous little first bed. I mean they out grow these things pretty fast, but it's one of the sweetest toddler beds I've seen in a while.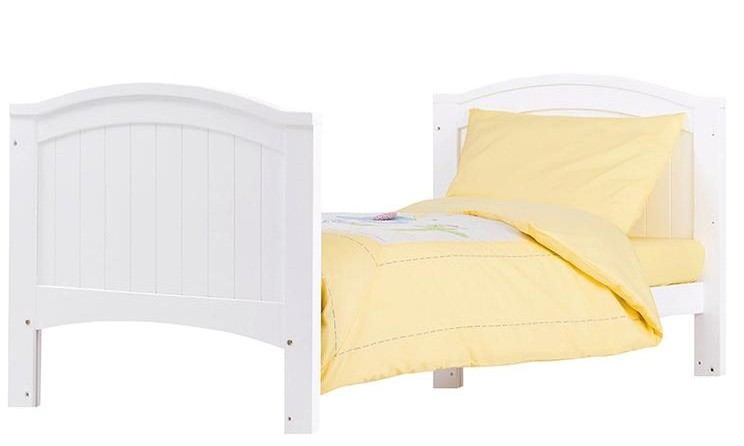 This is a brilliant little nursery set at under £500 (well. under £300 to be precise) and again, from a good reliable brand.
---
#5 East Coast 3 piece nursery set for under £500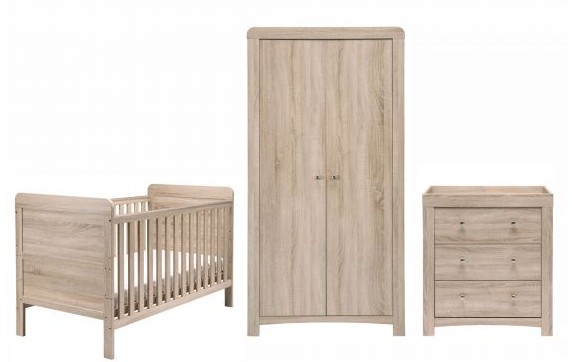 Here's something a little different. This 3 piece set has everything you need to get your nursery looking really good thanks to it's washed wood effect cot, changing unit and wardrobe. There's scope at a later date to re-paint it if your little one wants something different but as it stands, the washed wood looks beautiful. IO can think of lots of styles of nursery that this would fit, from sea themed to a green jungle themed room.
There's scope at a later date to re-paint it if your little one wants something different…
This baby room set is the 'Fontana' range and offers all the safety features you need from your baby's furniture, such as safety bars and the protective teething rails. The cot has split ends on both sides so you can turn it into an adorable bed when the time comes.
There's also plenty of room to store all your baby gear in the wardrobe with 2 rails, one fixed shelf and the always popular adjustable shelf. This nursery set is a real bargain at the price it's currently on and the washed wood effect will make this a real show stopper in any nursery.
Visit UberKids for the latest price on this nursery set
That's all for now – as always PLEASE use the comments and let me know how your nursery is coming along. Did you like any of these sets? What's your favorite nursery furniture?