Finding an amazing desk for your child's room
Is your child ready for their own desk in their room? More to the point, are you finding your table is constantly piling up with books and paper and a million other bits of stationary? It's good that children are into writing, drawing and being creative. And it might be time to get them their own place to do some work. Thankfully there's a lot of good products out there for any parent looking for a good new desk for their children.
Everything you need to know about kids desks
Choosing a desk for my child's room is easy, right?
Picking a desk for a child's room is a bit of a strange one, because they are one bit of furniture that seem to have some many different types. Some of the different kinds you'll see are:
Kids computer desks
More arty type desks, with flip up drawing boards
Writing desks
Desks with storage
Tables with built in lighting
School-type kids desks
Above: This fantastic art desk has loads of space and a stand for an iPad. See it on Amazon here
But don't worry – this guide is going to go over some brilliant desks and hopefully give you some good ideas for what to buy, and maybe even save you some time.
Do kids really need their own desk?
Our children started having their own desks in their room around the nursery age. I think my little boy had his desk from around age 3. Although he only started using it a year later. I don't remember getting much homework from junior school, but my kids GET A TON! It's great for them to have somewhere they can go alone, or with a parent, to get on with some work.
BENEFIT NUMBER ONE: You might just get your kitchen table back.
Will it get used?
Hands up – who has bought things for their children before that hasn't got used and was a total waste of money? Count me in that crowd, sadly. It's not likely that buying a desk for a child's room will end up in this category. If you buy the right one, you can get a cool kids desk that will last them a long time.
BENEFIT NUMBER TWO: Having their own desk could encourage child with their homework and school progress.
Future-proofing their desk so it lasts a long time
As we all know, children can blast through different phases in their life. We've got expensive toys and play houses that were used maybe once… twice at the most… that make me feel ashamed they didn't get more use. I'm looking at you, police bike ride-on in the passage! It's important to get the right desk for your child's room. Here's some things that might help:
Size (obviously) and making sure that the chair can be adjusted to different heights
Is there plenty of desk space?
Colours – does it look 'too' colourful and will they go off it
Leg room under the desk – is there room to grow.
What to look for in a good children's bunk bed
You're going to be spoiled for choice when it comes to kids bunk beds whether you're looking for a white one, a wooden bunk bed or some funky colours. But some things you'll want to look out for whichever bed you go for are:
It should be sturdy and wobble-free
The ladder should be easy to climb
And have nice wide steps for soft little feet
There should be tall rails around the upper bunk
Check the age range on the shopping site
Above: This child's study table can be easily adjusted as your child grows – See it on Amazon
Somewhere to sit
It can be a bit confusing when you look at the pictures of some of the desks for children's rooms out there on the Interwebs. A lot of them show a chair in the pic, but it's actually an extra you have to buy. So keep that in mind. Some of the best kids desks don't come with a desk so that will need to be bought separately. This does have the advantage that you can pick the best from each.
Squeezing in some extra storage
We're forever tripping over pens, pencil sharpeners and a million other tiny things in our kids rooms. If you can find a desk with some built in drawers, they can be a godsend. You might be able to find some matching shelves or extra storage to go along side the desk. But it's worth remembering just how much stuff kids will want to pile up on that desk. Keeping the work surface clear can be a real issue! More drawers? Yes please.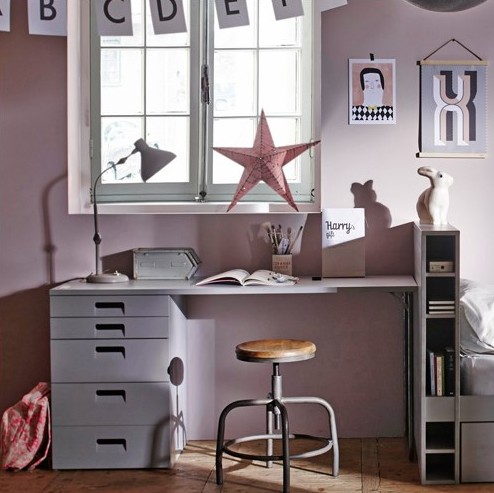 Above: Extra drawers are a life saver on a child's desk (Desk: Cuckooland)
Is this desk ergonomic?
Another thing to keep in mind when shopping for a desk for a child's room is how ergonomic the desk (and especially the chair) are. There's some that fail on this front, while other brands are making huge efforts to look after children's growing bodies with well thought out ergonomic designs.
What are some of the better kids desks out there?
Let's dive in and look at some of the best designed (and priced) children's desks on the market out there in 2023. I'll cover why I've picked them and who they are best for. There's some really great products floating around, as well as some questionable ones. This guide will steer you in the right direction choosing your child's perfect desk.
#1 – iDeer Life Children's Desk and Chair
If you want a good kids desk that's perfect for boys or girls, then you'll be pleased to know the first desk I want to talk about can be ordered in PINK or BLUE (shown). This desk is BRILLIANT and it's also a lot of fun for children. It comes with the seat and both the chair and the desk can be adjusted as your child grows. There's a STACK of little compartments to put things and a very handy holder for ipad or books.
Why is this desk good?
For 3 years up
Includes chair
Fully adjustable
Sliding drawer
Tiltable table
Ergonomic design
Loads of storage
---
#2 – Industrial Kids Locker Desk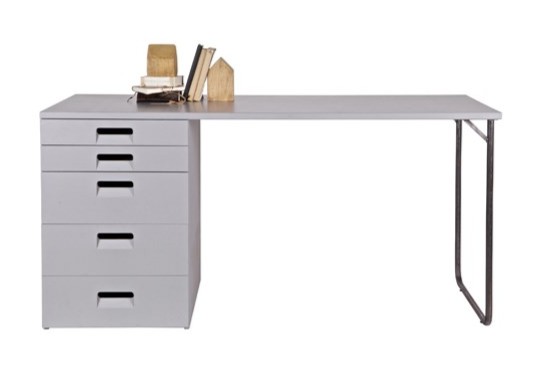 With a slightly more mature child in mind, this gorgeous desk from Cuckooland is extremely solid and has a unique look to it. There's lots of good storage in the drawers to the left, and a large workspace on top for hard working kids.
Why you'll like this kids desk
Made from brushed pine
Plenty of storage space
Great for a computer
Lots of work space on top
---
#3 – Mecor Children's Desk
One of the things that can help children keep good posture while they're working is a tilted working surface like this desk from Mecor. Don't worry if you're buying a girl's desk, as the exact same model is available in Pink too. Like the school desks they had at my school, this one has a lift up top which makes it a great choice for a child's room in need of more storage.
As you can see, the chair is ergonomically designed, with a curved backrest to look after your child's seated position and spine. As for future-proofing, there's a huge number of possible adjustments you can make to this child's desk and chair combo so it will last for a long time to come.
Features
Solid wobble-free desk
Fully ergonomic
Desk flips up for lots of handy storage
Compartments on the top for pens and other stationary
---
#5 – Kids Adjustable Writing Desk (White)
If you're looking for a really solid kids writing desk that will be good for years to come, here's something that's well worth checking out.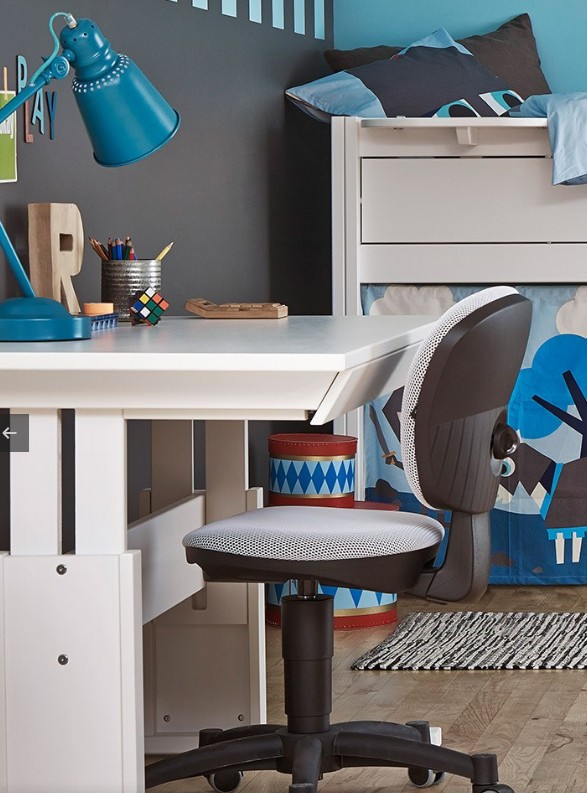 This wooden writing desk for kids is designed to grow with your child and has many levels that it can be set to.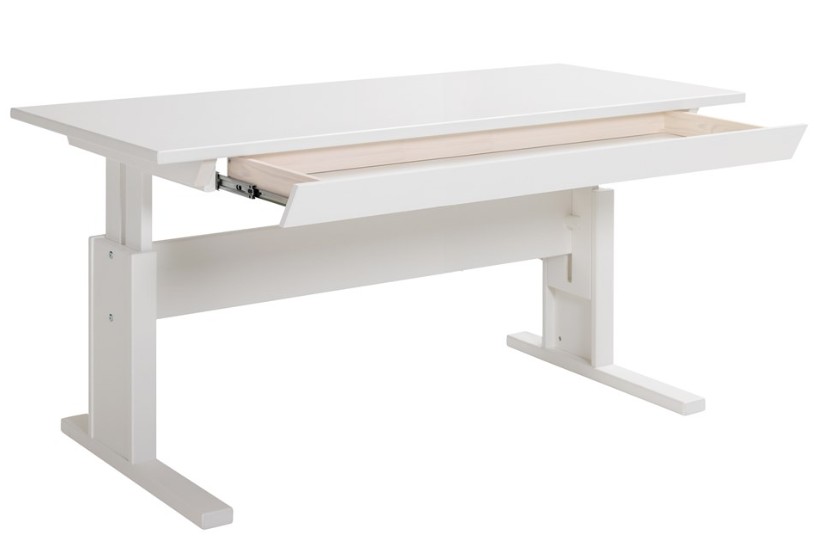 There's also a nice slide out drawer that will hold an absolute load of pens, stationary and anything else your child wants to stash away inside. There's a huge writing surface here that can take a computer, or be used for arts and homework.
What makes this desk so good?
Handmade by Lifetime in Denmark
56cm – 78cm adjustments
Grows with your child
Designed to last a LONG time
Very tough lacquered finish
---
Final thoughts…
It's likely that your child will definitely benefit from having their own desk in their bedroom. There's a good enough range of desks out there online, and on the high street. Whether you've got space for a large desk, or hardly any space to spare, you can still get a good writing and working space for your child. Happy searching and let me know if you find anything cool!
Got a question?
Please ask in the comments.