Wooden bunk beds that will make everyone happy!
Bunk beds are a great space-saving idea that keep everyone happy. The children get the equivelennt of their own climbing frame, right there in their bedroom. And parents solve the problem of how to fit an extra real-sized bed into their room. My brother and I had bunk beds and while they weren't as safe as they are now (although neither of us had any slips) we had a great time with them and many a happy night's sleep.
When it comes to kids wooden bunk beds, with a gorgeous natural wood finish, there's plenty online to choose from. This guide will cover everything you need to think about if you're opting for bunks for your children, and some of the best brands and beds to go for.
Bunk beds for kids – everything you need to know
Deciding on bunk beds
Bunk beds are awesome fun for children, who normally LOVE anything they can climb on and get out of the way of those pesky grown ups. If you've ever wandered around Ikea and cursed those things they put on the steps to stop your children having some fun, you'll know what I mean. Kids bunk beds have a very important practical use too though – they save a LOAD of space. The space of a single bed can be used to have two full sized beds for children.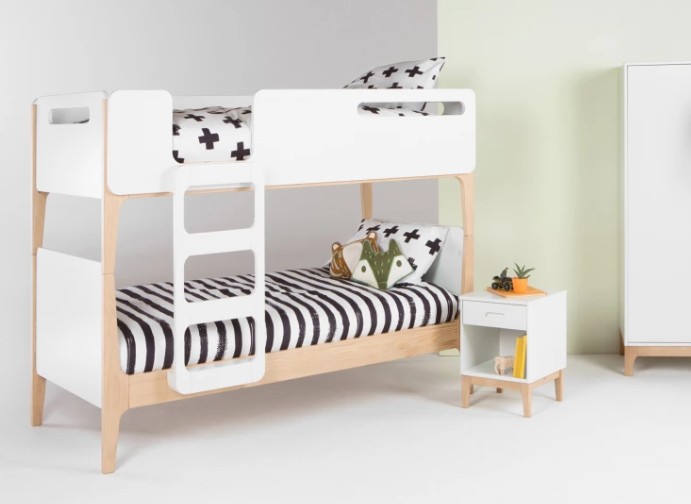 There's some absolutely fab wooden bunk beds out there on the market today. They've also come a long way with safety. If you're buying a bunk bed for your children's room you'll find they all come with nice safe high sides around the upper bunk bed to prevent anyone from falling off.
How old do kids have to be before they can go in the top bunk?
The guideline for a child sleeping in the upper bunk bed is 6 years or above. But if you read any of the parenting forums like MumsNet, you'll read stories of a lot of parents not necessarily sticking to this rule. While modern bunk beds make it pretty hard to fall out, around 2 thirds of accidents with bunk beds are from children under 6.
Are the beds detachable?
As permanent a solution as they'll seem at the time, there'll come a time when you maybe move house, or have an extra room and it's time for separate rooms. If you're super-forward thinking, you might want to consider if your wood bunk beds do actually change into two little single beds.
Are you UP to the task?
An odd consideration, but one that's got to be talked about – is how tall are you? If you're going to be changing the top bunk, it can take a bit of ingenuity (not to mention something safe to stand on). Bunk beds can tower quite high and some people overlook this issue when they're deciding on bunk beds. Worth thinking about anyway.
You might also need help to flip the top mattress as it can be awkward to do alone.
What to look for in a good children's bunk bed
You're going to be spoiled for choice when it comes to kids bunk beds whether you're looking for a white one, a wooden bunk bed or some funky colours. But some things you'll want to look out for whichever bed you go for are:
It should be sturdy and wobble-free
The ladder should be easy to climb
And have nice wide steps for soft little feet
There should be tall rails around the upper bunk
What about storage?
Unlike high sleepers, there's not normally much room for shelves, cupboards or storage when it comes to kids double bunk beds. One thing you can look at is how much space there is under the lower bed. Not many come with a slide out trundle drawer but if you measure up, you might be able to get one separately. Whatever you decide, there's going to be at least some room under the bed to hide 'kid stuff'.
Who gets top bunk?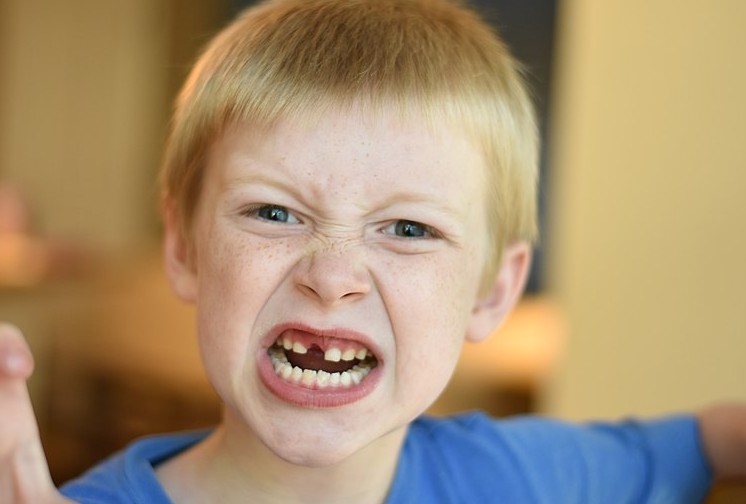 As a parent, I know exactly what it's like when you make the mistake to get one child something that the other wants. Lets just say kids will let you know when they're not happy about an injustice committed by an unwitting parent. So how on earth do you pick who gets the top bunk?
Realistically, it's not going to be a choice if the older child is over 6, and has a younger brother or sister. Rules is rules, I'm afraid. But some things that might help soften the blow, or decide the matter are:
You can get a little curtain to go around the bottom, creating an appealing den
Reassure the younger pup that they will be able to play on the 'upper deck'
Maybe add a cool reading light to the bottom bunk
You never know, you might get lucky and one of your children might WANT to sleep on the bottom bunk.
What are some of the best kids wooden bunk beds?
There's some really good wood bunks on the market at the minute, with plenty of feedback from happy (and not-so-happy) parents. So this section of our guide will go over some of the coolest of cool kids bunk beds in gorgeous wooden pine finish.
#1 – Linus Bunk Bed – Made.com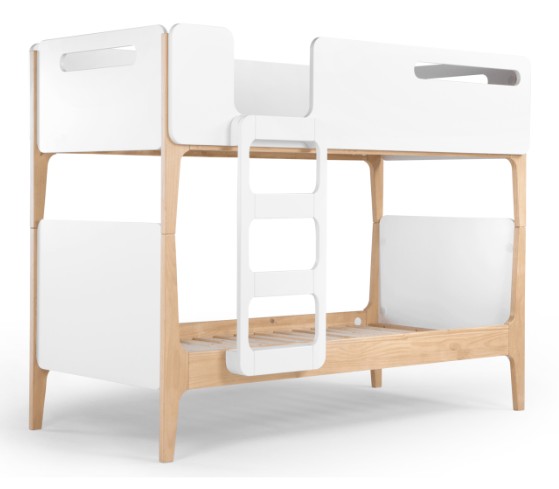 Lets start off with one of the most stylish and modern looking wooden bunk beds. I love the design of the stuff you get over at Made.com and this Linus bed is typically their style. All rounded edges, which look cool and also prevent accidents). The maple and white colours should fit any colour scheme you have.
Features
Rigorously tested for safety
Modern design that grown-ups and kids love
Beautiful natural wooden finish
May cause extreme jealousy from visitors
---
#2 – Mathy by Bols Treehouse Bunk Bed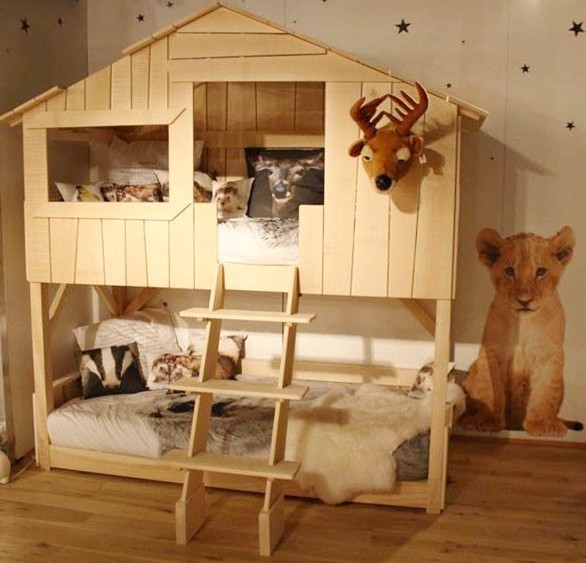 I just had to post this bed… so I can imagine I'm a child and my parents have bought this for me. My goodness what an amazing wooden kids bunk bed. While you might not be looking for such and extravagent bed, lets appreciate how amazing this bed is. Some luck child is going to have their own tree house / bed. Everything from the little window to the proper little steps up… an amazing kids bunk bed!
Features
Made from natural Lime wood
All panels are different sizes for an organic natural look
Also available in pine
---
#3 – Julian Bowen Domino Bunk Beds
The next wooden bunk bed I wanted to show you is from one of my favorite brands for kids furniture – Julian Bowen.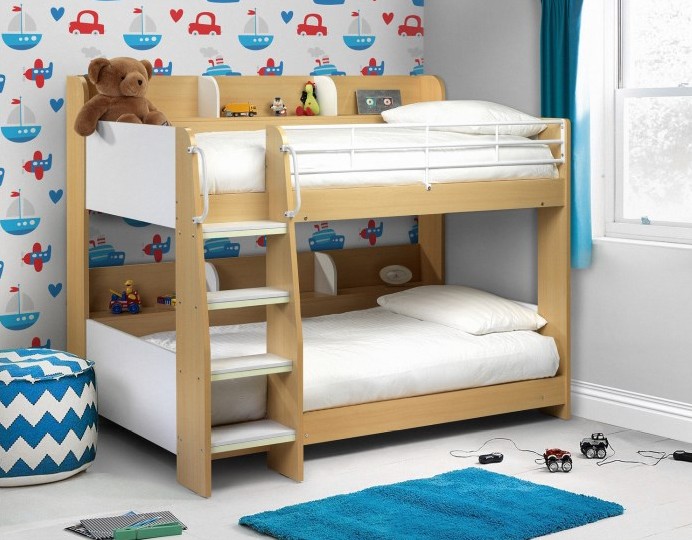 This bed has a lovely design that gives each child their own little system of shelves where they can store teddy or any other bed time toys and books. It's good to have somewhere for drinks and many children's bunk beds don't have that. Aside from that there's lots of safety features and an overall modern, fresh look.
Features
Tough maple wood
super-easy to climb wide steps
Some cool storage shelves
Not too high – easy to change
---
#4 – Kids Avenue Wood Bunk Beds with Shelves
One of the things bunk beds can often leave you short of is space! This really nicely designed wooden double bunk has plenty of storage space in the form of shelves. Store a drink, toys or night lights no problem.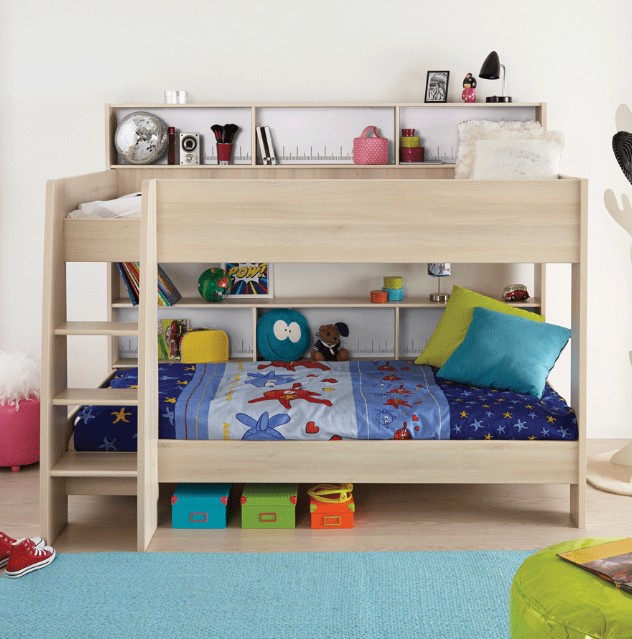 For bedrooms looking to save space, there's LARGE storage space on both upper and lower decks. This one is perfect for smaller bedrooms.
Features
Easy-climb wide steps
12 month guarantee
Rounded edges
Light wooden finish
---
#5 – UEnjoy Solid Pine Children's Bunk Bed
Last, but not least, as they say, is this simple but very well made solid pine bunk bed from UEnjoy.
A very attractive kids wooden bunk bed that is one of the cheapest priced beds on the market. It can easily be separated into two single beds, when they get older and has plenty of storage space under the bed.
Features
Solid pine wood
Heavy duty
Ladder can be adjusted to left or right
---
Final thoughts…
Whether you're picking wooden bunk beds for a girls room, boys room or to share, there's a good variety to choose from. The beds will usually require some self assembly and, in some cases, it can take two people to put your new bunk bed together. It will normally say in the description whether this is the case.
Bunk beds, if used properly, provide a safe way to squeeze the most space our of any child's bedroom. Good luck choosing the perfect bed for your child's room. And look forward to watching them play with it for the first time and, who knows, perhaps even a good nights sleep.
Got a question?
Please ask in the comments.