Let's find the best UK girls high sleeper beds out there!
Choosing the right high sleeper online can be a lot of fun. Imagining how much fun your little girl will have sleeping – and PLAYING – in her new bed will make any parent smile. There's some brilliant high beds out there today so thanks for checking out this guide and I hope it helps you find the right one.
Find out about girl's high sleeper beds
So what exactly is a 'high-sleeper' bed?
A high sleeper bed, like a mid-sleeper, is a bed that's frame is raised off the ground. With this kind of bed, a ladder will be used to get to the bed. For parents, it's about chest to face height, depending on your height. High sleepers are raised up enough that there's a significant space underneath that can be used for a multitude of purposes. Some cool uses of that newly created space include:
Having a desk underneath for your child to work on
Packing in some serious storage space
Getting a sofa or other seating under there
A number of other cool places to play
High sleepers come in all kinds of shapes, materials and sizes, not to mention prices! Picking the right one for your space, child and needs is something you'll want to get right.
How safe are high sleepers?
As parents it's our job to think the unthinkable and ask how safe stuff is before we take the plunge. It's normal that the thought of buying your little girl a bed that's raised right up might give your shivers. And someone has to ask: "WON'T THEY JUST FALL OUT?!"
Out of all of the high sleepers I've looked at over the time I've written for Ultimate Kids Room, about the only thing that they all have in common is that they're designed with safety in mind and use the same design on the bed to prevent falls. Mainly, there's a high 'fence' that runs around the upper circumference of the bed to prevent falls.
As the latter will be at the foot of the bed, it's going to be VERY tricky to fall out. Of course, practice and care needs to be taken climbing up the latter. Although, at it's max height, they're actually only four to five feet.
What age girls are high sleepers suitable for?
If you've ever been to look at furniture with your children, you'll know there's nothing excites them more than either the prospect of getting a bunk bed, or just any bed with a ladder on it. The idea of this nest you can climb up into (and get out the way of parents) has a lot of appeal for children I guess.
As for ages, you're looking at a recommended age of from 6 years upwards. As for the upper age limit, you're not really restricted here. There's plenty of stories on Mumsnet of kids well into their mid – late teens still quite happy in their high sleepers. That's not bad value for money.
What should you look out for?
There's a really good selection of girls high sleepers out there on the market, perhaps too much choice. Some basics to think about are:
Are the steps safe-looking?
And are they nice and wide for little soft feet?
What will this bed be used for?
What space is it going in? Is there enough vertical clearance?
Do you need a desk? Storage? Play area?
What to look for in a good children's bunk bed
You're going to be spoiled for choice when it comes to kids bunk beds whether you're looking for a white one, a wooden bunk bed or some funky colours. But some things you'll want to look out for whichever bed you go for are:
It should be sturdy and wobble-free
The ladder should be easy to climb
And have nice wide steps for soft little feet
There should be tall rails around the upper bunk
Check the age range on the shopping site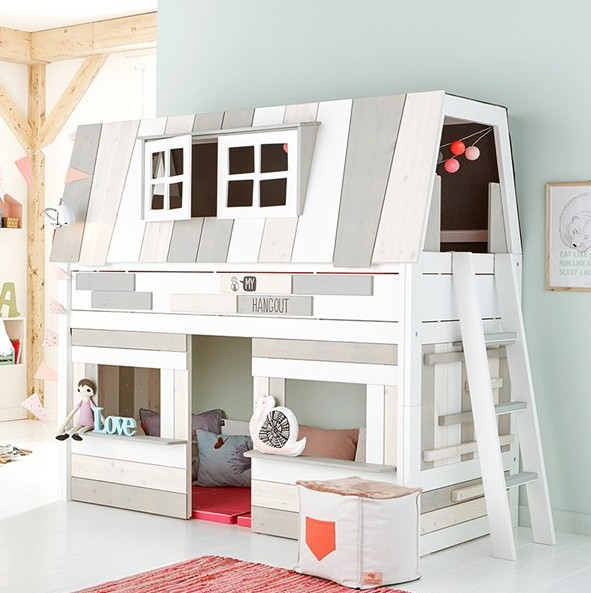 Above: This stunning high sleeper has lots of space to play underneath (Cuckooland)
Be about height when choosing your little girl's high sleeper
The first thing to look out for is whether or not there's enough space in the room where you'll be putting your new high sleeper. While they're great at saving space on the width and diameter foot print, there's some very HIGH high sleepers out there. Don't get fooled by the measurements – remember that your child will need to be able to sit up, so add extra space onto the height of the bed to allow for this.
What are some of the better beds out there?
Let's get started and look at some of the better high sleepers for girls available in 2023. I'll cover ones for younger girls, as well as high beds for girls that will last for years to come.
#1 – Noa and Nani – Midsleeper Cabin Bed
Ideal for: Younger children looking for somewhere to play as well as sleep!
I've written about this lovely girls bed before. It's from Noa & Nani and comes with a beautiful fairy tale design and some great extras that will keep any little girl happy for a long time.
What makes this high bed so special?
Solid pine girls bed
Slide, tent, tower and tunnel are included
Lots of space under the bed for play and storage
Some great reviews on Amazon
---
#2 – Limelight Pavo Study Bunk
Ideal for: Busy kids who are in need of their own work space!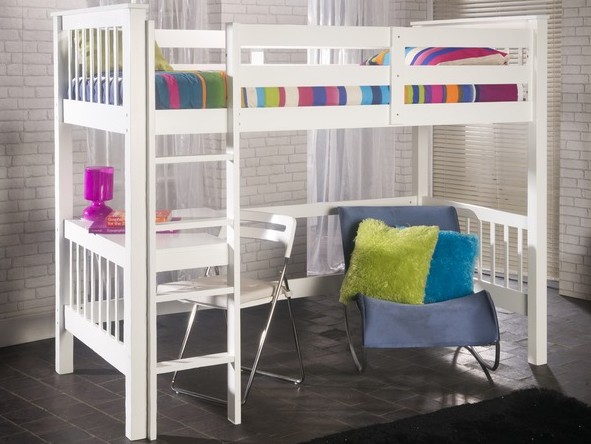 This is an extra sturdy high sleeper that would look fab in any lucky girl's bedroom. The classic white design is simple and modern and there's a good-sized desk underneath.
Why you'll love this girl's high sleeper
Chunky, solid white pine wood
Classic high sleeper design looks great
Lots of space underneath with a work station & room to spare
Makes good use of space
---
#3 – Venus Grey Anthracite High Sleeper
Ideal for: Anyone looking for an affordable girls high sleeper
Another high sleeper with a desk here. This one comes in well under the £200 mark and offers a sturdy high bed and a place to get all that important work done. There's also lots of nice shelves to store books and stationary!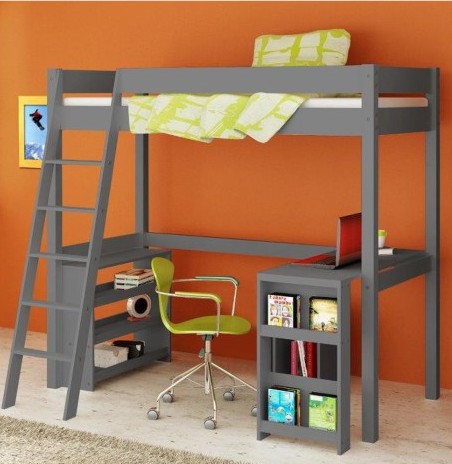 Why she'll love it
Makes the most of space
Easy to climb steps
Ideal for children up to teenagers
---
#4 – Girls High Sleeper with storage
Ideal for: Bedrooms where storage is running low!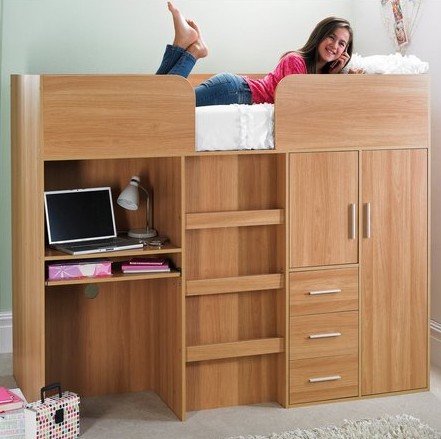 This is one of the best girls high sleepers if you're in need of wardrobe space. But you don't have to miss out on work space either. There's a nifty little table built in there with a slide-out keyboard shelf. This bed can also be used right up to mid-teens.
Why this high bed is awesome…
Loads of storage
Extra-safe edges around bed
Great for slightly older girls
Nice workstation built in
---
#5 – Kids Avenue High Sleeper Bed
Ideal for: Girls who might have friends sleeping over!
This bed makes really good use of the space on offer here. And there's more to it than meets the eyes..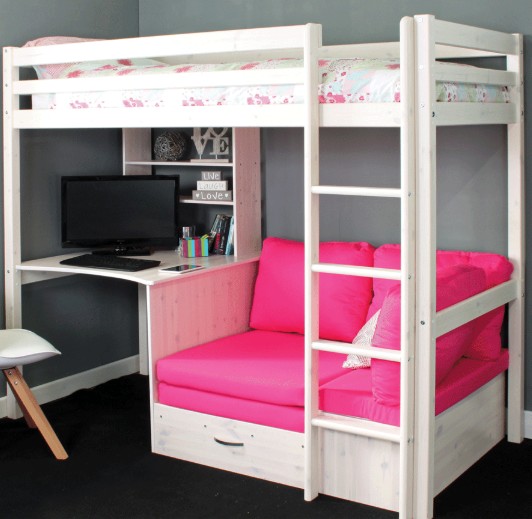 As well as a high bed with safe rails running around it, there's a decent sized workstation under the bed. There's also shelf space and a comfy chair for girls to get some serious reading or rest. But there's a hidden extra with this bed that's pretty cool too!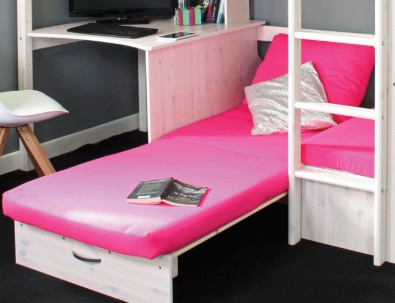 The chair is like a sofa bed and provides the perfect place for friends or cousins to sleep when they stay over.
Why she'll love it
This is definitely a girls high sleeper as the fabric is bright pink!
The slide out bed is a lot of fun
There's somewhere to rest, sleep and work
Modern airy design
---
#6 – Girls Perfect Choice High Sleeper
Ideal for: Girls bedrooms that have more space and need storage
This is a fab bed with lots of great design choices. The glossy pink doors and shelves give it a super-girly look and it should last well into their teens. There's many shelves (even the steps are shelves) and loads of wardrobe space. There's no ladder here – girls will instead enjoy climbing the sturdy stairs to bed each night.
Why this high sleeper is awesome…
Crazy amounts of storage and places to put stuff
Workstation or dressing table underneath
Steps instead of stairs, complete with hand rail
Very safe as there's gap or place to fall out
References and other links
Happy Beds have some top advice to keep kids safe in their tall beds at night.
If you're having problems with your new bed and getting children to sleep, the NHS website is packed with good info.
Got a question about girl's high sleepers?
Thanks for reading this guide. Please ask in the comments if you have any questions or things we can help on.