Thinking about a floor mat to complete a child's room?
Let's face it, children's rooms are fun to decorate. As the parental decorator, you can play around with color, shape, and style, as well as pick the perfect furniture and accessories. The best part, though, is getting to arrange the entire room!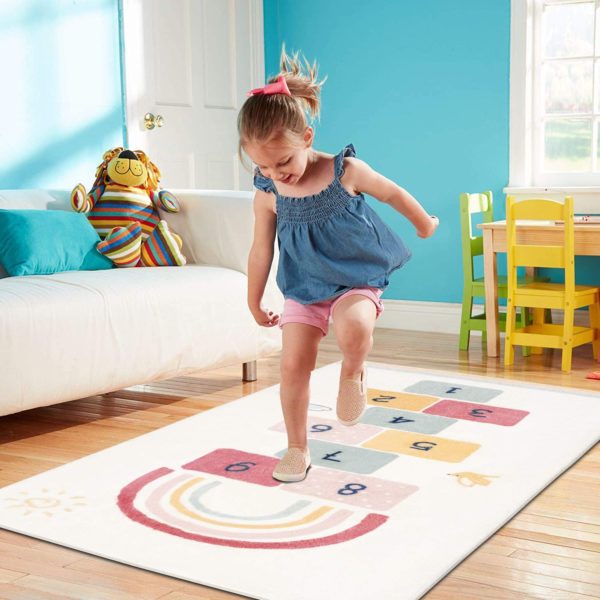 Often, the last step of decorating a child's room is placing an appropriate floor mat to protect the floor, cushion any falls, and save the carpet or hardwood from spills. But which floor mat is the best?
Let's look into it! Here is a collection of the best floor mats for children's rooms.
5 Great Floor Mats for Kids Rooms 2023
#1 – Meiqicool Foam Play Mats
Ideal for: babies and young children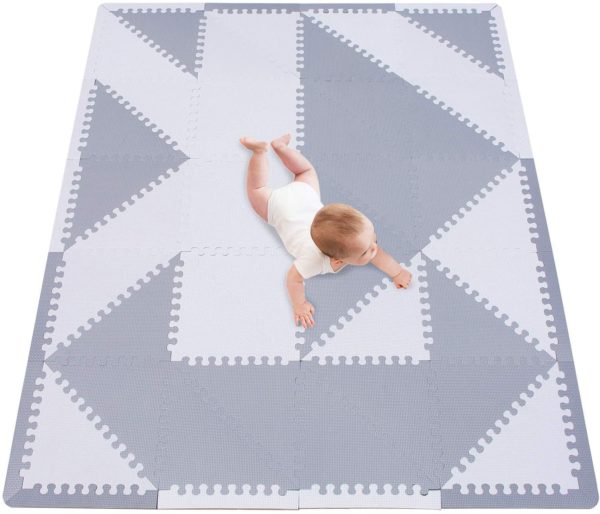 The meiqicool foam play mats are a great addition to any child's room. More specifically, they are ideal for babies and younger children who spend a lot of time lying on the floor or crawling on their hands and knees.
The mats are made of soft and durable EVA foam that provides plenty of padding and protection from hard or cold floors. They are free of BPAs and pthalates in order to keep children safe.
In addition, the mats can be cleaned easily with a cloth and water.
Each package of mats includes 25 individual items that can be stuck together via interlocking edges. This makes it easy to assemble and disassemble the floor mats, storing them when necessary.
What makes this mat a good buy?
Available in a variety of fun colors and patterns
Made of durable, easy-to-clean material
Free of toxins
Comfortable to sit on
Versatile and easy to store
---
#2 – Sunzoid Green Park Car Play Mat
Ideal for: children who like to play with cars!
Manufactured and sold by Sunzoid, this cute car mat is both a fun accessory and imaginative toy. Designed to mimic the look of a bustling cityscape, the mat is complete with roadways, buildings, trees, and a hospital.
The mat is soft and cozy, as well as insulated. It is crafted from soft foam that has a non-slip backing to keep the mat safely in place and prevent sliding. There are no toxins and the mat is free of BPA and lead, both of which are known to be unsafe chemicals.
It consists of 9 interlocking jigsaw puzzle pieces that fit together perfectly to create the large car park play area.
What makes this mat a good choice?
BPA, lead, and toxin free for a safe play time
Padded and complete with non-slip backing
Imaginitive cityscape design
Easy to take apart and put together
Covers a large area
---
#3 – SHACOS Cotton Mat
Ideal for: older children
If you have a child who enjoys outside games like hopscotch, this mat is an awesome choice. Using the mat, your child can play a game of hopscotch from the comfort of their room! They can also use the mat for reading and relaxing.
The mat is made of real, 100% cotton material and is extra-large in size, covering a large surface area. It is comfortable to play, relax, and nap on and can be washed with a carpet machine or by hand, much like a regular area rug.
Each mat comes folded and must be unfolded but otherwise there is no assembly required. This is a big plus because it means that there's no hassle trying to assemble the mat while you have a child trying to help you.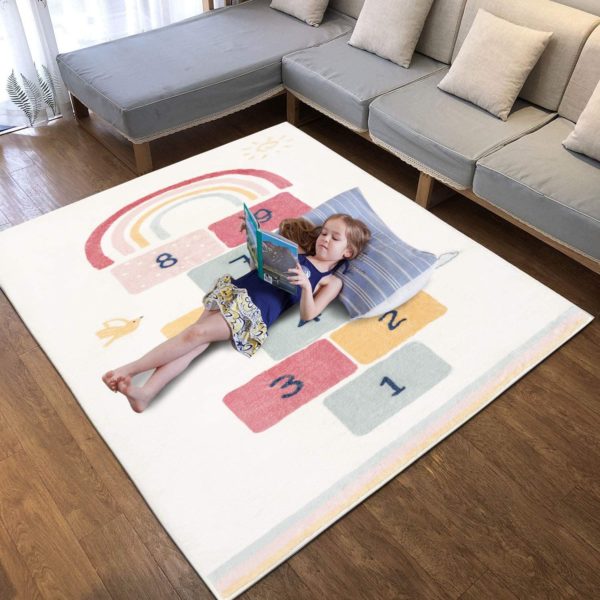 Why the cotton mat is so lovely
Made of high quality, soft cotton
No assembly required
Interactive design
Covers a large area
Encourages physical activity
---
#4 – VOSAREA Round Area Mat
Ideal for: older children and nurseries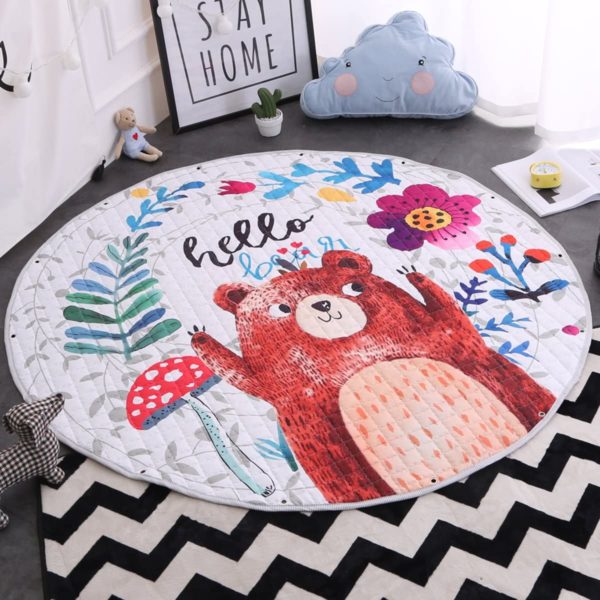 This adorable area mat appeal to both older children who have outgrown the idea of car mats or abc mats as well as very young children who have animal themed nurseries or playrooms.
The mat is a perfect circular shape and made of eco-frendly cotton, which makes it ideal for earth-savvy families and small spaces.
It is free of any toxic chemicals such as BPA, lead, and latex. It is also very soft and has a padded backing that cushions little feet and knees from hard floors and chills. The design of the mat goes well in a variety of rooms including those with fun themes.
Why you should go with this round area mat
Super soft and comfy
Free of toxins and harmful chemicals
Made of co-friendly materials
Versatile in terms of styling
Cute design
---
#5 – VPAW Floor Play Mat
Ideal for: children who like to learn new things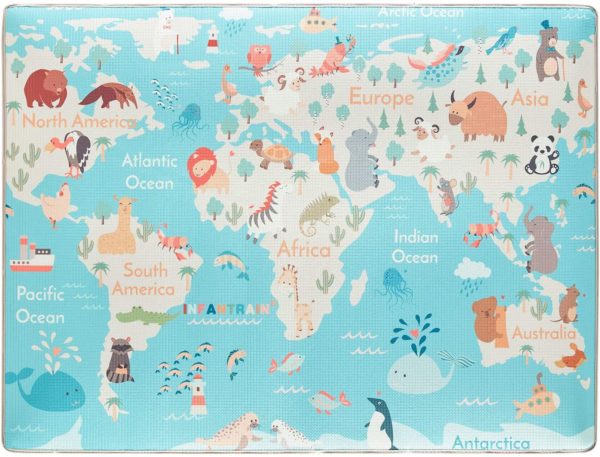 The VPAW floor play mat is a solid mat option for rooms of children who enjoy learning about the world. It is designed to look like a world map, complete with continent names and popular animals. The color scheme is pastel and goes well with many rooms and wall colors.
The mat is lightweight and comes folded, which makes it easy to move from room to room, as well as to pack up when moving house. It is made from XPE material that is free of toxins and features an antibacterial coating on the surface, which helps to reduce germ build up.
Best Bits…
Antibacterial surface
Lightweight and easy to move
Great for learning about geography
Free of toxins and chemicals
Non-slip underneath
---
In conclusion…
…with so many great kids mat recommendations on the market, it's no wonder that the decision is so hard. If you're stuck, consider one of the mats we've recommended above — each has good reviews and plenty of praise online.
When choosing a mat be sure to look for something that is free of toxins, soft and cozy, and that suits your child's room aesthetic. In addition, features such as non-slip backngs and water-proofing or water resistance are a major bonus, because, as you probably know, children are prone to accidents and making messes.
References and other links
Still need help?  Check out these room decorating ideas to go with your smart new rug.
Got a question about kids floor mats?
Thanks for reading. Please ask in the comments if you have any questions or things we can help with.