We love clever storage ideas here at Ultimate Kids Rooms. You can never have too much space in your child's bedroom. One of the best ways to squeeze a good bit of extra space into any room is to go for a decent kids trundle bed.
Aside from extra room to keep bed clothes, toys and other child-gear, a lot of trundle beds can have either shelves, or a bed underneath. There's some clever designs that allow you to have both. So whether you're in dire need of extra drawers, or an extra sleeping space for a guest, here's a guide to help.
Children's trundles: magic space savers
A trundle bed is a slightly raised sleeper which sneakily hides either another guest bed underneath it, or a set of large drawers (or both!).
It might be hidden away and look just like a drawer. Or it could be simply a smaller bed that slides neatly under another bed. When there's someone extra to sleep over, you can use your children's single bed with a trundle by simply pulling it outwards and there's an extra guest-style bed.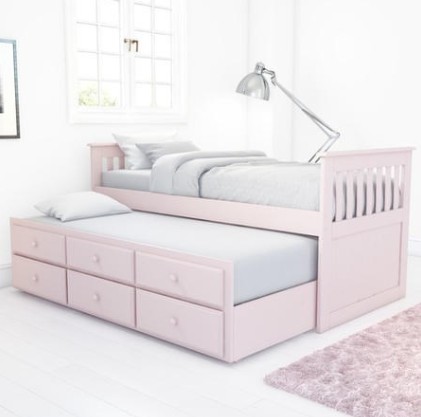 Trundles have coasters under them for easy pulling in and out (works on carpet or hard floors). They're a great way to squeeze the most out of a child's room and are super-handy when they get old enough to start having friends stay for sleep overs. They're also ridiculously fun if you're a 3 years old.
How much will a child's trundle set you back?
Like everything with children's furniture there's a good range of different children's trundles out there. You can get a cheap one for just over £100, (and brand name ones at that) all the way up to £500. Places like Ikea often sell these kinds of easy-storage beds cheaply.
It depends on:
Quality of the frame
Whether or not you need bunk beds
Material used – good old MDF is usually less expensive than say pine.
Did you say trundle bunk beds?
For the ultimate in space-saving idea you can actually get bunk beds with an additional trundle bed underneath that. So, from the footprint of one single bed, you get a place for 3 sleepy heads to get a good night's sleep.
And you might be surprised at how cool some of these beds look. The Ye Perfect Triple Bunk Bed for example has 3 sturdy beds and a really sleek modern design.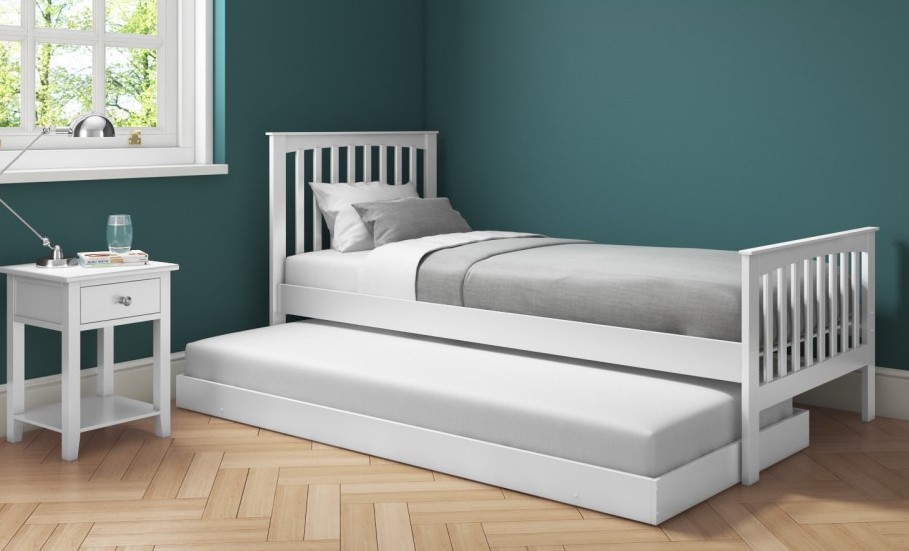 Aren't you losing precious drawer space though?
If there's one thing my house can't get enough of, it's storage! There's just never enough space to keep the ever growing army of toys my two seem to get more of each week. The good news is with a bit of crafty research online, you should be able to find some awesome trundle beds for kids that ALSO have slide out drawers under them. I guess they're a bit like the Swiss Army of beds.
About the trundle's mattress size
This is a tricky one because the trundle bed can come in different sizes, depending on which bed you're going for. While the 'normal' part of the bed will be a full-size single child's mattress, the trundle bed will likely me on the smaller size.
Check the product description (if mattresses aren't included) and see if you can find the correct sizes.
What is the best kids trundle bed?
#1 – Oxford Captains Guest bed with bed and drawers under
When cousins and friends come to stay, one of the things you'll have to figure out is 'where are they going to sleep?' If you're planning your girl or boys bed in advance, then it might be worth thinking about when they want to have friends or young family members sleeping over.
This high quality kids trundle bed offers a good-sized single sleeper hidden underneath it.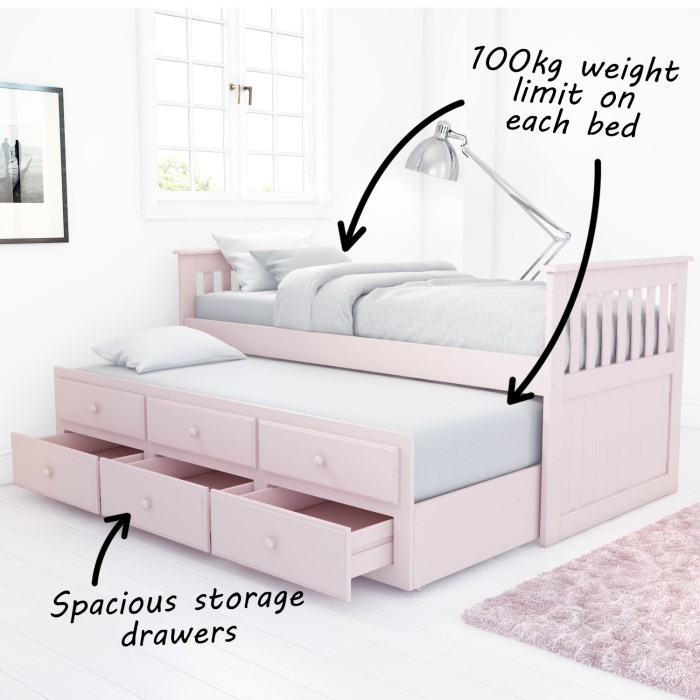 I say hidden because when it's closed you'd never know there was another bed there at all. This children's trundle bed has three dummy drawers hide the bed away and make for a great design feature. The other three drawers, thankfully, are real ones that can be packed with at least some of the stuff that girls have in their rooms.
Features
Sleeps 2
Pull out trundle bed
3 spacious drawers
Wheels on the trundle for easy sliding in and out
Who's this kids bed best for?
Classy girls rooms looking for a long term bed, with a proper slide out trundle bed.
---
#2 – Jula Single Bed for Kids with trundle
This attractive bed has a second bed stashed neatly underneath it. The good thing about these style of sleepers is that you can drag the spare one out and set it up anywhere in the room, or even in a different room. Another thing I really like with this bed is you still get plenty of storage underneath thanks to the two drawers beneath.
There's also solid safety rails all around the upper part of this kids trundle bed to prevent anyone falling out of the 'top' bed and you can choose which side the entry gap is set to.
This kids trundle is ideal for…
A boy or girl's room that's short in space looking for a wooden style bed.
Features
Takes up to 150kg size
Available in different dimensions to match any room
Includes 2 mattresses
Choose installation left or right side
Two massive drawers
£543.00 at Amazon
Price last checked: Sunday 19th September 2021 – 09:07 am
---
#3 – Jessica Day Bed with Children's Trundle
If you're looking for a trundle bed that's elegant, cool and has some serious style to it, then there's a really good one over at Cuckooland. The Jessica day bed is from the awesome Julian Bowen and actually doesn't cost a fortune.
Currently just under £290. It offers super-solid construction and a good-sized pullout kids guest bed.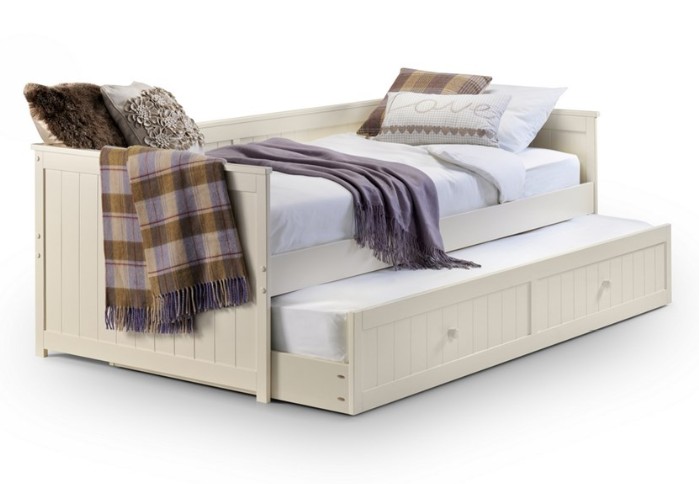 The bed looks just as good when the mini bed has been slid away thanks to the dummy drawers on the side panel.
Bed Features
From fab Julien Bowen
Neutral colours fine for a girl or boy
Very sturdy
Dummy door fronts when the bed slides away
Finished in subtle 'stone' paint
Get this one if…
You're looking for something with a classical look and a neutral colour that will fit with any room.
---
#4 – Noa & Nani Isabella Kids trundle bed
Noa and Nani have some gorgeous sleepers for kids rooms that are a bit different while being packed with style and charm. Their Isabella Trundle bed is no exception, featuring solid construction and a pullout bed that can be lifted to the height of the regular bed. This is thanks to two fold down sets of legs that flip easily down after sliding the child's bed out.
Features
Solid pine children's single bed with trundle
Sturdy construction
Pullout bed lifts to height of other bed
Really good Amazon reviews
Easy to move and put up
Ideal for…
Modern looking bedrooms looking for a proper solid bed for young guests to sleep on.
---
#5 – Demeyere Sherwood Kids trundle bed with storage
This is a real gadget bed with loads of places to store toys, books and, you know –  general children stuff. There's shelving units at the back and some nice sliding-door storage at the top of the unit.
This kids trundle would be a really fun bed for kids as they can have their favorite toys next to them. My little boy goes to sleep next to stretch Armstrong each night, but you know… whatever works.
Both the bed and the slide-out trundle bed are standard 200 x 90 cm builds and you'll need to get your own mattresses for this one. It comes in white finish so it will fit nicely with any coloured bedding and its ideal for both boys and girls. It is for ages 6 and up.
Features
Bed frame for 90 x 200 cm bedding
Loads of storage space
White finish
Top sliding doors
Years 6 and up
Get this children's single bed with trundle if…
You really need some space and don't have a huge area for your child's trundle bed.
---
Final thoughts…
Picking a trundle bed that fits your space shouldn't be too tricky. And they are one of the best ways to ensure everyone has a great nights sleep when they come to your house.
There's a good range of kids trundle beds out there if you hunt around a bit and bargains to be had. If you're strapped for space, look for one of the ones with sneaky extra storage spaces and cubby-holes.
Resources and further reading
Got a question?
Please ask in the comments.