Wow, I wish I had one of these beds…
Children growing up today really don't know how good they've got it. Looking at some of the children's novelty beds below, it's really making me jealous. When I was little, bunk beds were a fancy extra. But wow – some of the kids beds we're going to look at today are just so mind-blowingly cool.
The weird and wonderful world of novelty beds!
What kinds of fun kids beds are out there?
If you're going to treat your child to a novelty bed then there's a lot of interesting options and ideas you can go for. Some of the best ones are:
Beds with slides (both boys slide beds and girls ones)
Fab playhouse beds, with houses built into them
As well as proper tree-house beds
Seriously fun beds with dens under them!
Mid / High sleeper beds with something cool underneath
High sleepers come in all kinds of shapes, materials and sizes, not to mention prices! Picking the right one for your space, child and needs is something you'll want to get right.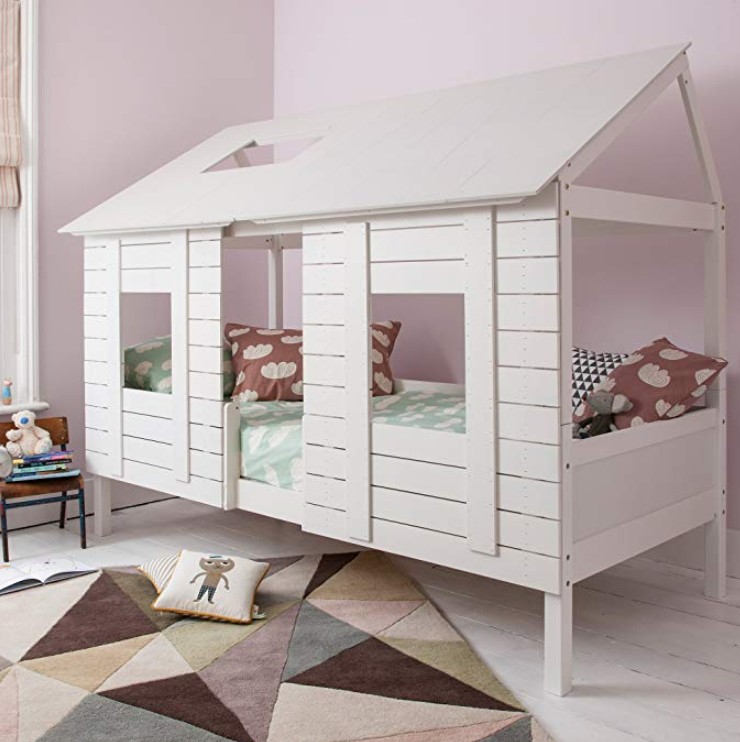 Imagine growing up with this as your bed!
Adding your own finishing touches
If you want to make your child's fantastic novelty bed even more amazing, why not add some cool extras on and customize it to make it totally unique? One of the more common ones is to use fairy lights, or some other kind of low-hassle lights to add some sparkle and charm to the bed. Adding in some other elements to the bed and the surrounding room can create an amazing effect.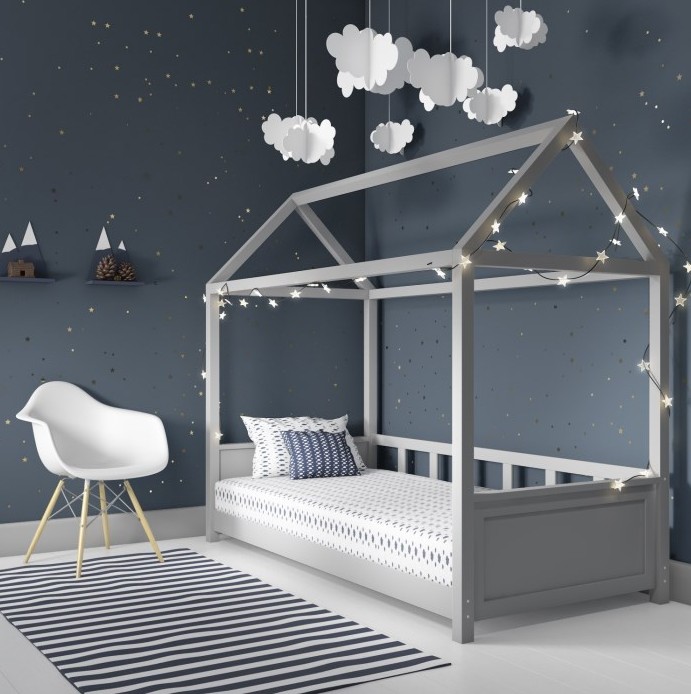 Adding lighting to your child's bed can turn a great bed into a simple stunning one…
Kinds of materials used
Most novelty kids beds are made from either solid pine, MDF, or a mix of the two. Generally speaking, there's no need to secure them to either the wall or the floor. While you might be buying for a toddler, they don't tend to stay 'toddlerish' for that long. So it's worth thinking ahead a bit and getting a bed that's got some seriously sturdy posts and other parts so it lasts a long time.
One thing to think about, especially if space is an issue, is how the bed can be used in their play…
Beds with plenty of space to play!
As children get older, they like to spend more and more time away from parents and in their make believe worlds. I sometimes feel a bit left out when my two are racing around being ninjas or teaching invisible dogs how to behave at dog school. And the bedroom is one of the places they love to make off to.
One thing to think about, especially if space is an issue, is how the bed can be used in their play. It does take up a lot of space after all… Getting a bed with a built in den or playhouse can solve this problem and give your children a fab place to have some adventures.
Is a novelty kids bed going to be safe?
One of the common elements between a lot of the more interesting beds is that the sleeping area is raised up off the ground to either a mid-sleeper or a high-sleeper. There's nothing risky about this and all good mid / high beds will have safety rails around the top. In fact it's nearly impossible to find any one that don't have this. If you're getting a high sleeper, then a lower age of 6 years is recommended.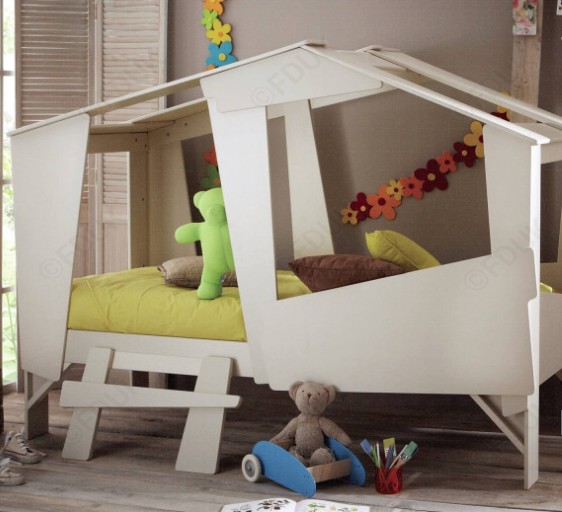 Modern novelty beds can have a cool, artistic design too
What else do you need to think about when choosing a novelty bed?
Before we get to the fun stuff of looking at some amazingly cool kids beds, there's a couple of boring due diligence things to get out of the way. First up – BEDDING!
There aren't many beds in this category (any?) that actually come with bedding. It's up to you to make sure you get the right sized bedding. The product descriptions will list the required sized bedding that you'll need for each bed, along with the required mattress size.
While it's highly unlikely that you'll be able to buy a bed that doesn't fit any of the UK standard sizes, it can be a good idea to check in advance on Amazon, or another store to see if you can get the right sized mattress at least.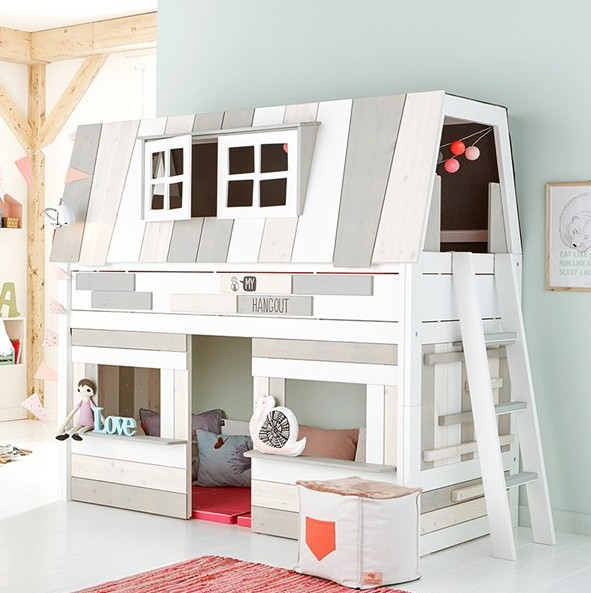 Above: This stunning high sleeper has lots of space to play underneath (Cuckooland)
Boring point number 2…
The other thing to consider with a children's novelty style bed is how easy it is to change. Some beds aren't that tricky, especially if you can move the bed and get around behind it. But others might be a bit more tricky. As you're going to have the bed for a while hopefully, it's well worth finding out how easy they are to change, get the mattress in and out (or flipped over!)
But enough of that, lets check out some amazing beds
There really are some incredibly beds out there for anyone looking for something out of the ordinary that will make their friends green with envy. Let's dive in and see what's available in 2023.
What are some of the better kids desks out there?
Let's get started and look at some of the better high sleepers for girls available in 2023. I'll cover ones for younger girls, as well as high beds for girls that will last for years to come.
#1 – Kids Teepee Cabin Bed (Cuckooland)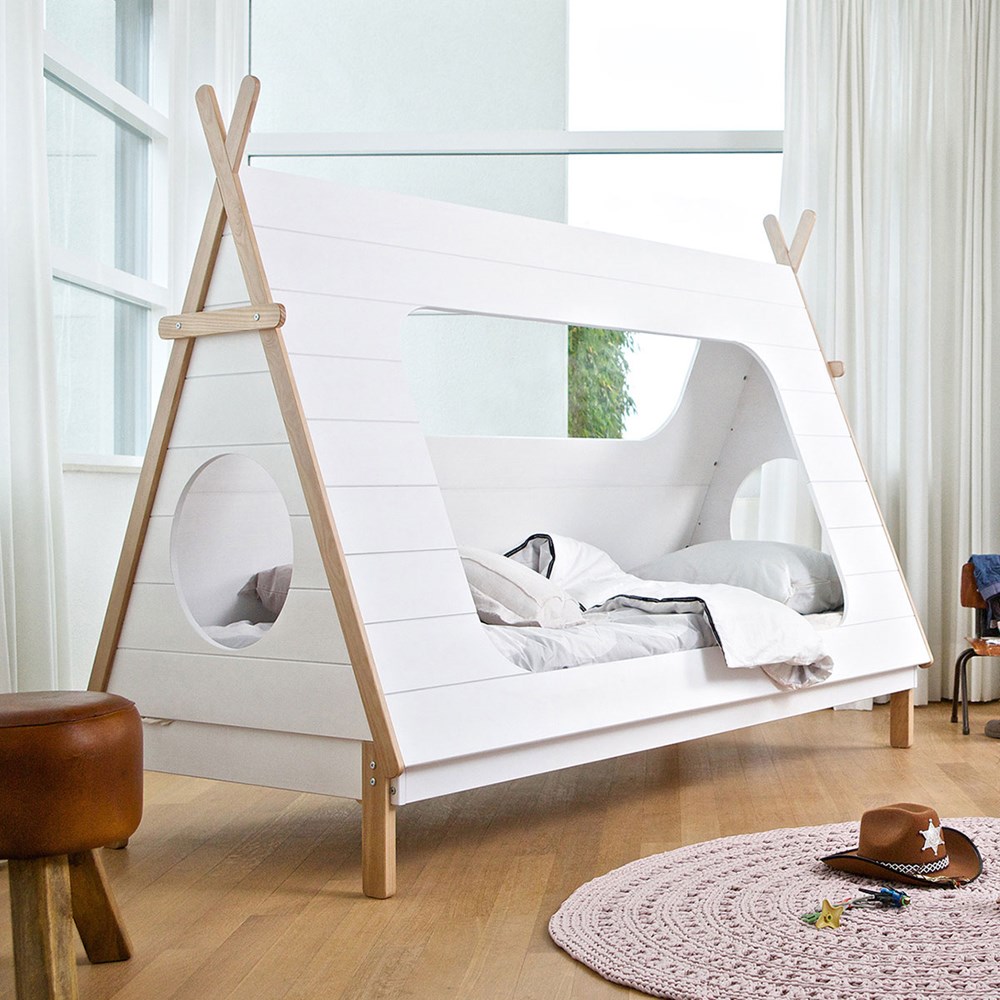 I fell in love with this really cool kids novelty tee-pee bed when I first saw it. It's just so unusual looking. At the same time, it's really practical. You can still get at the bedding and matress easily and it's a full sized single bed for kids. There's no sharp corners in sight either.
It's a brill bed because:
It's made from solid wood
Beautiful natural finish
Stylish fresh design
Lots of fun for kids to play in
---
#2 – Child's Treehouse Bunk Bed Den Bed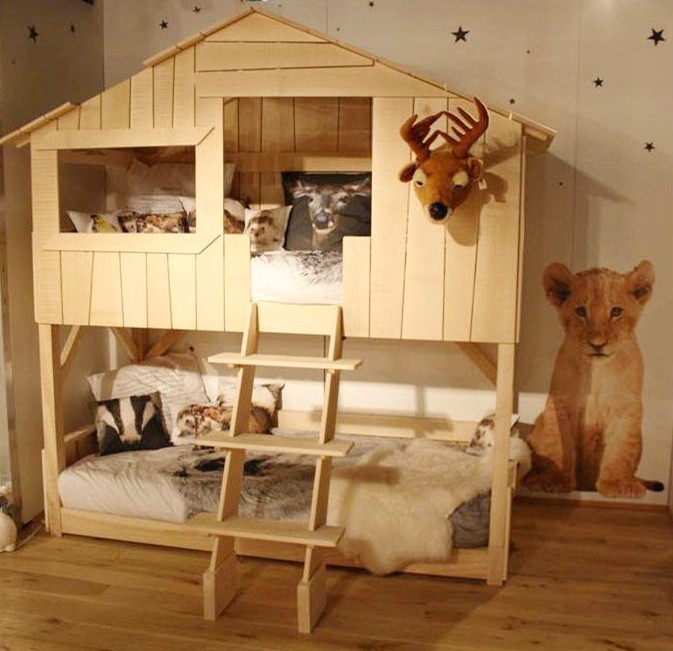 Whether or not you're after a novelty kids bunk bed, this incredible tree house bed from Mathy by Bols is really worth looking at. I love the way they have added some great extras to this bed too. As I mentioned earlier, you've got free reign to add nice little extras like the wallpaper here, or the cuddly deer's head. This bed is going to delight any child lucky enough to find this in their room when they get home from school.
Features:
Nice wide steps up to the upper floor
Loads of room to play and sleep
Natural organic looing design
Solid, sturdy wood
---
#3 – Coco House Kids Bed Frame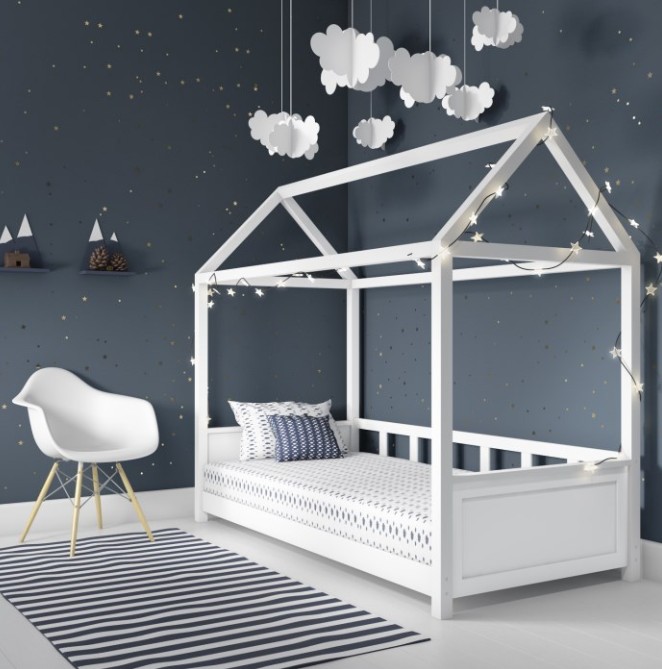 This gorgeous (not to mention simple!) kids novelty bed is a delight to look at. It's also one of the easier beds for parents to work with. With a stripped back modern look, it offers a full size single bed while keeping a fun house bed design for children. The lights they've added here add a lot fo the charm and help make the bed unique.
This Bed Features:
Sturdy four-poster bed frame
Full size single UK mattress size
Cool playhouse design children will enjoy
---
#4 – Kids Princess 4 Poster Bed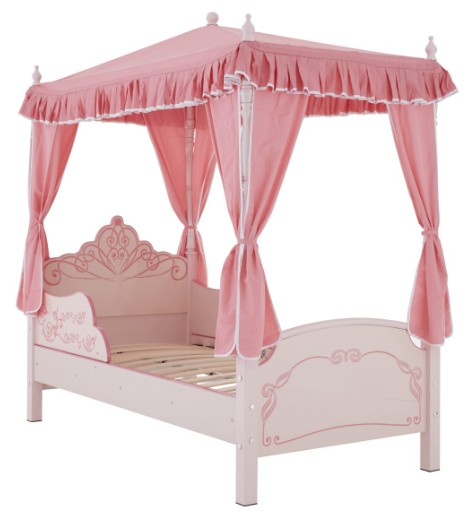 I feel a bit guilty not buying one of these for my little girl – she would have LOVED IT! This awesome princess 4 poster bed comes with a truly regal design, with lots of pink and swirls throughout. The bed has a canopy and pull-back curtains on the posters. It's a real, good sized beds with proper wooden slats to boot. One of the more elegant novelty childrens beds, ideal for discerning little princesses!
Why this high bed is awesome…
Very solid wood construction
Curtains can be drawn or pulled back
Safety sides keep younger princesses from falling out
---
#5 – Sven Treehouse Hideaway Kids House Bed
Noa & Nani never cease to surprise me with some of the products they come out with. They must have some very talented kids furniture designers in their factory.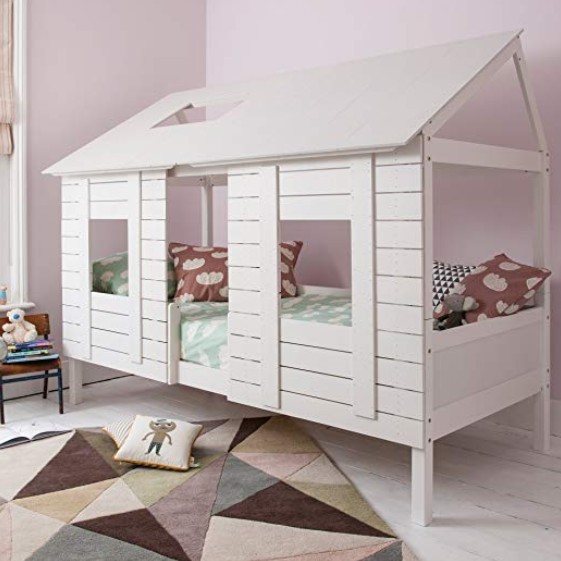 This house bed will keep either boys or girls happy thanks to it's non-bed looking design. There's  a little sun roof, two windows and a full size single bed hidden in there somewhere. Parents will be happy to hear that the bed is completely open on one side, which makes making the bed easy work (although you'll need room to pull it out from the wall).
Bed features…
Fresh white wooden design
Lots of fun places for kids to peep out of
Easy to get access for changing day
---
#6 – Noa & Nani Christopher Midsleeper
For an extra £50 you can get the same bed as above in a mid sleeper format, raised off the ground.
This is the same great novelty kids bed, but raised up and with ladders added. It's actually also a great bed because you get extra storage underneath, or an extra place to play for the kids.
Why this bed is awesome…
More space to play
Or store stuff
Even more fun peeping out of the windows higher up!
Got a question?
Please ask in the comments.