After recently covering the Top Girls Beds With Slides, it's only fair we take a look at some of the best boys bed with slides too. If you're in the market for a fun bed for your little one, here's some he'll love.
Beds with slides: a boy's dream come true
Unless you've got a mansion at hand, a bed can take up a fair chunk of space in a boy's bedroom. It makes sense to get something that's just as good for playing in as it is for sleeping in.
If you choose wisely, you'll have some great secret storage spaces to stash all those toys and games. Good luck and have some fun imagining the fun you'd have as a child!
#1 Boys digger bed with slide
Noa and Nani
This awesome boys bed comes in a choice of white or a whitewashed pine finish. Either one has a modern look to it, while still being great fun for the boys to play on. It's a mid-sleeper with a roomy tent play-area under the bed.
The den also doubles as a sneaky place for parents to hide toys and other clutter in a hurry.
We've featured a lot of Nao and Nani products on the site as they're great quality and have some bold bright designs. This boys bed features a chunky digger, complete with upper canopy and it's own slide.
The angled ladder makes it easy for tired feet to climb into bed, and can be mounted at either end of the bed.
#2 Boys Pirate Bed with straight slide
From Steiner Shopping
Somewhere out there, there's a boy who isn't into pirates. But I've never met one. If my little boy is anything to go by, there aren't many of them. This high sleeper slide bed offers a perfect place to act out all those pirate adventures, as well as getting a good night's sleep.
A nice modern feel to it and solid beech wood used throughout. It's extremely sturdy and has a long-lasting varnish that will protect against all the knocks and mayhem it will be subjected to.
It's safe and packed with eye-catching details that kids will love.
They get their own perfect little pirate den underneath, complete with a peep-hole and roll-up door. It doubles as a great place to stuff any toys. This is a really good quality pirate-themed bed for boys.
---
#3 Knight Boys Cabin Bed and Slide
From Lifetime, Cuckooland
Offering a beautiful quality single boys bunk bed with slide, the Knights bed from Lifetime is hand made in Denmark. They're built to order and offer a top-quality, modern bed.
Robust joints, non-toxic paint and solid construction are used throughout in this boys bed. Just as important, it's a world of fun for your little one.
There's a wonderful castle themed design beneath this excellent slide bed. And the playful castle themed curtains below it hide a den slash storage area. The whole thing is made from the finest solid pine.
There's plenty of extras if you want them, such as a coat rack and a clip on table.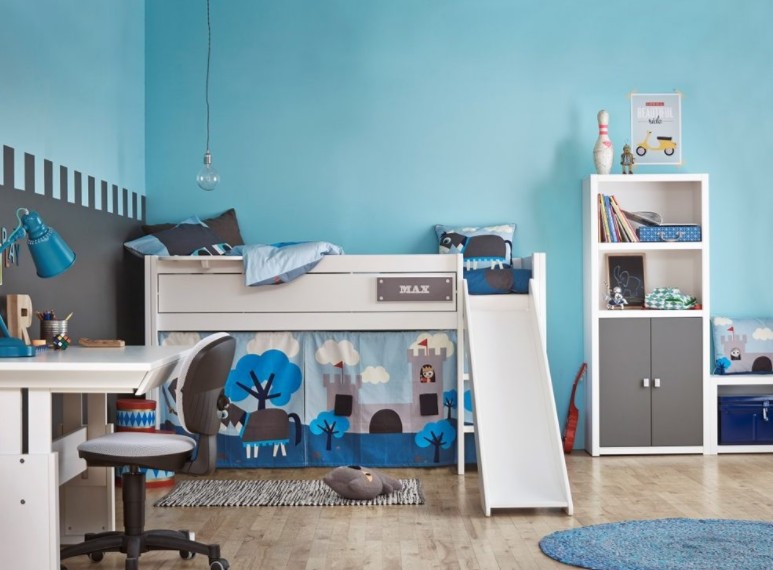 ---
#4 Mid Sleeper Pine Castle Bed
From Nao and Nani
I can only imagine the fun some lucky boys will have when they get their little paws on this incredible bed. At it's core is an extremely solid pine bed frame, with a tough coated white finish.
The extras shown are all included, like the curved tent and the tower.
There's stacks of room underneath for toys, playing and important secret club activities!
If you've been looking for a good bribe to get your son into a proper bed of his own, this could be a good slide bed to go for. It's good quality and a good price to boot.
---
#5 Boys boys bed with slide – White Mid-Sleeper
Nao and Nani
If you're wondering where your children have gone, they're probably hiding in the awesome den under the final boy's slide bed we've got to show you. Coming in at a wallet friendly budget price, this is a great solid-pine boys bed with a lengthy, fun slide for children to zip down.
This bed is a huge hit on Amazon, with 100+ reviews at currently 4.5 stars. It's great fun for little ones and, just as important, it's very solid and built to last. The play den has see-through camping windows that make for some imaginative play possibilities.
If you're having trouble swapping to a big boys bed, you'll likely have trouble getting them out of this one once they get a load of it.
---
Some tips on choosing your boy's slide bed
Here's some quick tips and gotchas that you might want to avoid
Always measure the room carefully. Sounds obvious, right? Well, there's a bit more to think about if you're going for one of these sliding beds. Take a look at the specs of each bed and remember that ladders and the slides themselves will need a bit of space around them. Also, these are high-sleeper beds, which will require more height, and head clearance from the ceiling.
Think about extra storage space around the bed. One of the things slide beds tend to miss out on is somewhere to store books, or a place to put a drink at night time. You may want to look at putting a simple shelf up there, somewhere safe where your child won't bump their head during the night. There's some good perspex ones available, that are kind to little heads.
What do you actually get with the bed? One thing to check is what extras come with the bed. A number of product photos of slide beds feature things like tents, castle towers and other decorations that don't come with the bed. It's worth reading the descriptions carefully print for this, before taking the plunge and ordering your son's new slide bed.
Does the slide come off? Your new slide bed should give your son years of faithful service, but there may be a time when it's not getting used, and you'd like to remove it and re-organise his room a bit. Most slides can be detached quite easily, but it's a good idea to find out what's involved.
Resources and further reading
Having trouble getting your little boy into their own bed? There's a good guide on NetDoctor on some things you could try.
Check out this simply amazing Boys Bed that a dad made – by converting an Ikea bed into a fab boy's den with a slide. Possibly the most awesome bed ever.
Have you found an amazing boys bed with slide you want to share? Please let us know in the comments, or send us a pic!