While setting up the baby's room is important, the odd part is that they won't actually sleep in it for up to six months. Up until that point, the new arrival will be safest in your bedroom where you can keep and eye (and ear) on things and tend to their needs.
It also saves you having to wander to the other room for that time too.
One of the simplest and best solutions is to get a good co-sleeper bassinet crib – a baby cot attached to your bed. This is what we opted for and it was a simple and great solution to the problem.
In general the cot attaches securely to the side of the bed, with no gap they can fall in. They have a small barrier around them to prevent any mishaps, and an open side so you can comfort and get access to baby.
So lets check out some AWESOME baby bedside cribs!
#1 – Chico Next2Me Side Sleeping Crib
This is one of the main ones that new parents opt for. I guess most people know and like the Chicco brand. It's known for it's quality. This bed-side cot won Baby & Pregnancy's sliver award for it's design and can be bought for a reasonable price on Amazon, assuming you're buying new. For the quality, the price isn't too bad – especially if you're going to use it more than once!
You can use this with peace of mind until the baby is up to 6 months and can even pull themselves into the upright position. You get a handy travel bag too. There's a little fold up door on this beside baby crib with a see through mesh. And wheels make it easy to move around if you need to.
Everything you need to know about Co-Sleeper Bassinets
What's a co-sleeper bassinet?
When your baby comes home he or she will need somewhere safe to sleep. The two main choices are:
A cot bed
A co-sleeper bassinet
A co-sleeper is a brilliant little invention where you get an mini-cot that attached to the side of the bed. It has 3 sides that are fixed and normally a fourth that can be fixed in an upright position, or left open. The reason they're so good is:
Your baby is next to you
It's easy to keep an eye (and ear) on them
You can comfort them without getting out of bed
Easy access for feeding
My wife and I bought a co-sleeper cot that we used for both of our children. I can't imagine using anything else to be honest…
This is much safer and better than babies sleeping IN the bed with two parents, although some parents do opt to do this. My wife and I bought a co-sleeper cot that we used for both of our children. I can't imagine using anything else to be honest.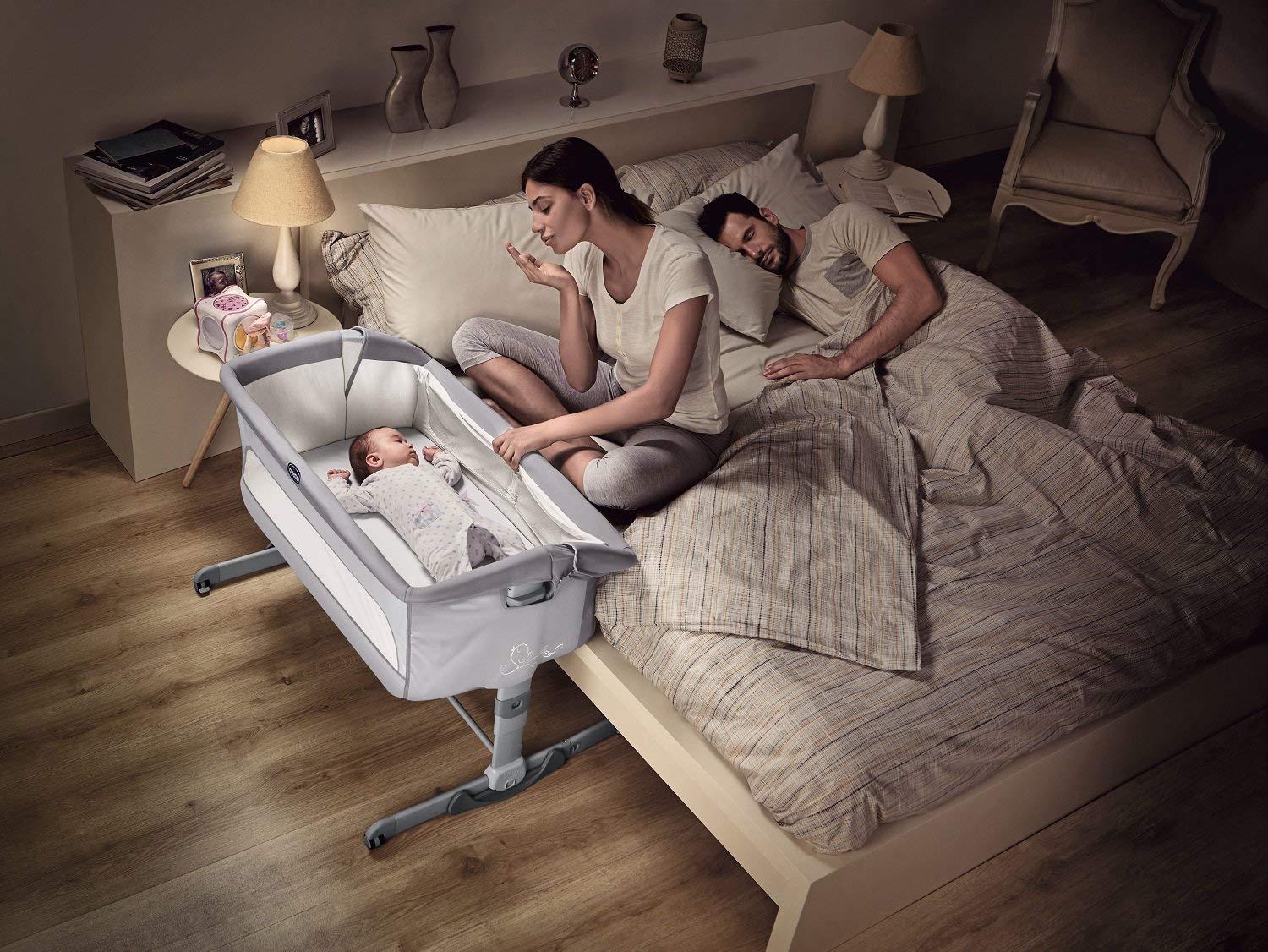 What age will my baby stay in the co-sleeper?
The upper ages vary slightly from product to product but, generally speaking, your baby can stay in the co-sleeper cot from birth up to 6 months. Whether or not you keep baby in there until that stage is completely up to you. Studies suggest that babies sleep longer if they're put into their own room at 6 months. So really this is the age you should be packing away your trusty co-sleeper and packing baby off to the nursery, and the comfort of their own cot.
What are the best brands of Co-sleeper cots?
Most of the big 'baby brands' have their own slightly different version of this kind of product. Chicco have a co-sleeper that's super popular and is one of the main ones new parents go for. Another biggie that is very popular is the SnuzPod bedside crib. That one always reviews well. And the Babylo sleeper is also normally on the best seller lists.
How do they attach to the bed and will it fit mine?
It must be tricky getting one product to fit all the different heights of bed out there. Generally speaking, co-sleepers can be adjusted anywhere from 6 – 9 different height levels. It's very unlikely it won't fit your bed. As for how they attach to the bed – that's another good question.
The idea of baby getting stuck or falling through a gap is not something any parent wants. They're usually attached very securely to your bed using one or two secure straps. Our one felt really sturdy when it was attached and we didn't have the slightest problem.
If you have an unusually high bed, check the min and max height before buying.
Other things to consider before your buy your co-sleeper
Portability – will you need a folding one?
Ventilation – A good co-sleeper should have well ventilated sides
Is the crib detachable? – Some double as a moses basket, saving money
Wash-ability – It's important to be able to clean the soft parts of the co-sleeper
Does it recline? Some co-sleepers can be set to an angle to help with reflux, although not strictly necessary
Storage – You'll likely want to keep your co-sleeper for child number 2! So how compact is it once folded away?
#2 – BabyLo Cozi Sleeper
With a baby cot attached to the bed you can relax knowing that your baby is safe and giving them the attention they need. The excellent Babylo Cozi Sleeper has some clever features that make it a good choice, and it's often much cheaper than some of the competing newborn cribs.
It converts between a stand-alone crib and a bedside co sleeper thanks to a fold-down side that can be raised or lowered. Fitting it to the bed is done with a secure strap system. And it will fit any bed height thanks to 5 different height settings.
---
#3 – Purflo Purair Breathable Bedside Crib
This bedside cot has a really nice organic looking design with curvy modern legs and base. More importantly it's breathable, washable and hypoallergenic, so it's great at keeping baby cool and healthy.
It changes quickly into a stand-alone you can use anywhere…
Need a crib you can also use around the house? The Purflo Purair might be the one you're looking for. It changes quickly into a stand-alone you can use anywhere and has wheels that make moving it around a bit easier.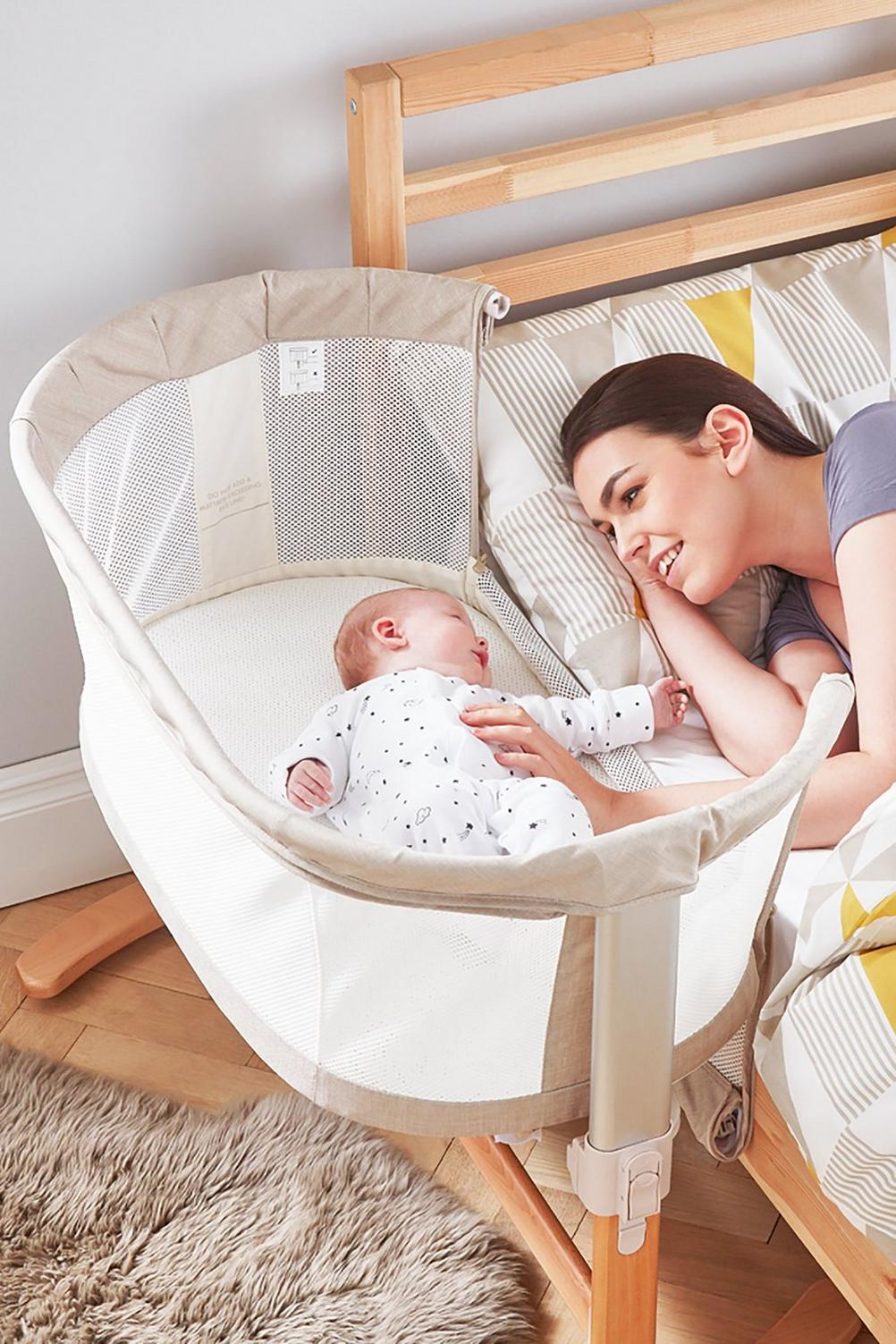 It's no use if your baby cot attached to the bed is really tricky or fiddly to attach, so how does this one work? The Purflo Purair should fit pretty much any bed including divans and has 6 possible heights. Attaching this crib to the side of your bed is a quick and easy process. As is dropping down the side so you have full access to your baby.
A really modern and strong co-sleeper that's easy and SUPER-healthy for baby
---
#4 – MiClassic Bedside Folding Travel Crib
Just because there's a new baby around, doesn't mean holidays have to stop. It's pretty much impossible to rent a side-sleeper when you go anywhere, from experience. So a good alternative if you're getting out and about but still want a cot attached to your bed is the MiClassic Bedside Travel Crib.
You're getting a good, solid co-sleeper that also turns into a secure crib for baby. There's wheels on the base on one side that let you move it around your room or holiday lodge. And there's a whopping 7 height adjustments to get it to just the right height for the bed you're sleeping in. This one is suitable from birth up to 5 months.
Folding away is a quick and painless process.
The linings are washable and removable. This is an awesome choice for travelers.
---
#5 – SnuzPod3 Bedside Crib
I'd definitely say take a look at the SnuzPod3 bedside sleeper – it does a lot more than most of the other baby cots that attach to your bed I've seen. One of the coolest features is that the top part lifts out to form a lift-off bassinet basket you can carry around anywhere in the home.
There's a nice simple zip-down wall that lets you get quick access to your baby during the night, or provide a well ventilated secure side. And another innovative feature is that the SnuzPod3 has got curved corners on the base which mean it can be easily rocked to help sooth your baby and get them back to sleep. Pretty good idea that I've not seen before. (Designed right here in the UK too!)
This co-sleeper is suitable up to the full 9 months and even includes the mattress.
---
#6 – Little Chick Bed Side Crib
Sometimes the simple designs are the best ones. Little Chick have some fab products in their range, like this breathable bed side crib. The wide base is extremely sturdy while the soft crib sides have a clever design that allows maximum air flow that keeps your baby at just the perfect temperature. While this crib doesn't attach to the side of the bed, your baby is always visible through the mesh sides.
£109.95 at Amazon
Price last checked: Sunday 19th September 2021 – 09:08 am
That's all for this guide on co-sleepers, cribs and baby cots you can attach to beds. Please let us know in the comments which baby cot you're going for, or if there's any co-sleepers you really like.