Choosing the perfect car bed for your child's room
Welcome to the wonderful world of kids car beds. They're fun, they're bright and they're a good way to get little ones to sleep in their own bed. Whether or not you're going the whole hog and styling your room around a race car theme, a good racing car bed will look fab and give toddlers somewhere to play as well as get some rest.
A first bed they'll really want to get into!
Why get a children's car bed as the first proper bed?
There are some really, and I mean REALLY cool kids car beds out there. And, it has to be said, some really not-so-fantastic ones too. If your little one is ready to make the leap to their first proper bed, and you're looking for something that will make the transition easy, as well as giving them a real TREAT, then their very own racing car bed could be just the ticket.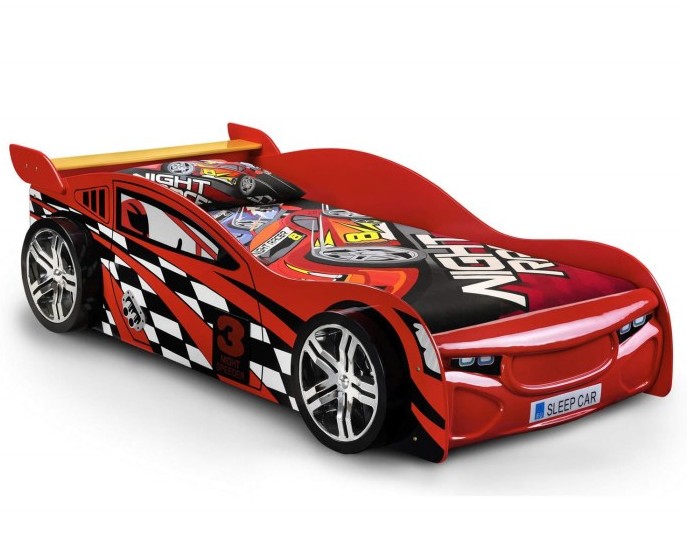 There's some incredibly cool kids car beds on the market in 2020!
around the £250 – £300 mark will get you a fab children's car bed
What price ranges are a decent kids car bed?
You can get a basic wooden car bed frame for under £100, but you really get what you pay for. If your budget can stretch to the £250 – £300 mark, you'll get something a lot better. For example the bed will have a much more car-like shape, and will normally have realistic-looking wheels. It's really up to you how much you want to pay, after all, this is a toddler bed, but around the £250 – £300 mark will get you a fab children's car bed.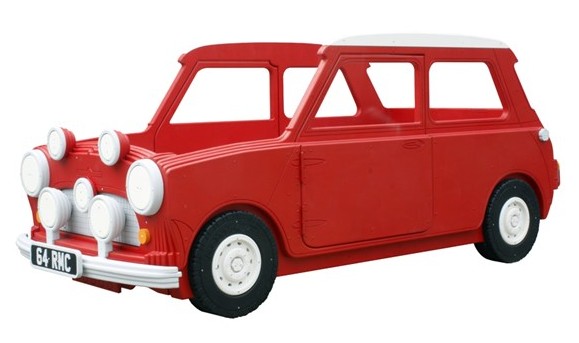 Like this mini car bed? At £3790 it's the most expensive one I could find!
What age can a child get their first (car) bed?
There's no fixed set age when a child should leave the cot and move into their own bed. But the normal age is anywhere from 18 months up to 2+ years. It really depends on your child and if they're sleeping in the cot, with the sides down. We found that our toddler just wasn't sleeping that well in his cot any more. Once we moved him to his own bed – BOOM! Out like a light. Well, for at least a bit each night. (He still ends up in our bed at some point…) But a good first bed might just get them to sleep better through the night.
Our toddler just wasn't sleeping that well in his cot any more. Once we moved him to his own bed – BOOM! Out like a light…
Just like any car – safety first!
When your child makes the transition into a real bed, it's important to get one that's going to stop them from falling out. Good toddler beds should have sides that prevent the child from falling out. One of the great things with kids car beds is that they're easily disguised as sides that will keep them  safe and prevent any late night falls. The bed below is a good example of this. There's no way the child is going to fall out of this as the raised sides extend all the way around.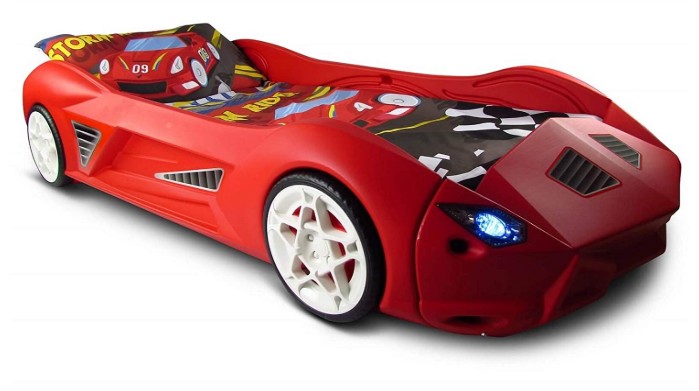 Children's car beds not only look awesome, they stop any unwanted falls
Sneaky storage – every little helps
As well as picking a practical car bed and one with an eye-catching design, you might just be able to find one with a bit of extra storage. Every drawer helps and some, like this white racing car bed below, have at least a bit of storage hidden away under the car. It has to be said that many car beds don't have any storage at all. I guess that's one down side to having a bed with a cool car design.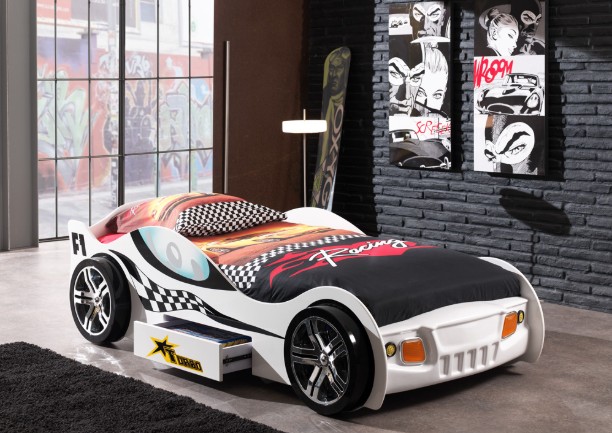 Every bit of storage helps when it comes to keeping kids rooms tidy…
Some car beds manage to squeeze extra storage space in at the back of the car by
What are the practical things to check when buying a toddler car bed?
Choosing the right car bed for your child is a lot of fun. Imaging the first time they see their new bed and climb inside. There's a few basics that are worth thinking about…
Will the bed fit? Some of the car beds can be quite long.
What size mattress does it take, and can I get one easily?
What are the dimensions
Is it easy to assemble?
Cool car bed extras and tips
Picking your child's car bed is only half the way there. Car beds normally come with just the frame, although some do offer a free mattress. You're then free to choose a really special duvet cover, or other bedding. Again, there's some really bright, well designed sheets here you can go for that will add a lot to the overall look and feel of the room. Racing car posters or wall prints can be bought cheaply too, that will build on the theme.
One last thing bumps, scrapes and other mishaps do happen. It might be worth getting some paint to do a quick touch up job to keep your new car bed looking like it just pulled out of the show room. Enamel or acrylic paints are ideal for this job.
Start your engines, lets find some amazing children's car beds
There's some awesome car themed beds out there so lets take a look at some of the better ones available across different sellers in 2023.
#1 – Storm Children's Racing Car Bed (With Lights)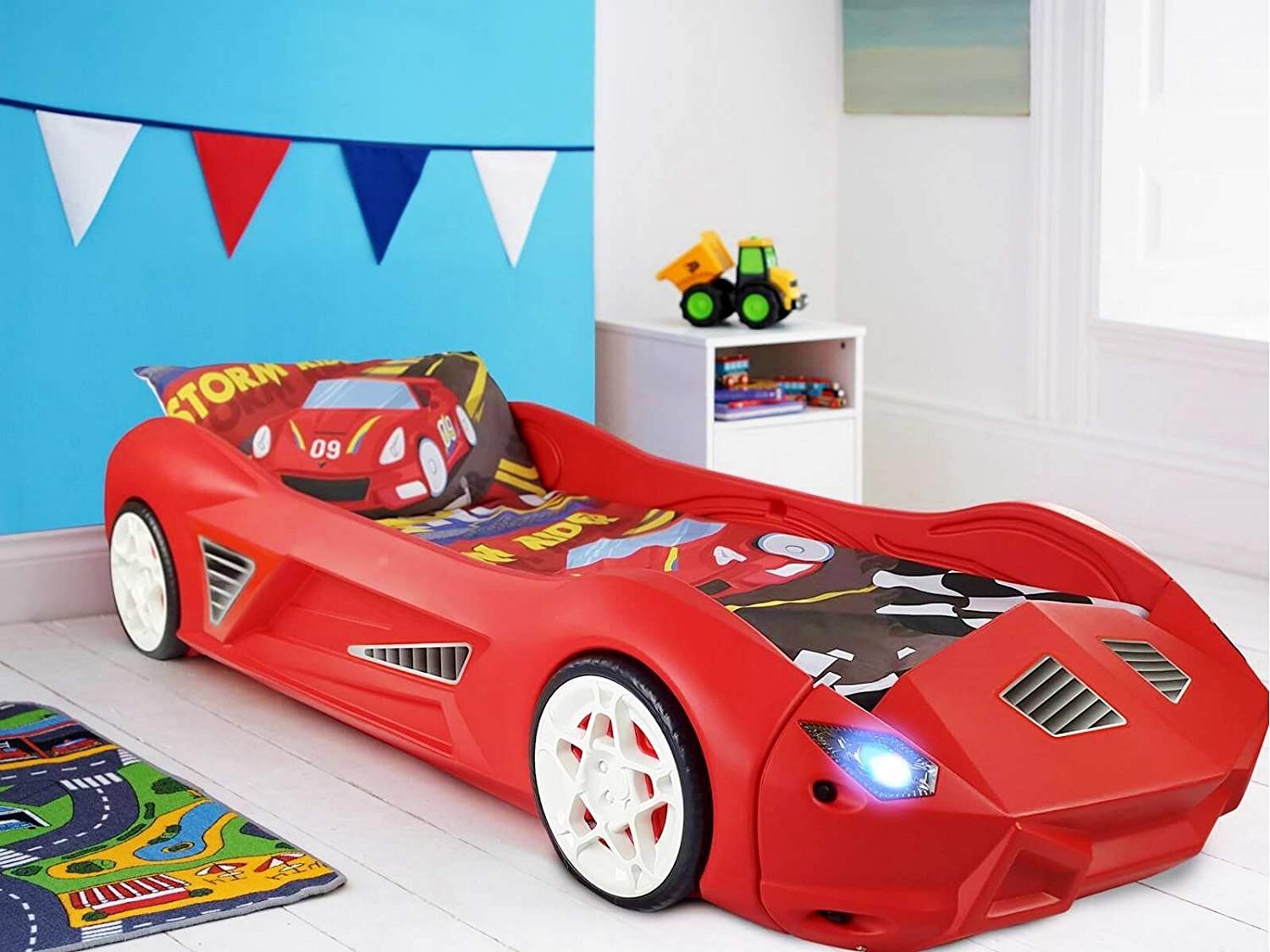 How good does this fab red racing car bed look? As well as the cool contoured design, this is one of the few beds that has built-in lights. You even get the mattress, so there's just a cool car themed bed set to buy and you're done.
It's a brill bed because:
Realistic racing wheels
The lights at the front actually work
Strong blow-moulded plastic
---
#2 – Julian Bowen Scorpion Racer Car Bed for Kids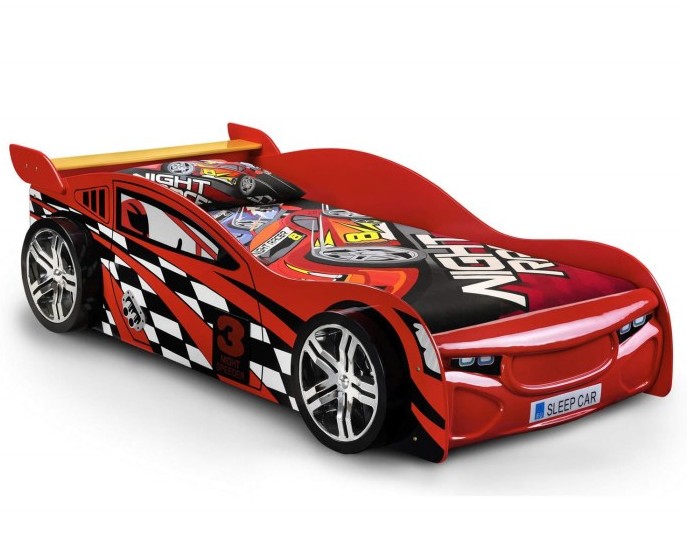 The wheels on this racing car bed look brilliant, and it's packed with detail that any toddler will think is great. The sides are nice and high to keep little ones safe and snug at bed time. There's a good sized shelf at the back to store books and a drink too. A fab design from Julian Bowen.
Features:
Realistic wheels and front panel
Bright racing themed design on the sides
Safe, high sides
---
#3 – Sweet Dreams Sonic White Kids Racing Car Bed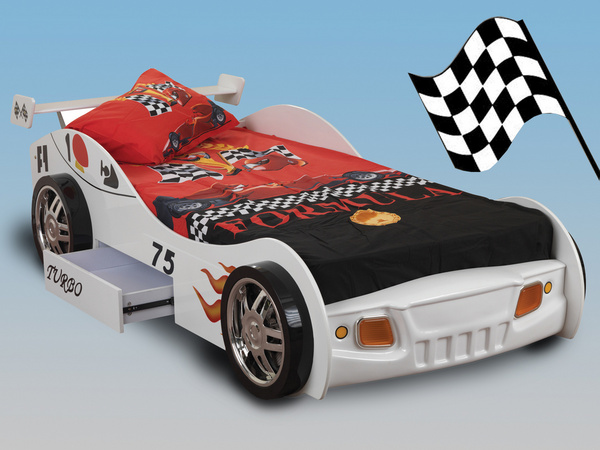 If a white children's car bed fits better with your child's room then there's a really good looking one up for grabs over at Archer's Sleep store. This bed takes a standard single mattress and has a concealed storage drawer tucked away under the car body.
This Bed Features:
Full size single mattress
Extra storage drawer
Makes bedtime extra fun
---
#4 – Toddler's Car Bed including mattress
BEST BUDGET OPTION
Coming in at a very budget-friendly sub £100 price range, this bright, colourful children's car bed has some fantastic user reviews. Another really good thing, other than the price, is that it's available in TEN super colours.
Forget standard kids car red, what about a bright pink? Yup that's all there if you want it.
Why this high bed is awesome…
Includes the mattress
Best budget kids car bed
Excellent design
Available in a mix of colours
---
#5 – Hanni Blue Police Car Kids Bed
Wow I really love the sleek design of this police car bed! While it might not look it, this bed uses a standard single mattress too – so there's lots of time to sleep when not in hot pursuit of bad guys.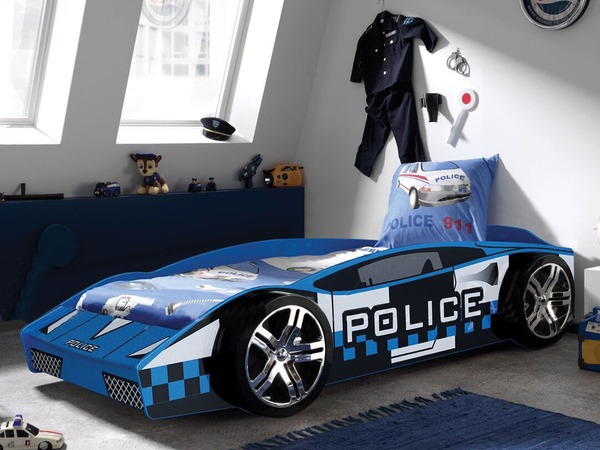 It's got huge shiny wheels and an eye-popping design that will make any child's jaw hit the floor when they see it. The bed takes up a large part of the bedroom, so why not get one that has lots of potential for imaginative play. This is another brill looking bed, this time with a BLUE police theme.
Bed features…
Bright police graphics
Slatted base
Takes standard mattress
---
#6 – Disney Cars 3 Lightening McQueen Toddler Bed
This adorable bed is another kids bed that's been getting a lot of positive feedback over at Amazon UK. And with good right, with solid construction and a brilliant colourful Disney Cars design, this bed is going to keep your toddler very happy.
This bed has it all, from it's own little windscreen to a comfy safe place to sleep. Parents will also be happy with the bench seat toy boy storage at the front of the bed. Toddlers will just want to climb in and pretend they're driving one of the cars from the movies. This is a bright, bold children's car bed that should make moving to a big bed a doddle.
Why this bed is awesome…
Storage at the front
Super-safe rounded edges
Excellent Disney Cars design
Got a question?
Please ask in the comments.