There's two things we parents never have too much of. Time and storage. OK and possibly money. Three things then. While I can't help with time or money, I might be able to offer a few good ideas for saving some precious space. Getting a bed with a desk underneath (and hopefully some extra storage too) can save a literal ton of space in any child's bedroom.
And children absolutely LOVE having their own desk. A special little place they can get their heads down and do homework, or their own even more importannt work.
Today we're looking at the best children's beds with a desk underneath combos. I've yet to meet a kid who didn't love sitting at a desk and, once they start nursery and school, it's really good to have a place they can sit down and do their 'work'.
#1 – Kids Storage Bunk Bed (Studio.co.uk)
If you're looking for a way to save on space and get your child a decent place to do their work then check out this storage bung bed at Studio.co.uk. This awesome bed with a desk underneath is in a pine effect and has a computer style desk with a slide out keyboard stand. There's also those handy holes that you can feed the cables through to keep everything nice and tidy.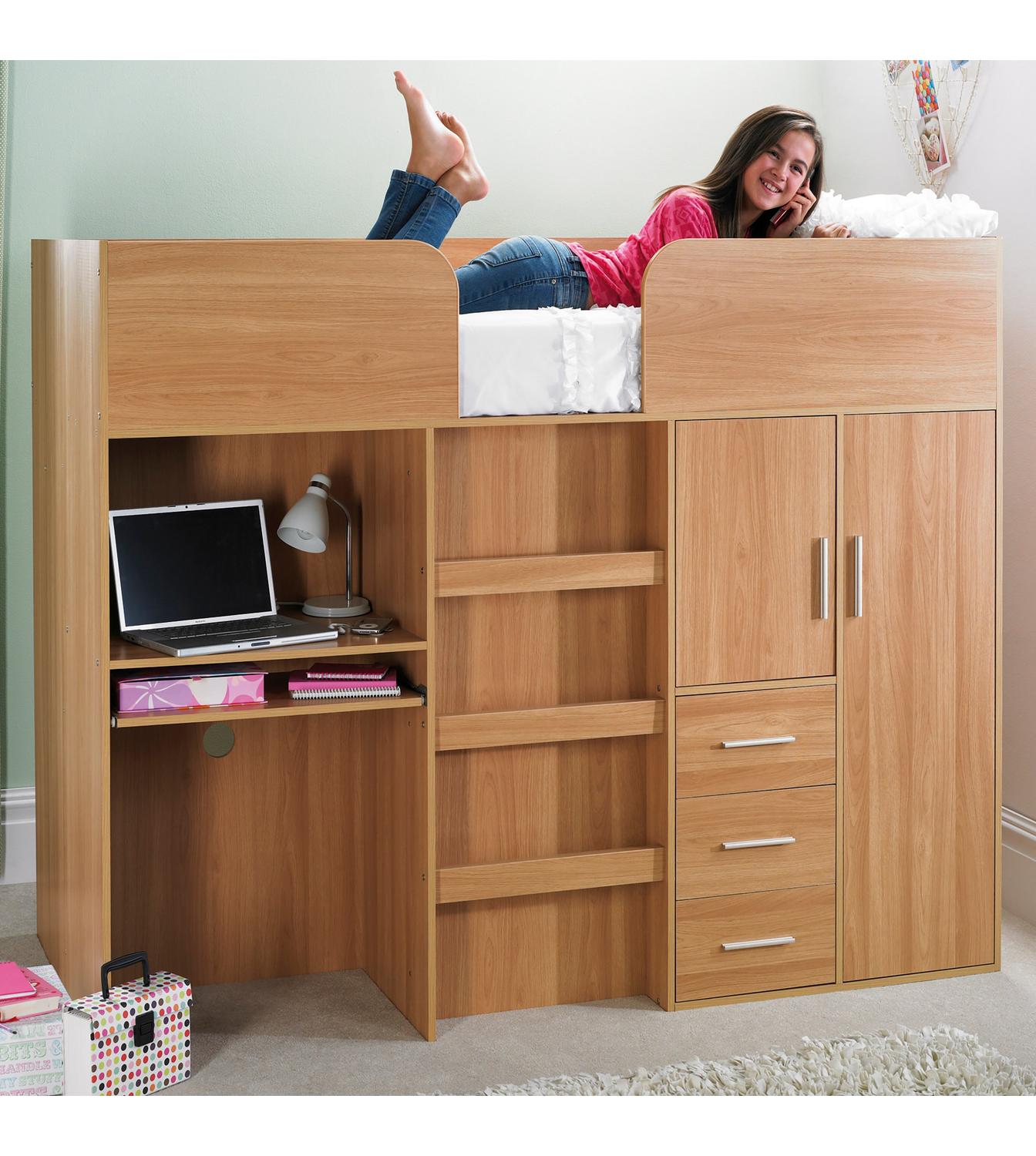 Tall sides line the bed, with fun steps carrying your boy or girl up to bed. The absolute best thing about this bed is just how much storage you get, as well as a handy desk. There's a nice big cupboard under the bed along with 3 roomy drawers to store pretty much whatever you want. High sleepers like this bed mean there's loads of room underneath and can save you tones of space. It's ideal for smaller rooms.
---
#2 – Pino Kid's High Sleeper Bed & Desk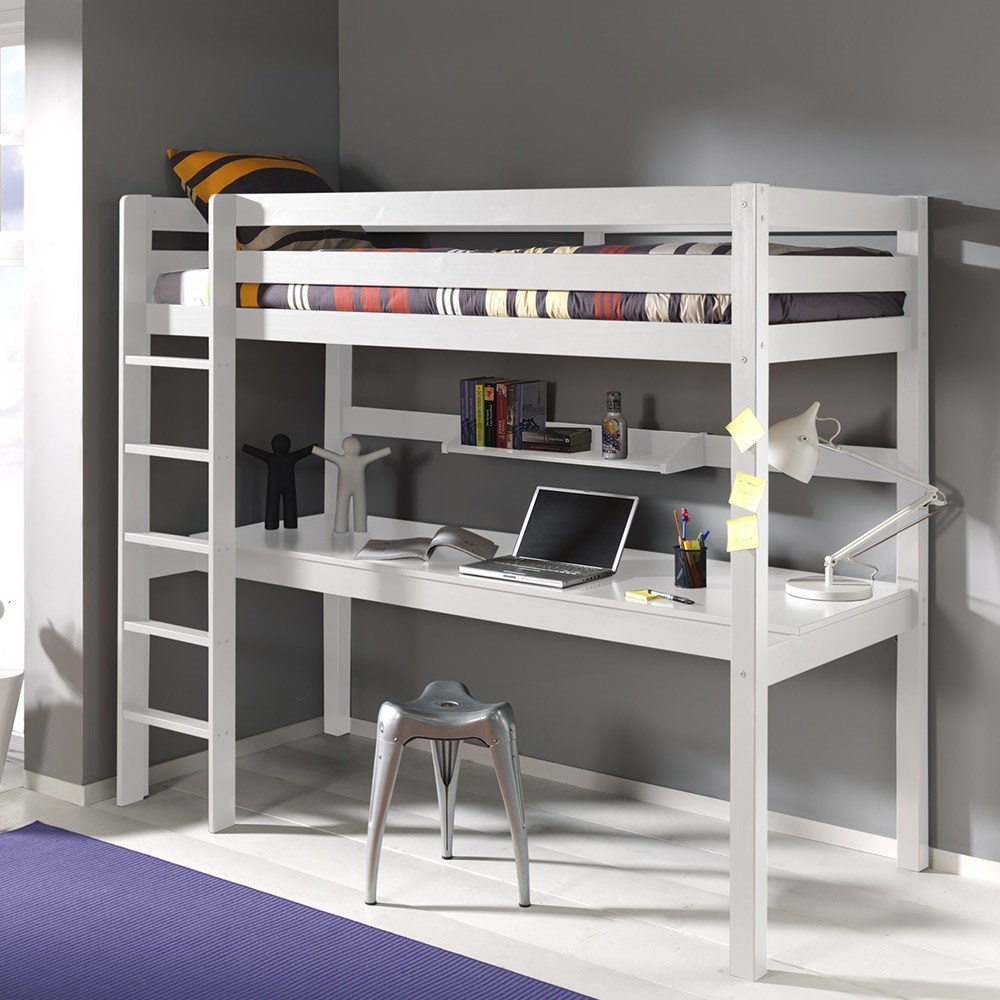 There's loads of different beds with desks under them but not all are stylish AND practical. But take a look at the stripped back simple design on this Pino Kids Bed (available at Cuckooland). Children will love clambering all the way up 5 steps (and their friends!) And the bed is fenced in safely around the top to keep little ones safe. The desk underneath isn't just for show as there's plenty of space for children to spread their stuff out and really get down to business. There's also a handy shelf in the center of the desk.
The paired back design offers loads of space beneath the desk
Storage-wise, while there's no built in cupboards or drawers to speak of, the paired back design offers loads of space beneath the desk. You can get some storage boxes or just slide some toys under there to clear the floor for a bit. This kid's bed / desk combo offers a modern, spacious place for busy sprogglets to sleep and get busy.
---
#3 – MrsFlatPack High Sleeper Desk Bed
Have you heard of MrsFlatPack? They've got some really nicely designed furniture out there that can make any parent very happy. This high sleeper couldn't really fit any more under it if it tried! I mean even the steps up to the bed are cleverly-sneaked-in shelves, offering even more places to tuck those endless toys, books and trinkets kids seem to accumulate from nowhere.
this is one of the more affordable bed desk combos available
Offering a decent working area, this bed with a desk underneath has a crisp white finish. The good news is that this is one of the more affordable bed desk combos available. There's also large and half-sized cupboard and 3 pull out drawers on the left of the steps. It's toughened, scratch-resistant board, which is always good for those bumps, scrapes or all-out-attacks with pirate swords it's likely to endure.
A fab desk bed and child will love!
---
#4 – Happy Beds Kids Mid Sleeper With Desk
If you're sick of finding the perfect bed & desk combo but then not liking the colour as much, then this bed might be a breath of fresh air. It comes in 5 beautiful colour schemes including a pink finish for girls and traditional blue one for boys. There's also a very modern looking dark gray scheme. But what of the actual design?
You're getting a cabin bed here that's got 3 super-wide and easy-to-climb steps leading up to the bed. It's not particularly high but still has the safety edge and rounded corners for extra peace of mind.
This bed with a desk underneath has oodles of storage too, thanks to a deep shelving unit at the foot of the bed, the chest of drawers in the middle, and the clever use of the slide-out desk. It's proving a big success in the Amazon reviews. The desk can easily be pulled out and slide back in when not in use and has wheels to make this quick and easy.
This one is ideal for anyone without a great deal of space, looking to buy a new bed with a desk. It's also pretty cheap too!
---
#5 – Montana Mezzanine Kids High Sleeper with Desk
It never ceased to amaze me how different designers can have the same brief but such different ideas. This next desk is just a wonderful design that will look great in any kids bedroom. You're getting a high sleeper here in modern bleached ash colour with a desk underneath and lots of handy storage.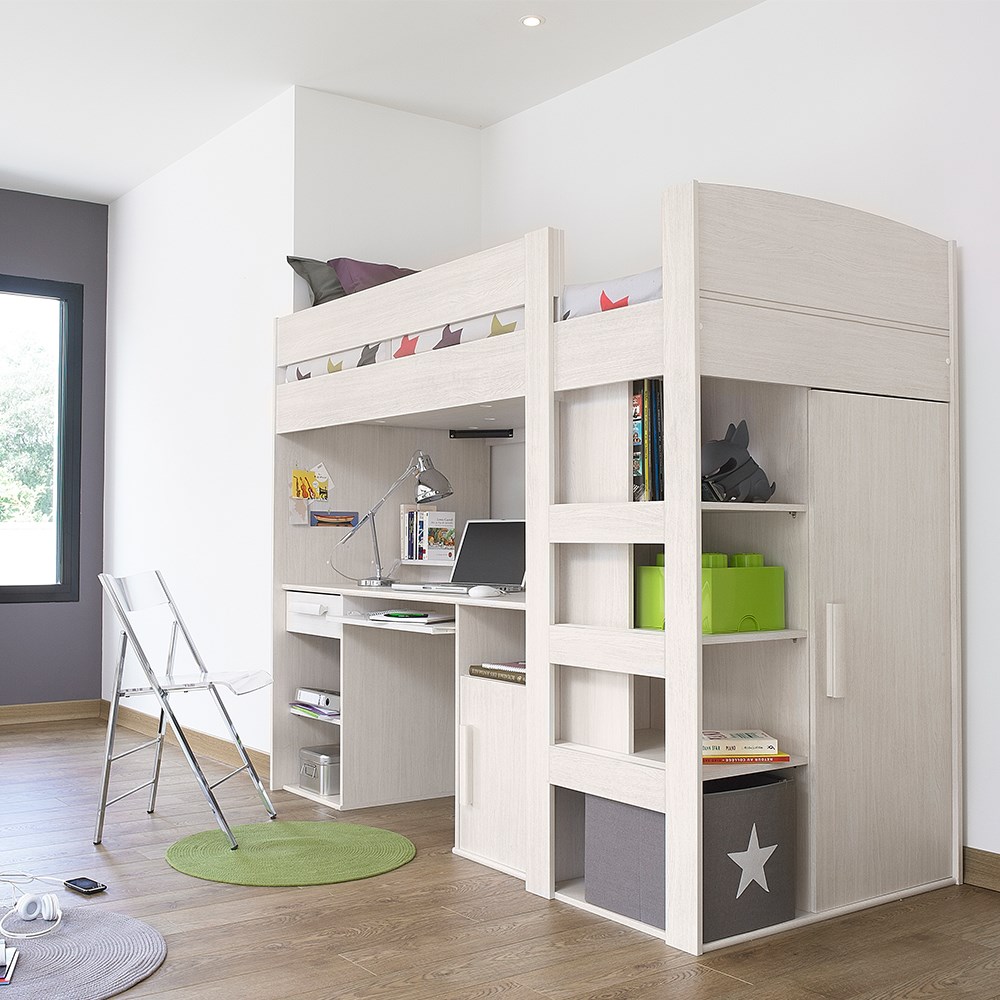 The desk part itself is ideal for a writing surface or a computer work station. there's a slide out keyboard drawer and raised monitor shelf too. the desk alone has loads of places to store stuff with shelves and cupboards squeezed in everywhere without compromising the fresh, modern design.
Parents will appreciate the simply massive cupboard at the foot of the bed…
The bed is a snug as can be and will fit happily in the corner of pretty much any room, offering the child a safe and extremely fun place to sleep. All they'll want to do when they get this bed is get in their bedroom and clamber up into their own little nest.
Parents will appreciate the simply massive cupboard at the foot of the bed, and all the other deep shelves. This bed is the ultimate clutter-killer. A superb, well-thought-out bed with a desk underneath, and a big hit with kids and parents alike.
---
#6 – Leo Mid Sleeper Kids Bed (Julian Bowen)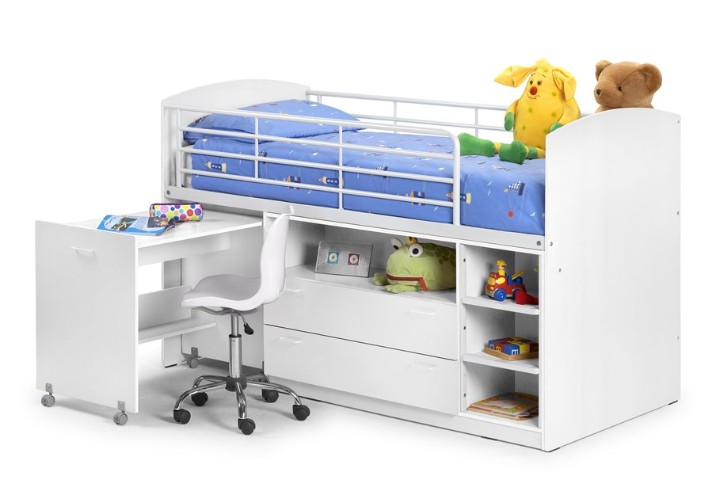 Julian Bowen is one of the top names in children's furniture and their Leo Mid Sleeper is a great example of what makes them so good. This is a really good choice of you haven't got a great deal of room for a bed with a desk underneath as it has a desk that rolls out on wheels and can be slid away easily after your child has finished their essential work!
The simple design and white colour scheme should fit with any room's existing colours and this is another bed that's packed with clever storage spaces. There's only 3 steps to climb and there's raised safety sides to stop children (or teddies) falling out.
That's all for this guide on beds with desks underneath. Please let me know if you've found any out-of-this-world beds that have built in work spaces for busy little workers in the comments.