Choose an amazing wardrobe for your little one's bedroom
As with all kids furniture, the web's bursting with good-looking wardrobes and other storage for your child's bedroom. This guide will steer you through some of the best examples and common pitfalls in buying your new wardrobe.
Children's Wardrobes – UK Guide
Why is choosing a kids wardrobe that complicated?!
Getting a good wardrobe for your little one's bedroom needn't be complicated. Hopefully this quick guide will get you up to speed with what you want, what you don't want and some of the options you might want to think about.
Drawers or no drawers!
Let's start with a simple, if major, decision about the new wardrobe – do you get a nice big one with full height doors? Or is it better to have a wardrobe with drawers beneath it. One thing you'll have to think about is space – are you going to get a separate chest of drawers? If not then you're probably better off getting a child's wardrobe with some kind of drawers in it.
Undies, pajamas and the indefinite combination of kids socks are much easier to manage if you've got at least one or  two drawers. If you're going the whole hog and getting a separate set of drawers then you can choose – hanging space or even more drawers. If you're just getting a wardrobe – drawers are your friend.
Common materials
Most of the wardrobes I've seen or reviewed are made from solid pine, MDF or a combination of the two. There are also more off-beat ones that are made with plastic and canvas (like the ones that you sort of build out of blocks). But you're mainly looking at furniture flat pack favorite MDF and heavy solid pine.
Normally there'll be some self assembly required, unless you're lucky enough to get a pre-built one. But aside from the size, wardrobes aren't actually too tricky to put together.
Don't make this mistake with size…
A surprisingly common mistake to make when picking the perfect wardrobe is not to measure up properly. And I'm not just talking about measuring the space you have and that sort of thing. No, one of the problems a lot of buyers have, and this is just something inherit with buying on the inter-webs, is finding they bought a children's wardrobe that's TEENY when they put it together.
Take measurements seriously and get your handy tape measure out. Don't get caught out buying something that looks awesome but is not right for the job.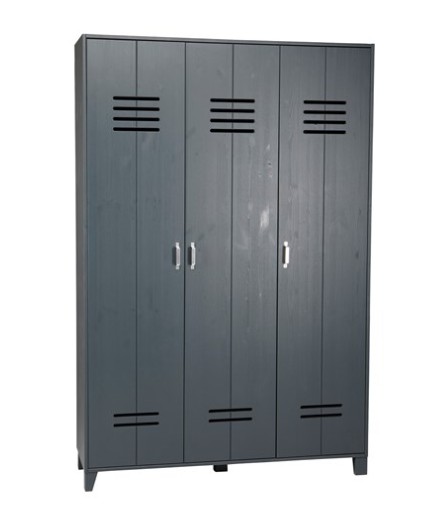 There are some unique children's wardrobes with modern funky designs (Cuckooland)
Don't do what we did (a problem with drawers)
We spent ages picking our little girl's wardrobe and we thought we'd done a good job. But oh my goodness did we make a mistake that comes back to bite us on a daily basis. We got a really good quality solid pine wardrobe, with nice big drawers underneath. The problem is that the drawers don't have any kind of closing slides or mechanism to make the movement easy.
Instead, they kind of grind in and out, making the most awful FINGERS-DOWN-THE-BLACKBOARD noise you could imaging. I hate getting socks and PJs out of there. The rest is fine, but man, those heavy drawers take some getting in and out. Check the size of the drawers carefully too – you have less space on thicker solid wood drawers. And make sure they are smooth to open.
What are some other common wardrobe buyer mistakes?
While a wardrobe isn't exactly the most complicated product and there's not THAT much that can go wrong, there's some common GOTCHAs that do catch people out.
Check the wood surfaces before you assemble it. Chances are you won't want to return it if there's any dents or scratches after you have spent time putting it together. Check this before you start assembling. It's common to have a chip or a mark and you can easily return it.
What's the back panel made of? A lot of the time, especially on cheap kids wardrobes, the back panel will be that awful flimsy chipboard type affair. While not always the case, it's usually a bad sign. Check that all the sides of the wardrobe are wood (or MDF) and that there's nothing flimsy about the wardrobe. Usually 3 stars or less on Amazon suggests serious problems with the build quality.
A good children's wardrobe should be…
The holy grail of wardrobe buying for kids is a mix of:
A GOOD price!
Good quality, sturdy
Style – it's got to look appealing too
Quick fire tips on assembly
Children's wardrobes are not too tricky to assemble by yourself. But here's a quick few pointers of things that might help.
As with any self-build, stay organized! Lay out all the bits and you'll take half the hard work out of the job.
Check for missing parts. It's normally the little bits that go missing – screws, hinges, little pins. Check its all there and get any missing parts sent out. Don't bother sending the whole thing back, just ask the manufacturer or seller to send you anything that's missing.
Don't scratch any flat surfaces during the build. It's best if you can build on a soft surface like carpet. It's SO easy to scrape a lovely flat surface. And look out for rogue screws digging into flat wood surfaces too.
If all else fails – call the handy man! Facebook groups are a great place to ask for recommendations of local services who will put your new child's wardrobe together cheaply.
Be careful on taking it to bits any time in the future. If you move house or need to disassemble your child's wardrobe any time, think about whether it's completely necessary. I've read a few horror stories of not being able to get it back together again. Some wardrobes don't seem to like this and are designed for a one-off assembly!
What are some of the better kids wardrobes out there?
Let's get started and look at some of the better children's UK wardrobes available in 2023.
#1 – Marina Two Door Combination Wardrobe
This wardrobe is brilliant. It's got a fab modern design, with glossy sleek panels.
Features
Stacks of storage and several rails inside
Drawers and a HUGE storage space overhead
---
#2 – Koossy Expandable Children's Wardrobe
Another kid's wardrobe that comes in a choice of really nice colours is this one from Koossy. If yopu're not familiar with these modular build on to it style wardrobes, they're a brilliant idea that lets you build the storage space to suit your needs, and add to it if you need to.
Features:
Build the cubes to make your ideal wardrobe
Don't be fooled – it's very sturdy
Easy to assemble
Dust resistant
---
#3 – Devoted2Home Hearts Childrens Wardrobe 3 Piece Set
If you're on the market for a good 3-piece children's wardrobe set for a little girl then take a look at this one. You get a wardrobe, chest of drawers and a gorgeous bedside table and drawer. There should be enough storage here to last for a long time!
This Bed Features:
Easy to put together
Very sturdy
Good price for 3 pieces
---
#4 – Tutti Bambini 3 Bears Wardrobe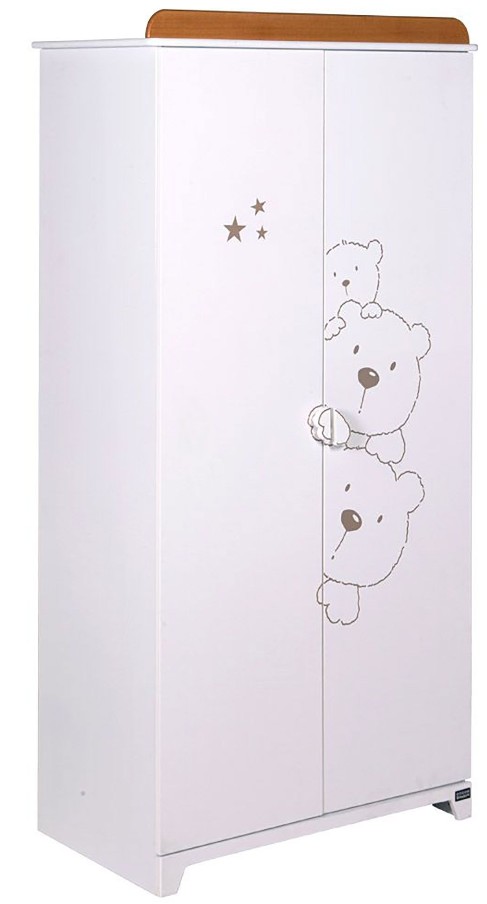 Here's an example of a children's wardrobe with a really modern design. I just had to include this in my list of amazing kids wardrobe ideas because it's so adorable! The three bears peep out from this high quality child's wardrobe that's ideal for nursery ages upwards.
Features
Two hanging rails
Very high quality
Paw shaped handles!
---
#5 – Kids Locker Style 3 Door Wardrobe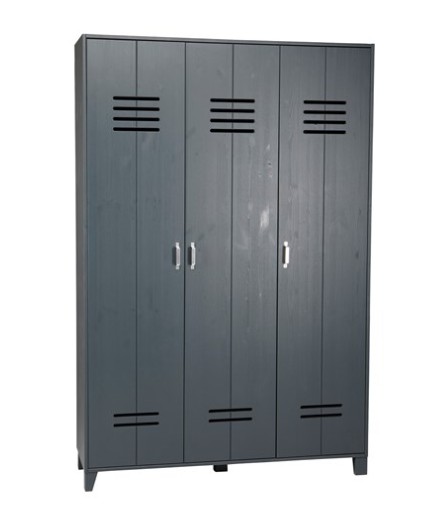 Wow this children's wardrobe is really unique. It's styled like a kids locker and is packed with both storage and charm! It's made from solid pine and crafted in Holland.
Bed features…
Double side includes 3 large shelves
Gorgeous natural wood
Fab locker themed design
---
#6 – Noa and Nani – Asgard Wardrobe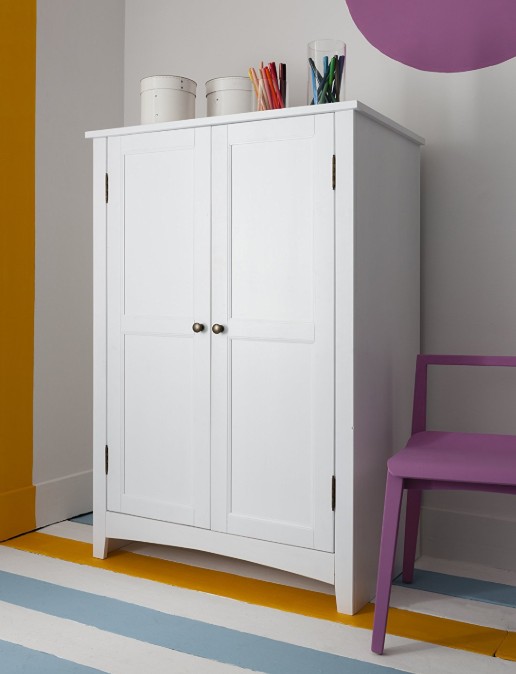 Noa & Nani make some of the best-looking kids furniture on the market in my humble opinion and this fab Asgard wardrobe (available in white or pine) is a great example. There's oodles of storage available here with one giant long rail. And you get a huge storage compartment at the base of this awesome children's wardrobe.
Features
Usual Noa and Nani high quality
Simple, elegant design
Loads of storage inside!
---
Got a question?
Get in touch with me in the comments please! Let me know which children's wardrobe you love and if there's any you have found that you think are worthy of a mention!