Are you after the BEST gaming chair for your little one?
All this time, we've been trying to get our kids to spend less time on the computer, but with lockdown, we're now doing the opposite! Online schooling, chatting with their friends, saying 'hi' to Grandma and, let's face it, giving Mum and Dad a break, all mean more computer time than ever.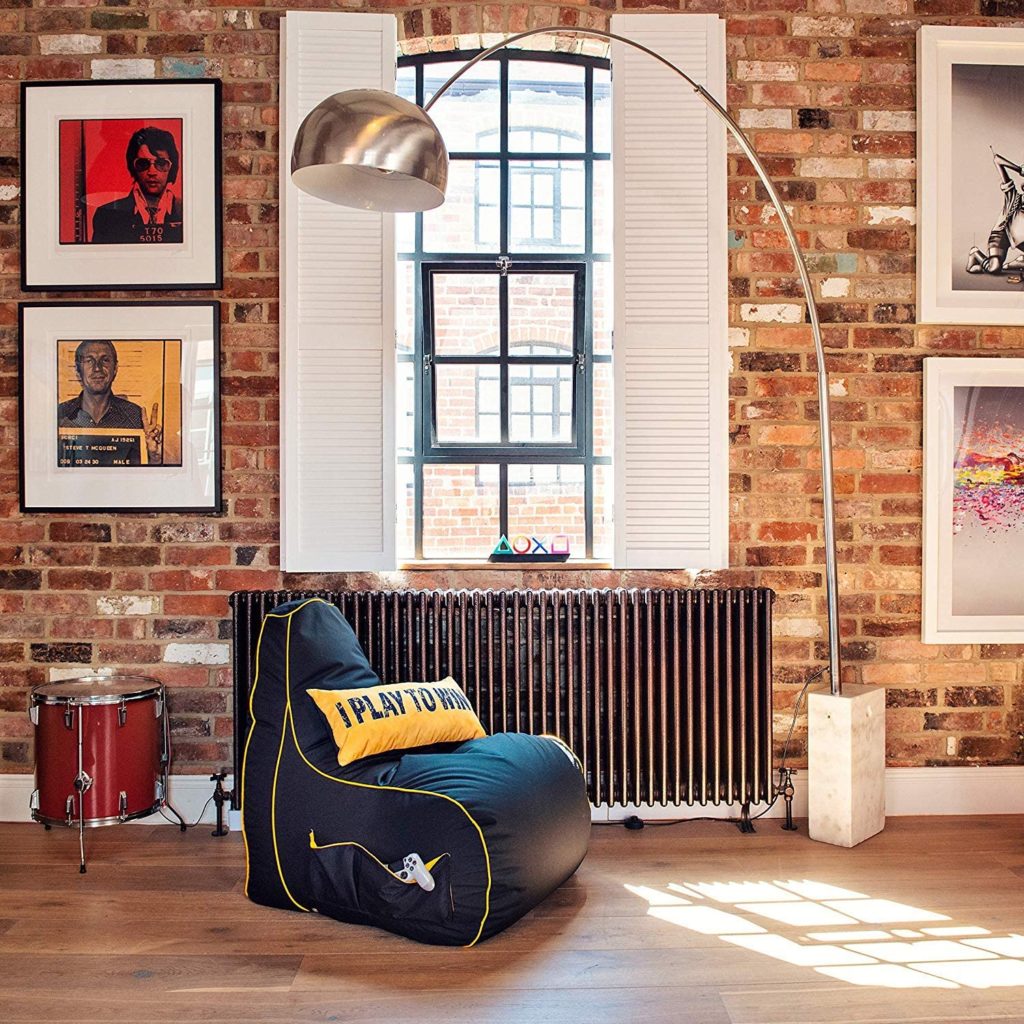 One thing that must be considered with all this extra sitting time is the right chair. Their computer and gaming station might now even be their classroom, so the best chair for their needs is an important investment.
We've done all the hard work for you, so sit back on your comfy couch as we take you through the best kids' gaming chairs around in the UK right now!
Top 7 Gaming Chairs for Kids 2023
#1 – Beautiful Beanbags Highback Bean Bag Chair for Children
Ideal for: Those after-school hours of fun!
A brilliant addition to any child's bedroom, this chair is unbelievably comfortable and takes up very little space.
It's water-resistant, so you won't need to worry about spills or accidents. You can even take it into the garden, and it will dry off easily after a shower.
This was a firm favourite gaming seat for us given the great price, quality material and all-round versatility.
What makes this chair a top pick?
Quality fabric
Easy to move- can be used anywhere in and out of the house
Comes in a range of fabulous colours
Very comfortable and perfect for reading as well as gaming
---
#2 – BraZen 18090 Python 2.0 Surround Sound Gaming Chair
Ideal for: serious little gamers who love to look cool!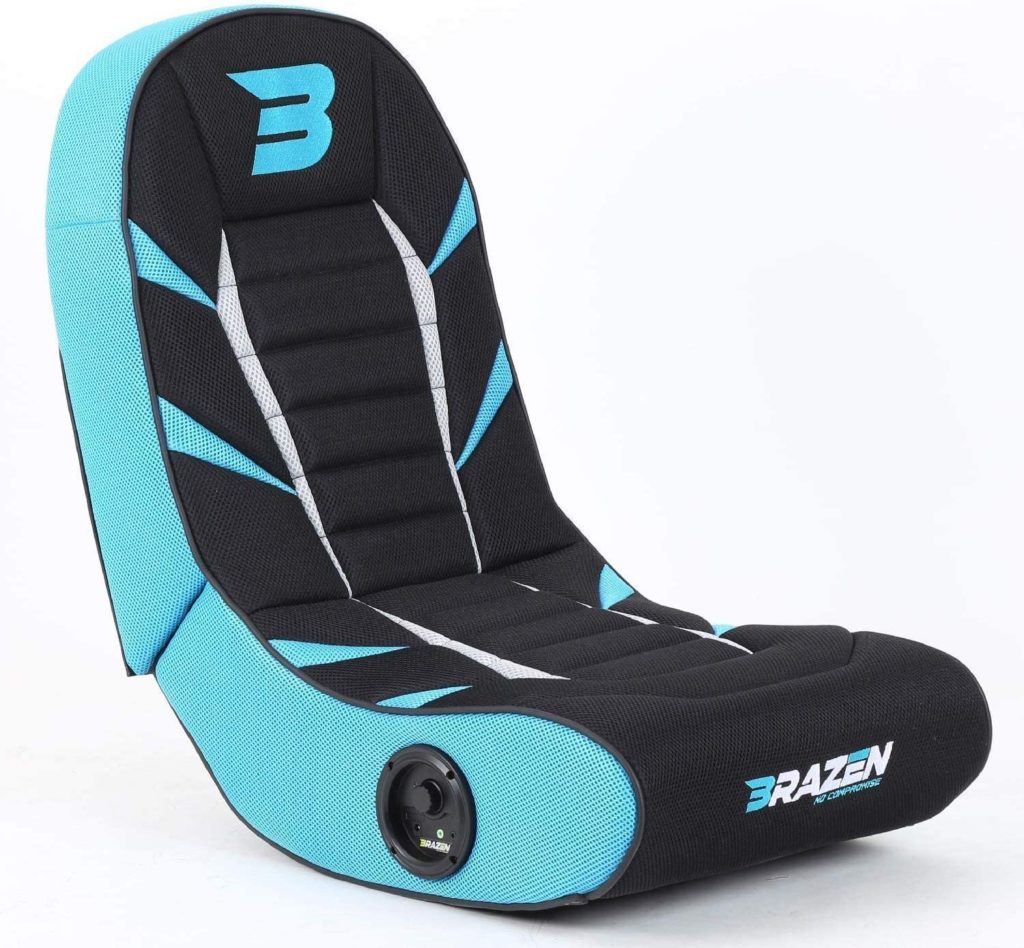 We loved this chair. It enhances the gaming experience, with its surround-sound features, without compromising on the comfort and support.
BraZen are a British-owned brand who've clearly done their homework and made a chair kids will find both comfortable and stylish, and parents will be very happy with the back and neck support it offers.
It's very easy to connect to all manner of devices, via its sophisticated Bluetooth system, so your child will be in gaming heaven in no time with this cool seat.
Why will your child love this one?
Two built-in speakers and a subwoofer give high-quality sound
Rocking motion allows for supported movement
Compatible with almost any device, including games consoles, tablets, TVs and phones
The design means it not only looks great but is very comfortable
---
#3 – The Rocker Neo Hex Gaming Chair
Ideal for: That extra-special feeling of indulgence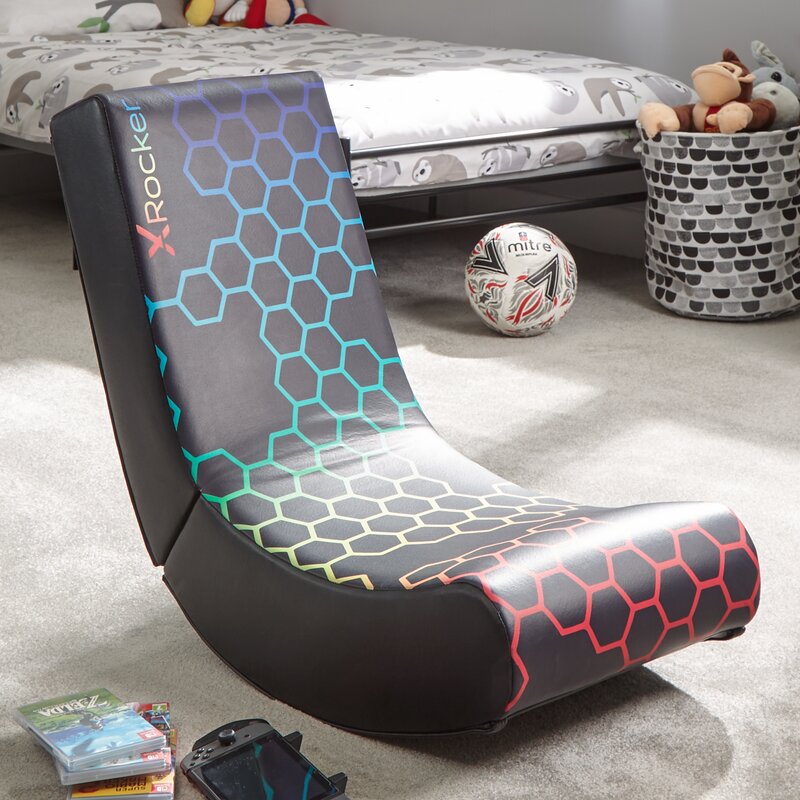 Why the rocker will rock their world
The eye-catching design will look awesome in their room
High quality, comfortable seating
Ergonomic lumbar support
Very easy to keep clean and use inside or outside the houseFind out more at Wayfair
---
#4 – The Brazen Pride 2.1 Bluetooth Surround Sound Gaming Chair
Ideal for: Older kids with high expectations!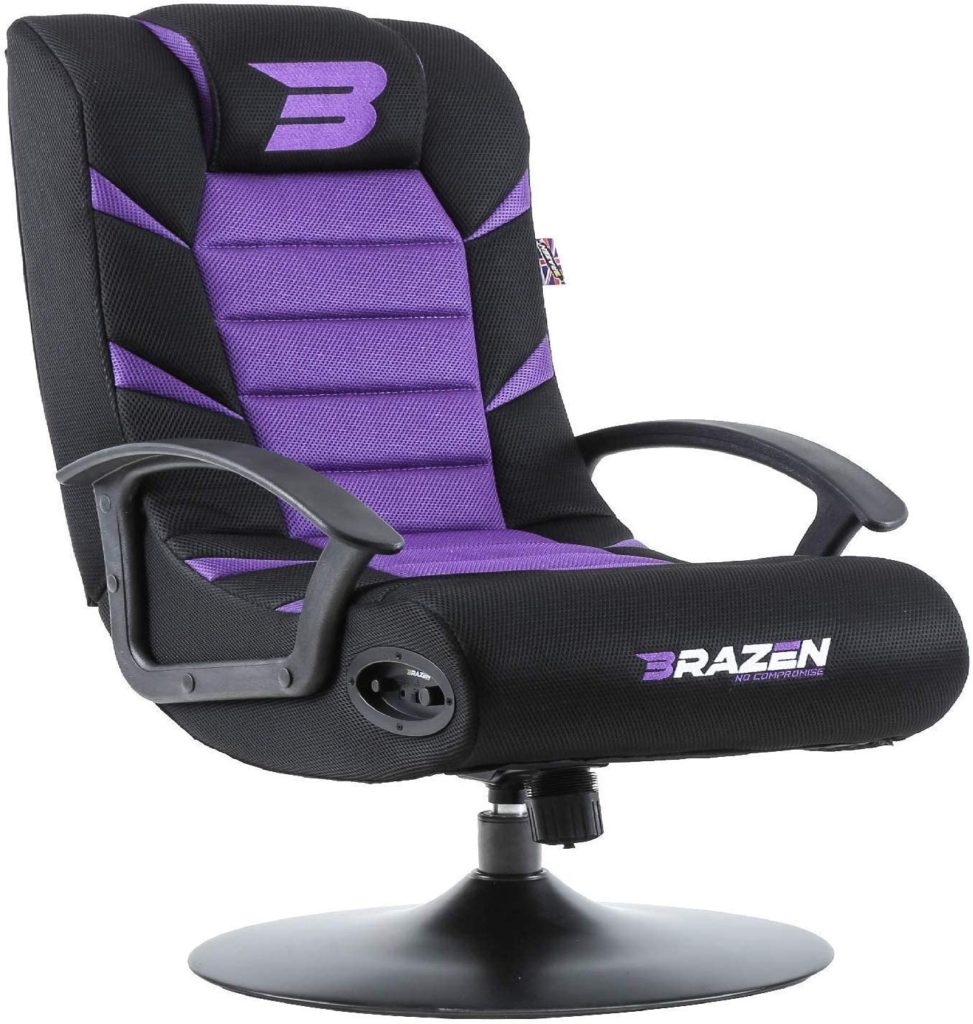 One thing you'll have to keep in mind about this chair is that everyone's going to want one!
Perfect for the older child and even adults, the Brazen Pride 2.1 has been designed by gamers, for gamers. The design is sturdy but comfortable, with a tilt mechanism and excellent back support.
BraZen continue to produce high-quality, built-in Bluetooth sound technology so your child will be totally immersed in their game.
Why you should go with the Brazen 2.0
Fully customise their own personal gaming experience
Superb quality surround sound
Compatible with almost any gaming device, tablet, phone or TV
Easy to assemble without compromising on comfort
---
#5 – Beanbag Bed Chair Indoor-Outdoor Extra-Large Gaming Seat
Ideal for: Absolutely all your gaming needs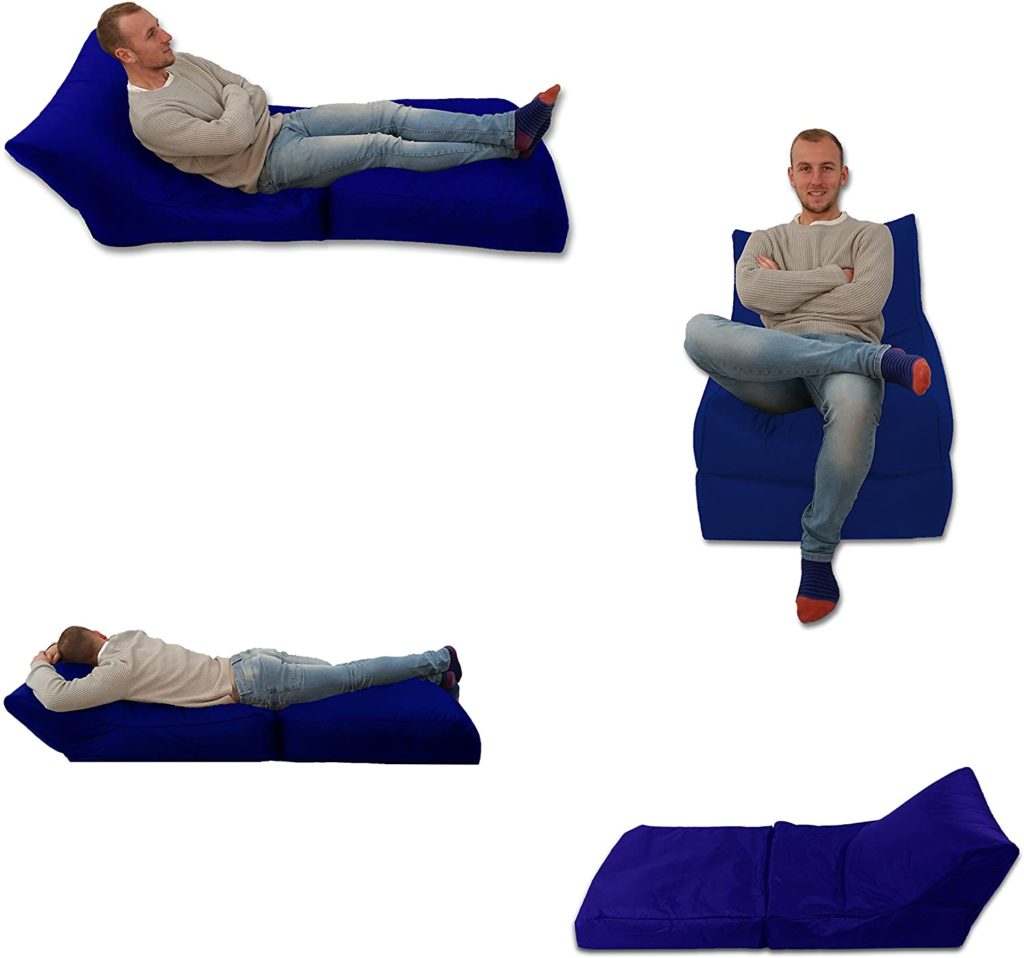 This is so much more than a gaming chair. While it's still perfect for gaming, it's also ideal for the garden, the beach, the living room, and even the bedroom.
It comes in two pieces so it can be used as a chair for sitting up on, or as a bed for lying on. It's chock-full of beans so it's gloriously squishy and comfortable and we challenge you not to fall asleep on it!
It's a perfect all-rounder for the whole family and is also great for the outdoors, whether that's in the garden or even at the seaside.
This one's for you if…
You want something for both children and adults
You're looking for a 100% waterproof seating solution
You need a chair for any room of the house
You want to easily go from gaming to napping without moving
---
#6 – Game Over 8-Bit Kids Mini Video Gaming Bean Bag Chair
Ideal for: The dedicated little gamer in your life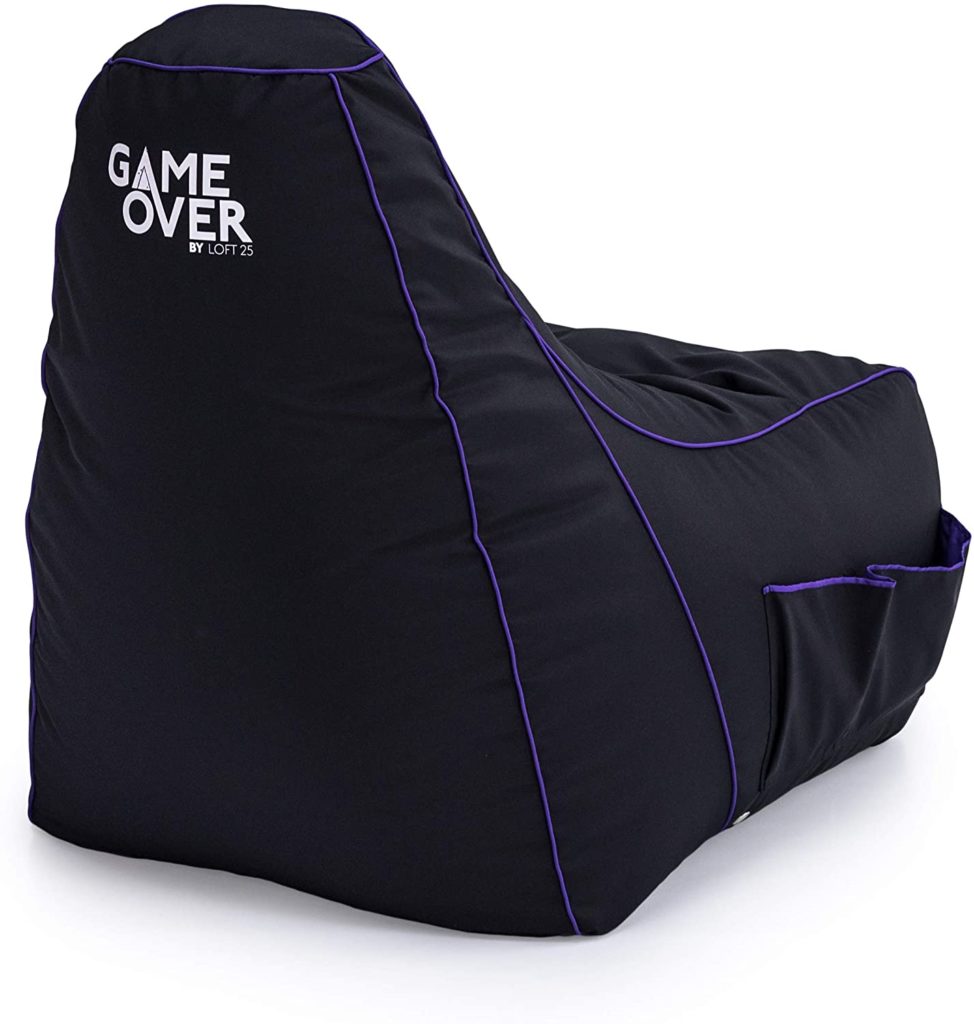 Oh, this is so much more than a bean bag chair! This was the first time we'd seen a design that was both bean bag and ergonomic wonder-seat.
It's a durable chair that's obviously been made with little gamers at the forefront of the designers' minds, because it's so comfortable but feels so supportive that you'll marvel at how Game Over managed it.
The pockets on the side of the chair are a perfect addition to hold your controller, headset or favourite gaming snack. An extra-cool (literally) function is an air vent, allowing excess air to circulate, leaving you comfortable at all times.
Why this chair is so cool…
Ergonomic, and so comfortable they can play for hours
Generous pockets mean they'll never be hunting around for the controller
Durable, UK-made, water resistant and fire-retardant, to give you peace of mind
Comes in a range of stunning, stylish colours
#7 – X Rocker Shadow 2.0 Gaming Chair
Ideal for: the coolest game aficionado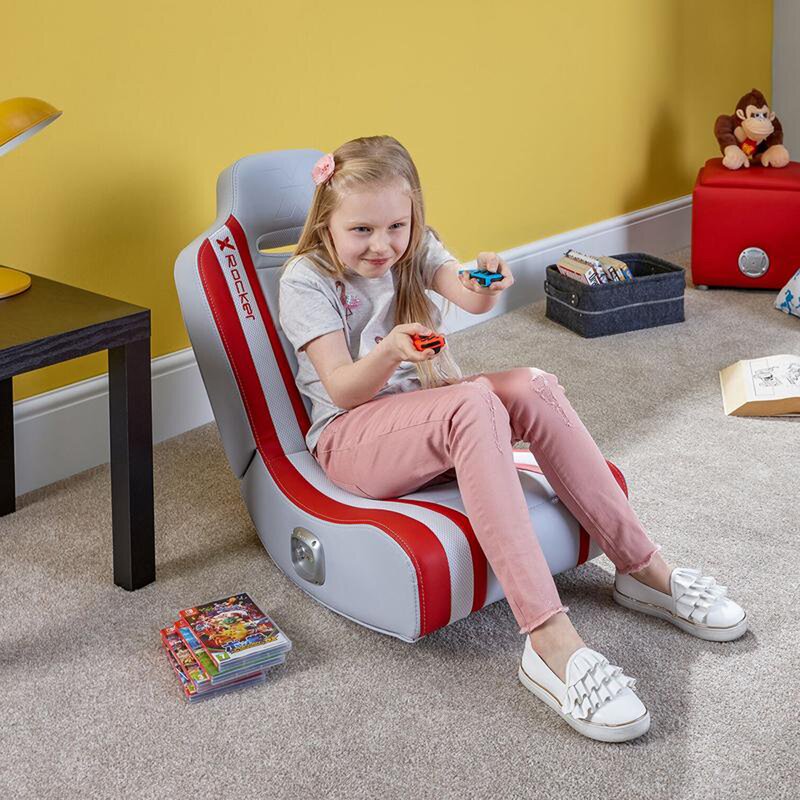 Does your little one love to show their console allegiance? Look no further! This chair is not only the ultimate gaming accessory, but you can choose whichever colour best shows your child's gaming preference, whether they're an Xbox, PlayStation or Nintendo fan.
The analogue system mounted in the headrest provides excellent sound, and the wooden frame provides back support, while at the same time rendering it easy to fold away and store.
You might want to double-check which colour your child will want, though… no Xbox-green chair belongs in the bedroom of the PlayStation expert, after all!
Why will my child love this chair?
Personalise their gaming experience with X Rocker's signature colours
Mounted sound system provides the ultimate experience
Light enough to fold away and move to another room with ease
Fire-resistant material means less worry for Mum and Dad
In conclusion…
… you'll see that while there's a wide selection to choose from they all have their own unique aspects from style to comfort and look out for those added extras such as bluetooth and surround sound. Any of the above unique gaming chairs will be the ideal addition to your child's bedroom.
Have fun kitting out your little gamer!
References and other links
Check out this cool video on how to make gaming content on youtube – perfect hobby to try out in your new gaming chair.
Got a question about kids gaming chairs?
Thanks for reading. Please ask in the comments if you have any questions or things we can help with.